Kauai (Click here for more pictures of Kauai)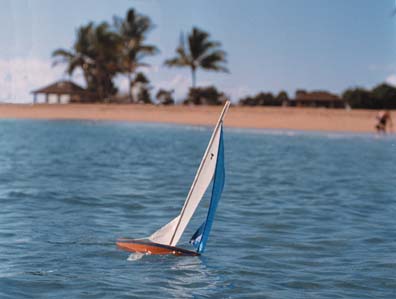 The mornings we divided between sailing our T15 Racing Sloop, snorkeling, swimming and watching our youngest child Laine, who was delighted about the beach and was gradually learning that sand was not such a great thing to eat. Robyn was very much at home in her lifejacket swimming for hours, sailing the T15 and building sand castles on the beach. In the hottest part of the day we got out of the sun and had adventures exploring inland. One part of the island has a remarkable canyon carved out of the red stone, running almost entirely across the island to the rainy North side. This is Waimea Canyon.
In the background of this picture you can see the pavilions where in the evenings we would cook our meals and then read until we could no longer stay awake. I read a fascinating book about Pasha Gordon of Africa, an Englishman who in Victorian times was put in command of almost the entire Sudan until the area was torn from his control during a Jihad or holy war. He died only hours before a relief expedition of British soldiers was able to reach Khartoum. After months of siege the capital had been finally overrun by the followers of the Mahdi, a religious leader of the Moslem people in the Sudan.
[More Pictures from Kauai | T Class Racing Sloop | T15 Racing Sloop | T12 Cruiser | Home | Order Form]

Tippecanoe Boats, ltd. 4305 Nordum Rd., Everson, WA 98247 USA phone/fax 1-800-206-0006 1-360-966-SAIL