RC sailboats and toy sailboats from Tippecanoe Boats. We build the finest wooden model sailboats and remote control sailboat models and classic wooden toy sailboats available anywhere in the world today. Our radio controlled sailboat models come complete with full power rc gear included. Our free-sailing sailboat models are designed to sail fast and straight. rc sailboat sailing is a wonderful sport for all ages. It is a great tradition whether you call it petit bateau a voile , segelboot bausatz , toy sailboat or pond yacht. Start an rc club to race radio controlled boats with other skippers or enjoy sailing the local ponds and lakes on your own or with your family. Also known as pond sailers or pond yachts, beautiful model yachts have been a tradition for over 150 years. With the recent advent of absolutely reliable and affordable radio control gear, the sport of sailing radio controlled boats has become immensely popular. Although a very skilled rc skipper may have been sailing for years, anyone can get started in the sport of rc model sailboat sailing quite easily. Unlike RC planes, there is no risk of crashing and destroying your rc sailboat on its first voyage. You can count on Tippecanoe Boats to bring you the finest and fastest in beautiful wooden model yachts ranging from our beautiful small toy sailboats to our highly sophisticated rc yachts, the T27 RC Racing Sailboat, the T37 RC Racing Sailboat, The T47 Fairharbor RC Schooner, the T50 RC Racing Yacht and the T50 RC Trimaran
1-800-206-0006
The very best in traditional free-sailing models and radio control sailboats
Made in USA
Crafted with pride from the finest materials.
---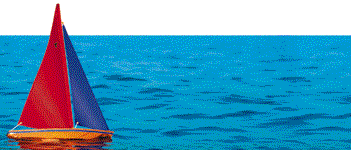 Tippecanoe Boats
Fast and Fun!
---

T12 Cruiser: 12 inch sailboat, for ages 5 and over, Western Red Cedar hull with two sails.
Kit $46.00, Finished $79.00.

T15 Racing Sloop: Winner Parents' Choice Award. 15 inch sailboat, for ages over 8 years old, Western Red Cedar hull and two sails.
Kit $74.00, Finished 105.00.

T-Class Racing Sloop: 18 inch sailboat, Western Red Cedar hull, two sails, adjustable rudder.
Kit $95.00, Finished $155.00.
Boat Reel: Control your boat from shore. $9.50.
Varnish Kit: Marine varnish, varnish brush, sand paper, varnishing tips. $7.95.
Wall Stand: Hangs on a picture hook on the wall. Holds any of the boats. Solid Brass. $6.50.
Table Stand: Sits on a dresser or mantlepiece. Solid Brass. $7.50.
Masthead Streamer: 12 inch streamer flies from the masthead of the T15 or T-Class Racing Sloop. $2.50

WindRacer: Two colorful boats that spin in the wind. For the yard or garden. Kit $79.00, Finished $135.00.

T27 Racing Sloop: 27 inch fully remote controlled model sailboat for adults. One rc servo controls the rudder, one rc servo controls the sails. Prices include all remote control gear. Kit $215.00

T37 Racing Sloop RC Sailboat: 37 inch remote control sailboat, for adults. Fully controllable from shore with RC gear, everything is included. One rc servo controls the rudder, one rc servo controls the sails. Kit $265.00, Finished $1200.00. The T37 is also available in a Racing Upgrade Version, T37 RC Sailboat Racing Upgrades.

T47 Fairharbor RC Schooner: A beautiful 47 inch long two-masted model of the ships of earlier times for adults. Complete with four sails and RC gear to sail your boat from shore, the T47 is a whole new kind of RC sailing. Kit: $425.00
T52 Racing Sloop: Big, powerful, fast and fun. The T52 sails incredibly, maneuvers perfectly and is a truly exciting big boat for sailing in big lakes. The kit is straightforward to build. Construction is similar to the T37, but this boat is much bigger and more powerful! Kit: $425.

T50 MOD: This is an exceptional new 50 inch boat designed to be raced in the Marblehead class if the builder desires. For adults. Its construction is ultra light, high-tech strip planked, creating a beautiful planked hull suitable for racing. Kit: $625.00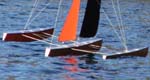 T50 Trimaran: The Tri is our fastest boat yet. Its three thin hulls slice through the water giving the boat unbelievable acceleration. For adults. In a light breeze the boat darts around the water, and in heavy air the boat leaves a mist behind it at top speeds! Two rigs are included for light and heavy air. Kit: $725.00

Racing Accessories All of the Tippecanoe boats are fun and exciting to race. The T37 is a sanctioned AMYA Racing Class and has become very popular for racing. There is a large T37 racing fleet in the Pacific Northwest. Other fleets are forming around the country. We have a variety of racing accessories including a kit for Official Racing Marks, a Starting Timer and a bow bumper.

T24 Tug Fun to build and fun to run! Seaworthy and fast, the T24 tug is a classic wooden tug boat that will last for years. Its powerful engine drives the tug at a fast pace and has plenty of torque for towing or pushing other boats. Everything is included, all precut wooden parts, speed controller, rechargeable battery pack, plug in charger, rc transmitter, receiver, electric motor and propeller. All you need is varnish! Kit: $365
Our Guarantee: We guarantee that you will be 100% delighted with every aspect of our kits and boats or we will give you a full refund of your purchase price.
Order Form: Shipping $12.50 Continental U.S.; $21.00 Canada, Hawaii, Alaska; $55 Worldwide. WA State add 8.5% tax.
Will Lesh: T Boats Designer and Trans-Atlantic Sailor. The story of his crossing and the 24 foot boat he built and sailed.
About Our Company: We have been producing the finest, best-sailing pond-sailers since 1982. Over 65,000 boats launched.
Family Boatbuilding at Mystic WoodenBoat Festival This summer the WoodenBoat Festival at Mystic Seaport Museum will include family boatbuilding with the T37 Racing Sloop. Join us there to build a classic that will be in your family for years of sailing! Sponsored by WEST System!
Honors, Articles, Awards and Film. Here are a few of the articles that have been published and awards we have received over the years, along with some other less common forms of recognition, as well as excerpts from a film!
About Our Kits: Easily assembled in 20-30 minutes. All parts come sanded, ready to paint or varnish.
Tips on Racing RC Sailboats: where to sail, how to set up a good course, racing markers, starting and finishing, building a fleet
6 Popular Ways to Sail Tippecanoe Boats: Just add water.
Sailing Statistics: 1/8 mile in five minutes, 140 feet per minute in 12-15 mph wind.
Our Log Book: Visit our Log Book for hundreds of sparkling entries from Tippecanoe skippers.
Owners Pictures: These are great pictures that sailors and builders have sent us from all over the world of sailing their Tippecanoe boats.
Sailing Movies of the T37 RC Sailboat: I watch these movies over and over. I really enjoy them because the T37 RC Sailboats sail so gracefully!
Broughton Islands: Whales, bears, tidal rapids and williwaws. We cruise north from Desolation Sound following Captain George Vancouver's 1792 route through Johnstone Strait between Vancouver Island and the mainland coast of B.C.
Desolation Sound: The story of our cruise. Join us on our cruise north to incredible harbors along the coast of British Columbia.
Kauai: Sailing the T15 Racing Sloop off the beaches of Kauai. Pictures from our family's winter adventure.
Fun Pictures: T Boats and their skippers.
Lake Chelan: Join our family on our trip to Lake Chelan in Eastern Washington.
Marblehead Festival of the Arts: 100 Tippecanoe boats race across Redd's Pond in a burst of summer color
RC Modelsailboats built in LaConner Middle School with Eric Adam Over 50 of the T37 Remote control model sailboats have been built in Mr. Adam's classes.
T37s Racing at the Port Townsend Wooden Boat Festival Robyn and I had a great time racing our T37 remote control sailboats together at the Wooden Boat Festival in September.
Meydenbauer Bay Yacht Club Rendezvous: Roast Salmon and lots of Tippecanoe Boats for a fun weekend.
Helpful Answers: A quick review of frequently asked questions.
Regattas: Race your boat in a fleet. How to set up a regatta.
Group Rates: Many groups have annual activities centering around T Boats.
Wholesale Accounts: In stores and catalogs T Boats are extremely successful sellers.
E-Mail us at "fun@modelsailboat.com": Click here to send E-Mail. Tell us your adventures, send us your questions.
Free Boat : Win a T15 Racing Sloop kit! Find the secret 6 digit number hidden on this web site and enter our free monthly drawing.
It was an honor to be featured for my work with designing and building model yachts in the alumni profile in my university's alumni magazine. Click here for the article about how I got started and why we build the boats! RC Sailboats and model sailing yachts designed and built by Will Lesh, Tippecanoe Boats.
The Pacific Northwest Model Yacht Club Under the leadership of Commodore Allan VanNess, The PNMYC has brought an active racing schedule to Seattle and Bellingham for sailing the T37s and the T50s. There are now two Olympic Gold Medal winning skippers racing T37s with the PNMYC. The Seattle Yacht Club has hosted the T37 Regionals and the T37 Nationals. Visit the PNMYC web site at www.pnmyc.org
T37 National Championships 2010!
RC Sailboat Remote Control T37 Regatta: Fast Sailing and Windy in 2005 RC Sailboat Regatta and Lots of Fun. Light winds and plenty of sunshine in 2004 made a relaxing day of sailing. Hope you can join us next year! Pictures and movies!
2006 T37 World Championship Regatta, was held on October 15 on Greenlake in Seattle. Click here for pictures: T37 RC Sailboat Regatta Join us next year for fun racing and sailing!
For more of these exciting new Radio Control sailboats click here for our other web site RC Sailboat (the web address is www.rc-sailboat.com)

Tippecanoe Boats, ltd. 4305 Nordum Rd., Everson, WA 98247 USA phone/fax 1-800-206-0006 1-360-966-SAIL
e-mail us at: fun@modelsailboat.com
Order Form
Tippecanoe Boats is a registered trademark with the U.S. trademark office. All Tippecanoe product names are the Trademarked property of Tippecanoe Boats, ltd. The pages and images of this web site are copyrighted and cannot be used for commercial purposes except with express permission from Tippecanoe Boats, ltd.