[Owners' Pictures | Home | Order Form]
RC Sailboats! 2007 T37 World Championships! August 12th, 2007
A beautiful day greeted us at Greenlake and the races began. The wind was light and variable at first, so we set a short course, but after the first two races, a stronger breeze came in from the South and we moved the buoys farther out for a longer course. By mid-afternoon we had a fine 6 to 8 knots of breeze and allof the boats were sailing splendidly. Everyone had a terrific time and it was a very close regatta with the first two finishers only one point apart. Six races were sailed and each skipper's best five finishes were counted in the scoring. Having one throw-out race is always helpful in case a skipper has technical problems. As usual a triangular course was sailed. The first leg was beating upwind, then a reach off to the jibing mark, a second reach to the downwind mark (one end of the starting line), a beat to the upwind mark and then straight downwind across the finish line (the same line as the starting line). This course works well since it allows the starting line and the finish line to be closer into shore. At the start it is easier to see if a boat is over early and at the finish it is easier to identify which boat is finishing or to call a close finish.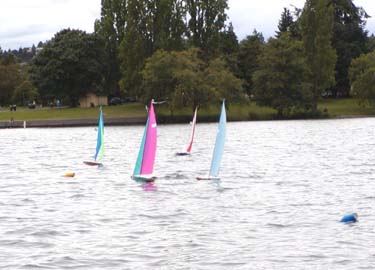 Greenlake in Seattle is an ideal sailing lake. The lake is just under a mile wide with a walking path all of the way around. There are several locations from which to sail. As the wind usually comes from the south it is best to sail on the north or west side of the lake for a good breeze. In this picture we are not looking across to the far shore but just across a small indentation in the shore.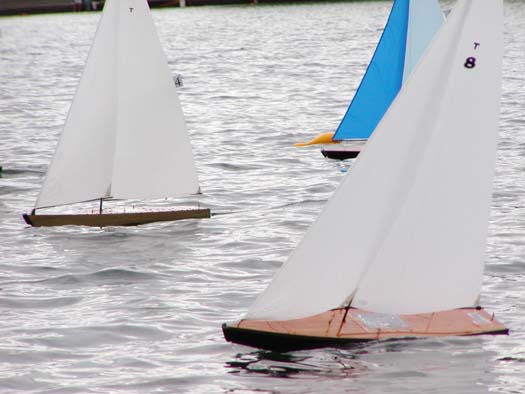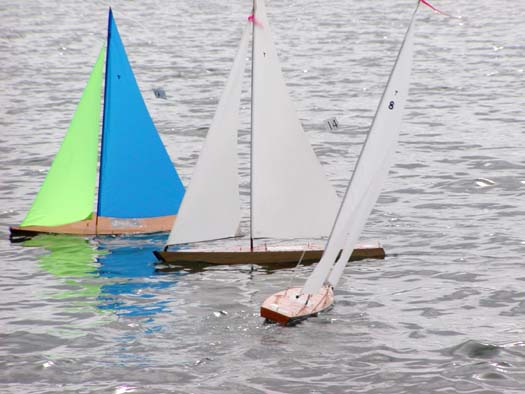 The T37s will sail in practically no wind and are also comfortable in winds as strong as 20 miles per hour. It is ideal having a boat that performs well throughout a whole range of wind speeds so racing is fun whatever the conditions turn out to be. Often the lightest winds take the most skill and experience, but strong winds are exciting and exhilarating because the boats are moving so fast.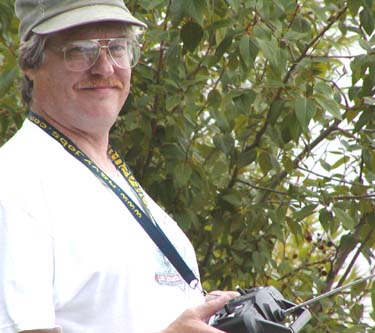 Ron Meichio started sailing with his T37 two years ago and has rapidly developed real skill at the helm of his T37. Ron took home the trophy for Third Place. He has built a terrific carrying case for his boat and sail and radio.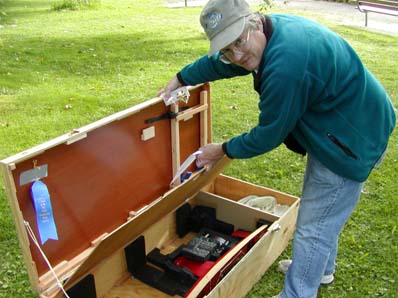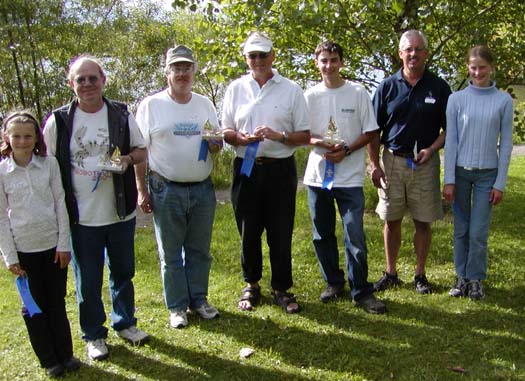 Here are the skippers lined up from left to right, Lainey, Terry, Ron, Barry, Andrew, Dave, and Robyn.
Andrew Berg from Pennsylvania took First Place with his light blue/dark blue, black hulled T37. Andrew sailed very consistently with three first place finishes, a second and a third. Andrew built his first T37 6 years ago and started with a T15 before that.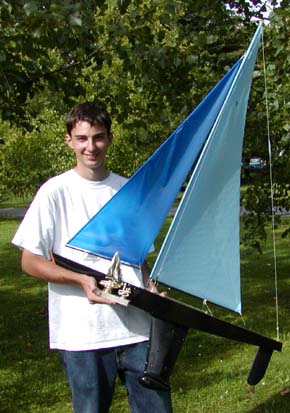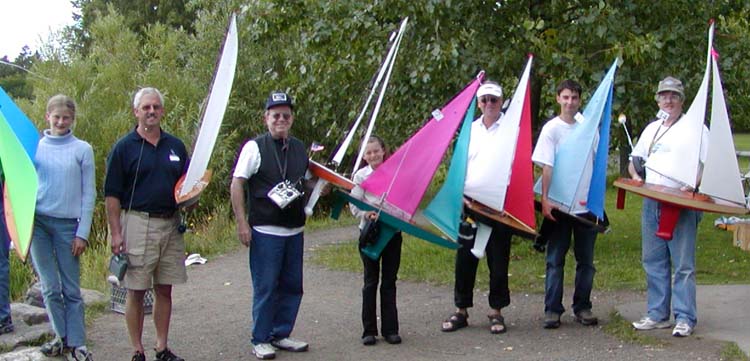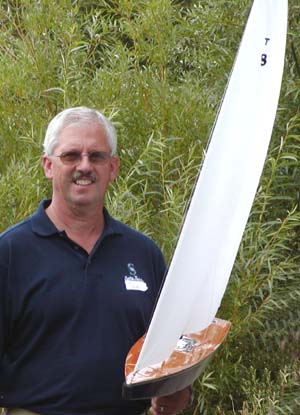 Dave (dark blue shirt) sails the most beautifully finished T37 that I have ever seen. The finish is absolutely flawless and the varnished deck simply glows. Dave is a master craftsman with a terrific sense of impeccable detail. Dave hails from Issaquah, Washington..
Terry (black vest) also has a beautiful boat. Terry put Honduras mahogany planking on the sides of his T37 for a rich and very beautiful effect. He used the Honduras mahogany veneer deck kit that is an accessory for the T37. Terry just narowly missed the first place trophy and had to settle for the Second Place Trophy. He was just one point behind Andrew in the final score.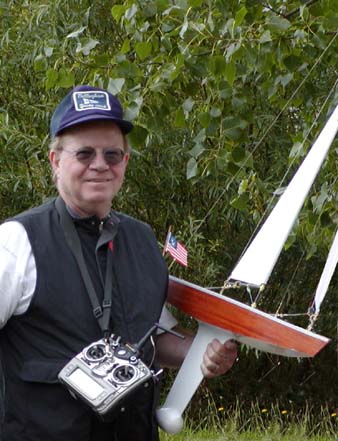 Laine was the youngest skipper of the day and sailed beautifully.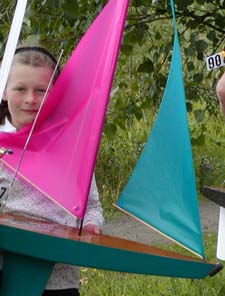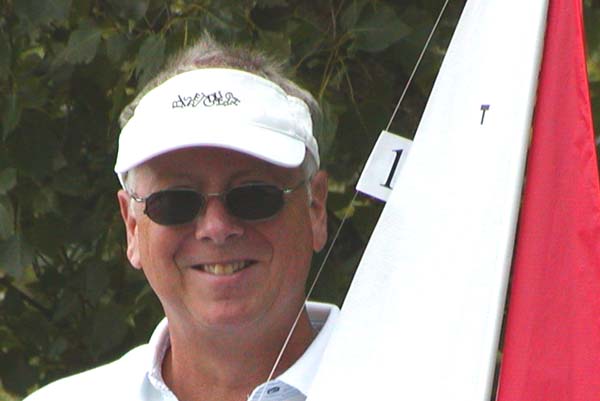 Barry came down from Vancouver, B.C. to make this a truly international event. Barry has two T37s and a T27, all of which he has built from the kits. Barry also sails a 40 foot cruising boat and is a member of the Royal Vancouver Yacht Club.
All in all it was great sailing, a great day and great people! We are looking forward to next year's T37 Worlds 2008!