[T Class Racing Sloop | T15 Racing Sloop | T12 Cruiser | Home | Order Form]
WindRacer

These two eleven inch sailboats with bright and colorful sails continually spin and chase each other in the wind. You can tell the force of the wind at a glance by seeing how fast the WindRacer is moving. In a gentle breeze the WindRacer spins around peacefully. In a squall the WindRacer races with all the excitement of the wind. Mount in the garden or on the deck or patio. Mounting rod and hardware included.
The hulls of the WindRacer are solid western red cedar. On the Finished WindRacer the hulls come varnished with 3 coats of durable marine polyurethane varnish. On the WindRacer Kit the hulls come already sanded and ready to paint or varnish. The only difference between the finished WindRacer and the kit is the varnishing. Final assembly requires only a few minutes. The fittings on deck are all solid brass. The sails are tough, long lasting nylon spinnaker sailcloth. Each WindRacer comes with two sets of sails for years of enjoyment.
Ideal for the yard or garden. Wind Racer: Kit $94.00, Finished $156.00.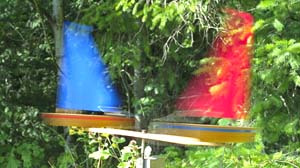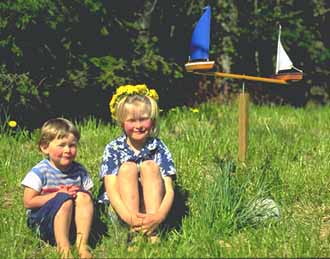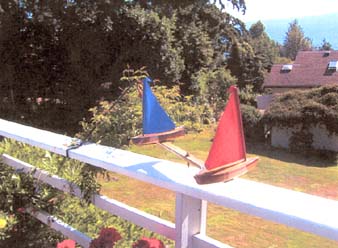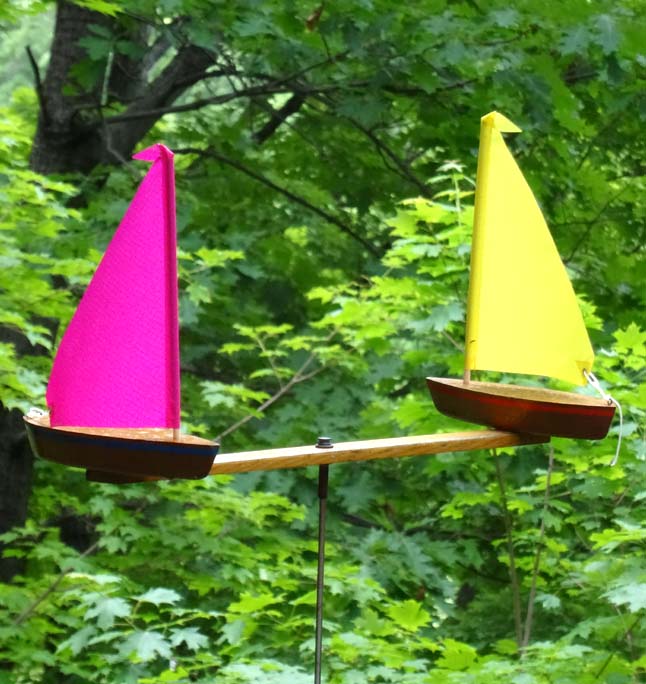 [T Class Racing Sloop | T15 Racing Sloop | T12 Cruiser | Home | Order Form]

Tippecanoe Boats, ltd. 4305 Nordum Rd., Everson, WA 98247 USA phone/fax 1-800-206-0006 1-360-966-SAIL