[Back | More Pictures | T Class Racing Sloop | T15 Racing Sloop | T12 Cruiser | Home | Order Form]
Constructed from laminated western red cedar, 5 layers of 1/8 inch cedar with WEST System epoxe, Gimble is extremely strong and very light. She averaged 5.25 knots over the entire trans-Atlantic passage. She has a fin keel and a skeg-hung rudder. She is fast and pretty lively when the wind picks up in open water.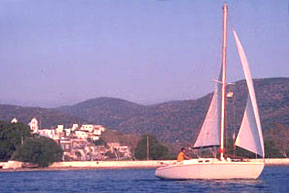 Sailing off the island of Amorgos. This was a very friendly island. We met a Greek doctor from Athens who was stationed on Amorgos for 2 years. With the doctor, George, as our passenger and accompanied by a Swedish couple on a 28 foot sloop, we sailed to the far end of the island for a religious festival and feast.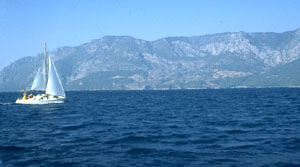 Sailing off the mountainous SW corner of Turkey en route from Bodrum to Fethiye. An English friend is on board. This picture was taken from their boat.

Tippecanoe Boats, ltd. 4305 Nordum Rd., Everson, WA 98247 USA phone/fax 1-800-206-0006 1-360-966-SAIL