About Our Kits
Tippecanoe kits are easy and fun to build. All of the woodworking is already completed when you receive your boat, the sails are already sewn, the hull is already sanded. The instructions are very clear and easy to follow.
Everything is included in the kits that you will need except for paint or varnish. Even racing stripes are included for the T12 and T15. Assembly time after varnishing is about 15 minutes for the Cruiser, 20-30 minutes for the Junior, and 30-45 minutes for the T-Class. All of the boats are also available finished and ready to sail.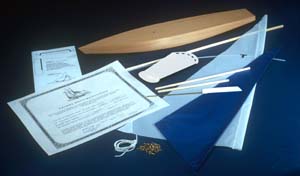 T Class Racing Sloop Kit
See also our Varnish Kit, which includes everything necessary for varnishing.
Building the T37 Radio Control Racing Sloop is a more involved process than assembling the T12, the T15 or the T-Class Racing Sloop. The T37 is a fun project and it is still easy to build, but it takes more time. For pictures showing the assembly process on the T37 click here.
[Fun Pictures | T Class Racing Sloop | T15 Racing Sloop | T12 Cruiser | Home | Order Form]

Tippecanoe Boats, ltd. 4305 Nordum Rd., Everson, WA 98247 USA phone/fax 1-800-206-0006 1-360-966-SAIL