[More Pictures | T Class Racing Sloop | Excellent Sailing Performance | T Class Sailing Picture | T15 Racing Sloop | T12 Cruiser | Home | Order Form]
There are many ways to sail Tippecanoe boats: wading after them, chasing them from a canoe, rubber raft, kayak or dinghy, sailing them on a line from shore, sailing them on a line from a large cruising yacht, sailing them in a swimming pool, sailing them right across small to medium size lakes, racing them in a regatta. They are all fun. More pictures ahead.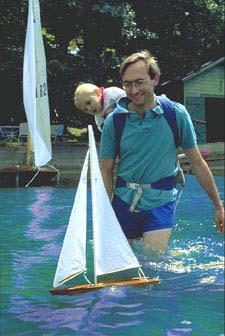 "Come on, Dad, catch it!"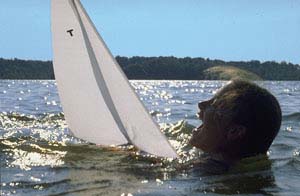 "Look out! Here comes a T Class."

Tippecanoe Boats, ltd. 4305 Nordum Rd., Everson, WA 98247 USA phone/fax 1-800-206-0006 1-360-966-SAIL