[More T27 RC Sailboat Pictures | Home | Order Form]
The T27 is a continuation of the enormously popular T37 design. The T27 has a very similar hull shape, but being 10 inches shorter than the T37, it is more portable and easy to carry. The T27 employs a slightly different construction method than the T37 as the T27's hull plywood is thinner. This model would be a great one to carry along on real boats and then pull out when the mood strikes! The smaller size allows sailors to pack the model away and bring it along on vacations or trips.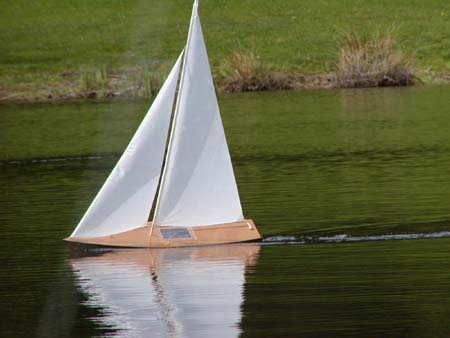 T27 Technical Specifications
Length overall: 27 inches
All up weight: 2 Lbs. (ready to sail)
Beam: 5-1/2 inches
Draft: 7-1/2 inches
Mast height (from waterline): 36 inches
Sail area: 318 sq. inches
The T27 adds a smaller, more portable sailboat to the Tippecanoe lineup. It is a charm to build and it looks just as magnificent as its larger counterparts when out on the water.
Stow it in your boat's locker or in your car's trunk for when you have some sailing time. The boat assembles in under a minute, so you can be into the water quickly!
The T27 is controlled via Radio Control system just like our other RC boats. One servo controls both sails simultaneously while the other servo steers the boat with its rudder.
The T27 is a smaller and lighter model and it is constructed with thinner plywood than our T37 to keep weight to a minimum. Small size doesn't have to mean small performance! The boat employs a weighted cast ballast fin keel so it physically cannot capsize while sailing!
The boat can be built by anyone; its construction process is simple and very well documented. The kit includes a 45-page illustrated instruction manual to assist you in your build. Everything you'll need is included: all marine epoxy glues, pre-cut wood parts, rigging line, dowels, cast ballast, pre-sewn sails, etc. Just supply basic household tools to complete your model yacht plus paint, varnish and batteries!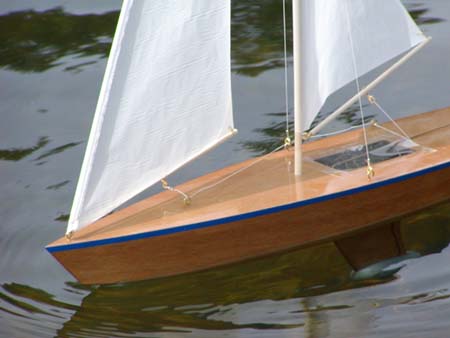 Here you can see the simple elegance in the T27's deck design. All hardware is seaworthy brass so it shines brightly on the mahogony deck.
T27 Kit: $320.00.
T27 Finished: $1400.00 (Please call for availability of finished boats.)
T27 Table Stand: $17.00.
T27 Wall-hanging Stand $17.00.
T27 Varnish kit for the deck: $16.50.
T27 shipping in the continental US $19.50, Can, AK, HI, PR $39, all other countries $74.
T27 Racing Sloop Photographs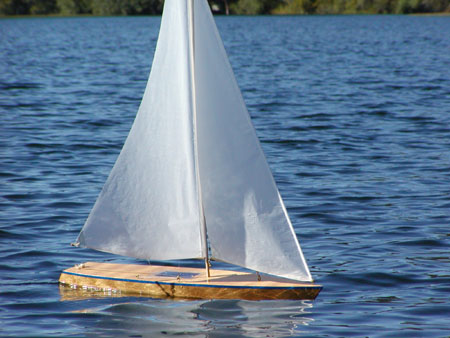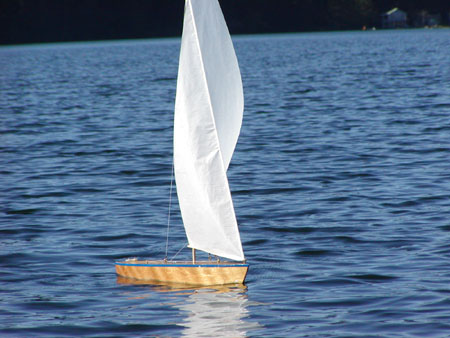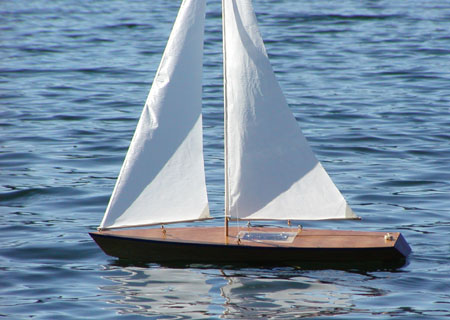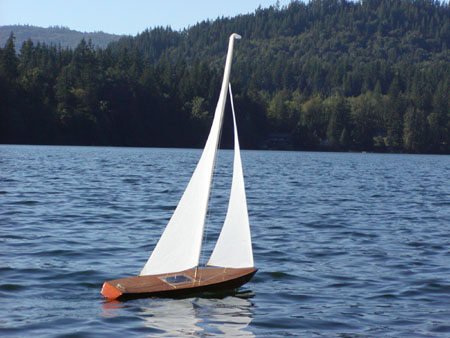 [More T27 RC Sailboat Pictures | Home | Order Form]

Tippecanoe Boats, ltd. 4305 Nordum Rd., Everson, WA 98247 USA phone/fax 1-800-206-0006 1-360-966-SAIL