About Our Company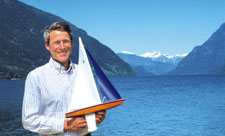 Will Lesh, Tippecanoe Boats designer and trans-Atlantic sailor
Tippecanoe Boats was founded by Will Lesh and Cynthia Rogers Lesh in 1983. Over 65,000 boats have been built in the past 30 years. Support for the company has been tremendous. So many people grew up with beautiful wooden pond sailers and have been disappointed in their attempts to buy a really fine model sailing boat today until they have found Tippecanoe Boats. One person told us that he had woken up with a dream of sailing a beautiful model boat on a beautiful lake. He climbed out of bed and got on the Internet and found nothing. Fortunately at about 10:00 am. he happened to discover us purely by chance at a retail show that we were doing that same morning. That was shortly before we launched our web site. No other company produces the fine sailing, traditionally elegant boats that are the hallmark of Tippecanoe Boats.
We believe that every boat that leaves our production facility should be a boat we would be proud to own ourselves. In other words, every boat should be perfect. We also strongly believe that no one should be disappointed with our boats, that they should sail beautifully and fast, and that they should be affordable for everyone. Enjoy a visit to our Log Book where hundreds of people have reported back on the fun of owning and sailing Tippecanoe Boats.
Click here for pictures of Gimble, the 24 foot boat Will built and sailed across the Atlantic.
[ T Class Sailing Picture | T Class Racing Sloop | T15 Racing Sloop | T12 Cruiser | Home | Order Form]

Tippecanoe Boats, ltd. 4305 Nordum Rd., Everson, WA 98247 USA phone/fax 1-800-206-0006 1-360-966-SAIL