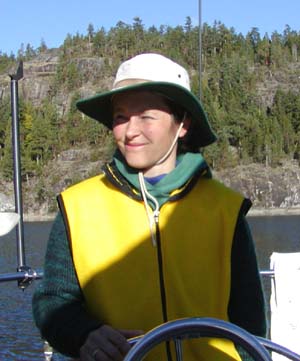 Click here for our Award-Winning Model Sailboats. 5 inches to 37 inches, Free-sailing and Radio Control
[Owners Pictures | Excellent Sailing Performance | T Class Racing Sloop | T15 Racing Sloop | T12 Cruiser | T37 RC Sloop | Home | Order Form]
This hat has been around! Waterpark sliding, hiking in the Cascades, swimming on incredible Pacific coast beaches, sailing in the San Juans, sailing in BC, and lots of lakes. We live in these hats during the summer. The hat in this picture has been all of these places and is more than two years old, but still looks new. They last.
These hats fit down on the head so they are comfortable and don't blow off even with the draw string hanging loose. When the wind picks up over 20 knots and you are going up on the bow deck, tightening the draw string keeps the hat safe.
The best feature about the hat is the wide 3 1/2 inch flexible brim which gives the maximum sun protection, yet the brim does not flop or sag and holds its shape even when the hat is crushed up and jammed into a bag.
The hat floats.
The hat is a soft and fairly light cotton canvas, just slightly off-white with a dark green under the brim and a leather suede hat band - very attractive and somewhat dashing.
None of the hat's fittings can rust. We have found that the only real solution to wearing a hat in a salt environment is to go with the new plastic eyelets - they look like metal (in fact I checked them with a magnet because I was suspicious) but they can't corrode like brass if the hats stay damp with salt water for a few days and they can't rust like brass plated steel will inevitably do.
We have gone through a lot of hats from different manufacturers over the past 20 years but none has passed our rigorous use tests until we found these hats which are hand made within 20 miles of where we build our Tippecanoe Boats. This is another great Northwest product. And needless to say, these hats are perfect when you are out on a lake sailing your T-Class Racing Sloop or the Cruiser or the T15 or the T37. Sun protection has always been important. I remember my Dad stressing it when I was growing up sailing on the Chesapeake and going to Atlantic beaches, but it's probably even more important now.
Cynthia and I both wear a medium. Robyn and Laine have worn a medium since they were 8.
Sailing Hat, medium size only: $46.00
Medium (hat size 7 1/4, 21 1/2 - 22 1/2 inches, 55 - 57 cm)

[Owners Pictures | Excellent Sailing Performance | T Class Racing Sloop | T15 Racing Sloop | T12 Cruiser | T37 RC Sloop | Home | Order Form]