One of the only remote control sailboats built out of wood, the T37 rc sailboat is very light and very strong. It is one of the most elegant rc sailboat kits available. This remote control sailboat will give pleasure for generations of sailors. There is nothing like having an elegant radio controlled sailboat sailing out across a beautiful lake on a sunny day!
[More T37 RC Sailboat Pictures | Home | Order Form]
T37 Racing Sloop, Remote Control Sailboat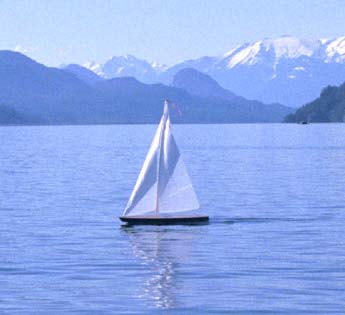 Race or sail for fun.
Fast, powerful, affordable - and fun to build.
37 inches long, 5 feet high, total weight 4 lb., ballast casting 2 lb.
Excellent instructions make the kit very rewarding to build.
The finished boat comes fully completed and ready to sail.
Both the kit and the finished boat come with all the Radio Control equipment included (except for batteries).
The hull is very light and strong, built from 1/8 inch mahogany plywood.
The mast removes in less than one minute for easy transport.
In the kit everything is included: precut pieces, epoxe resin, presewn sails, cast ballast.
All you need to finish the kit is paint and varnish, or just paint.
For assembly, we recommend ages 15 and up, or 12 and up with an adult.
For sailing and racing, we suggest ages 8 through adult.
Race as a one design class with other T37s.
Kit Price with Radio Control $265.00. Finished with Radio Control $1200.
T37 shipping in the continental US $19.50, Can, AK, HI, PR $39, all other countries $74.
T37 Table Stand $15.50. T37 Wall-hanging Stand $12.50. T37 Varnish kit for the deck $12.50. Veneer Deck Kit $16.50.
Carbon Fiber Mast instead of standard wood mast $8.50
The T37 is also available in a Racing Upgrade Version. Click here for more information on the Racing Upgrades: T37 RC Sailboat Racing Upgrade Kit version