[Owners Pictures | Excellent Sailing Performance | T Class Racing Sloop | T15 Racing Sloop | T12 Cruiser | T37 RC Sloop | Home | Order Form]
Marblehead, Massachusetts! Boats, Boats, Boats!
Of course Marblehead has as long a seafaring tradition as almost any port in America, so it is an honor to have our boats being built there. The Marblehead Festival of the Arts has created a wonderful event as part of the festival where families get their boats at the festival, build them, and on the last day of the festival race them at the famous Red's Pond. This event was so popular the first year that the festival ran out of boats with 80 boats available, so the second year they started with 100 boats, and they were all taken. The races are spectacular with almost every boat having a different combination of sail colors. Which is more fun the building or the racing? It's hard to tell from these pictures. Each year there will be more families with Tippecanoe Boats in Marblehead so each year there will be more boats out on the pond for the races.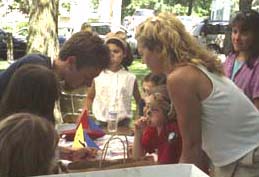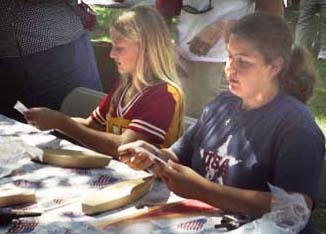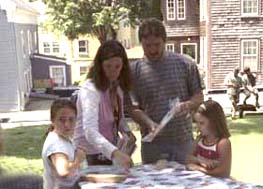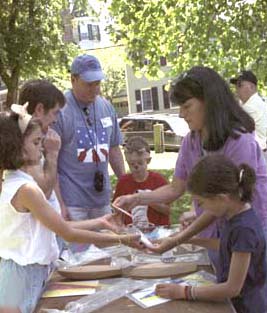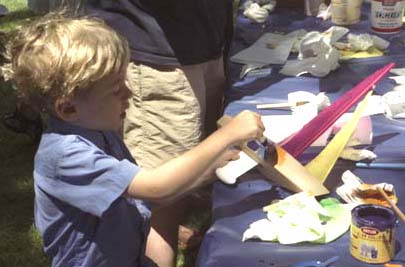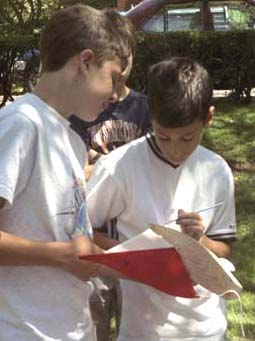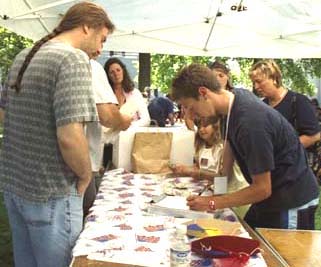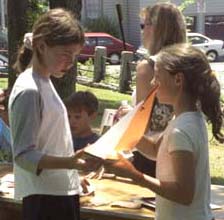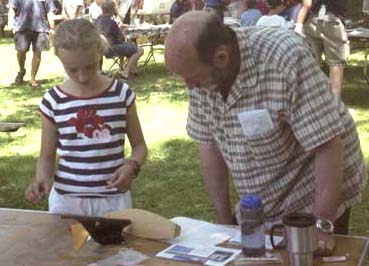 The event is wonderfully organized with tables for assembling the boats and all the supplies necessary for painting or varnishing. The line of people waiting to sign up and get their boats was in a nice cool shady area. Everyone in this picture, including the last man in line, got a boat. See if you can find him with his son and their finished boat in a picture farther down the page.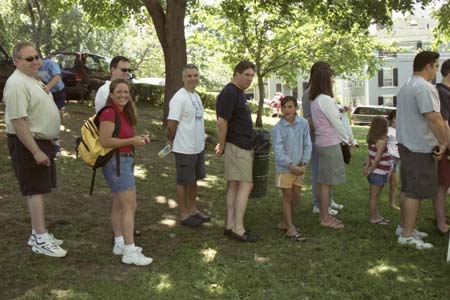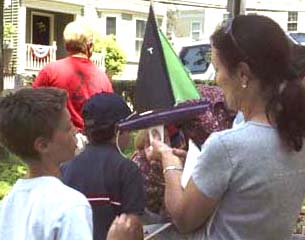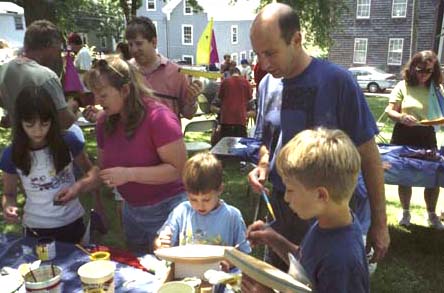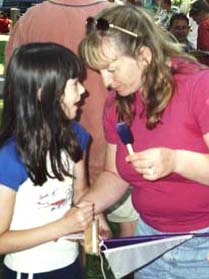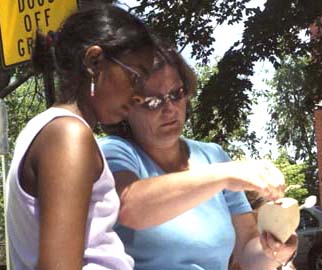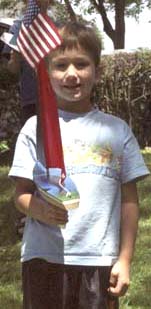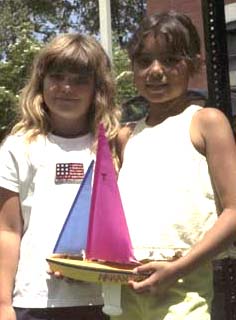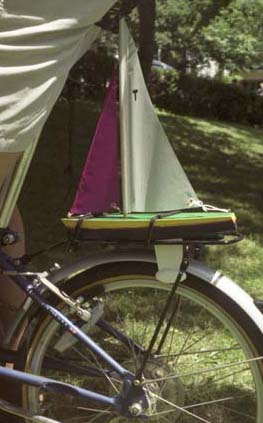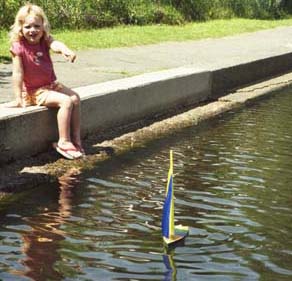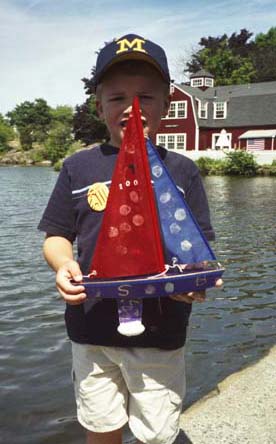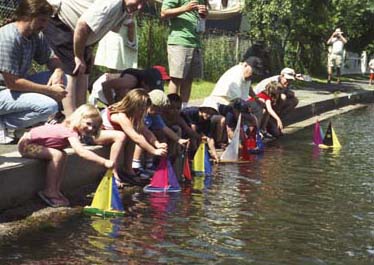 Lots of practice sailing takes place early in the day.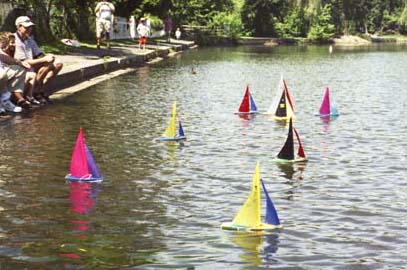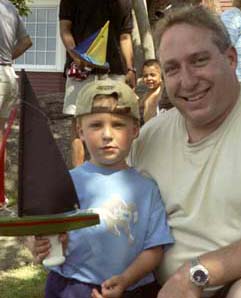 Now it is time for the real race! The excitement builds as everyone lines up along the edge of Reds Pond waiting for the starting gun!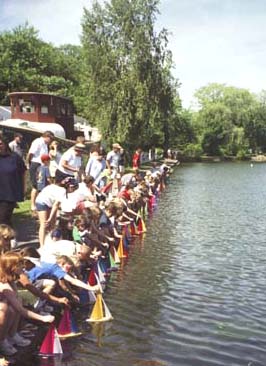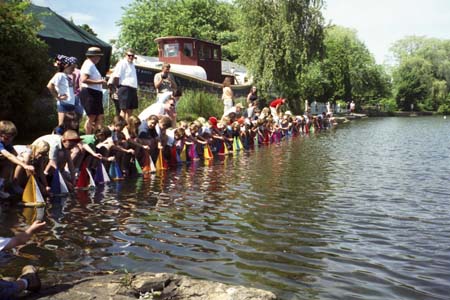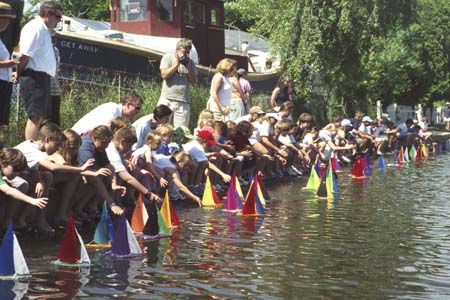 And they're off, heading for the far shore!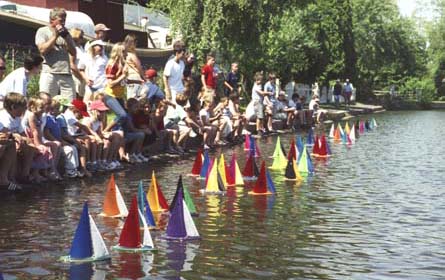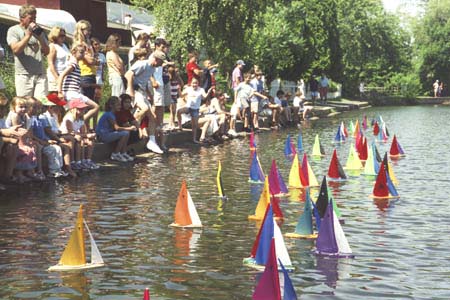 Purple and white is in a good position at the start, but there are many variables in a race of this nature and soon the fleet spreads out across the pond as the boats race towards the finish line. What a fine day of sailing! And what fun!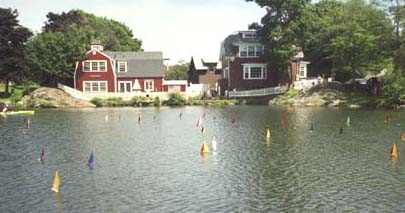 There are more pictures from Marblehead sent to us by Daniel who is ten years old and lives in Southern California. He was lucky enough to be in Marblehead on the weekend of the Arts Festival for the boatbuilding and racing. Click here for Daniel's great pictures.
For more information about the Marblehead Festival of the Arts and their contact information click here: Marblehead Festival
[Owners Pictures | Excellent Sailing Performance | T Class Racing Sloop | T15 Racing Sloop | T12 Cruiser | T37 RC Sloop | Home | Order Form]