[T37 RC Racing Sloop Pictures| T37 Racing Sloop | Home | Order Form | T37 Racing Upgrade Order Form]
Racing Flags and Marks Kit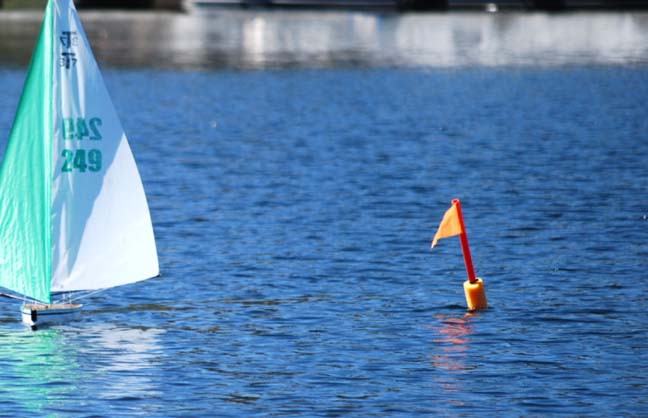 |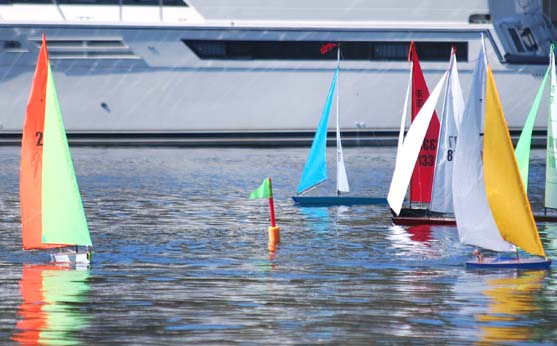 These marks were designed through a collaboration between Allan VanNess, Commodore of the Pacific Northwest Model Yacht Club, and Will Lesh, designer of the Tippecanoe boats.
The marks are convenient and easy to transport. They are very throwable and can be thrown out as far as 30 yards while the end of the line to retrieve the mark remains on shore. The retrieval line is nylon which sinks after it has been in the water for a couple of minutes. The colored flags at the top of the marks along with the orange float collars make the marks easy to see in all conditions. The different bright colors of the flags make it easy to call out the course so everyone can understand which buoys to round in what order. The bright flags add to the festive and colorful aspect of holding a regatta and are about 11 inches long.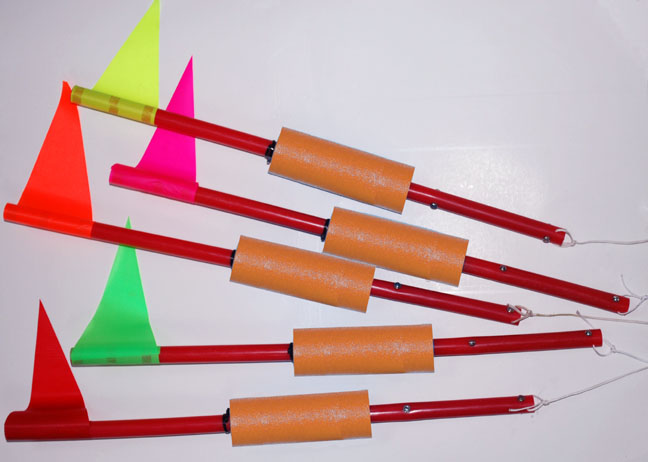 Each kit contains the materials for 5 marks, including 5 brightly colored flags in green, orange, pink, red, and yellow, anchor weights, nylon cord, collar foam, and spools for winding up the anchor lines. The Racing Flags and Marks Kit is $87.00.
We have developed a very functional and fun system for setting the racing marks using our T24 RC Tug and Mark Setting Barge. You can read more at www.modelsailboat.com/barge.html
To order the Racing Marks Kit, click here for an order form that shows the Racing Upgrade Version of the T37 Kit along with all of the Racing Accessories: Remote control sailboats racing accessories order form.
[T37 RC Racing Sloop Pictures| T37 Racing Sloop | Home | Order Form | T37 Racing Upgrade Order Form]