[More Owners Pictures | Excellent Sailing Performance | T Class Racing Sloop | T15 Racing Sloop | T12 Cruiser | T37 RC Racing Sloop | Home | Order Form]
At last, pictures of the famous sailing pond in Central Park, Conservatory Water!
The first wonderful pictures and commentary on this page are all provided by Thomas Benson of New York, New York. For years we have wanted to have pictures showing one of our boats sailing on Conservatory Pond (also known as Conservatory Waters) in Central Park. After the French sailing ponds in Paris at the Louvre (see the first "Owners' Pictures" page for a T15 sailing on this famous pond) and at the Garden of Luxembourg, the pond in Central Park has to be one of the most famous sailing ponds in the world, for it is of course here that Stuart Little raced against the "Lillian B. Womrath" as skipper on board the "Wasp", or was it the other way around? You will have to correct me if I am wrong. During the race the crowd was so excited, they pressed forwards to see better, and the policeman who was trying to hold them back went tumbling over backwards into the pond. Thomas has just ordered a T37 Radio Control Racing Yacht Kit to sail with his T-Class so hopefully we will be able to add some more pictures of this famous pond, next time with his T37 racing across! Over the years many of our boats have sailed these famous waters, but we have never had pictures, thank you Thomas for getting us these fun pictures and providing the great commentary!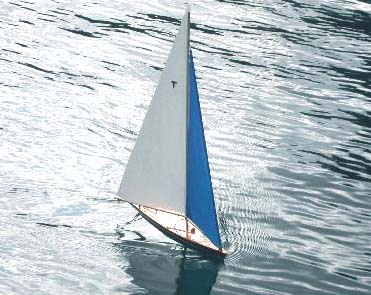 (Thomas's commentary)
"Here's my boat on its maiden voyage in New York City's Conservatory Pond."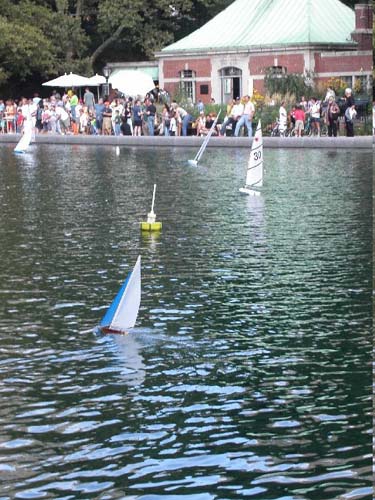 "You can see the boat house in the background, boats always sail for quite a crowd. My T-Class is probably the smallest boat on the pond most days but people often comment on how it sails the best.
Kids love that it is a free-sailer and that once released I don't know for sure where it's headed, but the basically oval pond is perfect for this type of boat."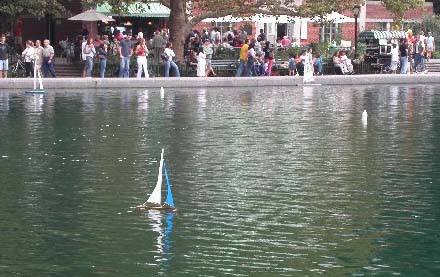 Another pass, you can see the cart with a green and white canopy on the right, from the cart you can rent boats (42" Laser RC) to sail by the hour. They use a single sail and are easily outsailed by anything else on the water.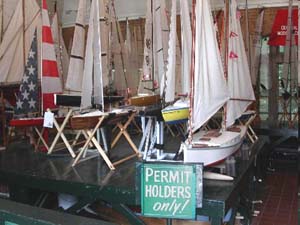 Inside the boat house, if you're lucky and sign-up early you can leave your boat at the pond all summer, a huge bonus in a city where its easier to use mass transit than a car!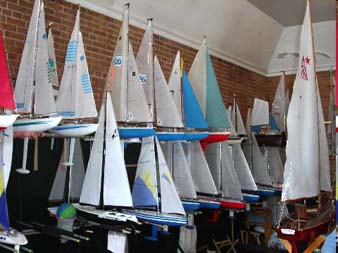 As you can see there's a huge variety of hull sizes and shapes, but it's the wooden hull boats that get all the attention.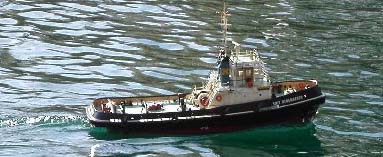 Not all boats on the pond are sail powered this is an example of a beautiful, multi channel tug.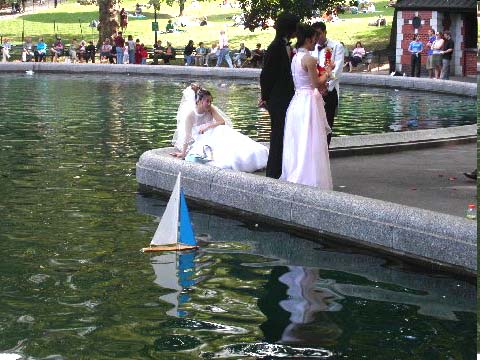 Being a free sailing boat my T-class sometimes has some unintended consequences, here it appears as an uninvited guest in a wedding photo shoot.



Thanks Thomas!
Here are some more Pictures of Boats on Conservatory Water!
Carter and his T-37!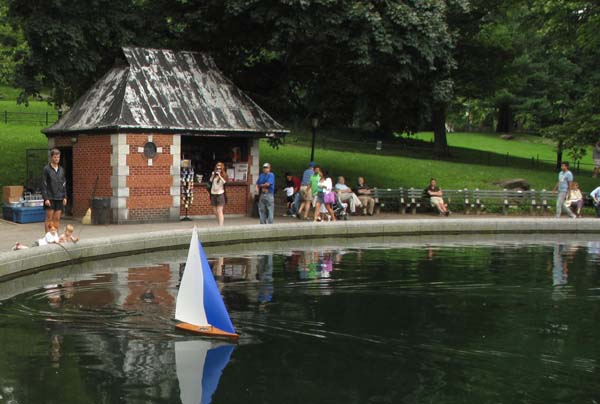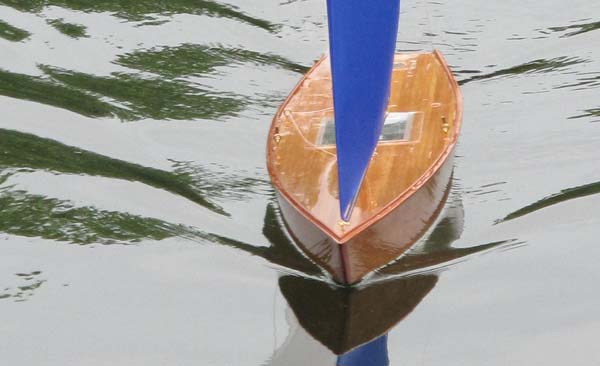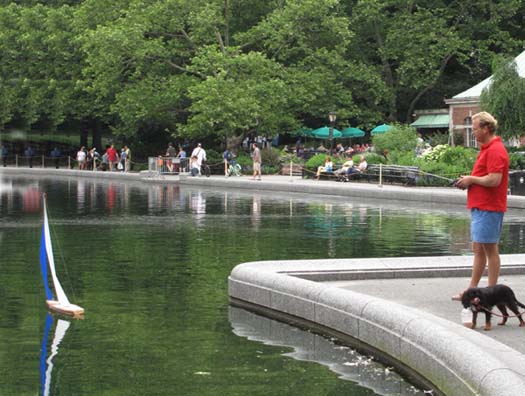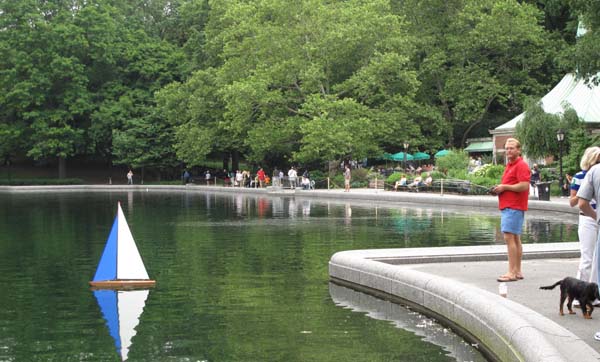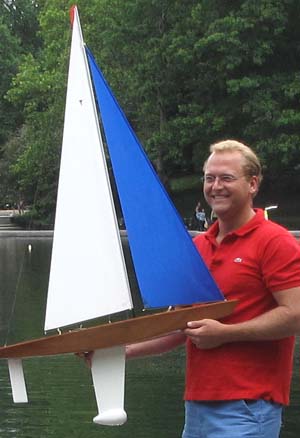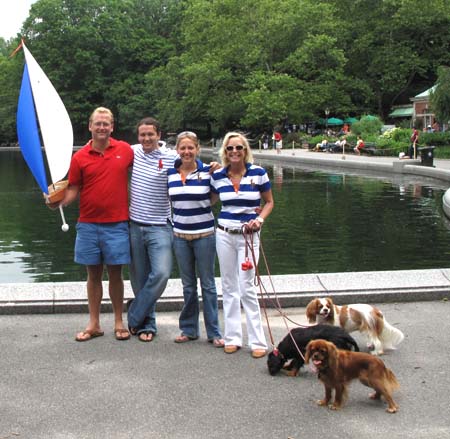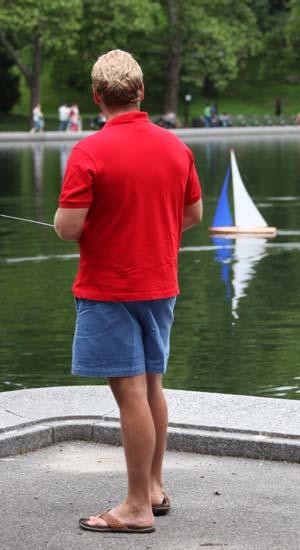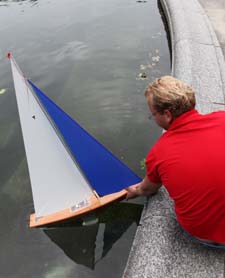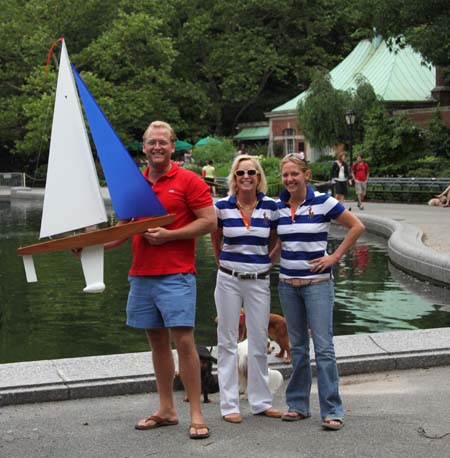 Spreckles Lake, Golden Gate Park!
As an afterthought I decided I should add the pictures of Spreckles Lake in Golden Gate Park to this same page since Spreckles Lake, built by the sugar magnate Mr. Spreckles specifically for free-sailing model sailboats, is close beside Conservatory Waters in its fame as one of our nation's foremost model sailing ponds. The pictures of Spreckles Lake were sent by the Trexler Family and they have a T37, a T15 and a T12 out on a slightly foggy day at the park with a great breeze coming in right off of the Pacific Ocean, which is just a few blocks away.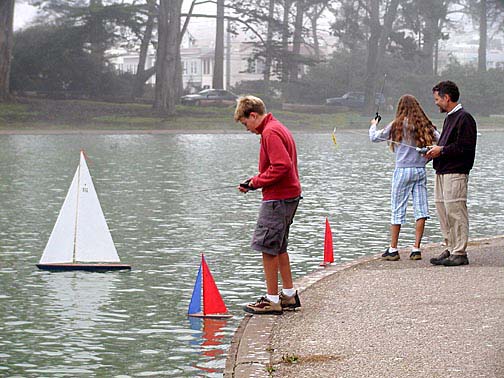 The white sails are the T37 RC Racing Yacht, the red and blue sails are the T15, and the red sail is an earlier design of the T12 Cruiser when it was still rigged as a catboat with just one sail. Note in this picture, at Chad's toes, one of the splendid details of this sailing pond! Do you see it? There is a wooden bumper all the way around the pond so the boats will have a soft landing when they reach the side! I can just picture myself there with them!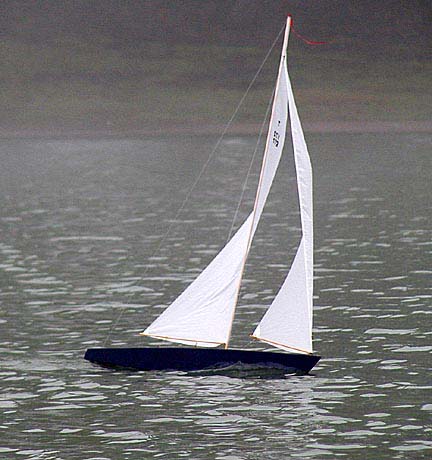 Here the wind is picking up for some great sailing! Thanks for these super pictures Chad and Jim and Susie!
Redd's Pond, Marblehead!
And while we are on the subject of the GREAT Sailing Ponds, I better not close this page without a shot of the famous Redd's Pond in Marblehead. This picture shows the start of a race that took place in connection with a reading challenge, where each child, as a reward for completing their reading goal, received a T12 sailboat kit to build and then the big day of the race came and what enthusiasm! These are the new T12 Racing Sloop with the two sails, main and jib! If anyone else has pictures of sailing their Tippecanoe Boats on Redd's Pond we would really enjoy having pictures that show more of the pond, because it is a lovely setting, just outside of Marblehead, Massachusetts. This is an eager and exciting moment just at the start of the race. The race was across the pond to the far side. This picture was sent to us by the fine folks, Sam and Kristin Pollard, at Mud Puddle Toys in Marblehead. They carry our boats in the wonderful toy store they started after getting back from several years of cruising in the Carribbean.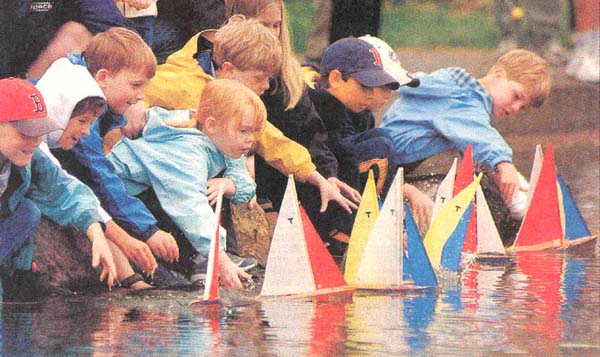 Seattle Sailing Pond!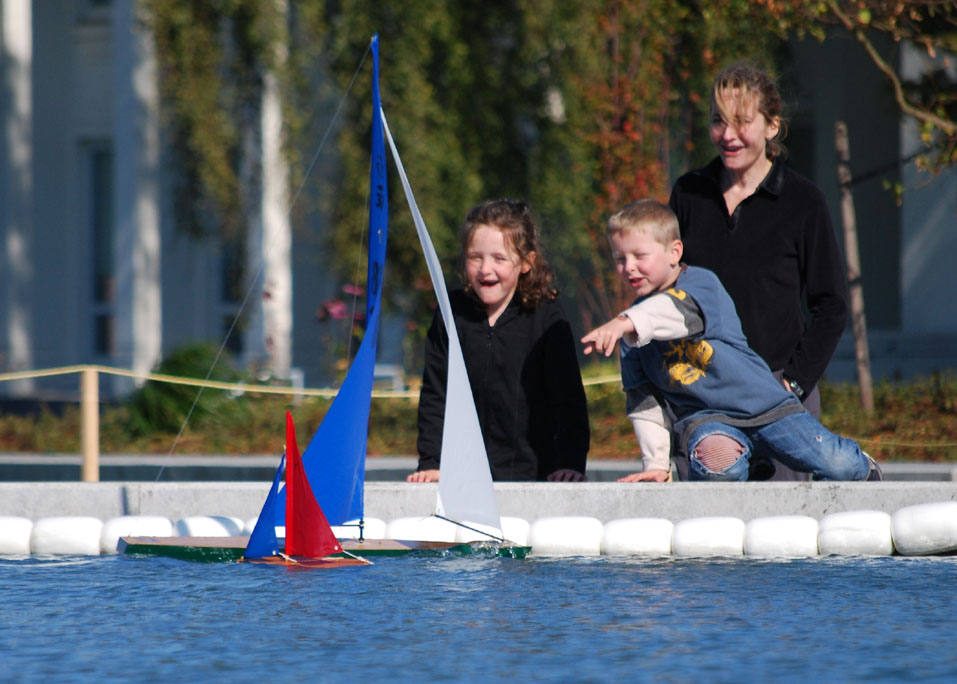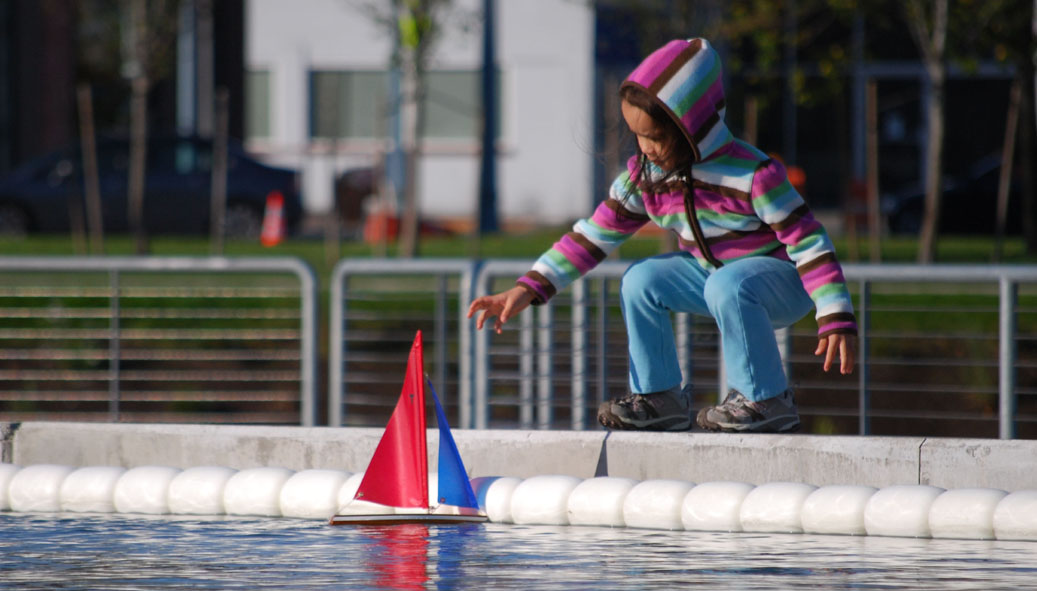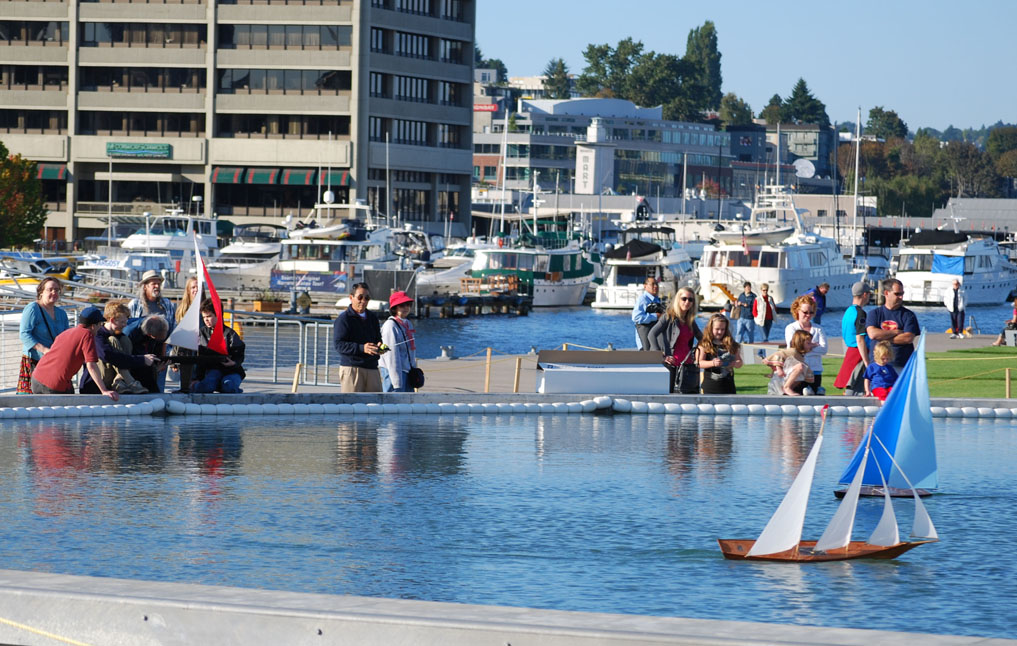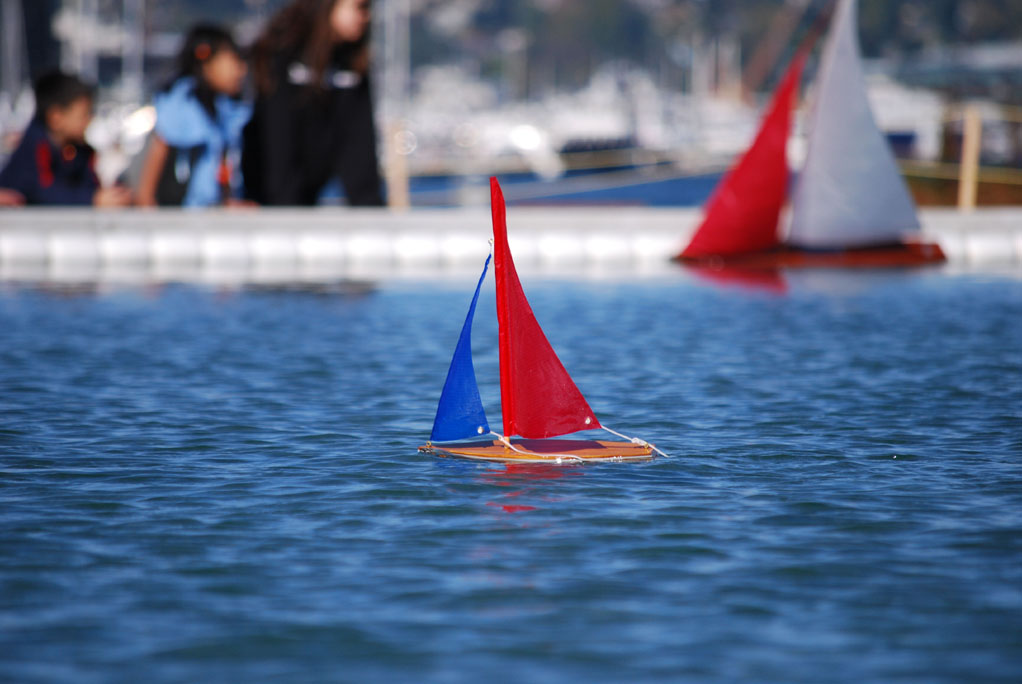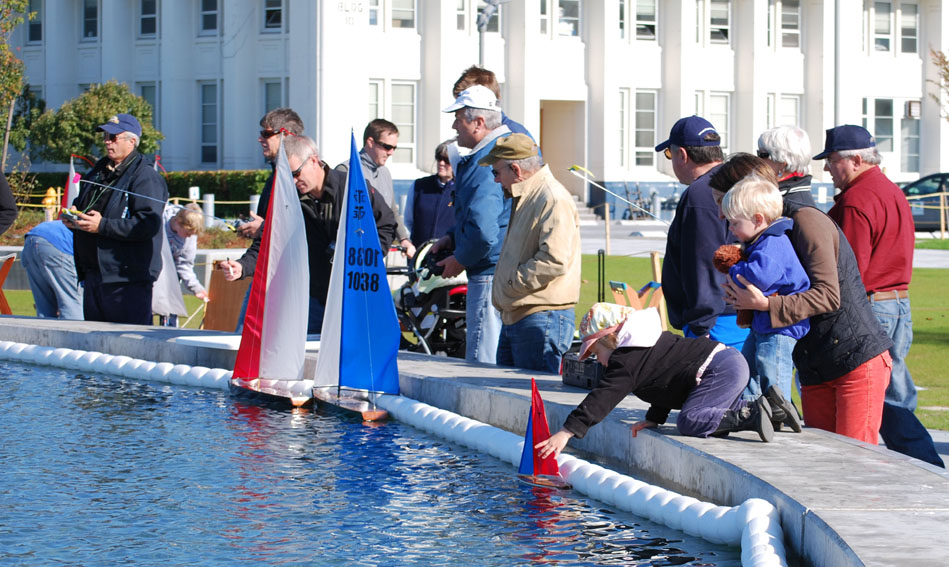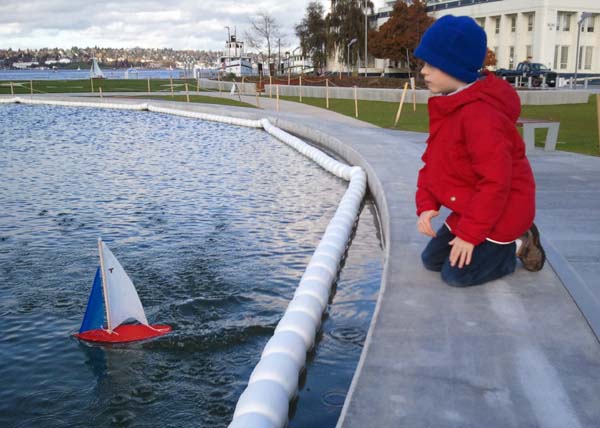 [More Owners Pictures | Excellent Sailing Performance | T Class Racing Sloop | T15 Racing Sloop | T12 Cruiser | T37 RC Racing Sloop | Home | Order Form]