[Home Page | Owners Pictures | More Fun Pictures | Excellent Sailing Performance | radio control T37 | T Class Racing Sloop | T15 Racing Sloop | T12 Cruiser | Order Form]
Installing the ratchet plate for the sail control toggle
for the HiTech Ranger 2N Transmitter.
Not to worry - this is easy and does not require any technical knowledge or technical skill! This step is not necessary, but it is convenient to have the sail control toggle on a ratchet instead of being spring loaded. When the toggle control lever is spring loaded it always returns to a centered position. With the ratchet installed the toggle control stays in whatever position you set it to. For the rudder control, you want the rudder always to return to a centered position, for the sail control it is easiest if the sails stay where you set them until you want to change their position by moving the toggle control to a new position.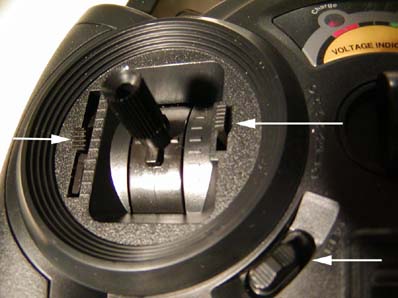 On the left hand (sail) control side there are three switches near the control stick. The trim lever slides up and down to the left of the control stick. The "center neutral switch" is to the right hand side of the control stick and has just two positions, up or down. The up position centers the servo when the control stick is centered,. The down position throws the servo over 20% one way when the control stick is centered. For our use we want this switch to be in the up position. The third switch reverses the direction that the servo moves when the control stick is moved.
Installing the Ratchet Plate in the Transmitter.
First remove the back of the case by unscrewing the 4 philips screws in the back of the case and the two small philips screws in the handle.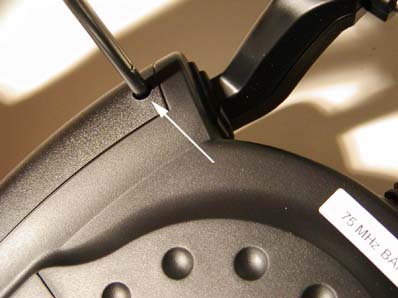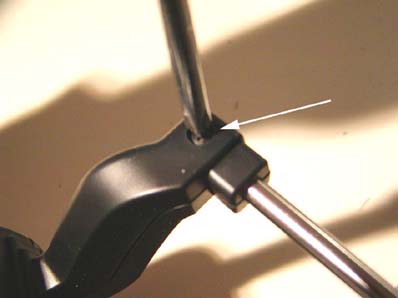 When you remove the back of the case, you will see the back side of the control units. The sail control unit should be on the right hand side when seen from the back side. Unhook the spring from the lever arm (use tweezers, or a thin pointed tool). Remove the spring completely and then remove the lever arm by pulling the lever arm up and then working the lever arm sideways until it comes free. Remove the lever arm entirely.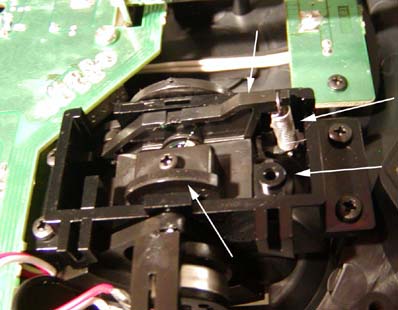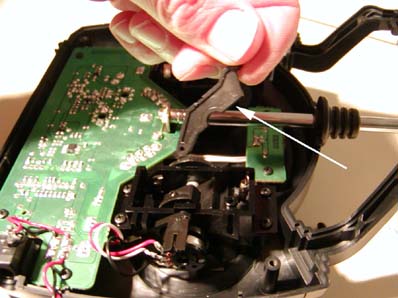 Find the ratchet plate and ratchet plate screw in the rc gear box. The above picture shows, clockwise, the lever arm still in place, the spring still in place, the hole for the ratchet plate screw and the ridged serations on the cam where the end of the ratchet plate will rest. Put the ratchet plate in place with the small ridge on the ridged cam and the hole lined up with the screw hole in the control unit. Using a very small philips screw driver, screw the small ratchet plate screw through the hole in the metal ratchet plate and into the screw hole in the plastic control unit. Screw the screw in until it is holding the ratchet plate firmly against the serrated cam.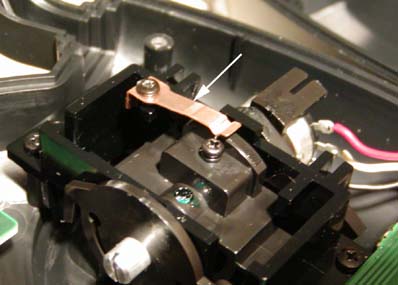 Replace the back of the case, making certain the handle is in place, and screw in the four case screws and the two handle screws.
Congratulations! Good Job!
[Home Page | Owners Pictures | More Fun Pictures | Excellent Sailing Performance | radio control T37 | T Class Racing Sloop | T15 Racing Sloop | T12 Cruiser | Order Form]