[T37 Regatta Pictures | T37 Information | Owners' Pictures | Home | Order Form]
Tippecanoe Boats at the Port Townsend Wooden Boat Festival
We had a great booth at the Wooden Boat Festival in September at Port Townsend, Washington. In between selling boats and building a T37 in our booth, Robyn and I had a chance to race two of our T37s. The T37 with the orange and yellow sails was built by Robyn entirely by herself. She read the instructions and did every step by herself and the boat turned out beautifully. Robyn is the first 9 year old to build one of these boats by herself as far as we know. It was great fun racing these beautiful small wooden boats in the midst of the great impressive large wooden boats assembled at the festival - and the festival goers loved watching the T37s sail.
Here we are as we get ready for the first race. I am on the left with the white sailors hat. (Note how well the Sailor's Hat shades my face). Robyn is on the right with the other white sailors hat. The orange and yellow boat is the boat that Robyn built by herself.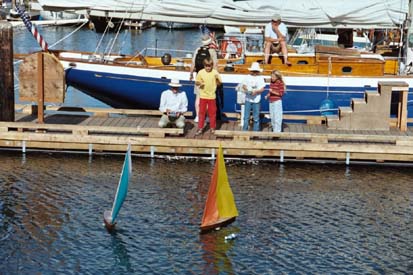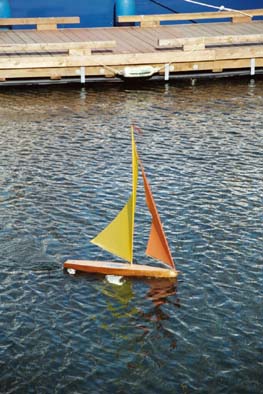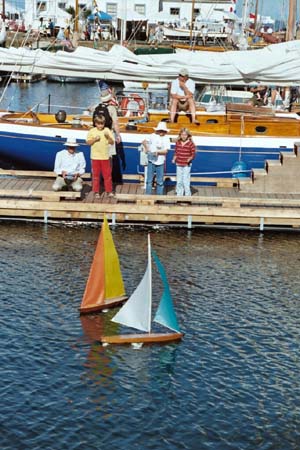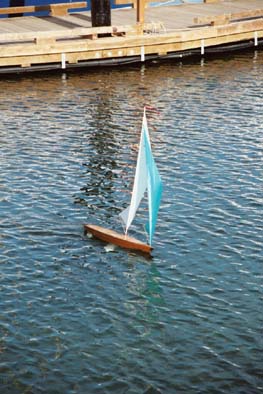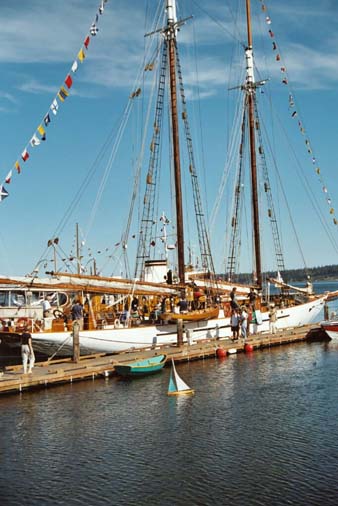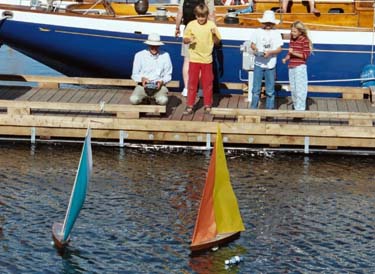 In the picture to the left is the Schooner "Adventuress" with my T37 sailing on this side of the floating pier. The range of these full power radio control units is such that anywhere within this large boat basin would very easily be within range.
These bright pictures are courtesy of Anne Jennings from Port Ludlow, Washington. Anne was attending the festival and enjoyed watching the boats sailing and was very thoughtful in sending us some of the pictures she took. Thanks Anne!
[T37 Regatta Pictures | T37 Information | Owners' Pictures | Home | Order Form]