[T37 RC Racing Sloop Pictures| T37 Racing Sloop | Home | Starting Timer | Lakeside Stand | Bow Bumper |
T37 Racing Upgrade and Accessories Order Form | Standard Order Form]
The Bow Bumper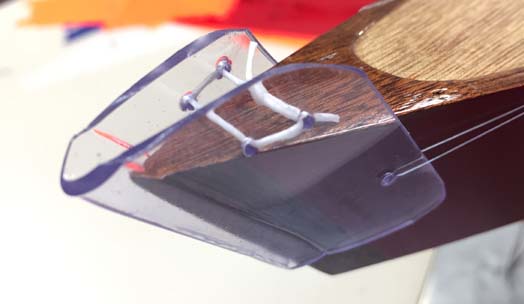 For the T37 and T50 Racing Sloops. This new bow bumper is designed to protect your bow and another boat's topsides in the event of a collision during racing. The bumper is also effective if you collide with the side of a pool or the cement side of a sailing pond. The bow bumper is required by the Pacific Northwest Model Yacht Club for all competitions (more about the Pacific Northwest Model Yacht Club at www.pnmyc.org).
The Bow Bumper, with instructions: $6.50
To order the Bow Bumper, click here for an order form that shows the Racing Upgrade Version of the T37 Kit along with all of the Racing Accessories: Remote control sailboats racing accessories order form.
[T37 RC Racing Sloop Pictures| T37 Racing Sloop | Home | Order Form | T37 Racing Upgrade Order Form]