[Great Owners' Pictures | Movies | T37 Radio Controlled Sailboat | Desolation Sound | Excellent Sailing Performance | T Class Racing Sloop | T15 Racing Sloop | T12 Cruiser | Home | Order Form]
At last we made it! Right into the iconic Wall Street Journal!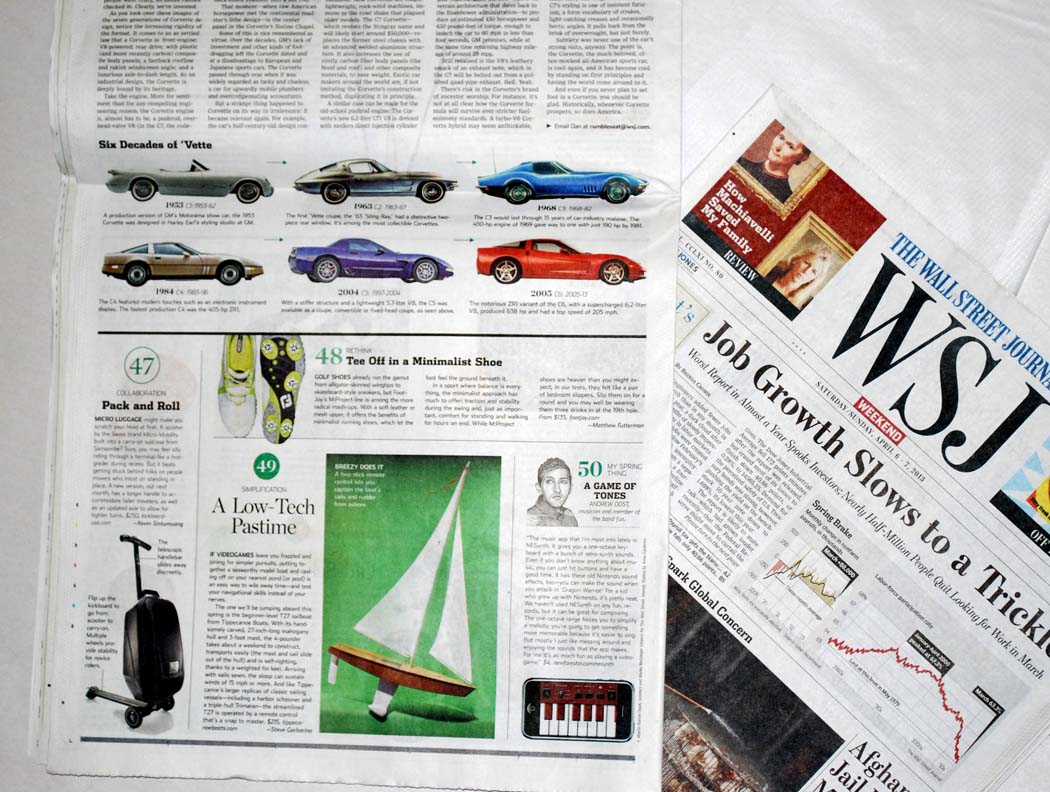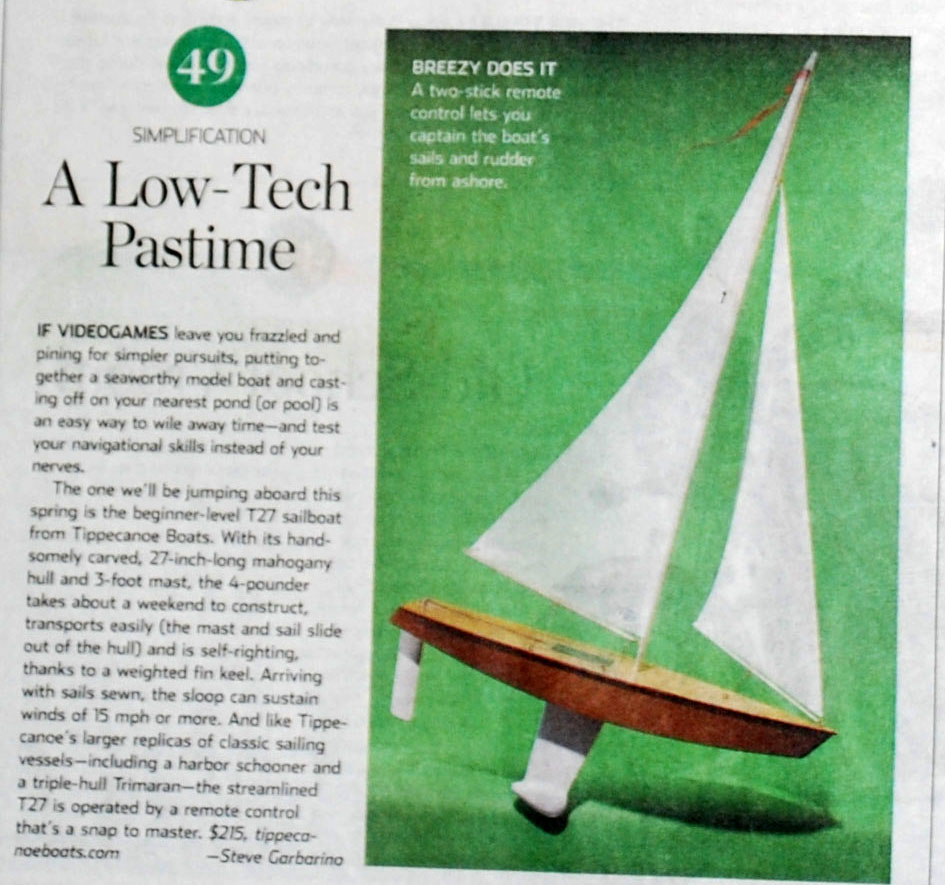 It is nice to be featured on the front of a phone book. You can even see our trademark T on the sail if you look carefully! This is one of our T15 Racing Sloops, winner of the Parents' Choice Gold Award for Excellence, sailing on the famous Redd's Sailing Pond in Marblehead, Massachusetts. Redd's Pond should probably be included as one of the famous sailing ponds of the world, along with the ponds in the Jardin de Tuilleries and the Luxembourg Gardens in Paris, Conservatory Waters in Central Park, Spreckles Lake in Golden Gate Park, and Round Pond in London! This picture was sent to us by Sam Pollard of Mud Puddle Toys in Marblehead, MA. After getting back from world cruising aboard their 30 foot sloop, Sam and Christine founded Mud Puddle Toys and have carried our boats in their fine store ever since. www.mudpuddletoys.com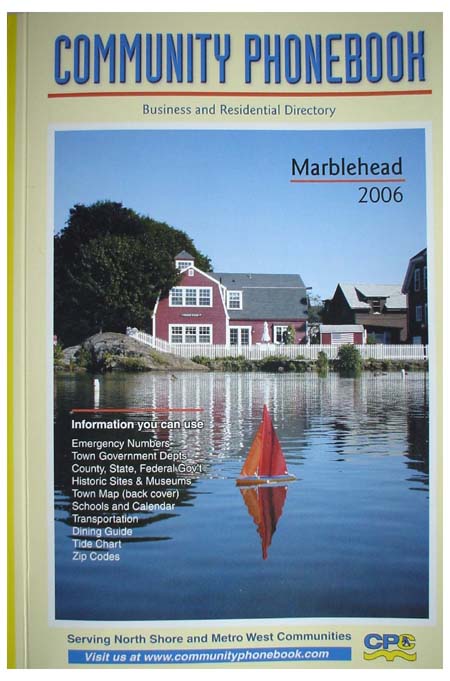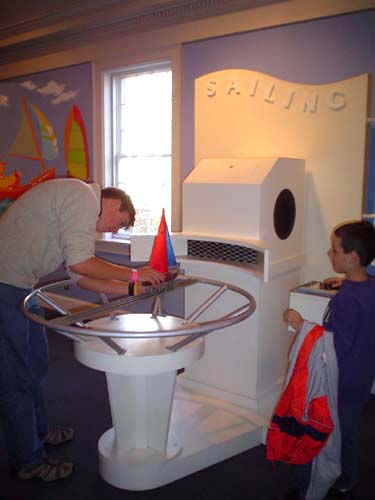 Or maybe this is fame - being featured in a sailing display in the sailing museum at Mystic Seaport in Mystic, Connecticut, www.mysticseaport.com . Here one of our T12 Racing Sloops (minus the keel) is mounted on a frictionless track to demonstrate how a boat sails upwind and downwind. This photo was sent by Jim and Pat Trexler with the help of Chad and Susie. Chad grew up with a T15 Racing Sloop. Jim and Chad and Susie built a T37 Racing Sloop which they sail in Lake Tahoe.
Hi Will!
Susie and Chad seem to be thriving at college (Susie at Lewis and Clark, in Portland, and Chad at Whitman, in Walla Walla). Susie just sent us this note and photo (see below), so we could send it on to you.
The photo was taken at Mystic Seaport last November. I'm sure you can see how the exhibit worked -- there was a fan to provide the wind, and you could rotate the T-boat and its mount.? If you set the sails correctly for the orientation relative to the wind, it would sail forward along the track. Chad was happy to show the young audience how to do it!
Best regards,
Pat
From Phone Books and sailing museums to sailing magazines! We especially enjoyed this article which appeared in the nationally distributed sailing magazine, "Good Old Boat", www.goodoldboat.com .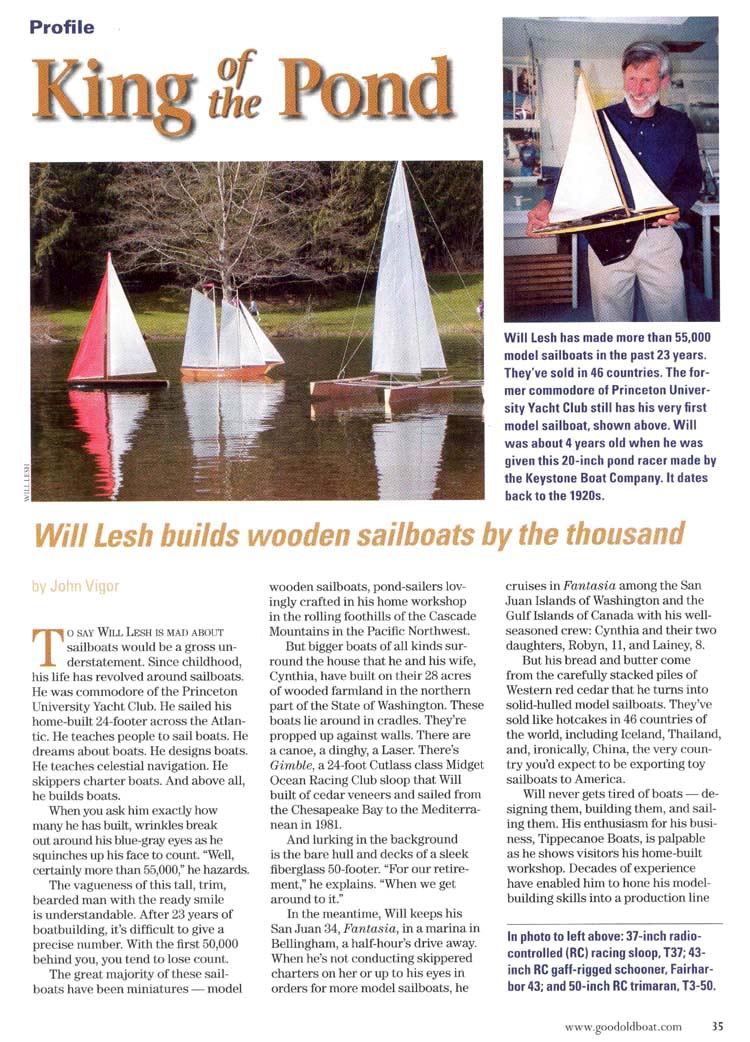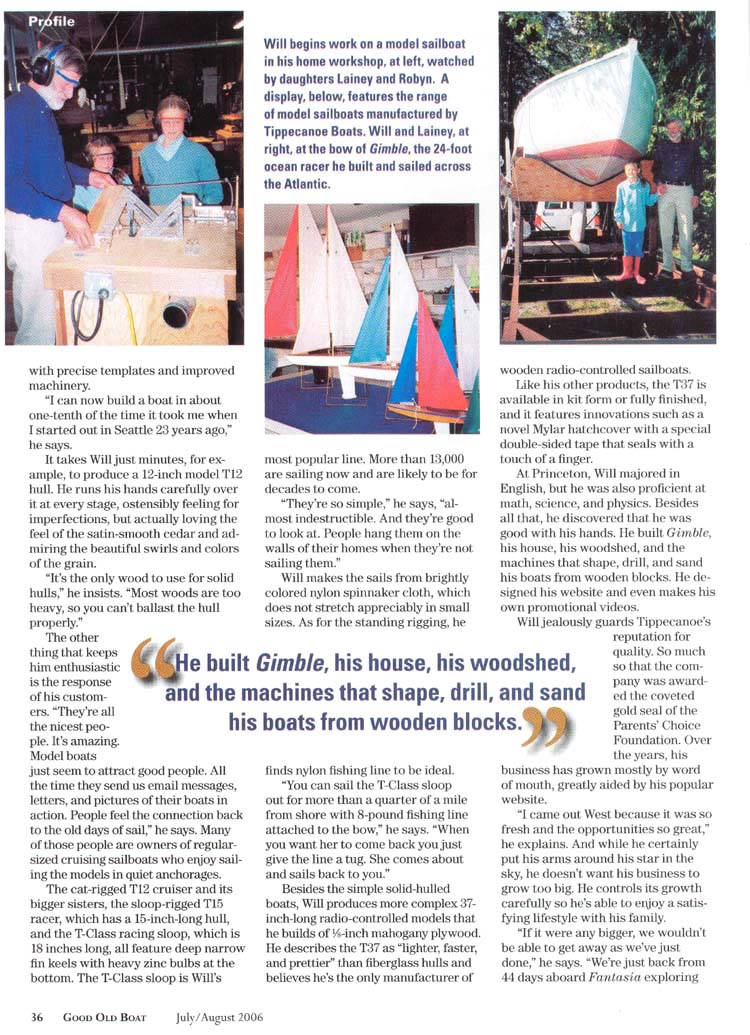 These pages are supposed to be pictures that owners have sent to us but this page seems to be more about the story of Tippecanoe Boats and some of the honors and publicity we have received. While we are at it, I'll just show a few more things we are proud of, although, truly, none of these honors mean as much to us as the pictures that owners send to us of their boats!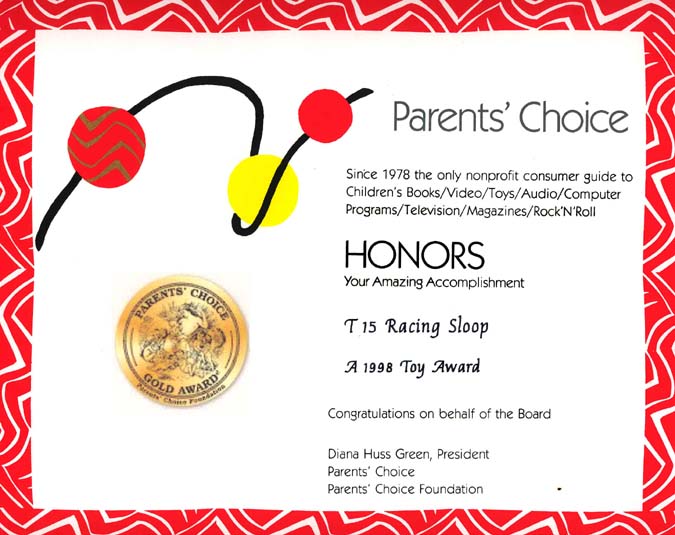 Parents' Choice
1998 Toys

Title: T15 Racing Sloop
Ages: 8 & Up
Manufacturer: Tippecanoe Boats
Price: $46.00





Review: Our testers, an experienced sailor and three youngsters, lavished high praise on this racing sloop. More than a toy, it performed superbly under all conditions from the slightest whisper of a breeze in a swimming pool to a stiff wind in a lake. It cannot capsize because more than half its weight is in its cast zinc ballast. Noteworthy are the quality of the boat materials and instructions for assembly (requiring some adult help for preteens) and sailing. "A winner in every way," was their consensus.




Ruth B. Roufberg ©1998 Parents' Choice



And a letter from our archives/a T32 RC for Shania Twain:
3/12/99
Jill Covitz
Columbia Records
Dear Jill,
Thank you for your order! We are very complimented that you chose one of our yachts as a gift to Shania Twain. It is also the first boat that we have ever addressed to a Chateau. Everyone here thought it was great. If Ms. Twain or her husband have any questions at any point, or need another yacht to race with the first one, I hope they will feel free to call us.
Our larger yachts are very distinctive gifts, whether they are used for display or for sailing. I hope you will keep us in mind when other occasions arise where a very fine gift is appropriate. At times we do have these larger yachts available for immediate shipment.
All of our boats sail beautifully. With Central Park and the classic sailing pond almost at your doorstep and Spring breezes beckoning, I'm certain you would enjoy one of our T-Class Racing Sloops yourself. They are a fun way to relax. There are more than 14,000 TClass Yachts sailing. I have included our brochure on all our different sizes of boats. The larger pictures (8 ½ x 11) are pictures of the T32, very similar to the boat we sent to Shania Twain.
Thanks again,
Sincerely,
Will Lesh
And finally from an Associated Press news release, an article that appeared in 40 or more newspapers around the country:
MODEL BOAT MAKER DOES WHAT HE LOVES
Columbian
Vancouver
Jan 30, 2000
--------------------------------------------------------------------------------
Authors: SHANA McNALLY, Associated Press writer
Full Text:
SEATTLE -- For Will Lesh it has always been about sailing.
He still claims to remember his first sailing trip with his father at 6
months old and still has his first wooden sailboat.
He's captained a sailing team, taught sailing and sailed in the Bahamas,
the Caribbean and across the Atlantic.
But when it came time to settle down, Lesh could not let go of his hobby
completely. Rather, Lesh formed Tippecanoe Boats, a model sailboat company,
where he does his part to get future generations hooked.
"Sailing was the best experience of my childhood so I remember and I know
what the experience can mean to a child and an adult," Lesh, 48, said in
a recent phone interview from his Everson headquarters, 17 miles northeast
of Bellingham.
Since 1986, Lesh has sold 45,000 12- to 32-inch toy sailboats made out
of Western red cedar through the Internet and in museum, marine and toy
stores.
Prices range from $32 to $1,000. His most popular model, the 18- inch T
Class Racing Sloop sells for $56.
His T15 Racing Sloop won the Parents' Choice Gold Medal for Excellence
in Toys in 1998 and is capable of sailing 1/8 mile in 5 minutes, or 142
feet per minute.
The secret to his success, Lesh believes, is that he puts his diverse background
and sailing experiences into his model sailboat designs.
Born in Washington, D.C., Lesh grew up sailing with his father in Maryland,
graduated from Princeton with an English degree, taught English in Vermont,
taught sailing at an Outward Bound School in Maine and even attended law
school for a year at Georgetown University.
But in between, the sailing bug bit hard and often.
He took time off to sail in the Bahamas, followed up on a vow he made to
himself at age 13 to sail across the Atlantic and once spent $800 building
a boat out of chicken wire and cement that he sailed for 3,000 miles before
ending up shipwrecked on a desert island in the Caribbean.
So, when his wife Cynthia decided to attend graduate school in 1983 at
the University of Washington to pursue degrees in Chinese language and
music, Lesh was ready to settle down.
He started building model sailboats with cedar hulls, brass fittings and
spinnaker cloth sails in the garage of their rented home.
He almost quit several times - too little space, too few materials, too labor
intensive but he persevered and a 1986 move to Everson a small town with
lots of space and proximity to the mountains and the water helped.
So did computers. With computers, Lesh was able to create the graphics
he needed and attract customers through the Internet. Now 50 percent of
his sales is through the Internet.
"The Internet works especially well for a company of our size," he said.
"We can make our site very personalized with a lot of interesting information
about our family, our business and our product."
Caption: THE ASSOCIATED PRESS * Sailing fanatic: Will Lesh of Tippecanoe
Boats holds a model on Lake Allouette in British Columbia in June of last
year.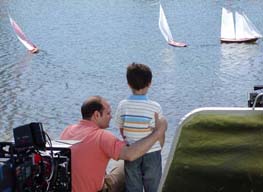 Last, but not least, for Tippecanoe boats appearing in the media: Hollywood's Paramount Pictures filmed a wonderful sailing scene on a beautiful sailing pond in the city of Vancouver, B.C. The scene shows the closeness that a shared activity and a boat can bring to a father and a son. All of the boats sailing on the pond during the filming were Tippecanoe boats. Robyn and Cynthia were there on location directing the sailing maneuvers. The boat with the white hull and varnished deck is a radio controlled T32 with a hand-carved Western Red Cedar hull. For the Sailing video clips and more pictures, click here: RC Model Sailboats in film
And coming soon, an article written by Will published in the AMYA "Model Yachting Magazine" Spring 2008 issue on building the T50 MOD hull.

[Great Owners' Pictures | Movies | T37 Radio Controlled Sailboat | Desolation Sound | Excellent Sailing Performance | T Class Racing Sloop | T15 Racing Sloop | T12 Cruiser | Home | Order Form]