[RC Sailboat Championship Races 2004 | Visit Our Home Page | Owners Pictures | More Fun Pictures | Excellent Sailing Performance | radio control T37 | T Class Racing Sloop | T15 Racing Sloop | T12 Cruiser | Order Form]
For the 2005 Regatta Movie, Click Here.
2005 3rd Annual T37 World Championship Regatta!
This years T37 regatta took us to Kirkland, Washington, where we raced on Lake Washington. Kirkland is just north of Bellevue, the site of last years regatta, and just across the lake from Seattle. The day was blustery and overcast. We were going to have some real sailing today. By the time we got to the third race, the wind had picked up to 20 miles per hour and good size waves were rolling in towards shore, but the T37's had no trouble with the conditions. It was intense racing and the concentration on the skippers' faces shows how focused everyone was. Laine, the youngest sailor, said she couldn't keep her knees from shaking because she was so excited during one of the races, and Robyn said her hands were shaking which made it hard to fine control the rc transmitter toggle for steering.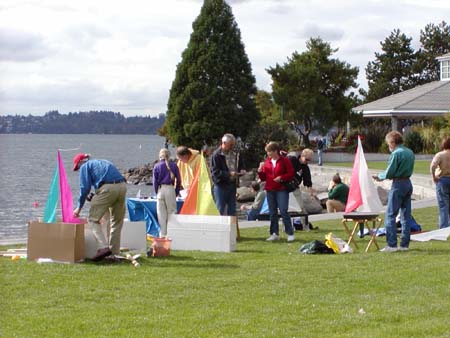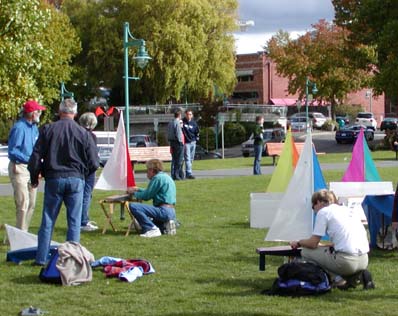 Everybody's boats looked beautiful in the setting up process. Dave had done a phenomenal job with the varnish on his deck. It was flawless and he added custom mahogany hatches. This boat deserves to do well in the races!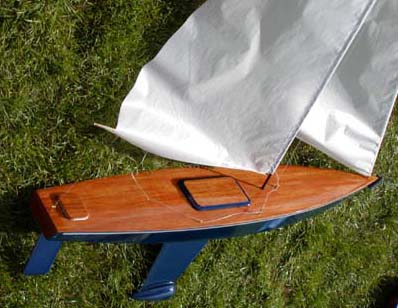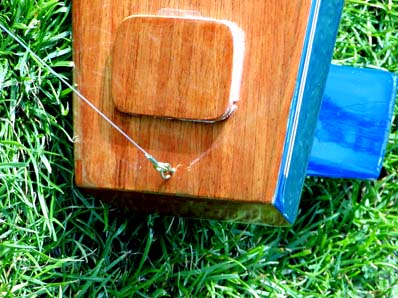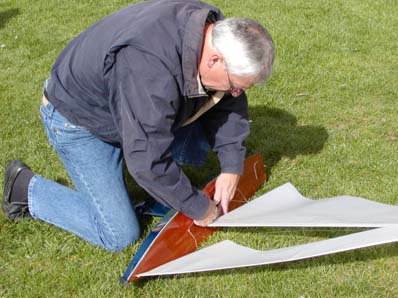 Jack (below with #4) had almost completed his boat in time for the races in 2004, but not quite. This year he was ready to go, and his boat looked great.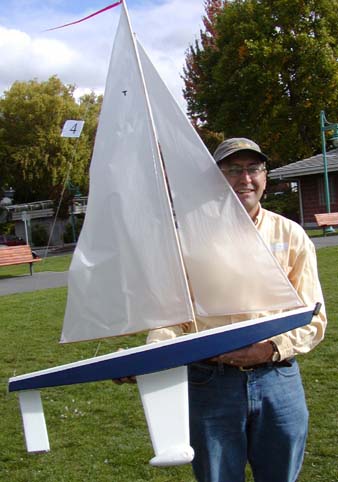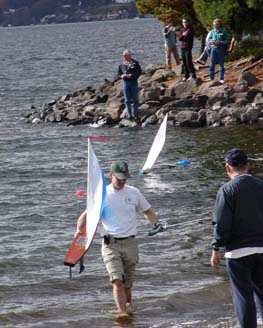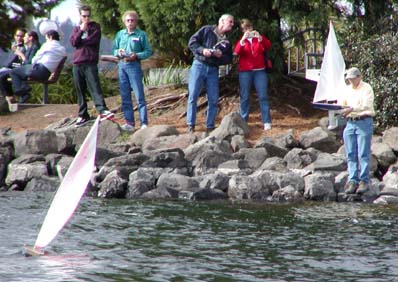 The boats are launched and the racing begins. We will run 5 races and skippers will count their best three finishes. The scoring is simple. The place you finish in is the number of points you receive, and you try to have as low a point score as possible.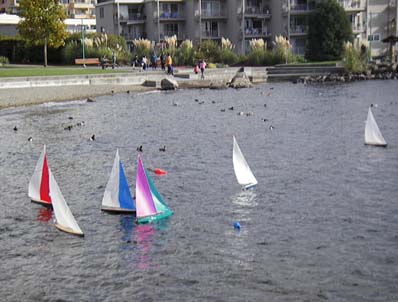 Maneuvering for position at the starting line can be intense. Starboard tack has right of way over port tack. You can see the white and blue boat on port tack luffing up into the wind to allow the teal and raspberry boat to pass in front on starboard tack.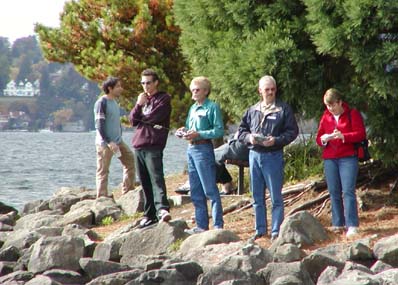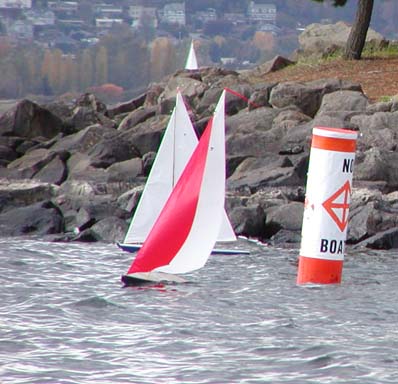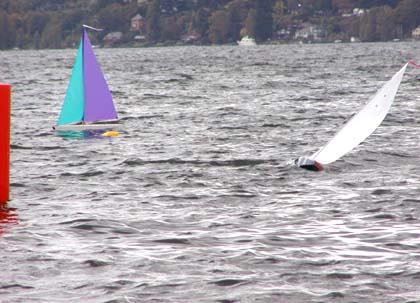 Beating upwind towards the upwind marker. Winds are picking up as a squall blows through. Would the weather hold for long enough to get in the full series of five races?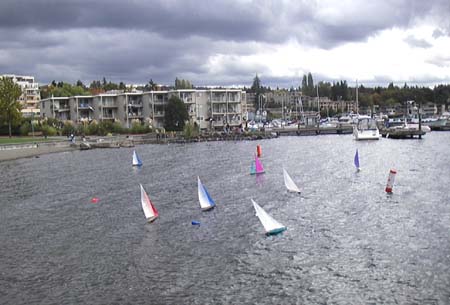 In this midrace shot, some of the fleet has begun the second upwind leg while other boats are still reaching down to the downwind mark.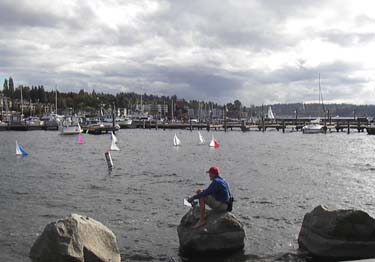 The final race is almost done as the fleet beats upwind tothe upwind mark. The course is a triangular course with the first leg upwind, the second and third legs a reach, and then upwind again and the last leg is a run straight downwind to the finish line.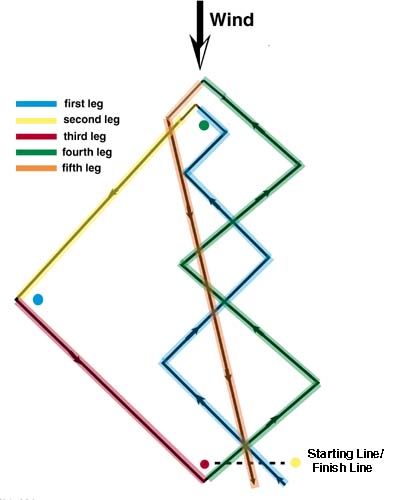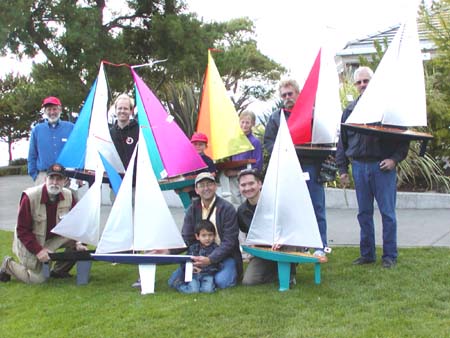 Ted, front right in the picture, with the teal green hull, came up from Portland, Oregon, for the regatta with his beautiful boat, Shibuya. There are wonderful pictures of Shibuya being built and on display at Ted's page (click here).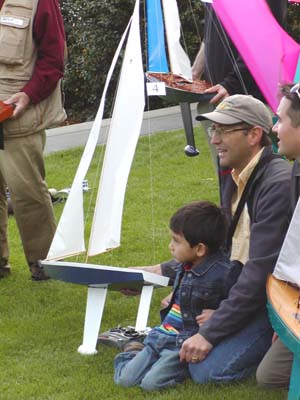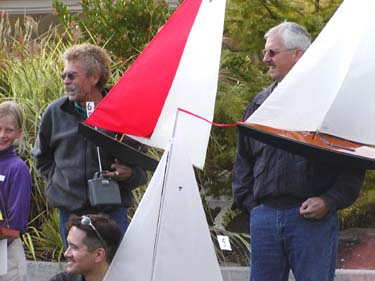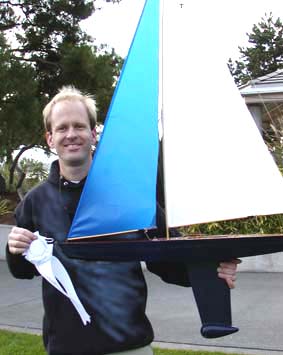 Todd won first place in 2004 and now he has tied for second place with three 2nd place finishes for a total of 6 points. Jack and his crew (below) also had 6 points total with two first place finishes and one fourth place finish. Since Jack had more first place finishes than Todd, the second place trophy goes to Jack. Congratulations Jack! Todd will add his third place ribbon to his first place trophy from last year.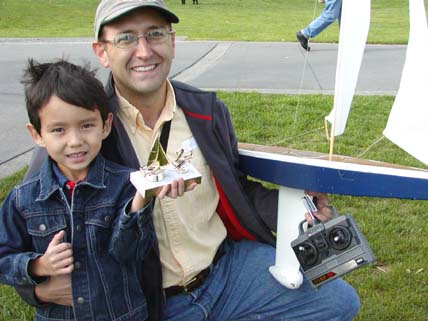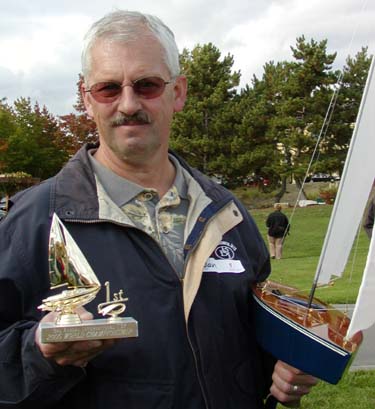 Dave takes home the first place trophy with 3 first place finishes. When Dave is not sailing his T37 he's an airline pilot. Figures! Nice Sailing, Dave! And just look at that varnish on the deck!!
We all had a great time. There is nothing like watching these high performance, but classic wooden boats out sailing in a good breeze. In a world of plastic boats, these boats really stand out!
For the 2005 Regatta Movie, Click Here.
RC Sailboat Championship Races 2004 | Visit Our Home Page | Owners Pictures | More Fun Pictures | Excellent Sailing Performance | radio control T37 | T Class Racing Sloop | T15 Racing Sloop | T12 Cruiser | Order Form]