[More Owners' Pictures | T37 Radio Controlled Sailboat | Desolation Sound | Excellent Sailing Performance | T Class Racing Sloop | T15 Racing Sloop | T12 Cruiser | Home | Order Form]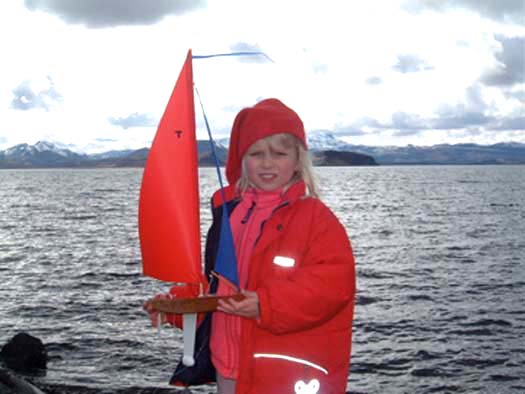 Hi. Just wanted to send you some pictures of my boat sailing on Lake Thingvallavatn in Iceland.
--Best regards,
Jana 7. years and Magnús
These are our first pictures from Iceland! Thanks so much for sending them!!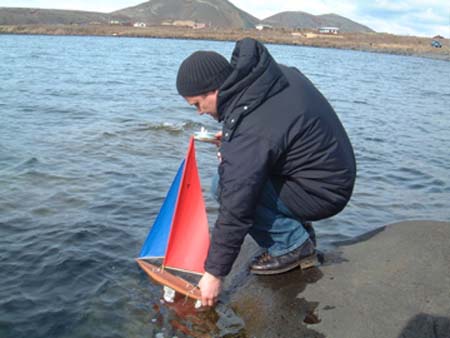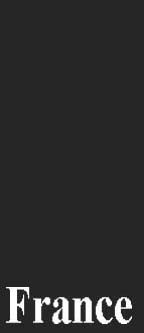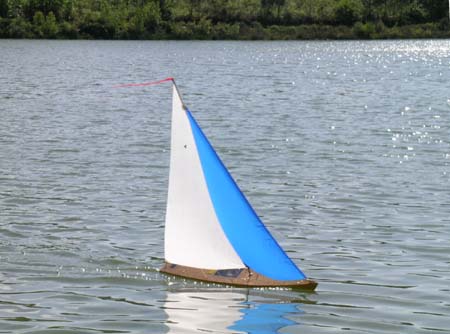 There are seven T37 RC sailboats being built now in France to sail in the French fleet on this beautiful small lake near Cuzorne. Hopefully we can add some racing pictures soon with the whole fleet. John, whose boat is shown here, had the T37 Assembly Instructions translated into French for the French builders so now we can send out the instructions in either French or English.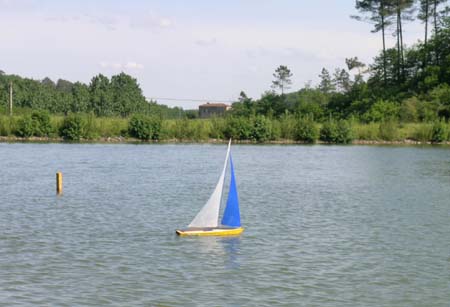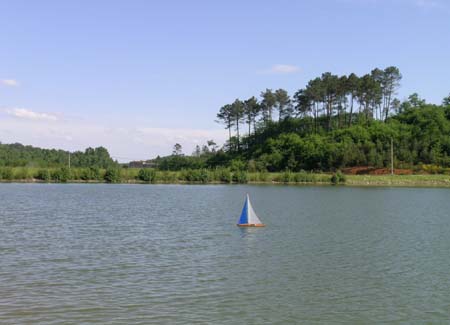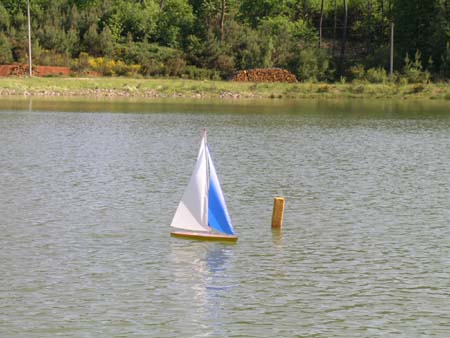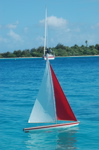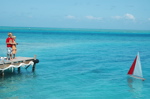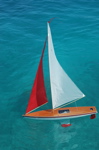 Hello Will,
Well, it did take a while but finally our T-37 is finished and for all
places we claim this is the one to be sailed the farthest away from home ...
these pictures find you from an atoll in the Tuamotus called Toau ... have
fun googling that place.
We just finished our T-37 to be christened SeBen after their proud owners
Sebastian and Benjamin, 9 and 6 years old respectively. The paint job is a
reflection on its home or shall we call it the mother ship Lawur as can be
seen in the background of the picture.
I thought you enjoy an image of SeBen in turquoise water with palm trees in
the background ... sorry the size is so small but our connection speed over
HAM radio of maybe 1400 baud if things go well (yes it is baud and NOT
kilobaud) doesn't allow anything bigger. If you want, when we hit Papeete in
a few weeks, I can send you the full image and some more.
Thanks for a great boat ... we loved the process of building it with its
great instructions and simplicity and the few hours of sailing we got in so
far have been great both for their proud owners as well as for dad, the
builder.
Thanks, Robert
PS: for details on us you can check out our website www.lawur.com
PPS: The pictures you get do no justice to the beauty the boat shows with
its mahogany deck with 4 coats of varnish and its shiny white and red finish
with 2 part boat paint, left-overs from painting Lawur's topsides.
TheSchmids Family Sailing on Lawur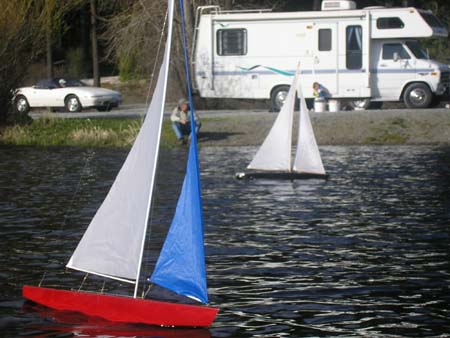 These two T37 RC sailboats are sailing in the waters of Washington State: "Now living in La-Conner and sailing on Hart Lake Annacortes - The boats have sailed well in stiff breeze on the lake as well as on Skagit Bay when the chop is light. They have proven to be well thought out durable and efficient sailers - they remind me of Star Class boats. BOBB" - Thanks, Bobb, for the nice report!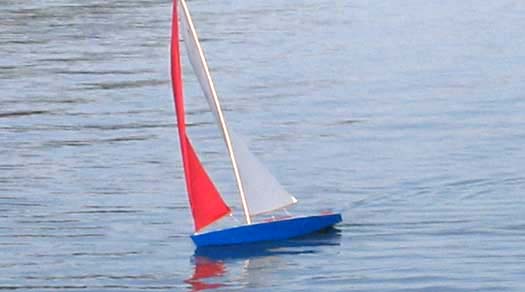 From Chattanooga, Tennessee : "Maiden cruise was last Jan with a stiff breeze was very pleased.
Hope you like the picture. Earl ( hull # 378 )" Thanks, Earl, the boat looks great. The blue of the hull is gorgeous.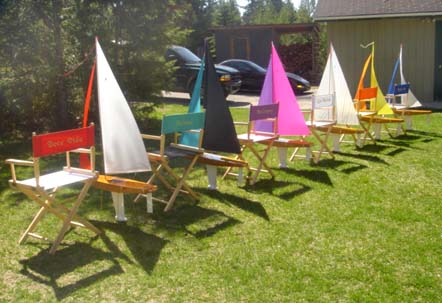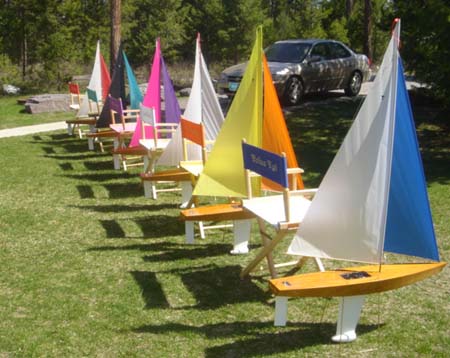 Wow! Look at this line-up of beautiful T37 RC sailboats with matching deck chairs!! Each deck chair has the name of the corresponding boat embroidered on its back. The names of the boats are in genuine gold foil on the transom of each boat. These pictures are from Montana, near Flathead Lake, in the town of Whitefish. Charles runs CKO Enterprises and is using these beautiful T37 RC sailboats to put on spectacular events and parties along the shores of the lake. His web site has more information at www.fullthrottleentertainment.net/Boats.html
Thanks, Charles for these great pictures
Now we have traveled from Thailand to Iceland to France and then to Toua and Washington State, Tenessee and Montana! It has been quite a trip! I don't know where we can ship a boat now that will be more exotic!
[More Owners' Pictures | T37 Radio Controlled Sailboat | Desolation Sound | Excellent Sailing Performance | T Class Racing Sloop | T15 Racing Sloop | T12 Cruiser | Home | Order Form]