[More Owners' Pictures | T37 Radio Controlled Sailboat | Desolation Sound | Excellent Sailing Performance | T Class Racing Sloop | T15 Racing Sloop | T12 Cruiser | Home | Order Form]
Riverside, with the whole family at Race day in Riverside, Connecticut
Here are some photos. I didn't get the trophy in, but the blue and red boat won in the 10 and under class.
Liam got his name in the newspaper!
Love the boats!
Thanks, Meg
Some shots of the kids and their boats.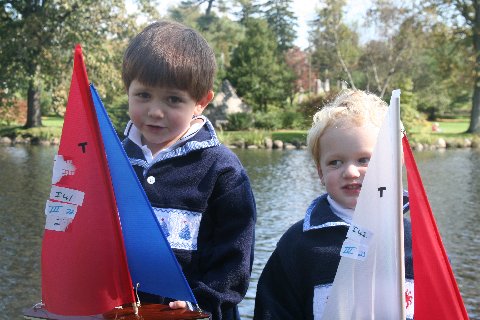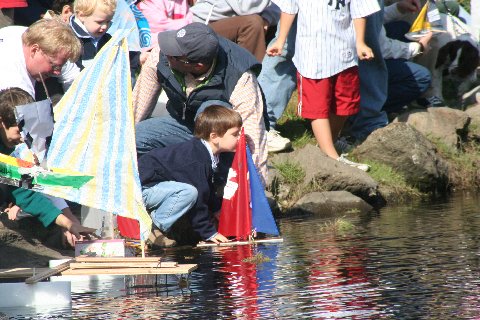 The start!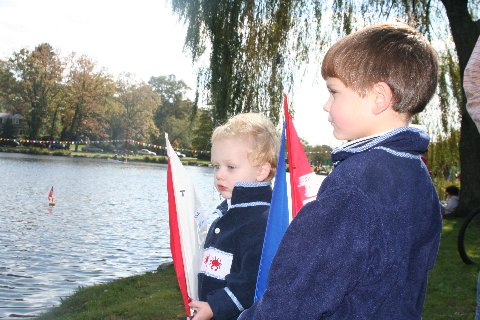 How fun! A great race day!
Meg, these are great pictures. Thanks so much!
Happy Sailing,
Will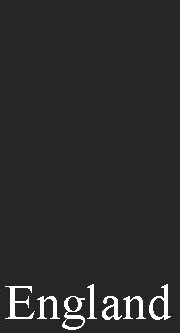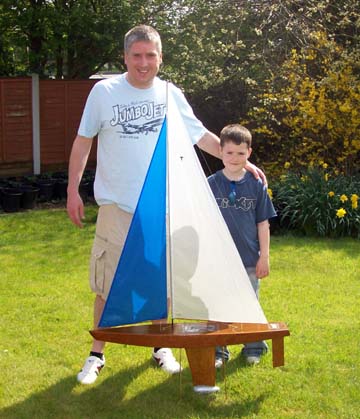 Andrew Smith, Leeds
Dear Will,

Some photos of boat Number 545 on its first lake trials.The boats name is "Mavis" named after my sons grandma who passed away just after we saw one of the T37'S in Central Park New York, and both my son and I thought it would be a fitting tribute to a wonderful lady. Zac and I started the boat in November and completed her in March, we have both had amazing fun building her and to watch her sail is fantastic. this has been very much a joint effort!!! I will send some more photos later, the boats official launch will be this weekend.
Thankyou for a wonderful model, I start the next one later this week.
Andrew Smith
Leeds England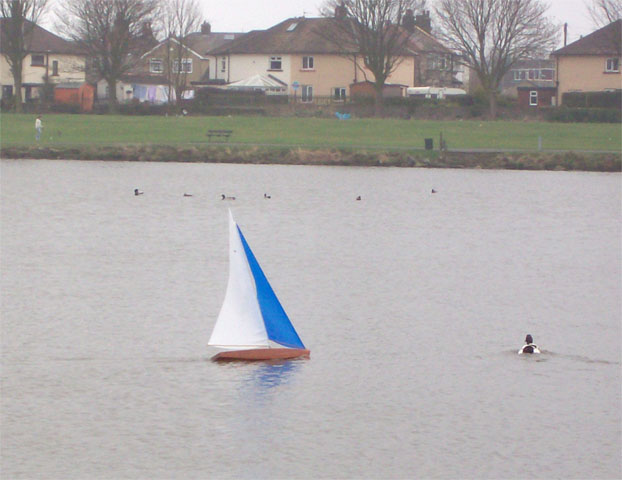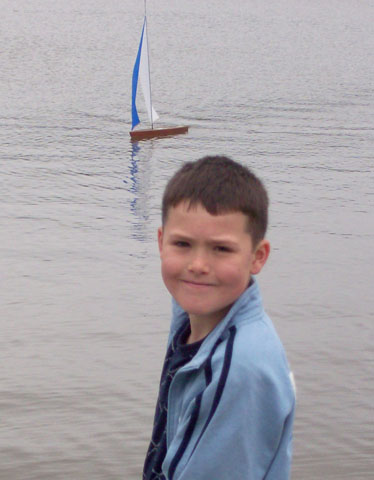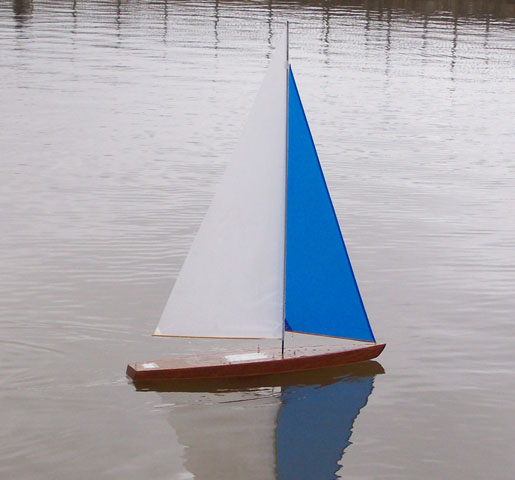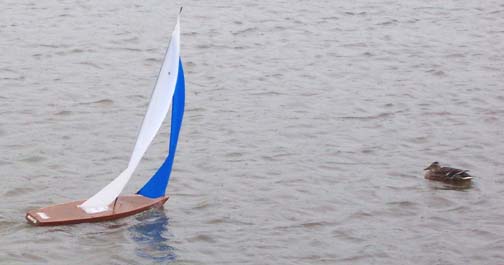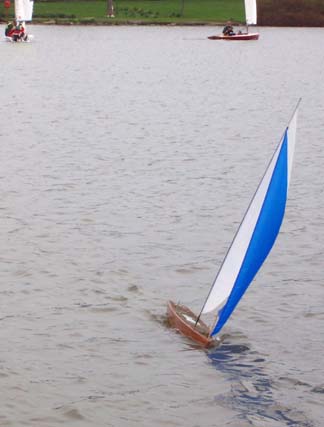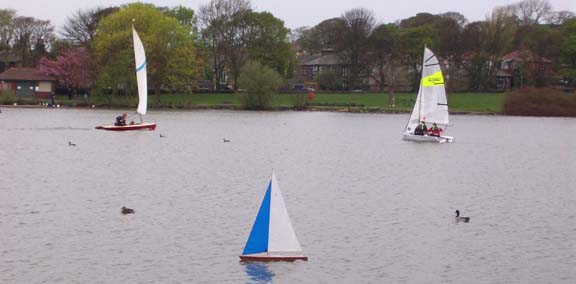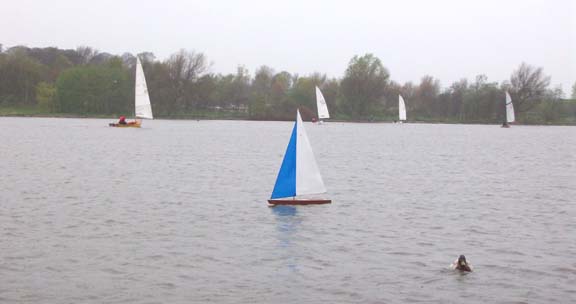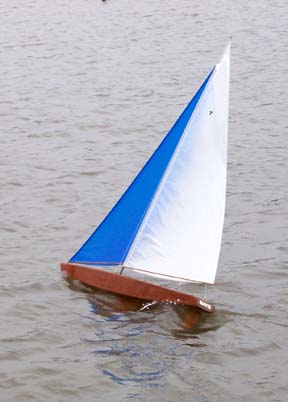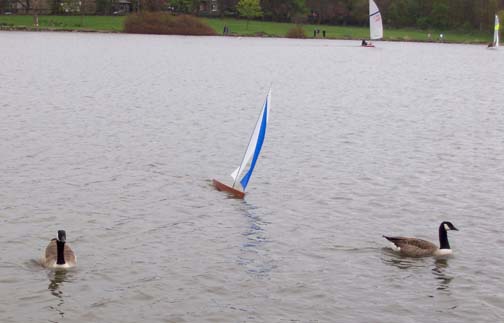 Thankyou for the great pictures, Andrew and Zac! These are the first pictures of a T37 sailing in England tht we have received. My grandfather was English and flew in the RFC during WWI, so I always enjoy hearing back about our boats racing across the ponds and lakes in England.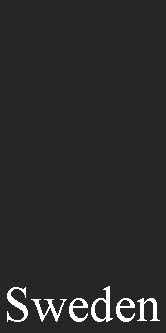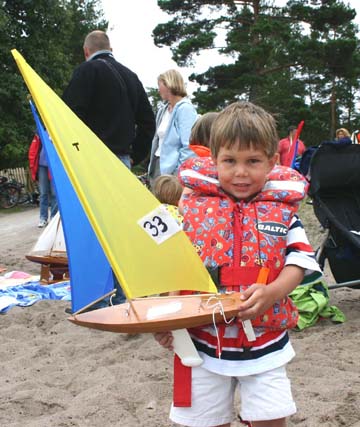 Where better to race sailboats than in Sweden! There is "Slow Blow" contestant #33. "Slow Blow" will be racing in the big boat category against many Swedish boats that have raced here for years. "Slow Blow" is An 18 inch T-Class Racing Sloop. How will she do?
Here the skipper shows off the fine varnish job. But looks won't count here - all that matters is speed!!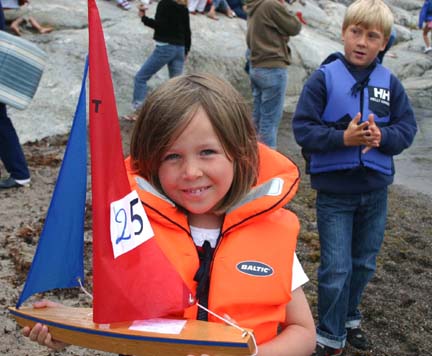 And here is the "Princess Fairy", contestant #25. The Princess fairy at 15 inches long qualifies to race in the small boat fleet. The competition will be fierce from the Swedish boats, but the skipper is confident in her "Princess Fairy", a T15 Racing Sloop!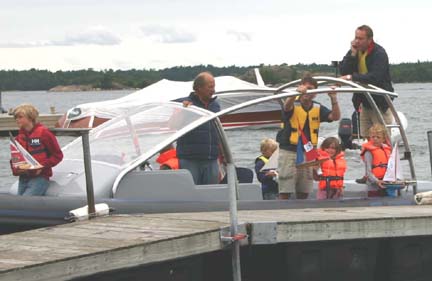 Heading out for the first race. There is "Princess Fairy"!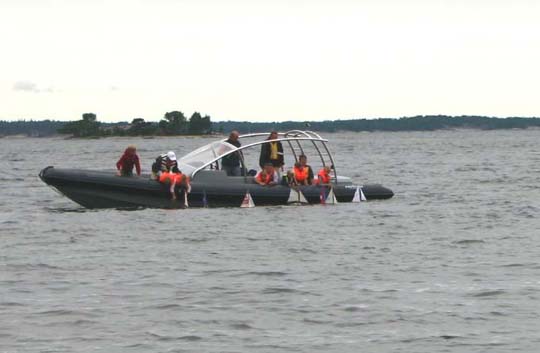 Princess fairy gets positioned for the starting gun!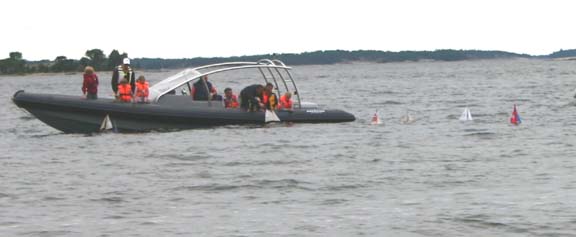 "Princess Fairy" takes the lead almost right away! And she keeps the lead across the entire course for a first place finish. Hurrah for "Princess Fairy"!
But how will her brother and "Slow Blow" fair against the bigger boats?

In the big boat race, "Slow Blow" manages to take the lead early on (above).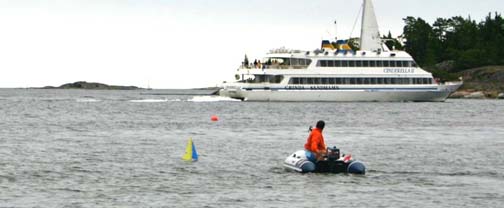 And "Slow Blow" finishes way out ahead and Wins the Race!
Good Sailing!
[More Owners' Pictures | T37 Radio Controlled Sailboat | Desolation Sound | Excellent Sailing Performance | T Class Racing Sloop | T15 Racing Sloop | T12 Cruiser | Home | Order Form]