[More Great Owners' Pictures | T37 Radio Controlled Sailboat | Desolation Sound | Excellent Sailing Performance | T Class Racing Sloop | T15 Racing Sloop | T12 Cruiser | Home | Order Form]
Will: Thanks for the kind words. I built this boat for my 17
year old son David Junior. You might recall that I bought the T37 kit last
Christmas for him and finished around April or May of this year. Since
then, we've sailed about every weekend until the weather turned too cold.

I look forward to speaking with you.
Regards, Dave Meschino
Custom ivory, carved bone and brass fittings look splendid on this T37, finely crafted in Indiana. Nice work, Dave!!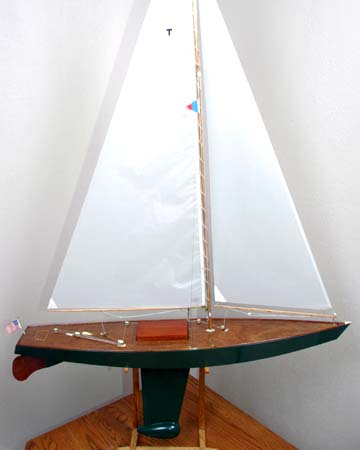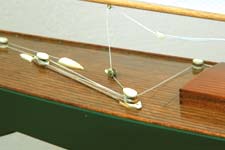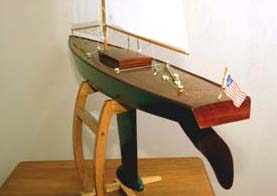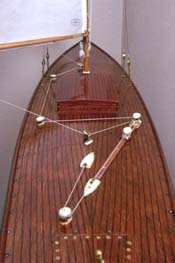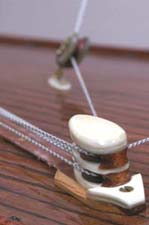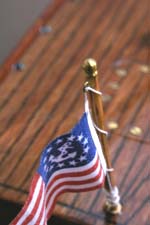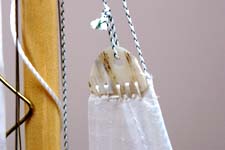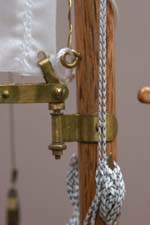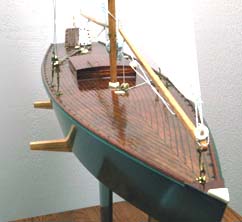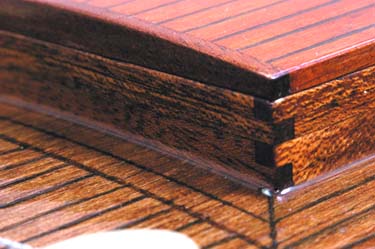 Beautiful dovetail detail work on the custom hatch cover!
"Down Under" with Fluffy Duck!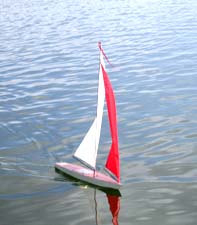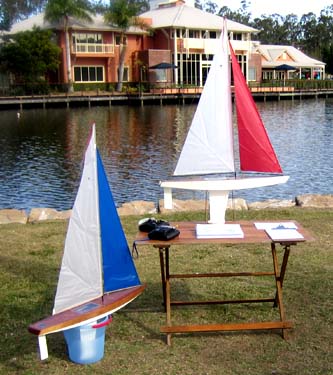 Fluffy Duck and pal.
Will,

Thanks for your note. I really enjoyed putting together the T27 and adding to my fleet of model yachts. Attached is a messy photo but captures the "fleet" in my messy garage!
Congratulations on your success on the T50 - I look forward to signing up for one of the kits soon. It would be great to build one and have a chance to sail in a PNW series in the future – we would need a big lake for this one and a big wind!

Best regards,
Barry, West Vancouver BC
(below: Barry on a cruise from Vancouver BC to San Franscisco in 2007 on firend's sailboat)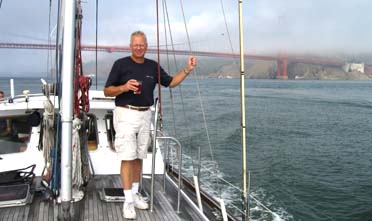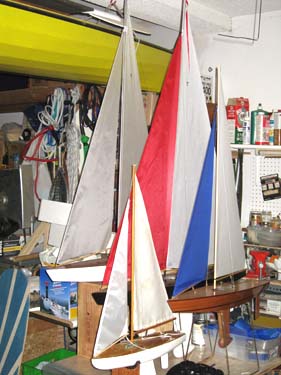 (Barry's fleet, featuring his two T37s (white and black hulls), his T27 (natural varnished hull), and in the foreground a free-sailing boat that he built with his father as a child)
Hi Will,
Attached are a few shots of my completed T27 (finished last night) and a
couple of shots of my #2 T37 boat taken during a quick sail on a small lake
near Squamish on Friday. I had some business in Whistler and took my boat
in case there was a decent breeze. I had the lake to myself!
I was hoping to sail the T27 today but I think I will wait for a dry day.
Regards,
Barry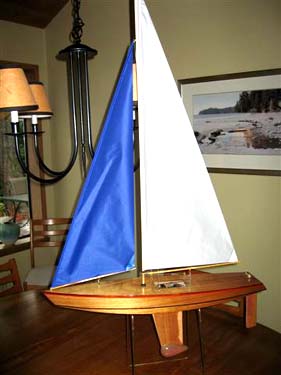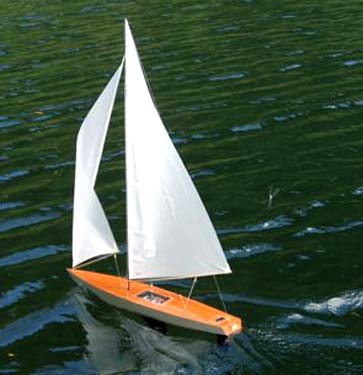 Hi Will,

Thank you for inviting me to join in yesterday's race – attached are a couple of photos but I am sure your photographer on site has better ones.

Regards,
Barry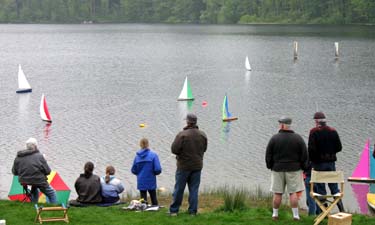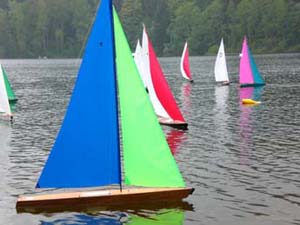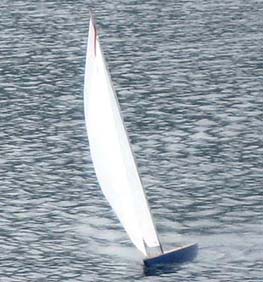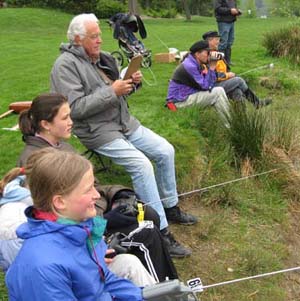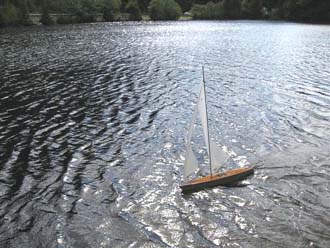 Will,
Not sure if you remember me, but I bought a boat as a
wedding gift for my now-husband.
Just wanted to drop you a note and let you know he
loved it! I also thought the stand was quite handsome
- and you did a lovely job on the plaque with my
message.
We also went to Central Park a few weekends ago and
sailed the boat there - it was great fun!. Attached
are a few pictures.
I was also trying to recall the 5 "famous ponds" for
sailing - one was NYC, another was London, etc - we
were thinking that it would be a fun thing to do with
our new boat!
Thanks again,
Ivy (& Davin)
The famous five - Jardin de Tuileries and the Jardin du Luxembourg, Paris: Round Pond, London: Conservatory Waters, Central park, NYC (pictured here): Spreckles Lake, Golden Gate Park, San Francisco: Redd's Pond, Marblehead, Massachusetts.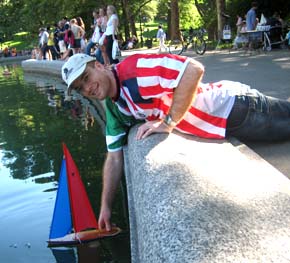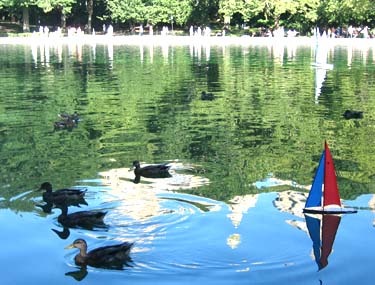 And now to Sweden!
Hi Will -

I should have known that you would have the radio frequency thing well in hand! I look forward to the new boat.

Here are pictures from Sandhamn, Sweden - Barnens Kappsegling 2007. The boats race off in the distance, so it is hard to get good shots. However, the colors of the sails make the Tippecanoe boats easy to spot. The wind was pretty tricky, and the boats were on a broad reach. Many turned around before the finish line, but the T-15 and the T-Class held steady on their courses.

The race had 12 classes of boats - probably the number of "wandering" awards they have to distribute. We now have two prizes - a silver cup and a silver lighthouse that we must engrave and return before next year's race. The cup started making the rounds in 1987, and the lighthouse in 1984. Each winner has his or her name on it. We were pretty lucky - some of the wandering prizes are more "interesting" - like a painting and a carving of a fish. Every child gets a medal and a hamburger dinner.

Enjoy the pictures!

Thanks again -

Leigh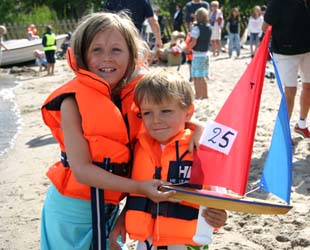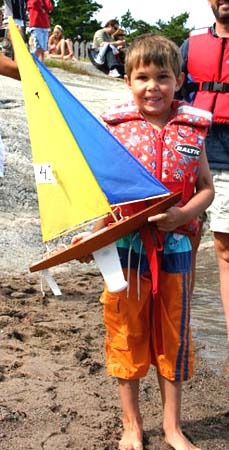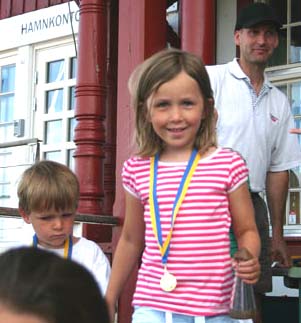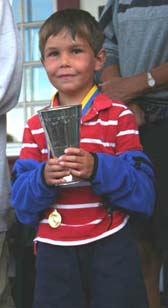 Winners in their categories!
The red and blue T15 above (#25) won first place in its size class. The yellow and blue T18 (#4)won first place in its size class!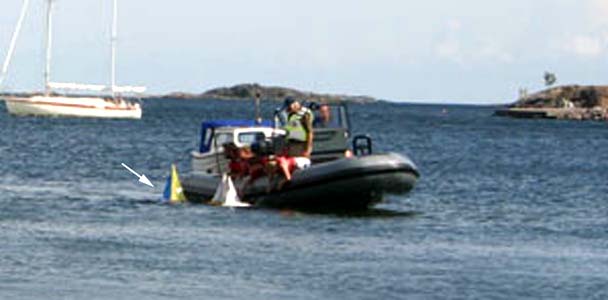 The 18 inch T-Class Racing Sloop - yellow and blue - at the start. It finished in first place for its size.
Hi Will.

A quick note to let you know the T27 is done. I'm letting the last coat of paint dry before taking pictures, but just to let you know the craft is named Penelope and she is beautiful.

Thank you for letting me participate and build hull #2.

Ted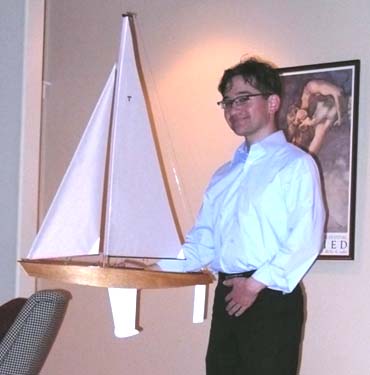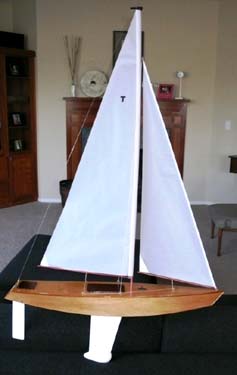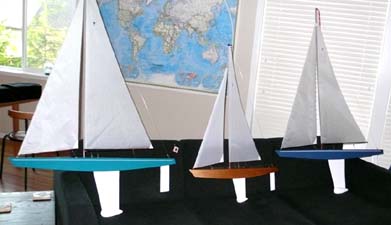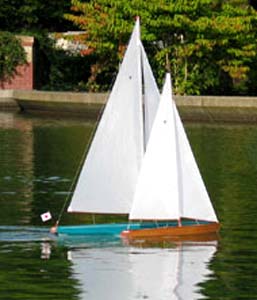 Above, left, T37s on ends (turquise and blue hulls) and T27 in middle (natural hull); above, right, Ted's T37, Shibuya, keeping company with Ted's T27, Penelope, in Portland, Oregon.
Hello,
I bought my T37 kit, including the carbon fiber mast and deck strips. I love the way it balances with prow and transom slightly clear of the water, then heels slightly for minimum transom drag. It also has little weather helm and, once trimmed, maintains its course upwind with almost no attention. In heavy air the light hull really screams on a run.
We currently live in Van Nuys, CA but still own our home on Vashon Island where we lived (and sailed an Islander 21) for 25 years. I also sail a Soling 1-Meter in a local RC sail club here. Most days the winds are light and life is good. But when we get the notorious Santa Ana winds, they average 20 mph and sailing is an adventure.
Thank you for a great design, an amazingly complete kit, and outstanding instructions. I am now a believer, and am spreading the word down here.
Best wishes to you,
David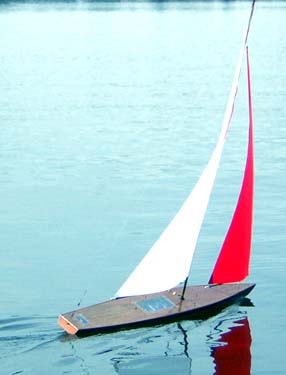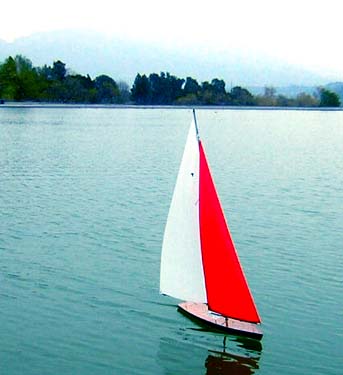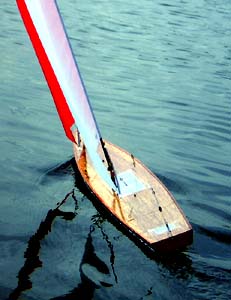 Thanks for all the great pictures! Australia, Sweden, New York, Portland, California, Indiana, and Vancouver, British Columbia - almost a World Tour! Click here for more pictures from the rest of the World! (Owners' Model Sailing Boats)
[More Great Owners' Pictures | T37 Radio Controlled Sailboat | Desolation Sound | Excellent Sailing Performance | T Class Racing Sloop | T15 Racing Sloop | T12 Cruiser | Home | Order Form]