[More Great Owners' Pictures | T37 Radio Controlled Sailboat | Desolation Sound | Excellent Sailing Performance | T Class Racing Sloop | T15 Racing Sloop | T12 Cruiser | Home | Order Form]
T47 Schooner Report from Bob Bossert
T47 Named Mrs. "B"
The finished product is beautiful. I am pleased with your kit. I will be giving you an order for another in a month or so. I still need to try the Mrs. "B" in the water. The painting on the ballast is a fish lure. My son-in-law is a fisherman. He said it looked like a big lure. Thanks for a unique product.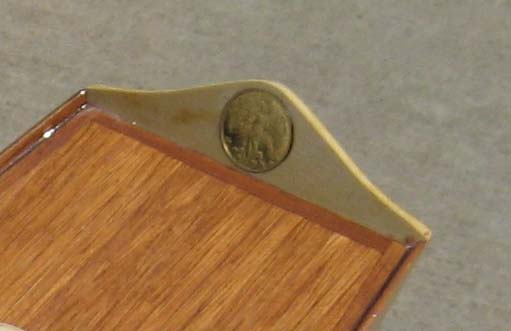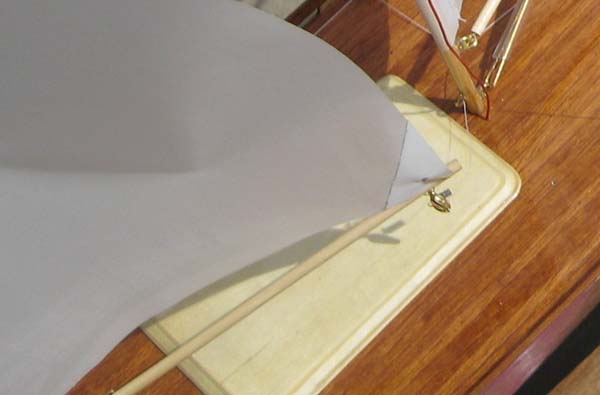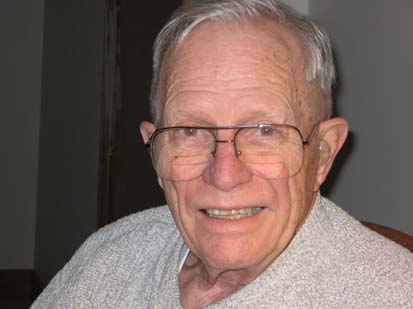 Bob Bossert, the builder
Hi Will,
I took the T 47 Sailing last Thursday. It was cloudy and windy. We spent about three hours sailing even with the bad weather. There were three of us, each taking turns. The T 47 did very well.
I like my T 47 very much and hope to place an order for the second very soon.
Bob Bossert
Bob added few custom details, like the custom hatches and the inset coin in the stern bulwark above the transom. What a nice job, Bob! Thanks for the pictures!
As of a few days ago, Bob has ordered his second T47 Schooner and we are just getting ready to ship it to him.
From Seattle
Ron Meicho has just sent us pictures of his second T37, Hull number 635 "Jolly Roger" which will be sailing together with his first T37, Hull number 611, "Arrow". Ron's son Zach will be skippering the "Jolly Roger". Ron is also organizing races on Greenlake in Seattle for other T37 owners. Thank you, Ron, for getting the Greenlake racing started on a regular basis!
Ron did a unique and beautiful inlay of mahogany veneer on his deck! If his new boat is faster than other T37s it must be because of this detail!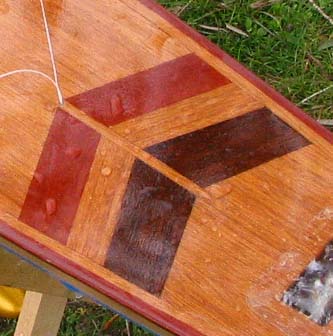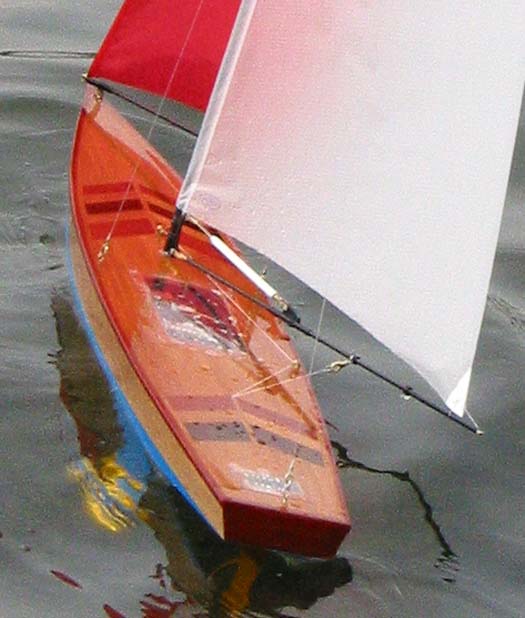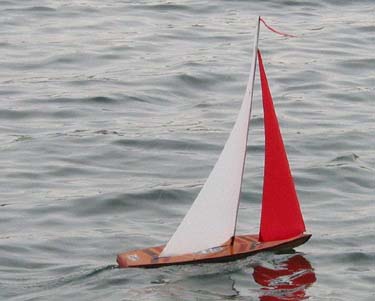 From Pittsburgh
And now another T37 Owner who has built two of the T37s! And done a beautiful job with both!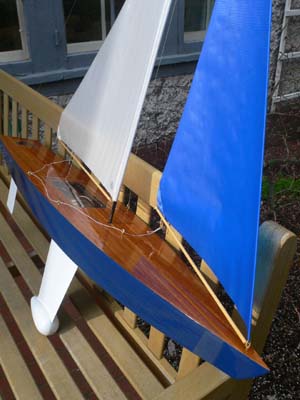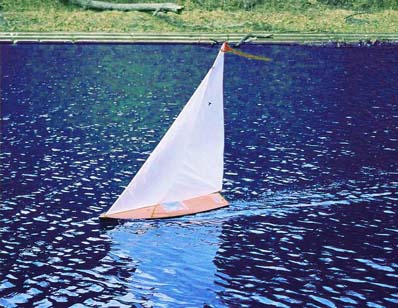 Will,
Here are photos of the two T37s we have built. The green boat (action shot) is hull #381 taken in Panther Hollow Lake, Pittsburgh this spring. The blue boat is hull #521. T27 #21 is underway and proceeding nicely. We will send photos when it is
complete.
We love building and sailing these boats. There will be more in our future for sure.
Best,
Trip
Pittsburgh, PA
Trip is just completing his third Tippecanoe Boat now! Thanks for the pictures Trip - a beautiful building job!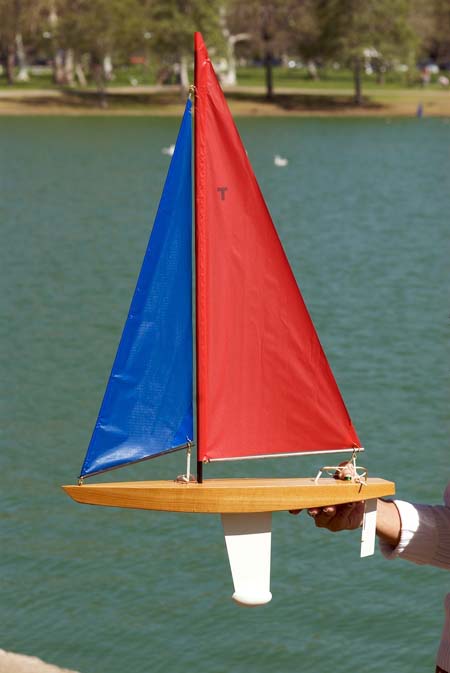 Hi Will,
Here is a photo of my first T-18 at our local sailing pond in Mason Park. I enjoyed building it, and I'm looking forward to building the second with my son.
She crossed the pond several times this afternoon in wind that shifted direction every few minutes. When the wind picked up, I let the sheets out and pulled the tiller one notch to windward. The wind slackened before she reached the other side, and she confidently tacked back and forth across the pond for almost an hour.
Your varnish kit worked well, and ended up with a very smooth finish. I like the light wood you used for the hull -- it fits in well here in sunny Southern California.
Thanks,
Dave

Hello,
I bought my T37 kit, including the carbon fiber mast and deck strips and was delighted to find the boat that most interested me.
The boat sails very well. I love the way it balances with prow and transom slightly clear of the water, then heels slightly for minimum transom drag. It also has little weather helm and, once trimmed, maintains its course upwind with almost no attention. In heavy air the light hull really screams on a run.

We currently live in Van Nuys CA but still own our home on Vashon Island where we lived (and sailed an Islander 21) for 25 years. I also sail a Soling 1-Meter in a local RC sail club here. Most days the winds are light and life is good. But when we get the notorious Santa Ana winds, they average 20 mph and sailing is an adventure.
Thank you for a great design, an amazingly complete kit, and outstanding instructions. I am now a believer, and am spreading the word down here.
Best wishes to you,
David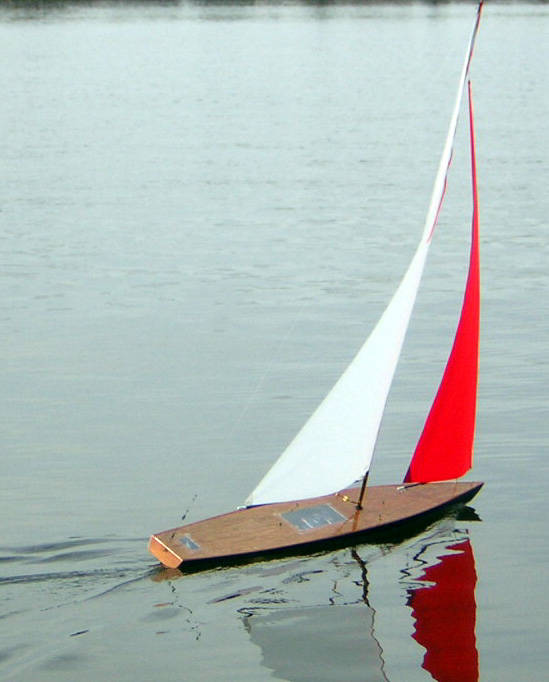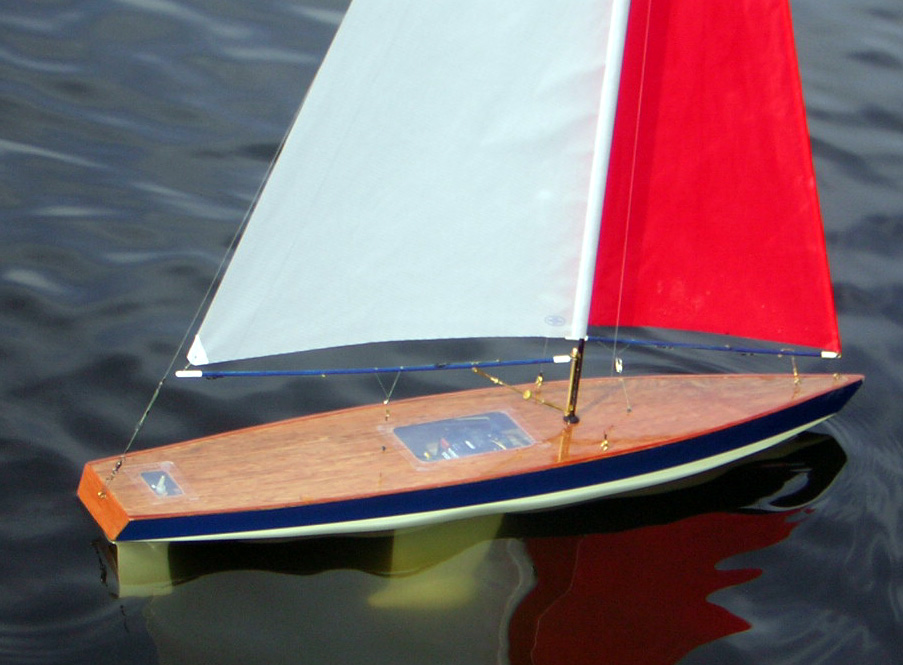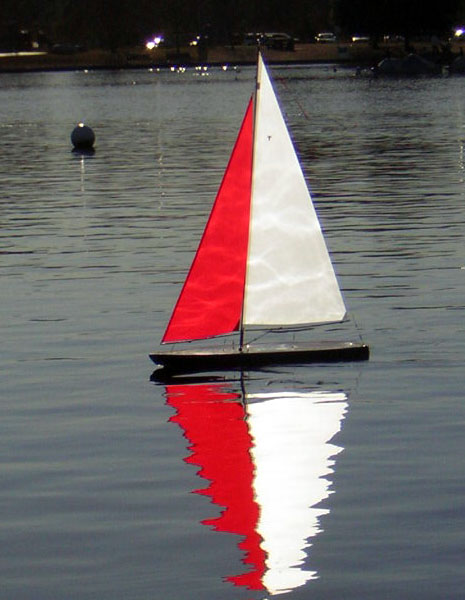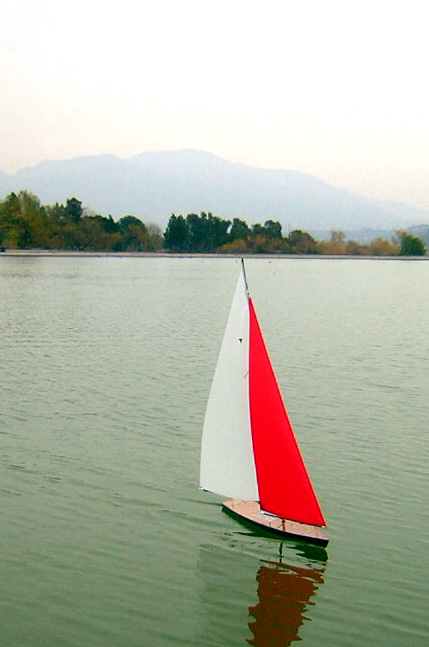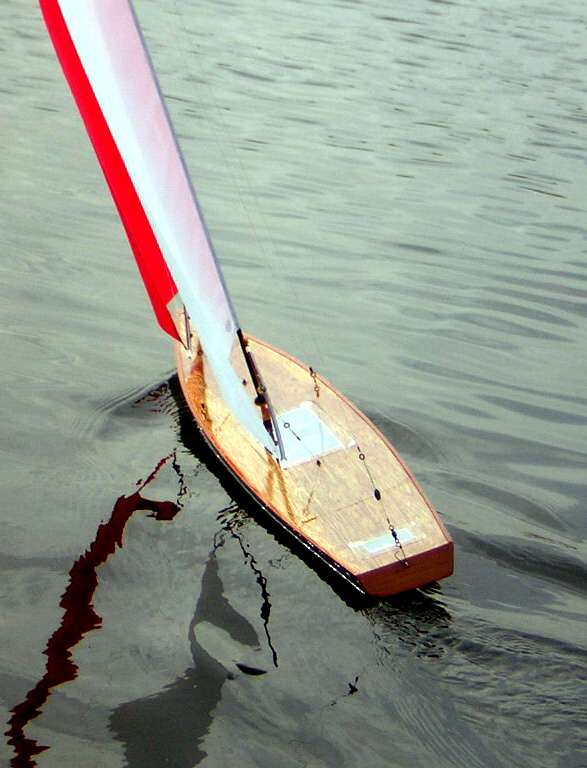 Thanks Dave, for the great sailing shots of "Balboa"!
[More Great Owners' Pictures | T37 Radio Controlled Sailboat | Desolation Sound | Excellent Sailing Performance | T Class Racing Sloop | T15 Racing Sloop | T12 Cruiser | Home | Order Form]