[ More Great Owners Pictures | Home Page | Movie Page | More Fun Pictures | Excellent Sailing Performance | Radio Control T37 | T 50 MOD Radio Control Sailing Yacht | T50 Tri RC Multihull | T Class Racing Sloop | Order Form]
Sailing a beautiful T37 with Ben Carter at the famous Conservatory Water Sailing Pond in Central Park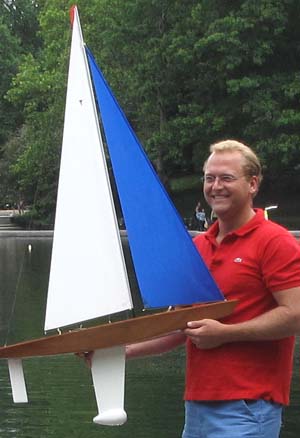 hello,what an incredible boat..she was the hit on the central park boat pond..so beautiful to look at but the best performing boat at sail. many club members where walking up to us complimenting her fast and tight sailing.at first the commodore was stand offish to our arrival but when we lauched her i kept seeing him lose concentration sailing while trying to watch us navigate his course with speed and grace..congratulations on a great build ...my daughters boyfriend will be forwarding pictures..they are great. she's seahawk ll naned after my 90 little harbor..all the best ben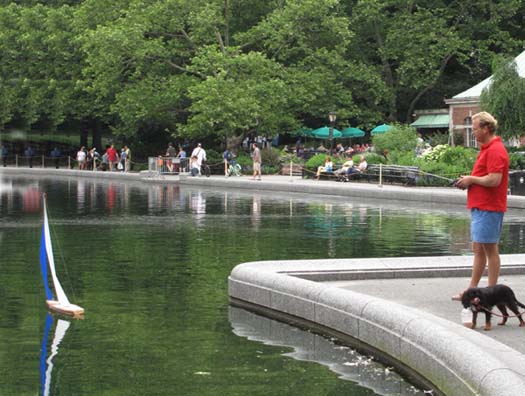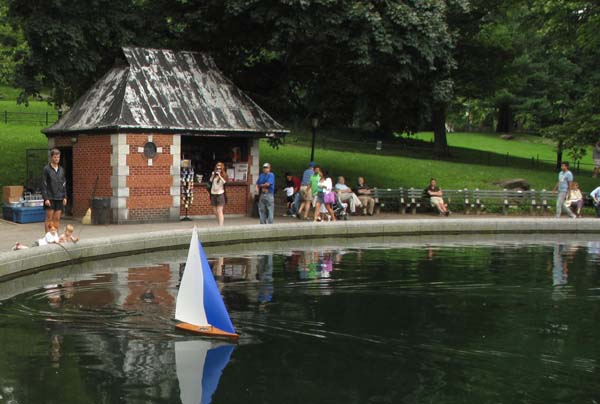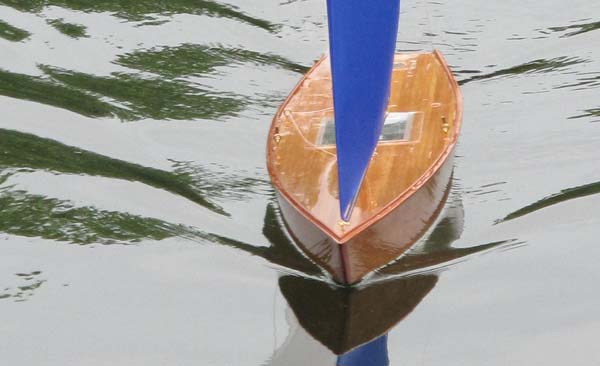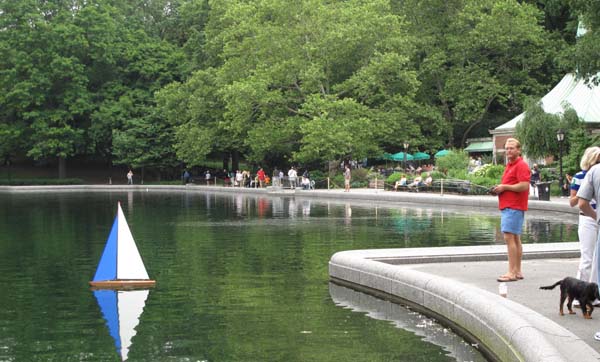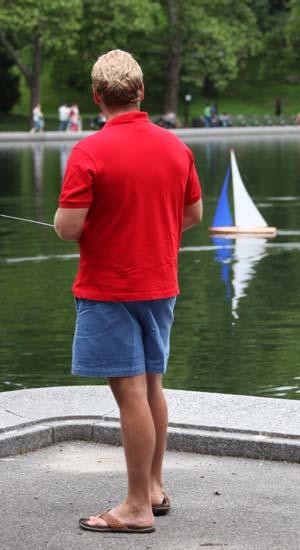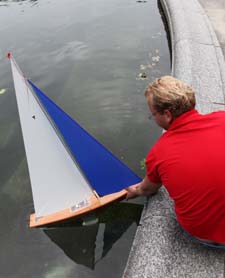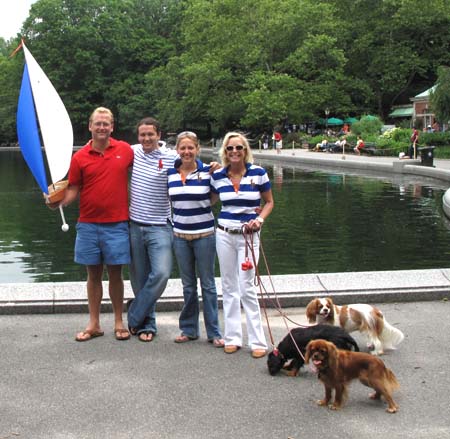 Hello-
I am Ben Carters daughter and I have a CD of pictures from our sailing day in Central Park that he asked me to send.
Incredible and beautiful boats and wonderful time!!
Thanks,
PC

Will….
Emmett (dad) has the black hull..he has made 2 boats now and has a 3rd coming..
Will at Tippecanoe Boats assembled mine…the white one.
Bill, see what you started !! I think Andrew Pikes boat has arrived….starting a fleet !!!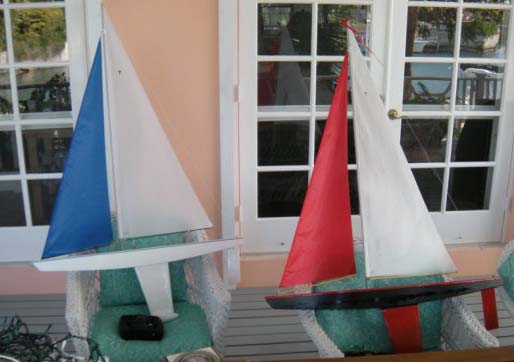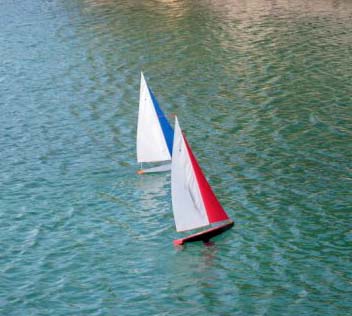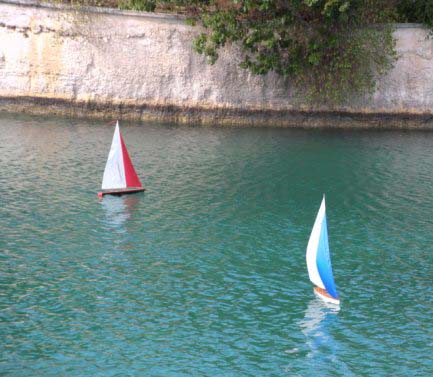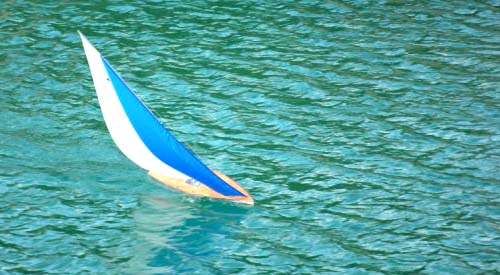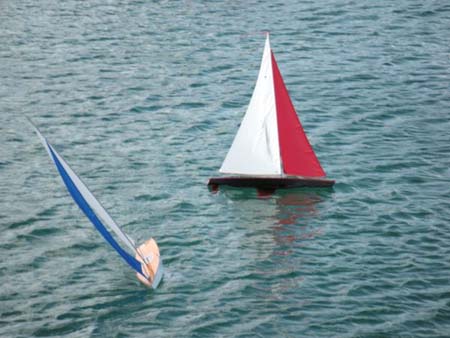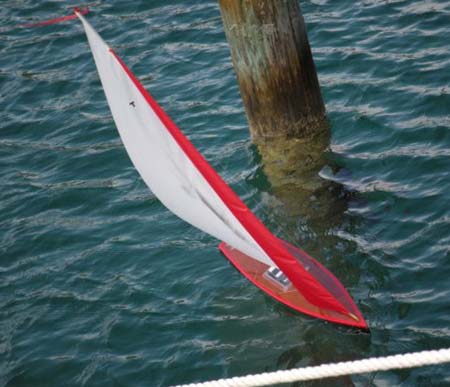 Hello Will,
We are once again gearing up or our summer programs and looking forward to sailing more of your wonderful boats with our wonderful kids! This year we are holding a Maritime Festival to celebrate the museum's 30th anniversary.
We would like to try making "pond yachts" at the festival. Could we order fifty T12 kits? We would need them by July 6th.

I am attaching a picture of last summer's launch. It was delightful as usual.
Thank you!
Victoria Stevens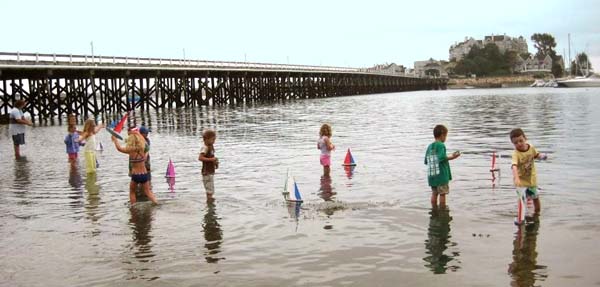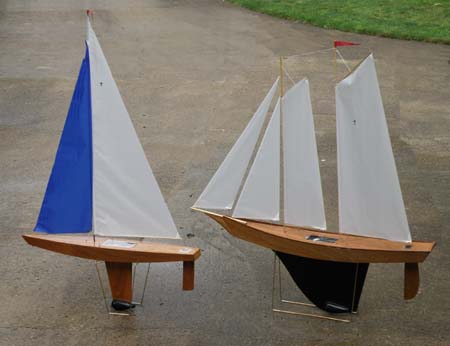 Will:
As I told you on the phone yesterday, I have built your T-37 and your T-47. I enjoy the building as much as I do the sailing. I have a bad heart and use the building as a way to keep busy instead of just sitting around. Your kits are the best I have ever built including model plane kits over the last 59 years and that includes a lot of kits as I was into R/C model glider flying big time. They have everything you need including down to the #53 drill bit and radios. Keep the boats coming.
Thank you,
Sam Miller
A note from Sam's son:
I don't know if you've ever spoken with my father, but he thinks very highly of your kits – and that's saying something. He's been building dozens of kits of all kinds annually since he was a kid (more than sixty years now); everything from models to televisions to ham radio gear.
He told to me how impressed he was with your instructions and the fact your kits include absolutely everything needed.
I'm having the T50 shipped to him as a gift.
From Sam about building his first T50:
Will,
Just a short note to let you know that I am having a really enjoyable time putting this boat together. I'm up to step 63 so far. The instructions are very good and this boat is very different than the T37 for me.
Thanks,
Sam Miller

Sam has been one of our most prolific builders. At the present time he has built the 18 inch T-Class racing Sloop, the T27 Radio Controlled Sloop, the T37 (shown above), the T47 Schooner (shown above), the T50MOD, the T50 Trimaran, and then he built a second T37 and two more T50MOD's! Thanks Sam for all of your praise for the kits. It gives us so much pleasure to hear such great reports.
Happy Sailing,
Will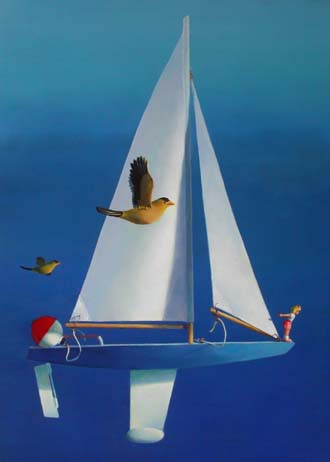 Here's a painting of my T-18 painted by artist Wendy Rouse
This boat was very popular with kids when I would sail it at the Conservatory Pond. Later I built a T-37 which I often sailed there but it was never as popular with the kids , they loved the fact that the T-18 sailed off on it's own and I needed to walk around to re-launch it, usually a gaggle of them would be doing it for me. I liked it because I could easily carry it from may apartment to the Park when I built the T-37 I needed to keep it in the boathouse at the pond = so I applied for a permit - and not only did I get a permit I received permit #1 for that year. This was a big deal to some of the other boat owners - it earns you the title of "King" for that season, I quickly went home and added a gold crown to the stern of my boat.
Tom B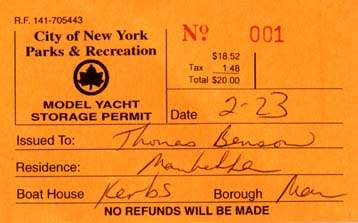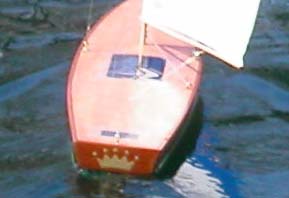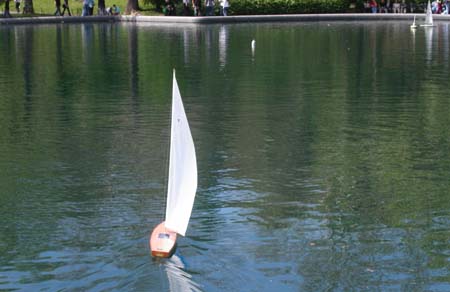 Hello Will,
Glad to hear from you. Attached are pictures of my T37 Tippecanoe boat (aka Ragtime). I made some changes on the rigging, and have new sails.
Let me know what you think. Enjoy!!!
George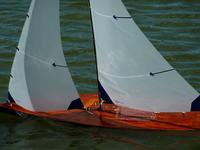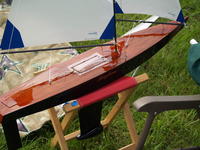 Dear Will,
I'm attaching a photo of our Grandson, Benjamin, on his first birthday with his 'T12' Cruiser (the Uh-Oh). We will have years of sailing fun on Sugar Lake, Grand Rapids, MN.
Thanks!
Gwynne Bobich
Ruttger's Sugar Lake Lodge
P.O. Box 847
Grand Rapids, MN 55744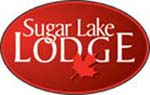 Phone: 218-322-4592
Fax: 218-327-0454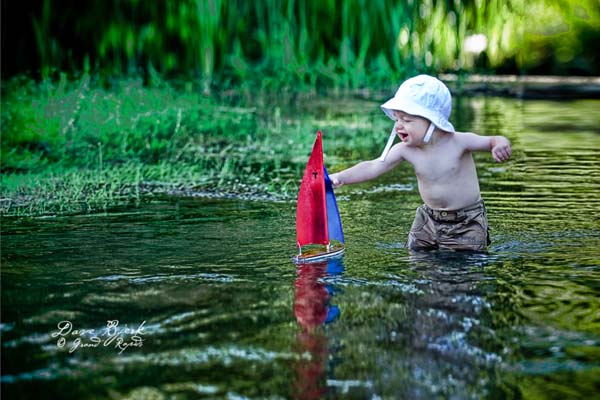 A beautiful T37 being built in Japan: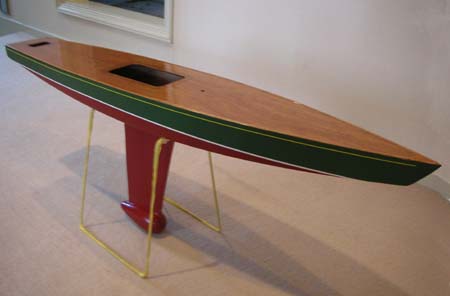 Ted's quite correct about the potential interest here. I expect when I launch it in one of the parks in the area I'll get a lot of questions about where it came from, etc. Could you send me 10-20 of your cards? I would like to have them handy to give to interested people.
Regards,
Jonathan
Here are pictures sent to us by Theo Brunet of Ontario, Canada showing his beautiful T27 under construction and then sailing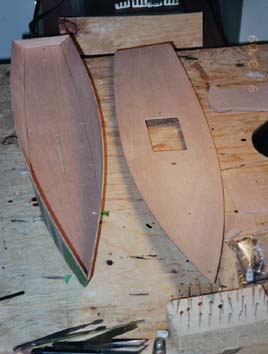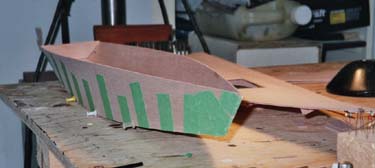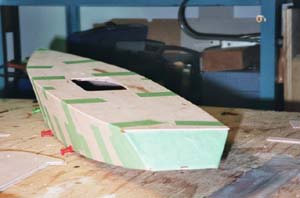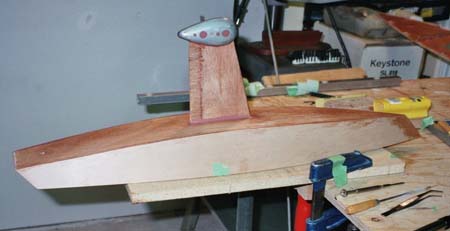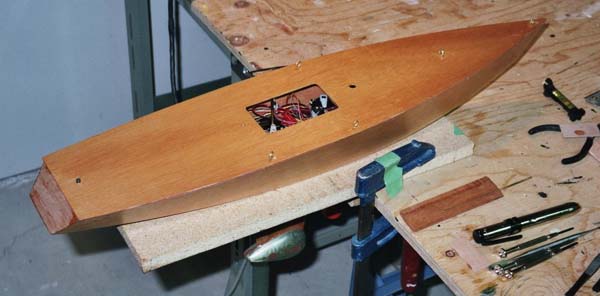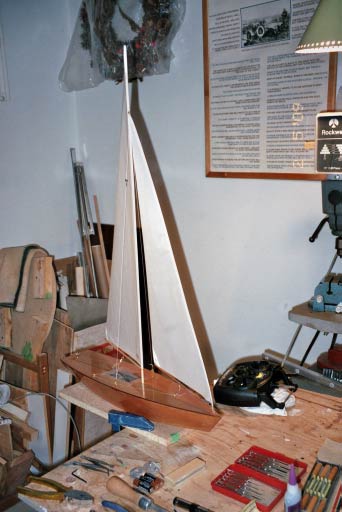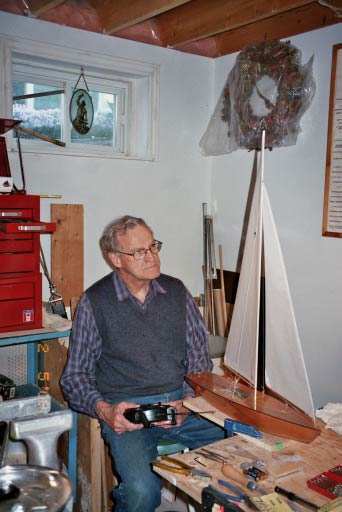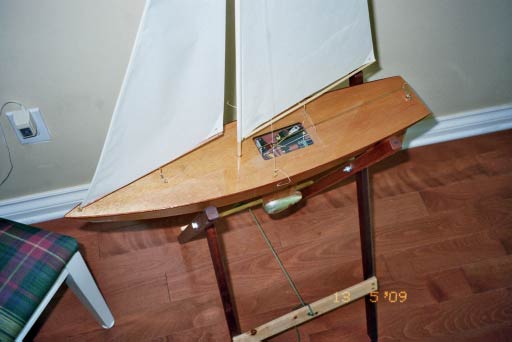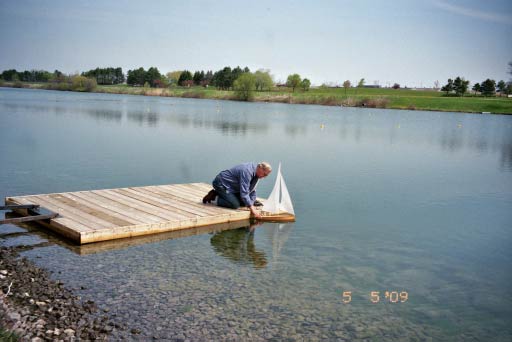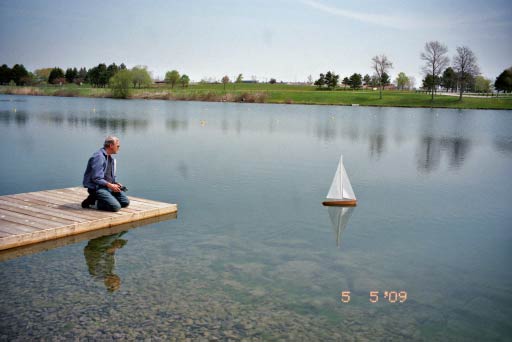 Yes, that T 50 is very nice looking boat and I think it uses some stronger servo's than in my T 27 or even the T 37.
I hope some day I will be putting that one together, or the T37.
Here is finally one of my pictures after she was finished and ready to go for the trial dip in the old Welland Canal, which is now used for recreation, real nice area. In the summer they use it often for regatta's.
Yes that's me in my basement shop.
I am going to become a member of : Confederation Marine Modelers of Hamilton
Sorry Will, I have not even told you the name of my boat.!
I named her : "FINALLY" How do you like that ??
Theo


Twelve elementary school aged children experienced first-hand the wonders of "wind power" in a half day workshop held on June 18, 2009.
Beginning with a basic explanation of where wind "comes from", the workshop covered the principal of aerodynamic lift and "why planes fly" and continued with the kids building their own sailboats. The day ended with everyone sailing aboard a 30-foot sloop out of Port Washington's Lake Michigan harbor.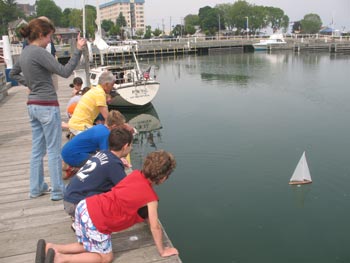 Sailing the T12 in Don's Hands-on Science Class

A scale model sailboat further demonstrates the same principles as the boats created by the children.
Hands-on Science Is Fun!
The genesis for this class was the interest in helping kids find fun and intrigue in science and engineering. These areas of education have generally languished in our country over the past couple of decades, and American youth lag behind much of the world.
The leadership for the workshop was a new local startup company, Sci-Tech Edventures, founded by former school administrator Cheri Cornell of Port Washington. Sci-Tech Edventures offers private workshops for youth, focusing on environmental and human life sciences. Instructor for this class was Don Voigt, P.E.
Five nice reports from Tippecanoe owners from Birch Bay, WA - Holly Springs, NC -Seattle, WA - Toronto, Ontario - and Paris, France

Dear Will and Crew,
A few years ago my wife happened across a neat little 'pond sailer' which she purchased as a decoration. Right away I spotted the "T" on the mainsail and deduced it was a 'Tippecanoe'. That little boat lay dry-docked for about 3 years.
Last Saturday, my Canadian summer neighbor and his children walked by the the house with a little pond sailer he was fiddling around with. Time and tide served so the boys and I snatched the boat (I failed to measure the hull but it has a rudder so I assume it's a T-18) from its bookshelf berth and followed him to the beach. I waded in to my knees, trimmed the sails and rudder and let her run.
All I can say is....WOW! Our three boys (age 5-12) spent about two hours taking turns experimenting with sail trim and rudder position on broad reaches and downwind runs. Even in a one foot swell and strong winds, she confidently buried her shoulder in and accelerated. Then by accident I discovered I could trim to sail circles. At one point our youngest set a course for Sucia. It was all I could do to wade fast enough to catch-up. Had I not caught up with the boat, I am confident some lucky beachcomber at Echo Bay would have found a nice trophy! My neighbor quickly beached his boat and joined the fun.
I am so thankful that we have the boat and it will be the catalyst for so many good family memories in the future.
Best regards
Andy Peterson
Birch Bay, Washington
T37 Builder report:
Cynthia/Will,
5 minutes after I wrote this email I went downstairs to my garage and found a box from you guys. To say I'm blown away is a understatement. Jeeze Louise, this is a quality product. My appologies if I'm not accustomed to this. I haven't put a piece together and I'm already wishing I had bought the T-50. Which now means I will eventually.
Will, Thanks for the list of T-37 owners. There are folks that are so close to me, well.....
Maybe we can get a contest together on the East Coast. Maybe a North American Champion could emerge.
I'm just amazed at the quality of your product! The quality of your kit is beyond reproach!
It is great to see an American company producing a product that needs no excuses!
Best Regards
Jay Wood

T37 Builder Report:
Will,
We finished the boat and it's beautiful!
We just got back from a week up on San Juan Island and we sailed all over the place. Everywhere we went the boat was a head turner.
We were all able to enjoy sailing, including several kids, the youngest of whom is 5! The fact that she could manage the boat is a testament to your design.
I'm looking forward to a bit of racing.
Thanks
Joel Shapiro
T37 Builder Report:
I was a little intimidated when I first was going through the the
instructions for the assembly, but as I started working through them,
things flowed. Very clever design and the assembly has been a lot of fun.
We're heading on vacation to Nova Scotia mid august, so I 've got a target
to get it finished by then and try her out with my kids. (I think I'm
going to make it!! :-)
Thanks for the response..
Joel Weldon
Rachel Beda from France on purchasing the T12:
We placed an order with you last night
Indeed, your boats (a) look more sea-worthy
than anything else out there, and (b) come in kit form rather than
assembled. Kits provide so much more personal investment for
children. Thank you for making such wonderful stuff!
[ More Great Owners Pictures | Home Page | Movie Page | More Fun Pictures | Excellent Sailing Performance | Radio Control T37 | T 50 MOD Radio Control Sailing Yacht | T50 Tri RC Multihull | T Class Racing Sloop | Order Form]