[ More Great Owners Pictures | Home Page | Movie Page | More Fun Pictures | Excellent Sailing Performance | Radio Control T37 | T 50 MOD Radio Control Sailing Yacht | T50 Tri RC Multihull | T Class Racing Sloop | Order Form]
T50MOD flies in heavy breeze! Australia.
Hi Will
Finally got some good photos for you.
These were taken on Sunday at our weekly races.
It was windy, 20-30kts, and I was trying the new C Rig. Downwind its awesome.
Regards, Mark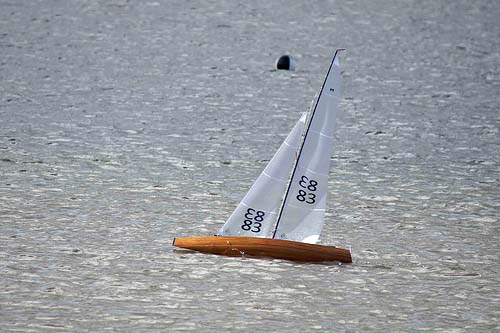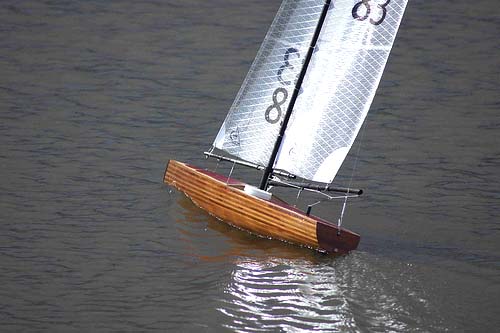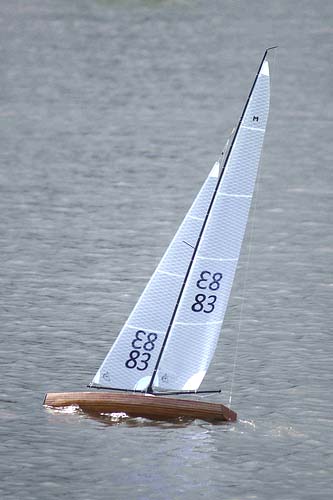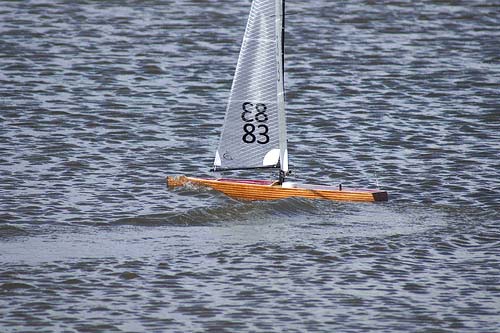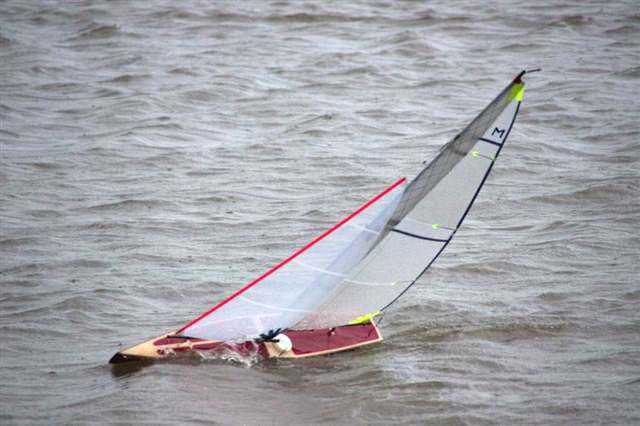 Mark has rigged his T50 with a Marblehead Class fractional rig available from Tippecanoe Boats.The first pictures are sailing with the Marblehead "B" rig. This last picture is sailing with the smaller "C" rig.
More Sailing from 'Down Under'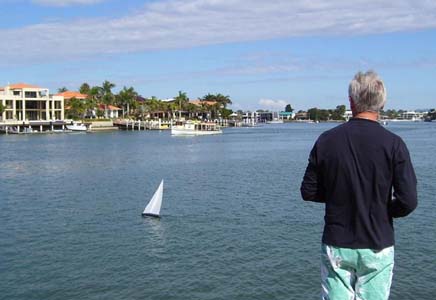 Hi Will
You may recall sending a kit out to Queensland, Australia. My son who is a marine engineer ordered it from you when he was 'stateside' as a birthday present for me. I have had a lot of enjoyment doing the build. Attached are a few photo's in the Mooloola River here on the Sunshine Coast on a sunny winters day with a nice little breeze. I'm very impressed with the performance of the yacht and the simplicity of build. I aim to build another in the future. Cheers from Australia,
Peter Hogan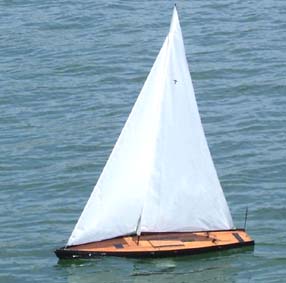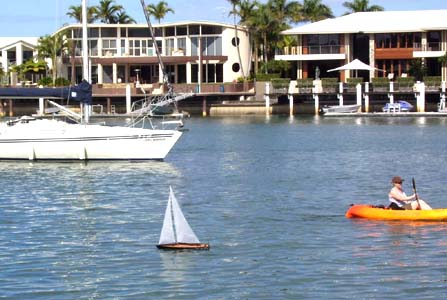 Beautiful custom paint jobs!
It sails great!
-Ray McClain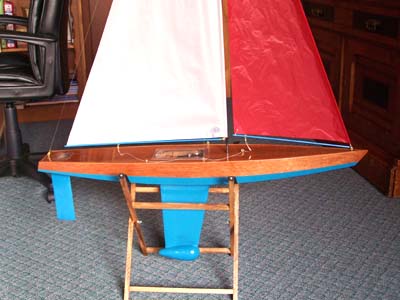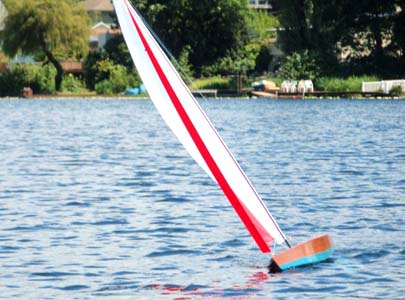 T37 in Florida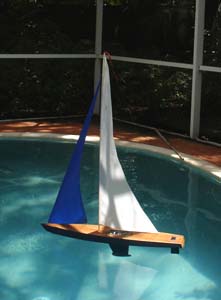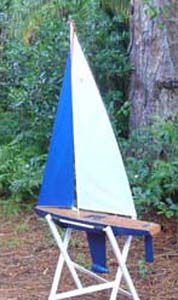 Dear Will,
Well, by George, we've done it! We've finished the boat and gave it a preliminary dip in my pool. We're planning a formal launch in a pond with race course buoys once the rest of the people in our group get back down south.

Just from the little bit we did in the pool, this is a truly remarkable vessel and you are a very bright and persevering guy to have designed and assembled this kit. Just the thought of the materials search for efficacy and compatibility boggles the mind.
Thank you very much!
Ruth
Steve Bacon built his boat in Washington state, and is now taking it to Arizona with him!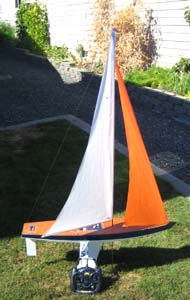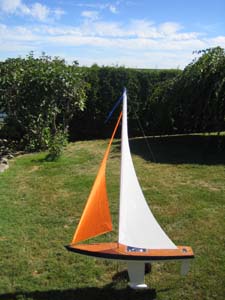 18 inch TClass Racing Sloop in Arizona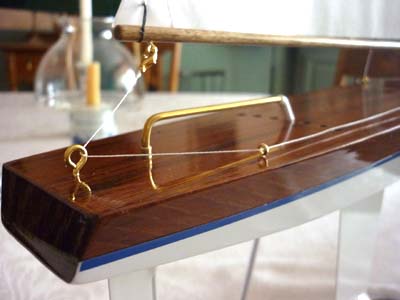 Will,
Had a great time putting this one together and look forward to
sailing it. Made some modifications to the rigging and rudder tube.
Todd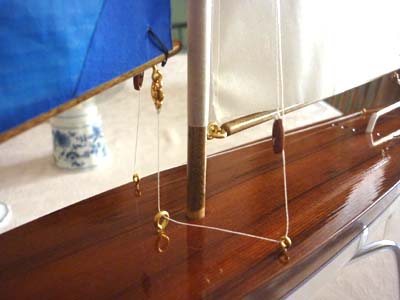 T47 Schooner's beautiful build looks like a full-size classic yacht!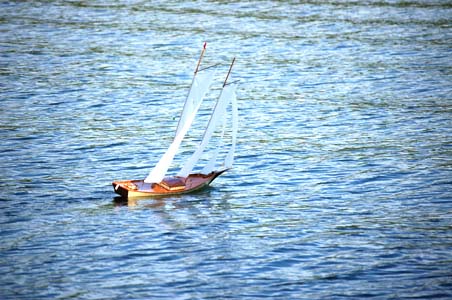 Hello,
I was thrilled to create this boat. She sailed perfectly. Thank you.
Peace, Wayne
Wisonsin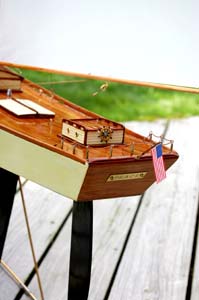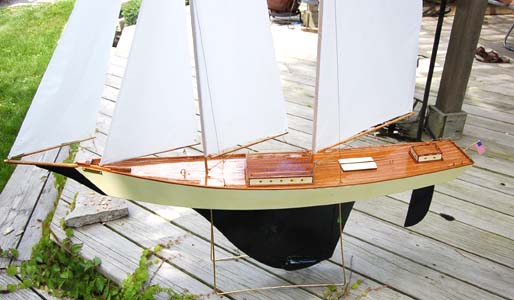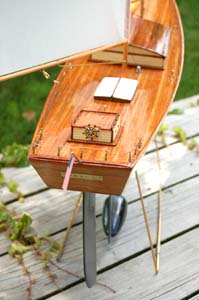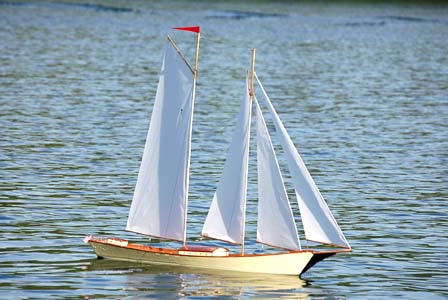 [ More Great Owners Pictures | Home Page | Movie Page | More Fun Pictures | Excellent Sailing Performance | Radio Control T37 | T 50 MOD Radio Control Sailing Yacht | T50 Tri RC Multihull | T Class Racing Sloop | Order Form]