[More Great Owners' Pictures | T37 Pictures from the Port Townsend Wooden Boat Festival | Owners' Pictures Pages 1-7 | More Fun Pictures | T37 Radio Control | Desolation Sound | Excellent Sailing Performance | T Class Racing Sloop | T15 Racing Sloop | T12 Cruiser | Home | Order Form]
T50 in Victoria, Australia
Tony ordered the T37 Kit in May, did a beautiful job building it, and then ordered his T50 Kit in June! Nice job Tony and Ngaio! Ngaio is holding the gorgeous T50.
"The Champagne was great. The 'Ngaio' was successfully and officially launched with her proud namesake in attendance. The pictures are not as good as I would have liked, it must have been the Champagne! Here is Ngaio and Ngaio and the little kid and big kid (the builder).
Thanks again for designing such a great boat. Here are a few shots to add to your huge collection! - Tony"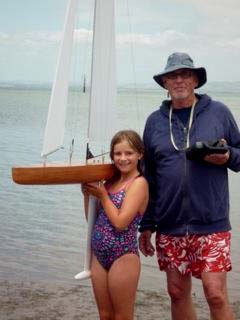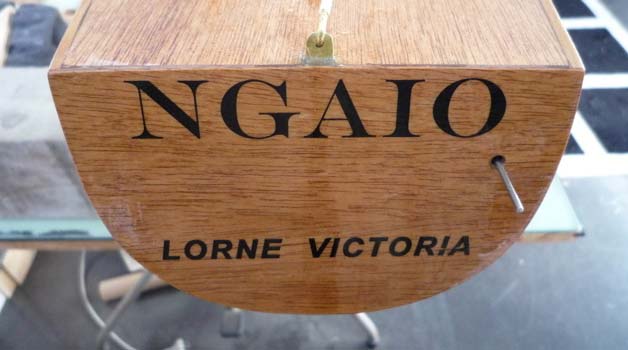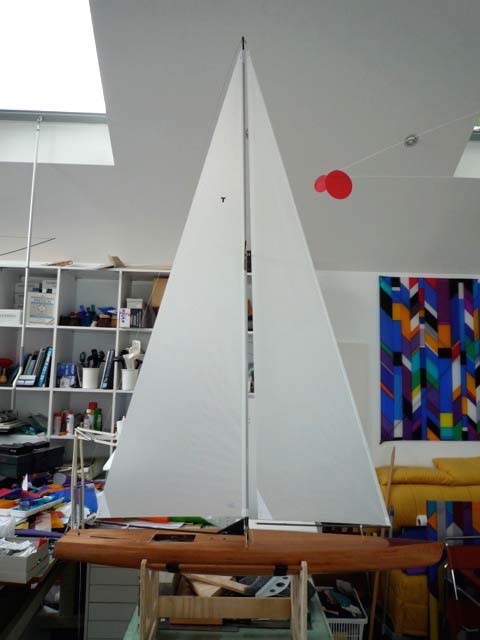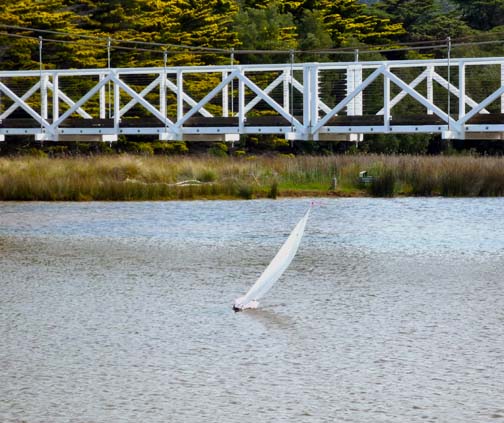 "We have a small suspension bridge over the Irskine river. It's fun sailing the T37 under the bridge and under your feet and waiting (sort of blind for a moment) for it to come out of the other side."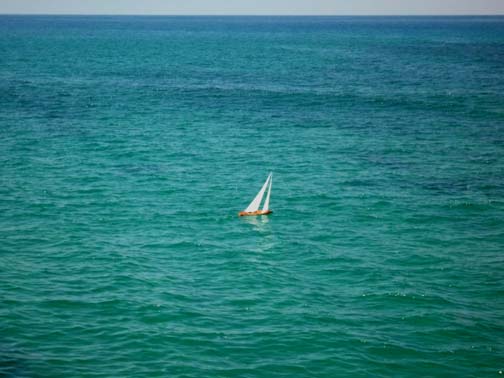 Tony's T50 sailing in the wide open, beautiful ocean.
T37s in Sri Lanka at North Sails
North Sails makes the top racing sails in the world. They bought a few T37s and decided to have their employees build them as a team building activity. The employees are also learning how sailboats work so that they better understand the sails they are making at North Sails! These are some great photos they sent to us after beginning to build!
When the boats are completed, the different sail making teams will compete against each other in a championship regatta. Yes, those blue shirts all have the North Sails logo on the front! www.northsails.com The Worldwide Leader in Sailmaking.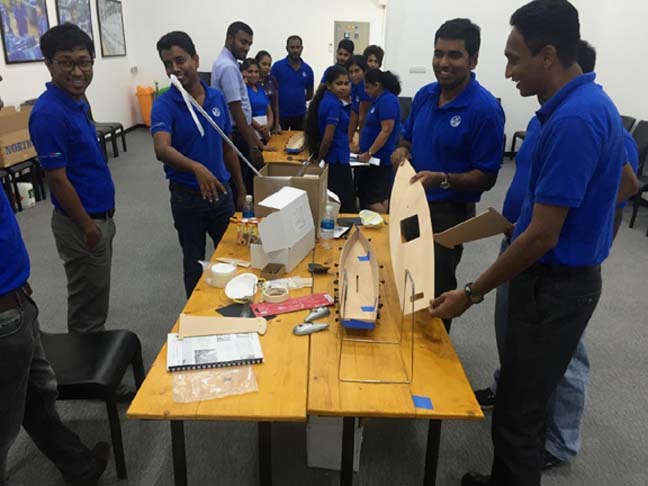 T37 Race at Trout Lake, Vancouver, British Columbia, Canada
"To All,
A small but keen group of T37 sailors brought in the first day of Spring with a great day on the water at Trout Lake. Conditions varied but all in all great sailing. We were on the water from 10 - 2pm and able to get off 12 races in close succession with some very tight competition - the odd close encounter and the odd bit of gear failure.
A great thanks to Will who attended, with new T37 sailor Becca, and kindly brought all the gear for racing; marks, tug to set marks and retrieve errant boats and the race start timer.
Stay tuned for notice of the next race.
Racers: WVYC, Jason Bowman, Mac Bowman 5th, Phil Aldrich 6th, Rob Mulder 2nd, John McMynn 4th, Barry Ford 3rd. Others: Tony "1" Tony Cox, Will 1st, Becca."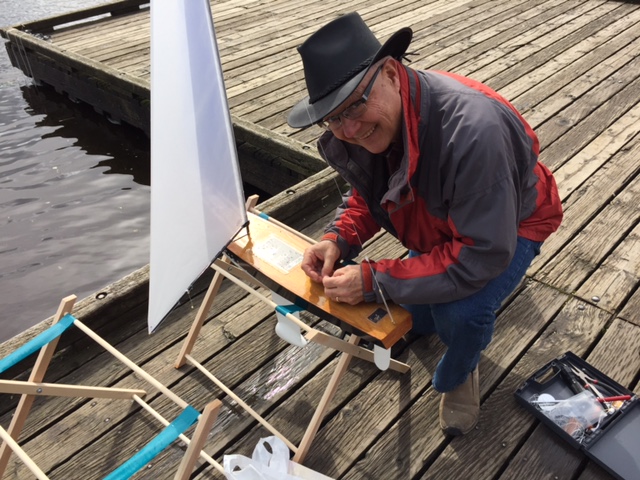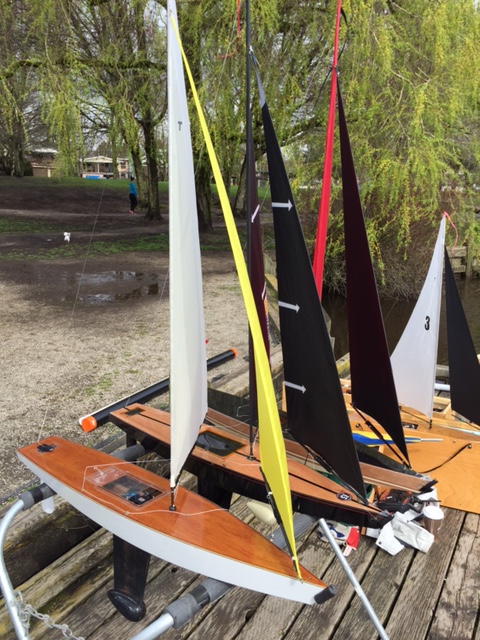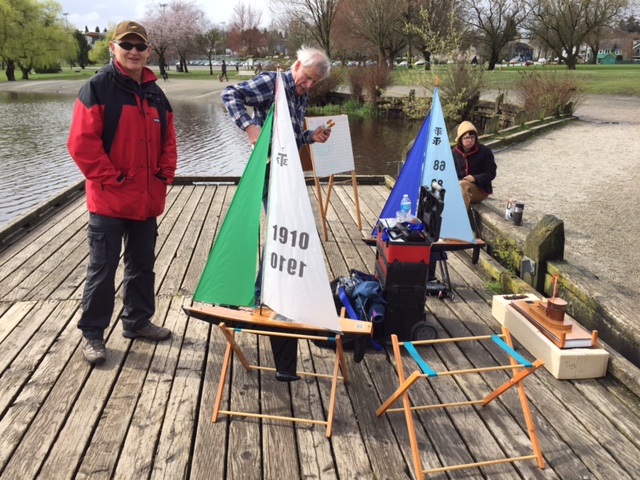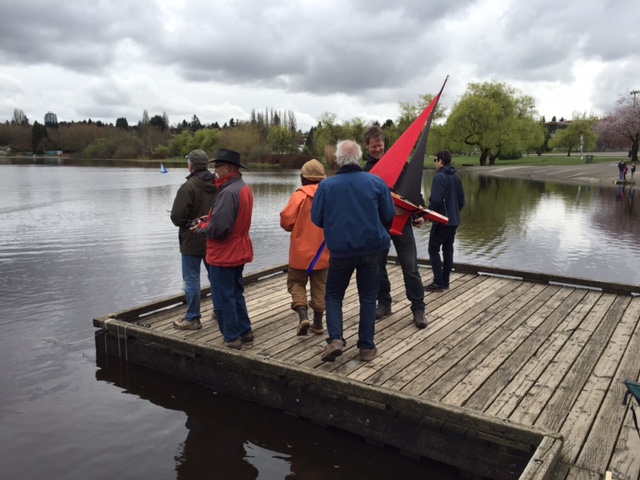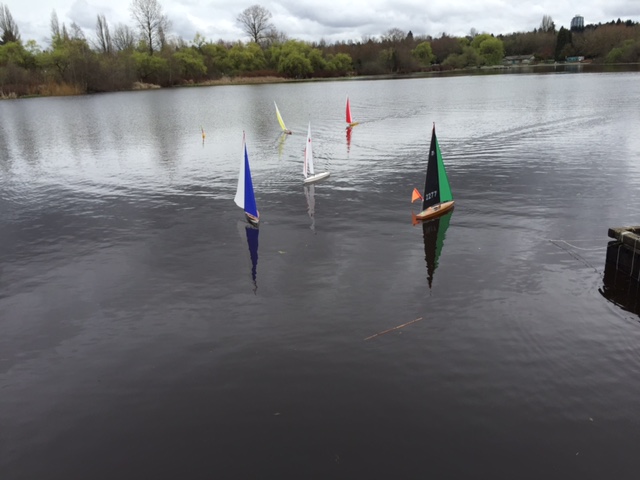 T18 and T27 in Brandon, Mississippi
Steve did a beautiful job building a T18 and enjoyed it so much that he then built a T27 to add to his fleet!
"Attached are a few pictures showing the T27 and T18. I had a lot of fun making the models. - Steve"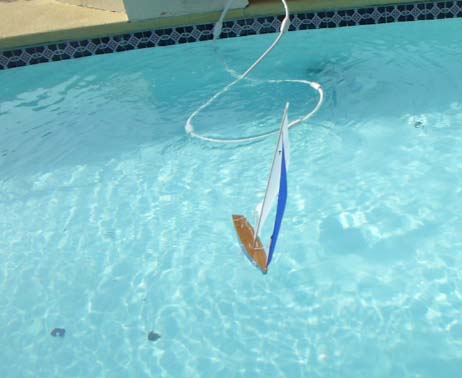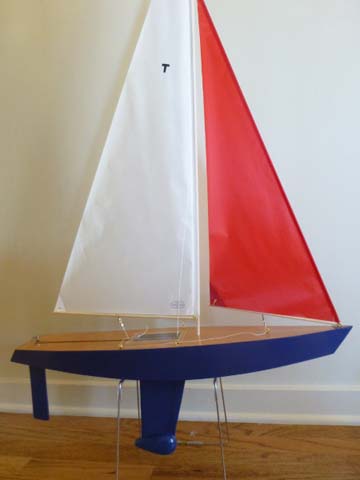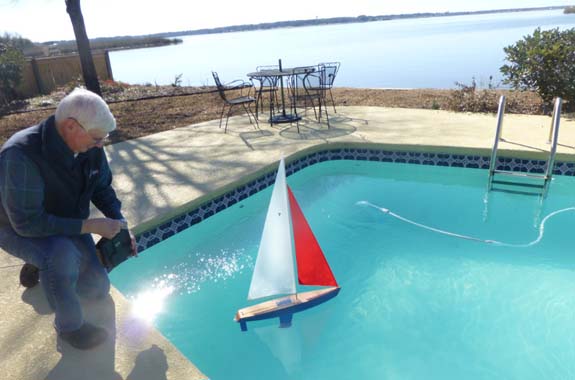 T37 in Port Hadlock, Washington
Click the link to see a video of Satch's T37 'Plane Jane' sailing! https://youtu.be/clEsqTxJ8Ak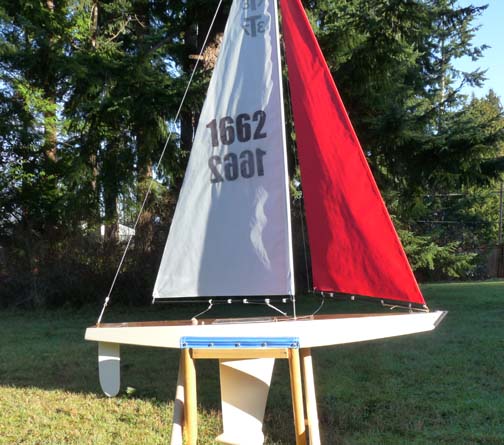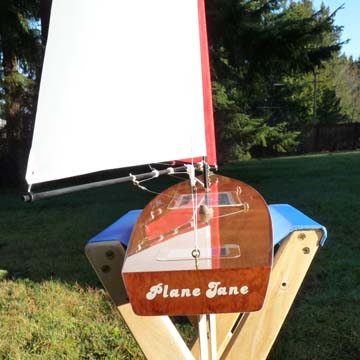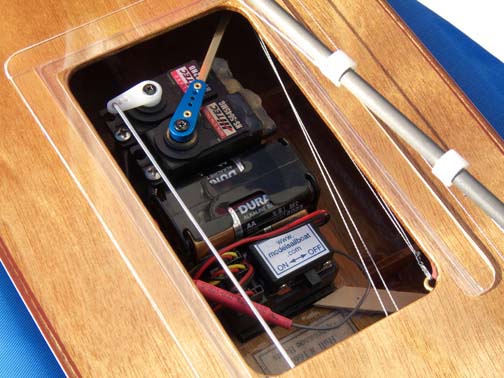 T27 in Denmark
"I just finished building my T27 and wanted to thank you for a great kit. It was a pleasure to build thanks to your thoughtful instructions and the superb materials. The boat is beautiful (even my family says so) and she sails like a dream. Here is a picture of her sailing on the pond behind our house in Denmark. First time out she got caught on a big branch floating just below the surface. I had to row out and un-snag her and took this picture from the rowboat. - Steven"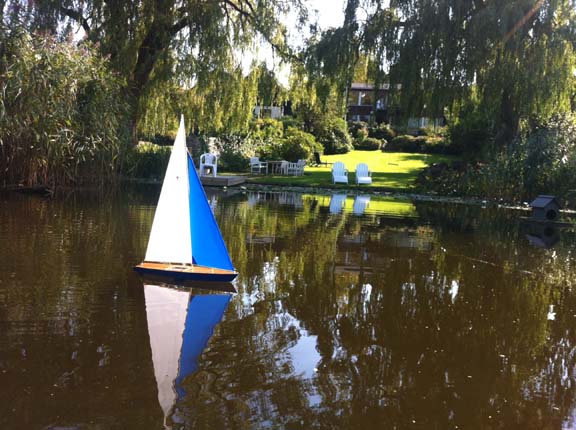 T37 in British Columbia, Canada
"Just thought I'd let you know that the boat sails beautifully and looks great. It makes the Victoria I built previously feel like a cheap toy. Set up according to the build instructions, I only need to use the fine tune on the controls for it to sail straight and fast. - Tim"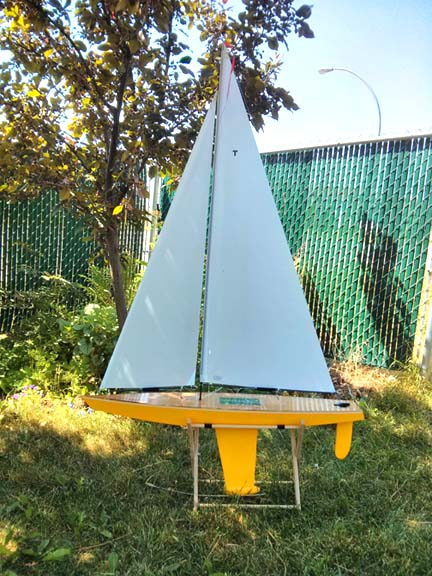 Beautiful T50 in Edgecomb, Maine
"I wanted to share a few photos of hull #155 hanging on the wall ready for when the weather warms. The kit was great. It has been a terrific project to help get through this years cold snowy winter in Maine. Already looking forward to building another one. Thanks much. Regards. -Todd C"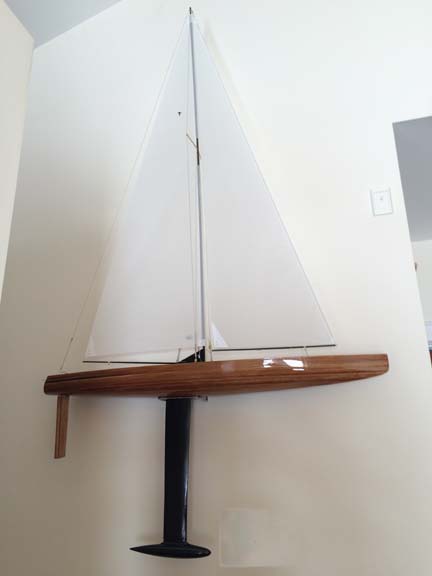 T37 in Cedar Springs, Michigan
"I thought I would share photos of my T37 that I built a few years ago for pleasure sailing on lakes near my home. I really enjoyed the building process and found it very easy and straight forward. - Wade"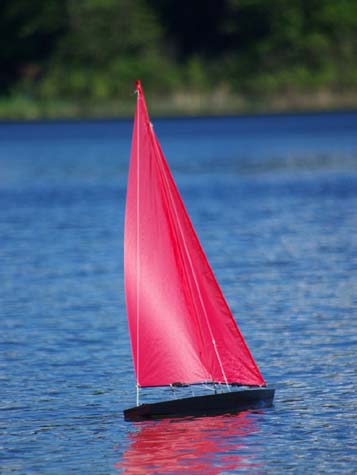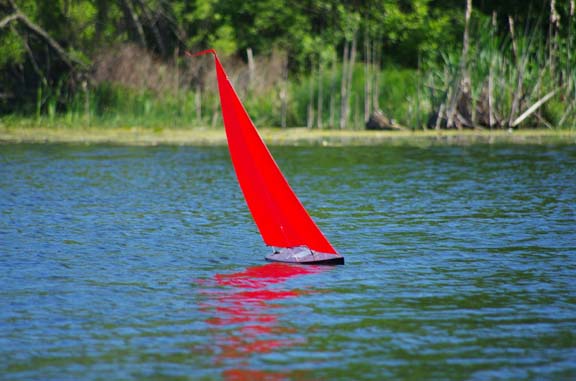 T37 in Bull Lake, Montana
"Just installed my up grade and every thing came out fine. Sailed in some light winds and I tell you this boat does great. Just sending a photo of the BONSTER at her home port, Bull Lake Montana. - Wayne"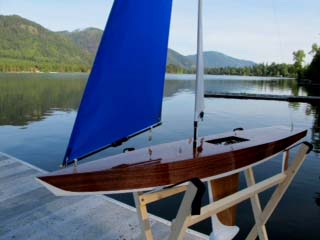 T37 in Sudbury, Massachusetts
Adam Green did this superb filming of his T37 from his kayak. Good job on holding the camera steady, Adam!
[More Great Owners' Pictures | T37 Pictures from the Port Townsend Wooden Boat Festival | Owners' Pictures Pages 1-7 | More Fun Pictures | T37 Radio Control | Desolation Sound | Excellent Sailing Performance | T Class Racing Sloop | T15 Racing Sloop | T12 Cruiser | Home | Order Form]