[Back | More T37 Pictures | Home | Order Form]
RC T37 Sailboat - Racing Sloop
Not only is the T37 a fast RC Sailboat, it is also a beautiful RC sailboat. Not just another plastic RC sailboat, the T37 has all of the traditional beauty of a wooden yacht. Not only is the wood more special than plastic, it is also lighter in weight and quite a bit stronger and more durable than many of the plastic composites that are being used for rc sailboats. Plastic is roughly 60 - 64 pounds per cubic foot, while wood is only half that weight, the wood in the T37 is about 32 pounds per cubic foot. With plastic it is hard to make the boat's hull thin enough to be light, and yet still strong enough, for instance, not to crack when the keel hits a rocky shoal at high speeds. With wood, strength and light weight go together. We sail our T37 rc sailboats hard. We sail in winds up to and even over 25 miles per hour. We have hit rock jetties at full speed, with nothing more than a few small dings as a result. I can even stand on a T37 hull and not crack it, and yet the T37 sailboat with all of the rc sailing gear installed, including batteries, still only weighs barely 5 pounds. The T37 rc sailboat kit is designed so that almost anyone can be successful building their own boat. We have had over 1800 of these beautiful rc sailboats built now by people all over the world. Many people have built two or more of the T37's so they can sail them together and race them. One family in Maine built six of the T37 rc sailboats. An owner in Thailand built his first T37 rc sailboat and right away ordered a second. Then his neighbors on each side ordered boats to race with him on the lake in front of their houses. There is very little that is so pleasing as the time-honored beauty of gorgeous wood and sparkling water blended in the form of a graceful wooden yacht racing across the waves. And the pleasure is all the more in knowing that you have built the boat yourself and created something beautiful and lasting. As one T37 owner put it when he called up to order his boat, having looked at all the plastic boats available on the internet, "I couldn't see passing a plastic boat on to my grandson."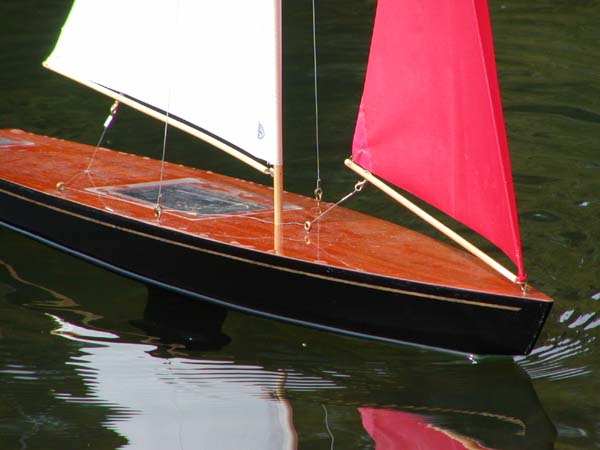 This boat is "Mischief". This is the first T37 RC sailboat that I built five years ago when I first designed the T37s. It is sailing here on Silver Lake in Northwest Washington.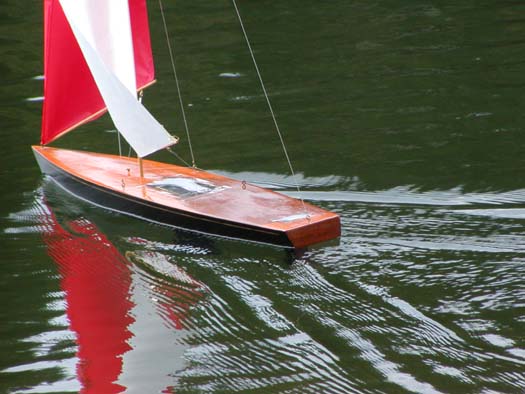 The T37 Rc Sailboat accelerates exceptionally fast due to its light hull weight and heavy keel ballast. The keel ballast weighs as much as the hull without the rc sailing gear.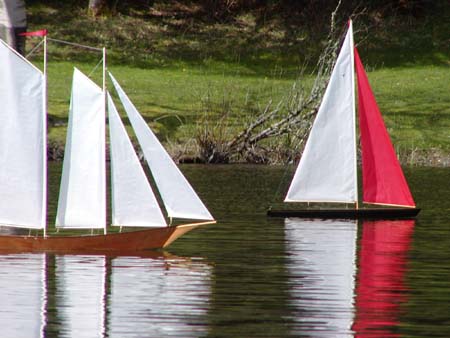 Here the T37 rc sailboat (white and red sails) sails together with the 47 inch Fairharbor Schooner, another rc sailboat design from Tippecanoe Boats.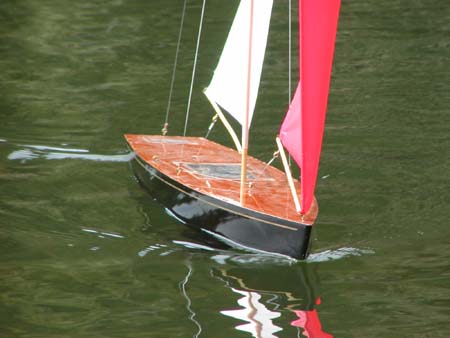 All solid brass fittings keep the boats beautiful even after many outings sailing in salt water.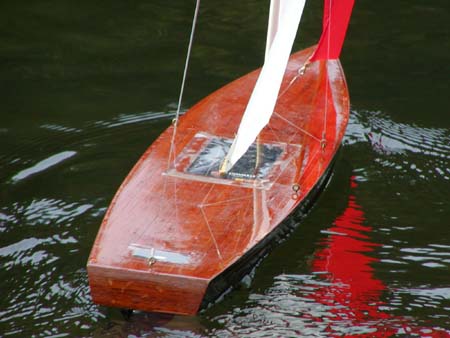 The varnished deck gleams with 5 coats of Captain's marine varnish available in the T37 Varnish Kit.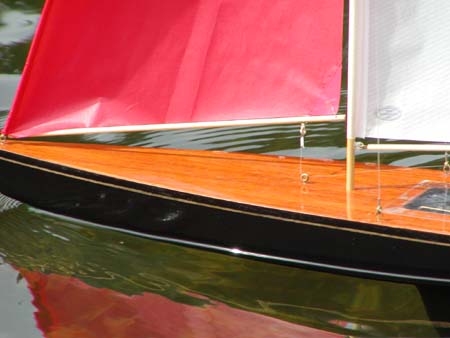 The nylon spinnaker cloth sails are light and strong. Our 34 foot San Juan sloop has a 550 square foot spinaker built out of the same fabric, and yet on the T37 the sails pick up even the lightest breeze.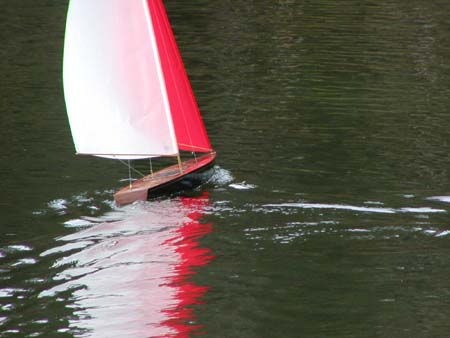 A burst of speed as the sails fill with a puff and the T37 rc sailboat is off on a fast reach. What a boat and what a fine way to spend many wonderful days around the water!!
Click here to Listen to Todd talking about his T37 RC Sailboat in a phone message he left for us after he finished his boat.
[Back | More T37 Pictures | Home | Order Form]