[Great Owners' Pictures | T37 Pictures from the Port Townsend Wooden Boat Festival | Owners' Pictures Pages 1-7 | More Fun Pictures | T37 Radio Control | Desolation Sound | Excellent Sailing Performance | T Class Racing Sloop | T15 Racing Sloop | T12 Cruiser | Home | Order Form]
2017 T37 National Championship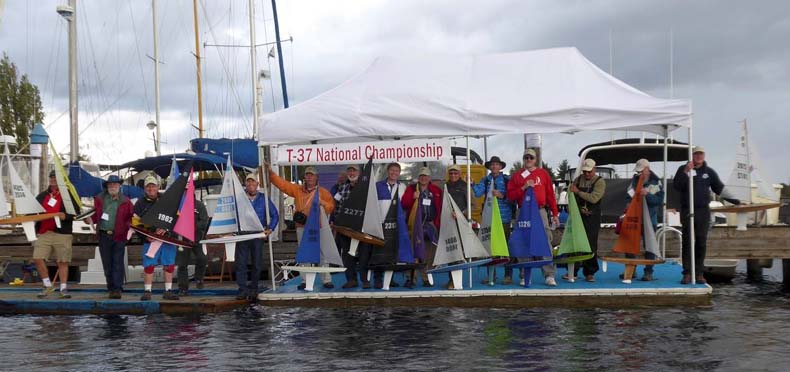 The T-37 National Championship Regatta was held in Seattle on September 30, 2017. Sixteen skippers from Washington and Oregon competed at the Seattle Yacht Club. The regatta was hosted by the Pacific Northwest Model Yacht Club and SYC, which includes T-37 sailing as part of its sailing program.
Predicted rain showers held off until the last race was completed at about 3pm. The wind was light to moderate until lunch time but quite variable in direction. Later, the southerly front was steadier but brought more wind and gusts.
We set multiple marks in a semi-circular pattern with the dock as central point. Additional inner marks allowed an adjustable start/finish line. We used offset marks at both windard and leeward ends, which seemed to reduce upwind/downwind conflicts.
The regatta was open to all T-37 sailors, but the fleet had very accomplished sailors--nine had at least one first-place finish. The winner, Peter Conze, had four bullets. Will Lesh, our boat designer and kit manufacturer, was second with one bullet. In third, Dan Mathews, our Vice Commondore, had two bullets. Good sportsmanship prevailed, with no protests, and followed the excellent conduct of the PRO, Dave Ferguson, who has performed these duties for several years.
[Great Owners' Pictures | T37 Pictures from the Port Townsend Wooden Boat Festival | Owners' Pictures Pages 1-7 | More Fun Pictures | T37 Radio Control | Desolation Sound | Excellent Sailing Performance | T Class Racing Sloop | T15 Racing Sloop | T12 Cruiser | Home | Order Form]