[Home Page | Owners Pictures | Movie Page | More Fun Pictures | Excellent Sailing Performance | radio control T37 | T Class Racing Sloop | T15 Racing Sloop | T12 Cruiser | Order Form]
Tippecanoe Boats as filmed by owners and posted to YouTube!
Around the Horn, Part 1 and Part 2
One hundred ten years ago this jaunty Scotsman sailed around Cape Horn as a young boy of 15 on one of the great sailing ships, a three masted bark out of Hamberg hauling cargo. Forty four years ago Will Lesh, while in his last year of college, interviewed the 81-year-old sailor and recorded the entire live interview for this remarkable look into life aboard the last of the great sailing vessels rounding Cape Horn. Be transported in time to the days of the great ships as you listen to this never before released original recording.
T37 Racing Sloop Videos
Adam Green from Sudbury, MA did this superb filming of his T37 from his kayak. Good job on holding the camera steady, Adam!
"T37 video !!!! Tippecanoe T37 Sailing on Skaneateles Lake"
"Maiden Voyage of a T37 RC Racing Sloop. One of the only remote control sailboats built out of wood, the T37 rc sailboat is very light and very strong. It is one of the most elegant rc sailboat kits available. This remote control sailboat will give pleasure for generations of sailors. There is nothing like having an elegant radio controlled sailboat sailing out across a beautiful lake on a sunny day!"
T37 Racing at Port Ludlow, Washington State! A good demonstration of light air sailing techniques. The Port Townsend - Port Ludlow model sailing group meets Wednesdays for informal sailing/racing and Saturdays for more formal racing. This video was taken on a race day in January. It is fun to watch what happens to the lead boat as the race progresses.
"T37 Sailboat First Sail. Sailing my Tippecanoe T37 RC Sailboat at Seattle's South Lake Union Boat Pond. July 7 2014. The Boat is "Sunny" and will show sail number 2415. These boats are kit built 37 inch long hulls made by Tippecanoe Boats."
"Tippecanoe T37 with racing upgrades. Blue Dream sailing for the first time. Great project I highly recommend it. Nice flat water with steady 10-15 kts. She sailed excellent. Shot and sailed with one hand each."
"video with camera mounted on transom. Filmed on San Juan Island, WA"
"T37 racing with on board camera on Lake Washington, Kirkland, WA"
T47 Schooners - I always have a good time where I'm going, I've always had a good time where I've been.
"T37 RC Sailboats racing in strong winds, December, Lake Washington, near Seattle WA"
"T37 Sailing at Port Hadlock. Final race of the Spring Series"
"T-37 RC sailboat sailing with upgrade kit in high winds on lake near Melbourne Australia"
T37 Rc Sailboat - "Let It Be Sailing Me and my dad sailing the Tippecanoe T37 for the second time. Enjoy!"
"T37 Regionals" hosted by the Seattle Yacht Club
"My RC Sailboat in the cove"
"T37 sailing at Port Ludlow. Today's event was to promote the boat and the sport. Although the video is mostly of racing situations, it was not serious racing so don't judge anyone's maneuvers, especially mine."
"Two T37 sailing on Veili Lake Jay=blue hull, burgee and US flag off starboard spreader Orca=black hull, orca flag off starboard spreader"
Todd Weber's beautiful Mariah T37 Racing Sloop
"Two T37 RC boats sailing in the port of Everett Wa."
Building your T37 Video Manual.
Watch the entire building video here by clicking on the screen below, or go to the YouTube web page to see the video where you can select which chapters you want to view by choosing the option for "SHOW MORE" below the video screen: RC Sailboat T37 Builders Guide on YouTube
"T37 Fleet Racing in the Spring Series" Port Townsend and Port Ludlow skippers
T37 Sailing
T37 Sailing
T37 Sailing
About Tippecanoe
Tippecanoe Boats with Deb Slater
Will Lesh - why he founded Tippecanoe Boats
T27 Racing Sloop
"Remote Control Sailboat "Comme Sea Comme Ca". Video of the building and sailing of a remote control sailboat that I built in California, then sent to my father in Munster, IN for his 89th birthday. Sadly, just under a year later, he passed away on September 24, 2010. The boat is a T27 from Tippecanoe Boats in Everson, WA."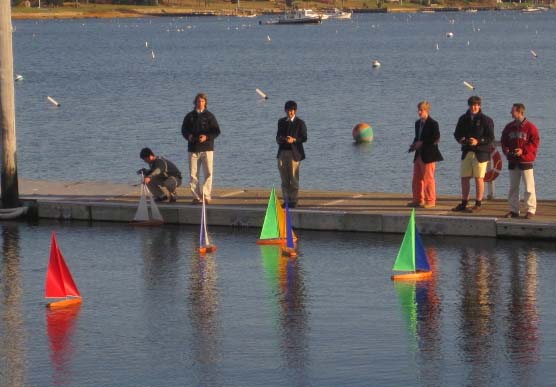 Video shots of T27 Tippecanoe Boats being built and sailed in Tabor Academy's marine design class http://www.taboracademy.org/Page/Nautical-Science-Video
"This is a Tippecanoe T27 Radio Controlled Model Yacht sailing in light winds built by myself from a kit."
"Marine Railway launching" of a T27
In French - building your T27 Part 1
In French - building your T27 Part 2
In French - building your T27 Part 3
In French - building your T27 Part 4
T50 Racing Sloop
"RC Sailboat T50 at full RC sailing speed. RC Sailboat captures the speed of radio controlled sailboats by jumping out of the water. This is a 50 inch remote control model sailboat -"
T52 Racing Sloop
"Tippecanoe T52 on Mary Lake, Port Sydney, Ontario. Just finished last week, a solid 3 week build, and my first sailboat build. "Papineau" out on Mary Lake, breeze was up, you can here it in the video. She handles beautifully, and moves along quite nicely. These are very nice sailboats. I was recording while sailing, need to make a mount for my Mobius camera to free up both hands."
Back to Movie Page
[Home Page | Owners Pictures | Movie Page | More Fun Pictures | Excellent Sailing Performance | radio control T37 | T Class Racing Sloop | T15 Racing Sloop | T12 Cruiser | Order Form]