[ More Great Owners Pictures | Home Page | Movie Page | More Fun Pictures | Excellent Sailing Performance | Radio Control T37 | T 50 MOD Radio Control Sailing Yacht | T50 Tri RC Multihull | T Class Racing Sloop | Order Form]
Here are the first of the T50 MOD pictures from Owners who have built the T50 MOD from the kit along with some other great pictures of T37s and the T47 schooner, and a T50 Tri! (not to mention a T12 and a T-Class) These pictures come from owners all over the country (as well as Australia).
From Riverside, California.What a gorgeous boat! Nice job Don on your T50 MOD!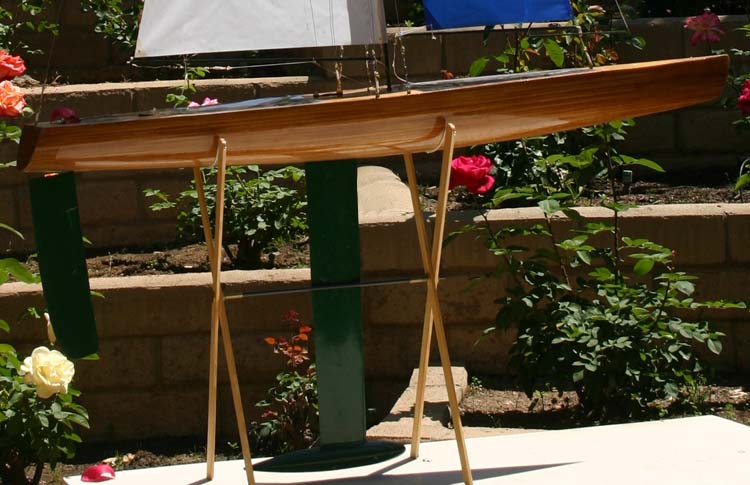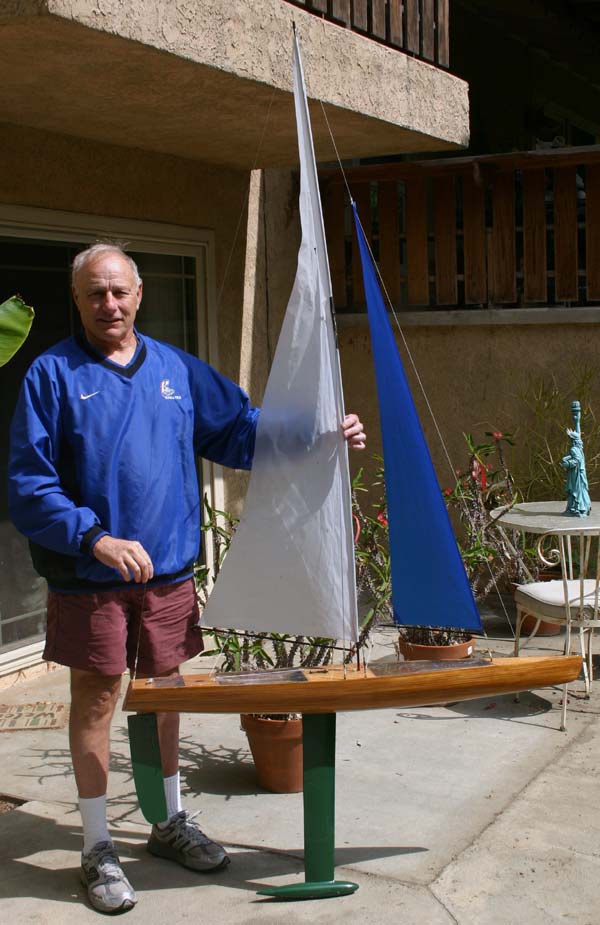 Hello again:

Me and T50.
Don, Hull #10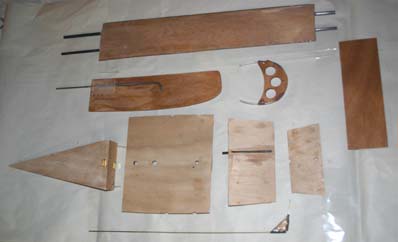 Here Don has the deck parts laid out along with the keel and rudder. All of these parts are assembled from pieces of very light marine plywood that come already pre-cut to the right shape. After the hull is built, you add these parts. The last step is the rigging. The sails are already sewn, so the rigging goes together easily.
The process that we have developed for building the hull makes the hull remarkably easy to build. In one evening you can have the entire hull planked and glued together. Some people think building the hull may be a challenge, but it is actually fast and easy and should not present any difficulty even for a beginner builder.
From Alta, Wyoming. Ken Koster has done a beautiful job with the blue hulled T50 in this picture. The radiant blue accented with the white stripes gives a racy, but classic look! Nice job, Ken!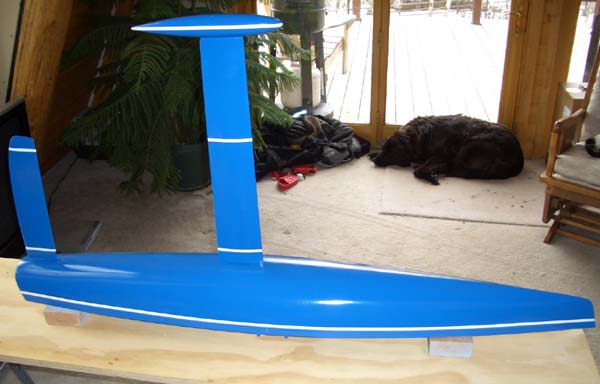 Will,
Here is a photo of #3
Ken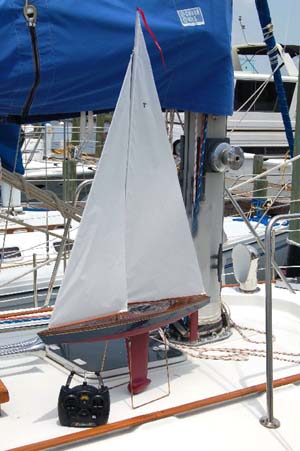 Buddy Tippin in Gulf Breeze, Florida, has done a fine job on his T37 . This level of craftsmanship is always impressive!
Mystic Salt

Hull #750 complete. Thought you would appreciate a couple of photos. I am still working on a name. 'PEACE' & 'DREAM' are a couple of top choices. I enjoyed building the kit. Nice looking boat.
Buddy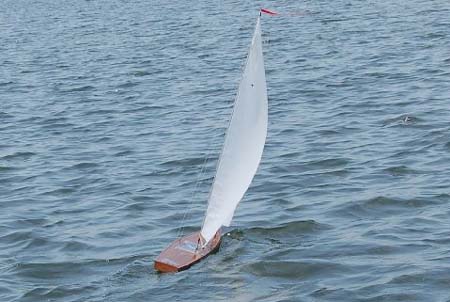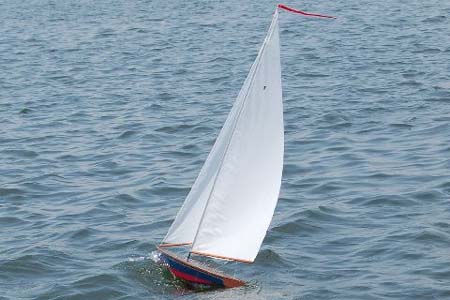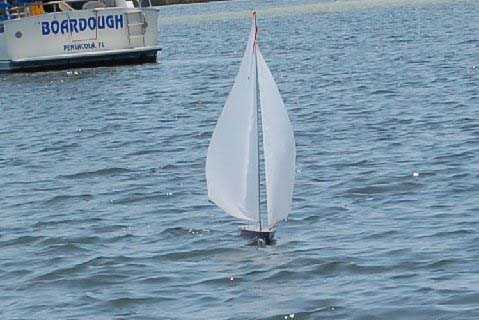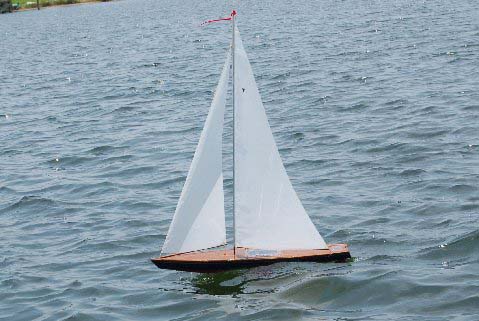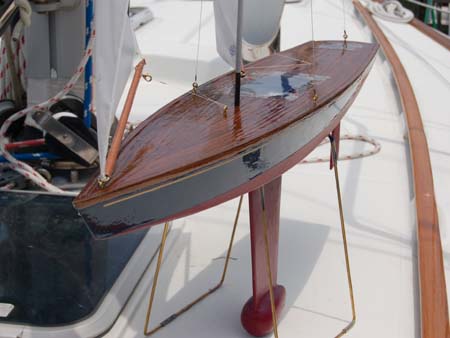 Alan Wilson is having a good time building his T50 in Australia. It's winter there now so he isn't rushing, but he's looking forward to sailing his T50 MOD in the spring.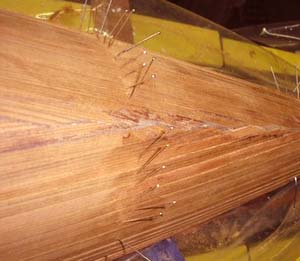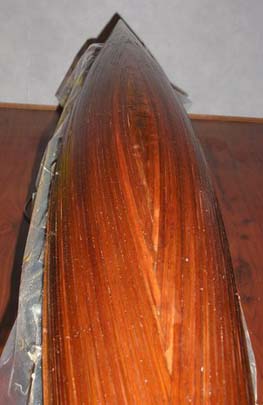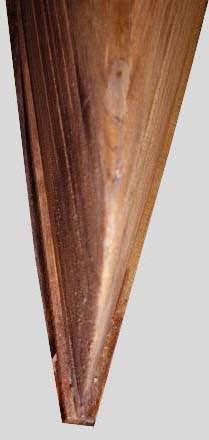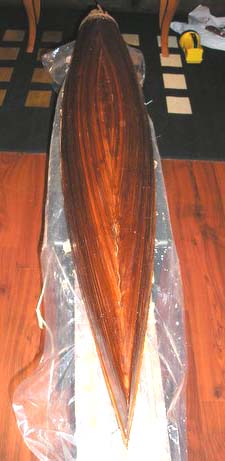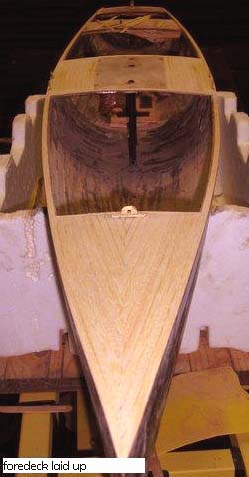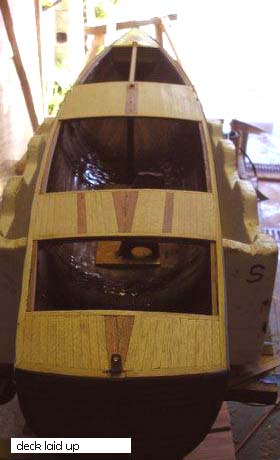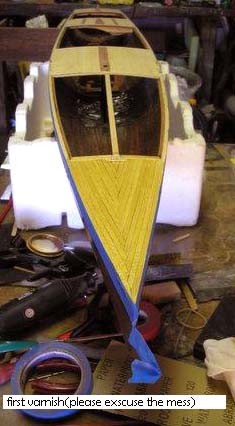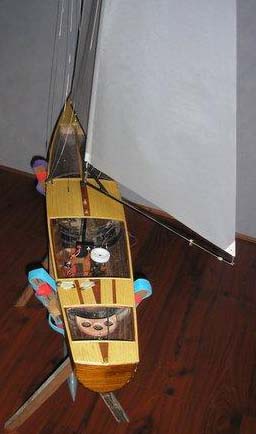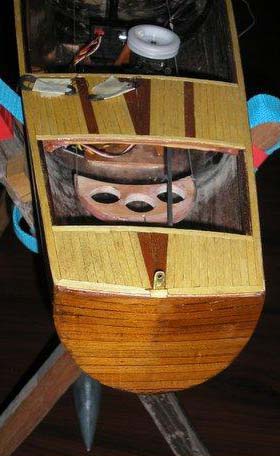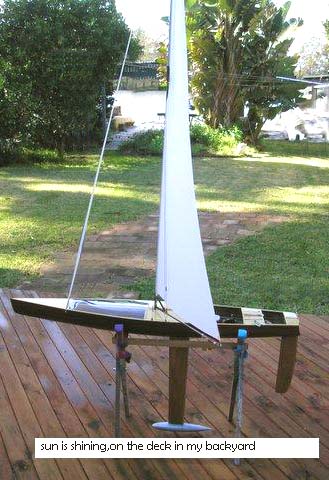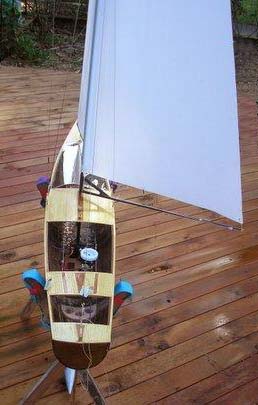 From the Montgomery Model Boat Club, in Montgomery, Alabama, George Arauz reports that he has his T37 tuned so that it is "walking away from the Nirvanas" in the club races. Here is RAGTIME !! This is one jazzy boat. She looks great George!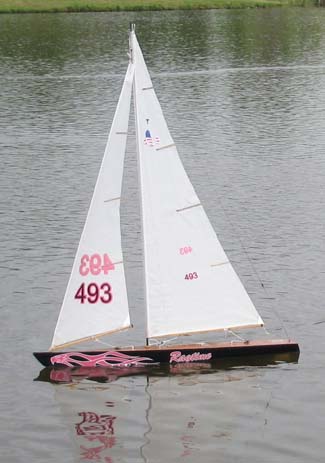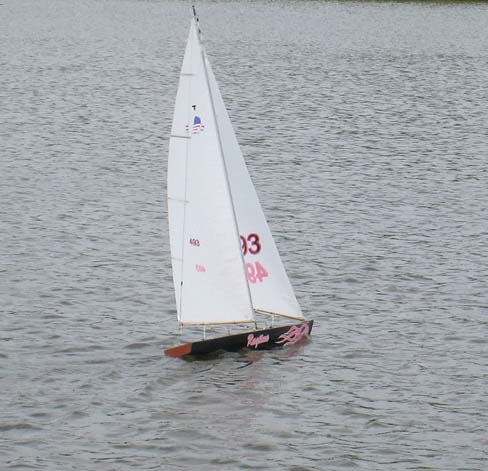 From Zionsville, Indiana. Now for a T37 with a distinctively classic look! This could be a full size Herreshoff classic if you didn't look twice. Dave Meschino has done a stunning job with a very detailed custom hatch cover/cabin for this fine yacht!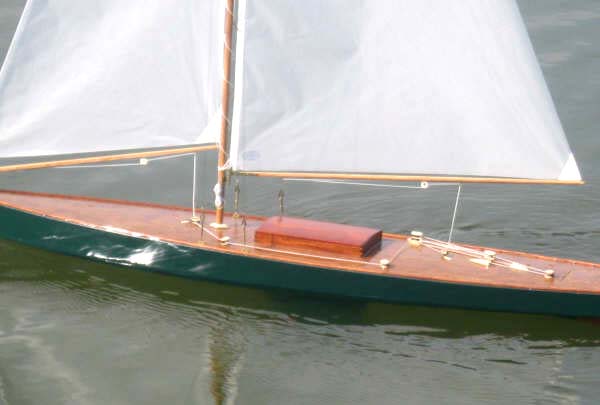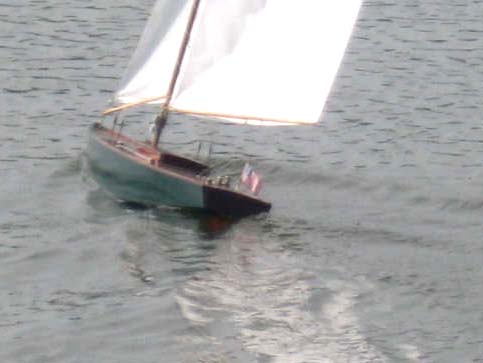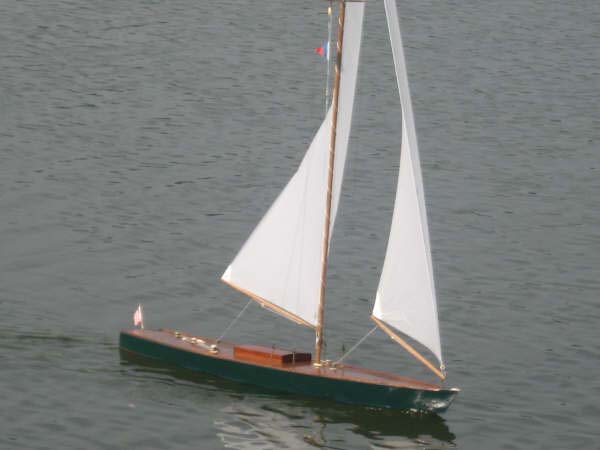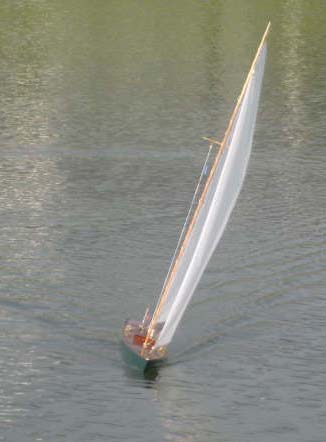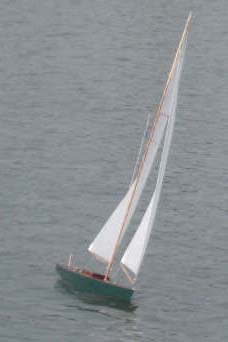 Will, We're still sailin'! If you recall, you had asked for some pictures underway. My son, David Jr. has recently taken an interest in photography and he shot some pictures when we went to the pond yesterday. One of the neat additions to your already fabulous kit was our sheet multiplier system which allows us to go to full wing & wing on the run. I hope this message finds you well!
Thanks!
Dave Meschino

For some more detailed pictures of the elegant hatch cover that Dave designed for his yacht, click on "More Owners' Pictures" when you reach the bottom of this page and scan back through a couple of pages until you reach some earlier pictures of Dave's fabulous T37.
From the Classic to the Ultra Modern with these T50 Trimaran pictures from Thomas Tooker of Diamondhead, Mississippi. The T50 RC Trimaran is just as fast as it looks. There is no pond yacht with a single hull that can come close to keeping up with the T50 Tri. Tom has done a splendid job of building this beautiful trimaran from our Tippecanoe T50 RC Trimaran kit!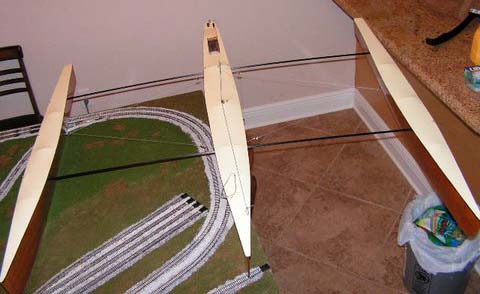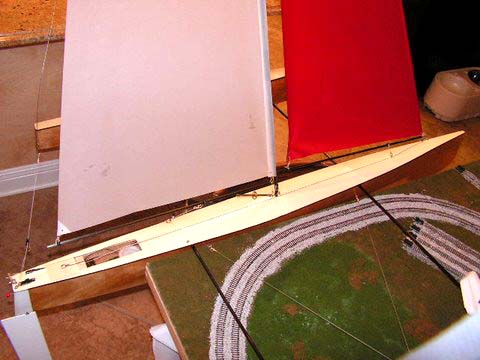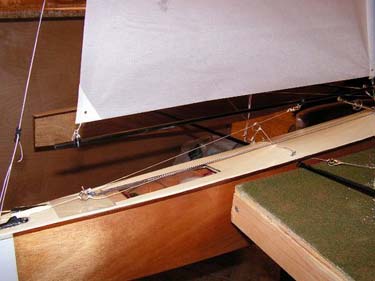 > Hi Will,
> Tri complete and sailing! Boat very fast,stable-easy to tack and gybe if you know
> what you're doing
> > Thanks,
> Tom
There is a fun Trimaran sailing video at RC Trimaran movie page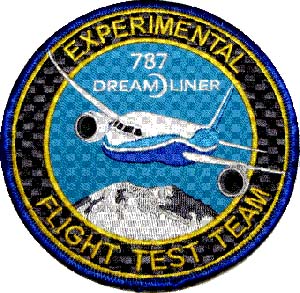 Seattle, Washington
Another of our T50 RC Trimaran kits went to the head pilot of the Boeing test team when he retired recently. The T50 RC Trimaran kit was a parting gift from his fellow pilots. We attached this patch to the mainsail and it looked great! What a super parting gift with which to start the fun of being retired!
Independence, Missouri, T47 Schooner! And now some fabulous pictures that Bob Bossert has just sent to us of sailing his T47 Schooner. You may remember seeing detailed, close up pictures of Bob's beautiful schooner earlier in the "Owners' Pictures Pages". You can find these earlier pictures if you click on "More Owners' Pictures" at the bottom of this page.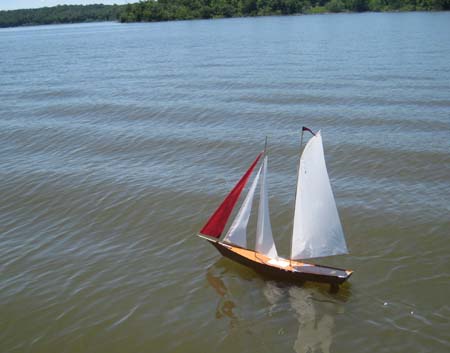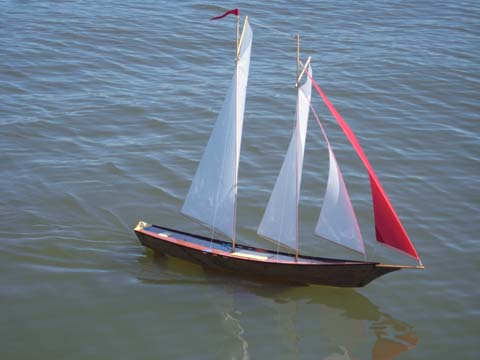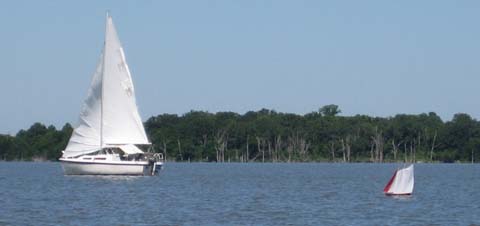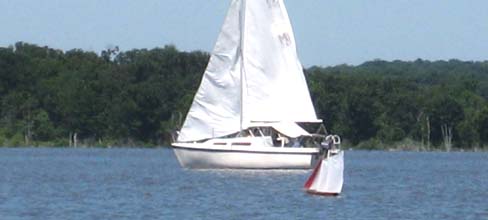 Will, Here are some pictures of The "Mrs."B" . I hope you like them.
Here is the last of the boat race. I was racing to catch up with him. I don't think he was racing me. When I got even with him he turned away.
Bob

Mission, Texas, T37. Kurt Watson built a stunning T37, brass name plate, custom varnished deck hatch and all.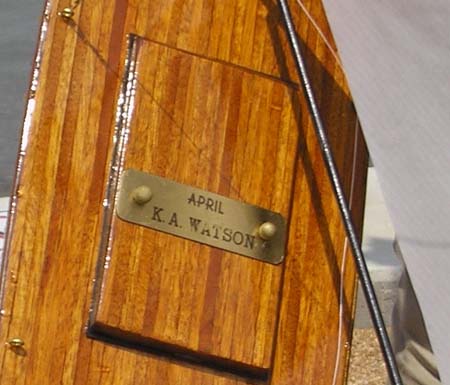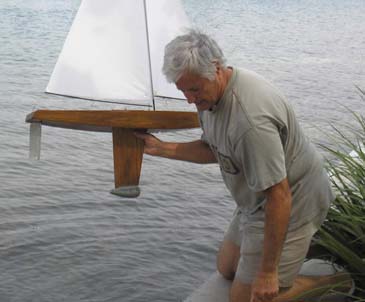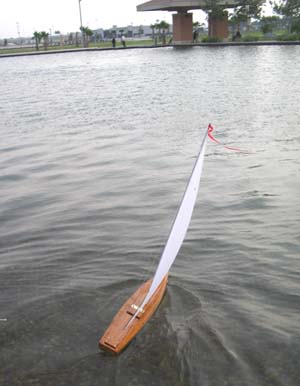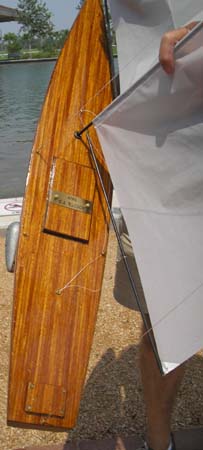 Will,
The maiden voyage in McAllen TX, my newly built T was flawless! Thanks for the help.
Kurt Watson
Nice job on the deck, Kurt! Thanks for the pictures.


Anchorage, Alaska! From the Grand and Glorious Pond yachts to the simpler, but beautiful T12! We are honored to have these wonderful pictures from Andrew and his daughter Madeleine of building and sailing her T12 Wooden Toy Sailboat from our T12 wooden sailboat kit. Madeline is doing a very fine building job here.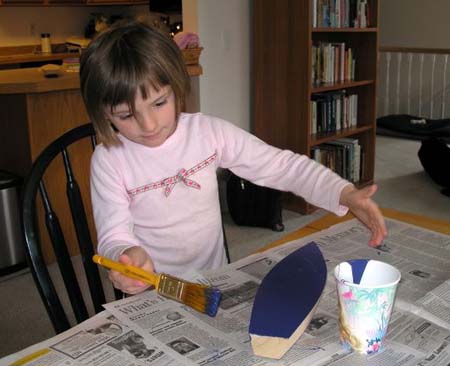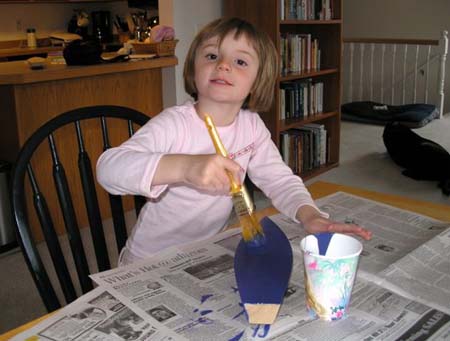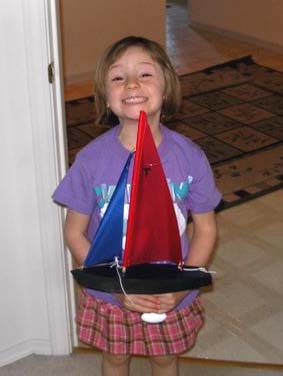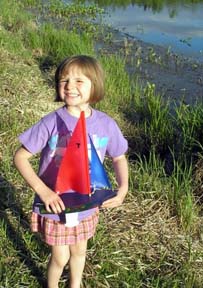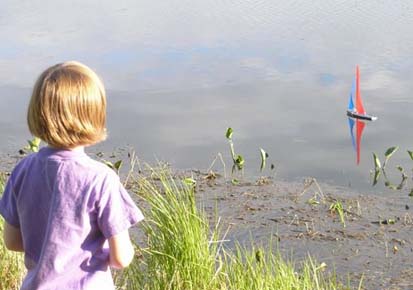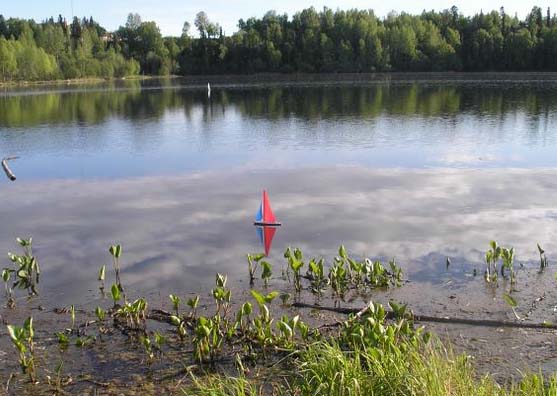 Glad you enjoyed the photos - good times.
Madeleine (daughter) wants you to know her boat's named 'Rainbow'.
Cheers,
Andrew

And now back to the East Coast in Tivertow, Rhode Island, where Dr. Anthony Migliaccio has built a T37 to be very proud of.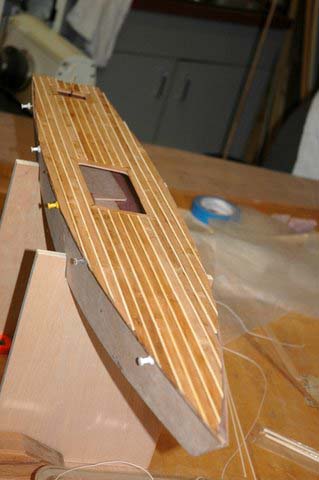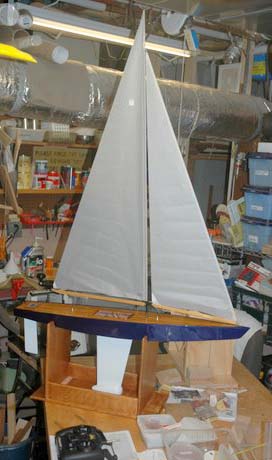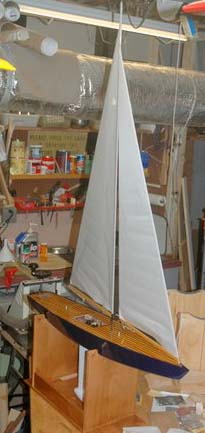 will ~~ almost ready to get wet !!! she'll be sailing out of hingham, ma., yacht club, by my son stephen mig ~~~ docmig
David Lewin in New Haven, Connecticut was inspired by the experience of building his T37 Racing Sloop to go on to build a wooden canoe and a wooden kayak! David's T37 shown sailing below.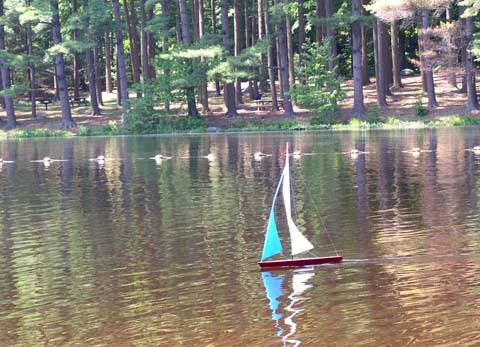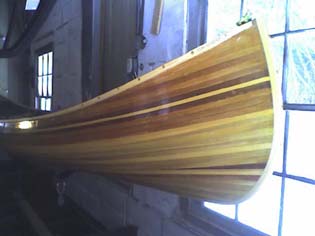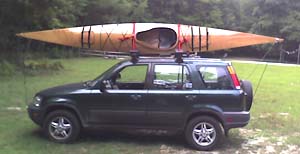 And one last set of pictures of an innovative approach to building our 18 inch T-Class Racing Sloop from Andrew who also has a T12 and a standard 18 inch T-Class Racing Sloop in his family to make a total of three Tippecanoe boats so far. The gaff rigged version is Andrew's clever adaptation of the T-Class Racing Sloop. The marconi rigged sloop at the bottom is Andrew's first T-Class with the standard T-Class rig and a custom cabin that Andrew designed.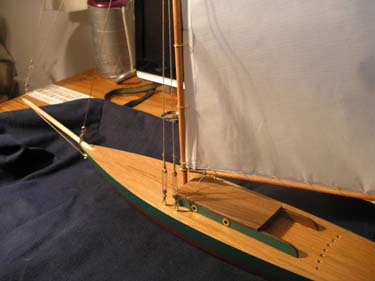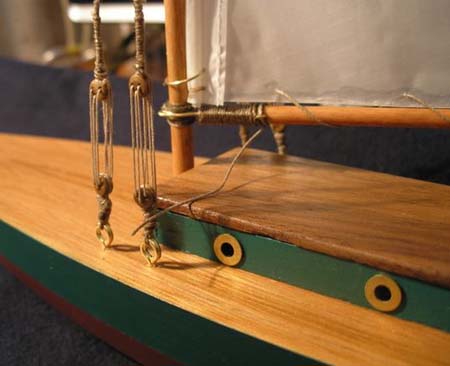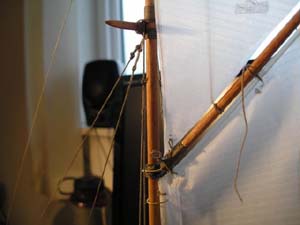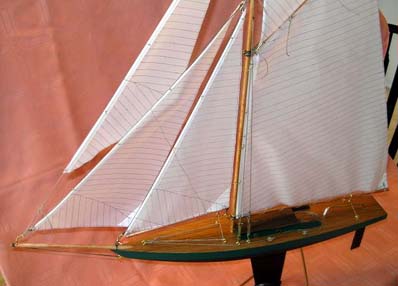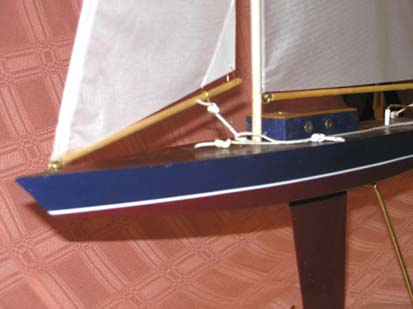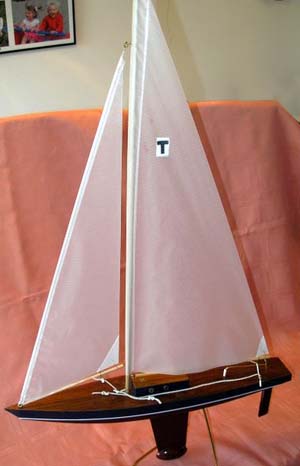 This has been a tour! These pictures came to us from California, Wyoming, Florida, Australia, Alabama, Indiana, Mississippi, Washington, Missouri, Texas, Alaska, Rhode Island, and Connecticut. Plus we have boats in 47 other countries and all the rest of our states. For 25 years we have built the finest model sailboats, beautiful boats with about 65,000 boats sailing now. It's great fun. Thanks for the wonderful pictures! Click below for more great owners' pictures to continue the tour. You will get to visit Paris and England and China and Thailand and Iceland and many other places including Brazil!
[ More Great Owners Pictures | Home Page | Movie Page | More Fun Pictures | Excellent Sailing Performance | Radio Control T37 | T 50 MOD Radio Control Sailing Yacht | T50 Tri RC Multihull | T Class Racing Sloop | Order Form]