[ More Great Owners Pictures | Home Page | Movie Page | More Fun Pictures | Excellent Sailing Performance | Radio Control T37 | T 50 MOD Radio Control Sailing Yacht | T50 Tri RC Multihull | T Class Racing Sloop | Order Form]
Will:
Thanks for all your help. I'm the taller guy- Hayward Chappell. My friend is Jonathan Cox.
We were both very impressed with the quality of the boat and the details of your instructions. Although I must say it was harder then making a sandwich, it was a great project that I look forward to enjoying for years. I am hoping to generate some interest in a local sailing club so we'll send them your way!
thanks- Hayward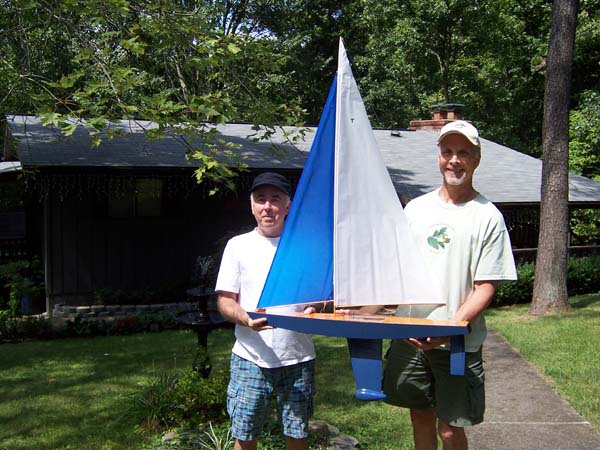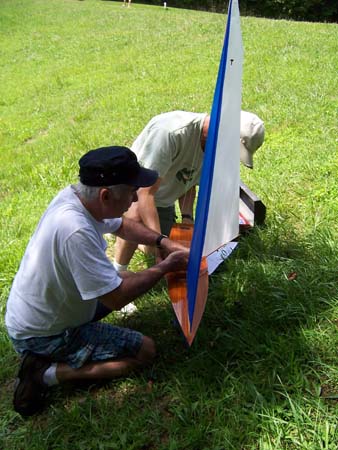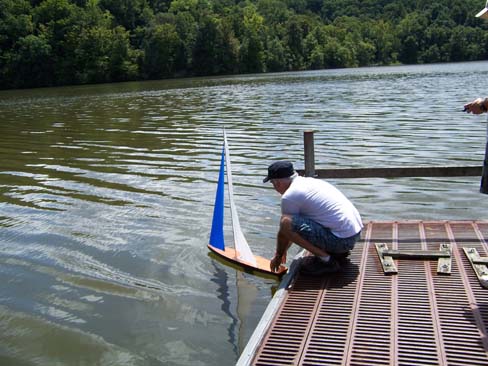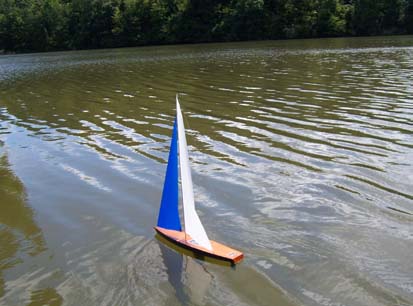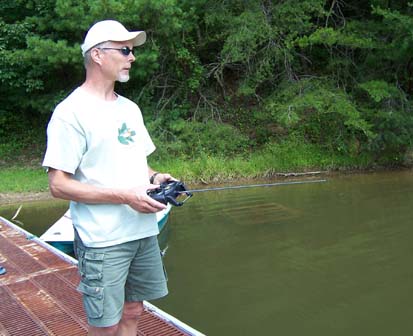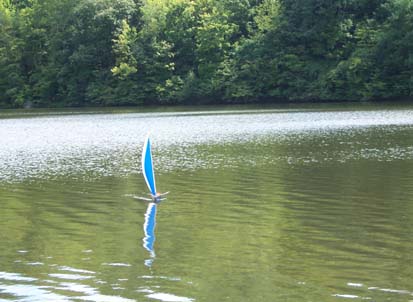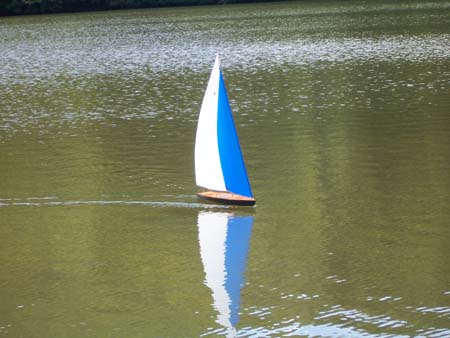 Thanks Hayward, It is such a pleasure to see these pictures! Happy Sailing, Will
James Munsell sent these pictures of his beautifully finished T27. The custom hatch is his own creation. In the sailing shots we go to the famous sailing pond in Central Park, where the young skipper handles his sloop with infinite skill.
James writes: "I purchased a T27 kit (Hull No. 84) and built the sailboat for my grandson, Jeff. I gave the boat to Jeff on Sunday and the boat had its maiden voyage on that day on the boat pond in New York City's Central Park."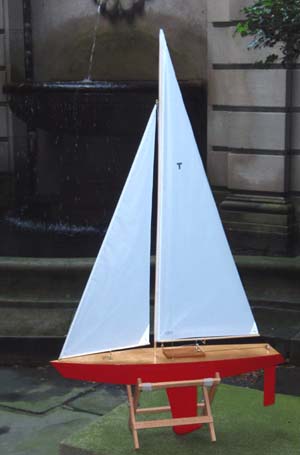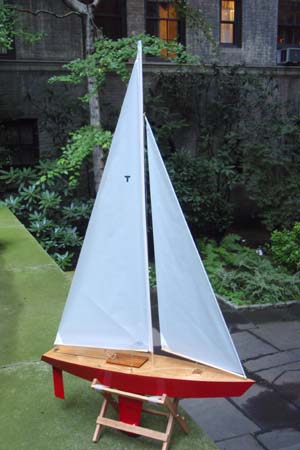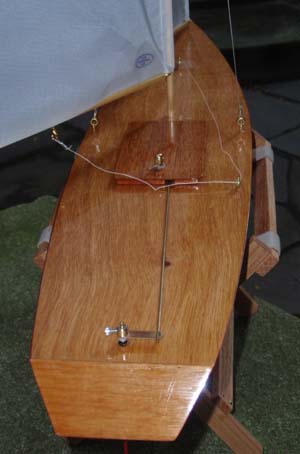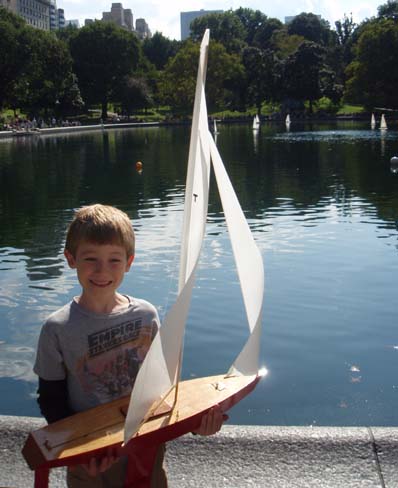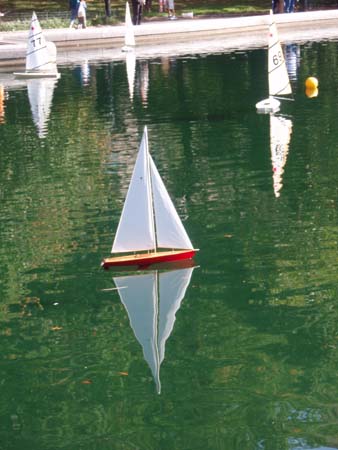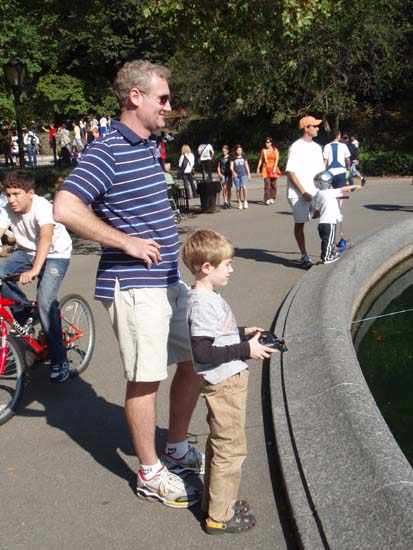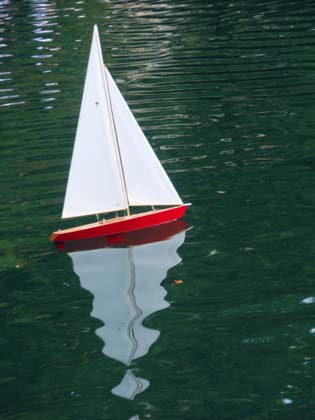 What a fine day to remember! Isn't this what our best memories are made of? Thanks, James, for these pictures that tell such a fine story.
Happy Sailing, Will
Here are pics of hull#785 bought for me by my son this spring and finished this weekend.
I built a Bolger "Gypsy" and used the same hull paint.
First sail was an adventure as I had not extended the transmitter antenna so she just sailed away in our 40 acre lake/reservoir. Lucky the wind brought her back to shore before I got a chase boat ready. The 2nd sail was great.
Do you know of any r/c boat clubs in the Pittsburgh area?
Thanks for a well designed kit.
Harold Steiman
McDonald, PA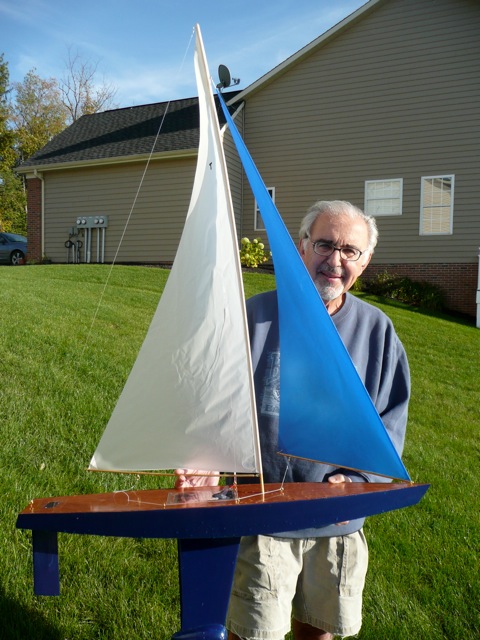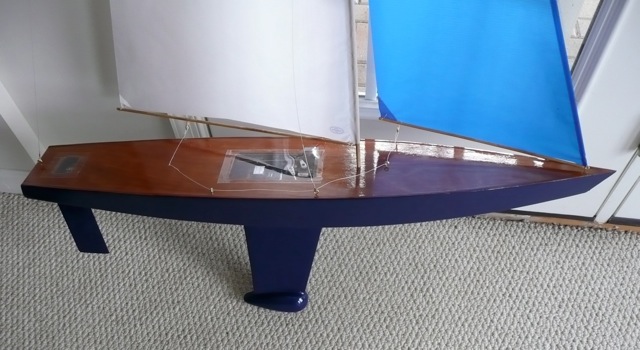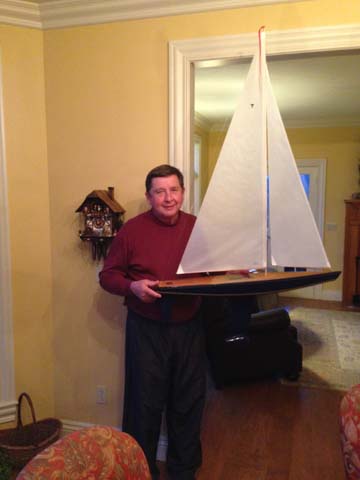 Enjoyed building the t 27
Stephen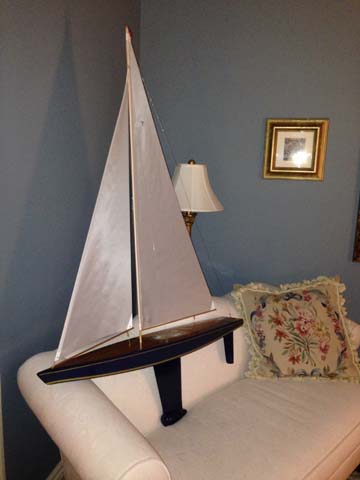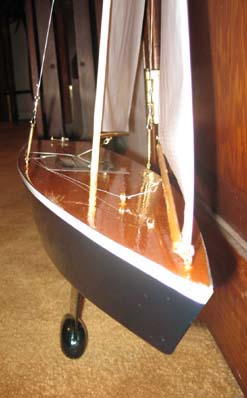 Hi,
Just finished my T37 a week ago. Just wanted to tell you it is fast. Everybody I race with enjoys sailing it. We all have Soling 1 meters and it keeps right up with them. Thank you for the wonderful kit. I have enclosed a picture of it, and I've named it "LIL WOOD ". We are starting a Yacht Club here in Peachtree City, Ga. I'm hoping that we can have a T37 class. Will keep you informed. Thanks again.
Ken Williams
Sharpsburg, Ga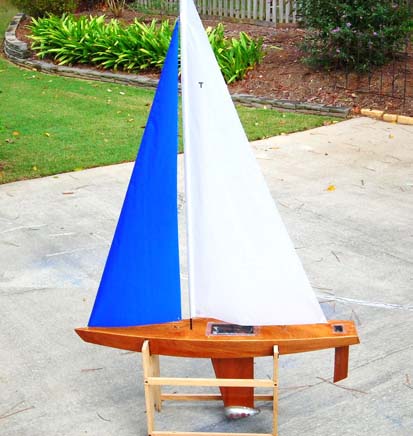 Cynthia/Will,
5 minutes before I wrote this email I went downstairs to my garage and found a box from you guys. To say I'm blown away is a understatement. Jeeze Louise, this is a quality product. My appologies if I'm not accustomed to this. I haven't put a piece together and I'm already wishing I had bought the T-50. Which now means I will eventually.

Maybe we can get a contest together on the East Coast. Maybe a North American Champion could emerge after your regatta and a EC regatta.
I'm just amazed at the quality of your product! The quality of your kit is beyond reproach!
It is great to see an American company producing a product that needs no excuses!
Best Regards,
Jay Wood
Look what arrived via Fed Ex today:
S/V Nicole's Kitty!
If you Love something, set it free.
if it returns, it's yours forever!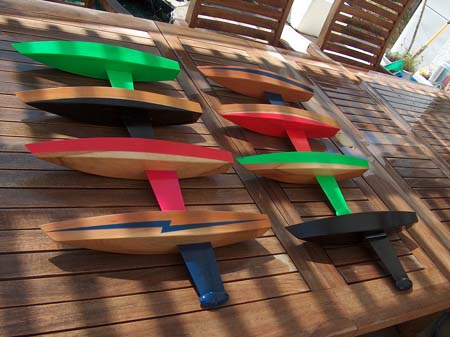 Some may remember our "New Spin on Message in a bottle" project. The boats were all released between June 25 and June 27, 2007
Nicole's Kitty was first found by Sir Richard Branson on Necker Island, his Assistant called me about 3 weeks after returned from our BVI charter. They released the boat and it was found again on Necker and brought home by a worker frm the big Google wedding at Necker.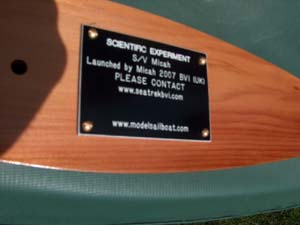 We built and released model sailboats with information plaques attached so the finder could contact us.
The boats started out with 8 coats of varnish and colors and names chosen by the kids.
We also hope to hear from finders of the 5 other boats, we hope the sailed far and may still be sailing!!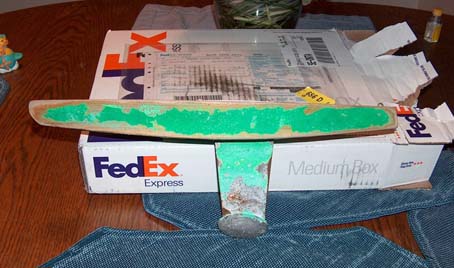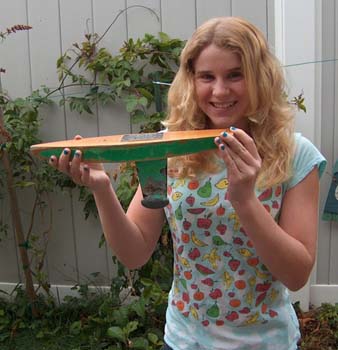 A T37 from Ottawa, Ontario, Canada! Chuck Delabio has done a fine job with his T37 and has sent a wonderful photo record of building and sailing his boat. Chinook - what a great name for a beautiful and graceful Canadian yacht!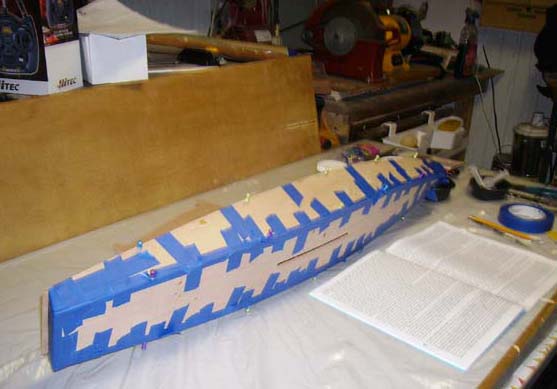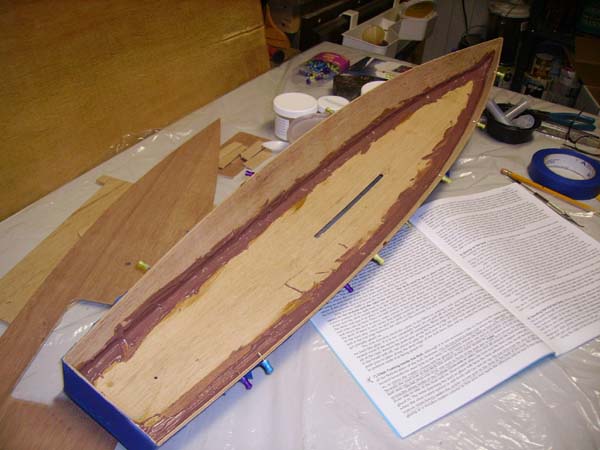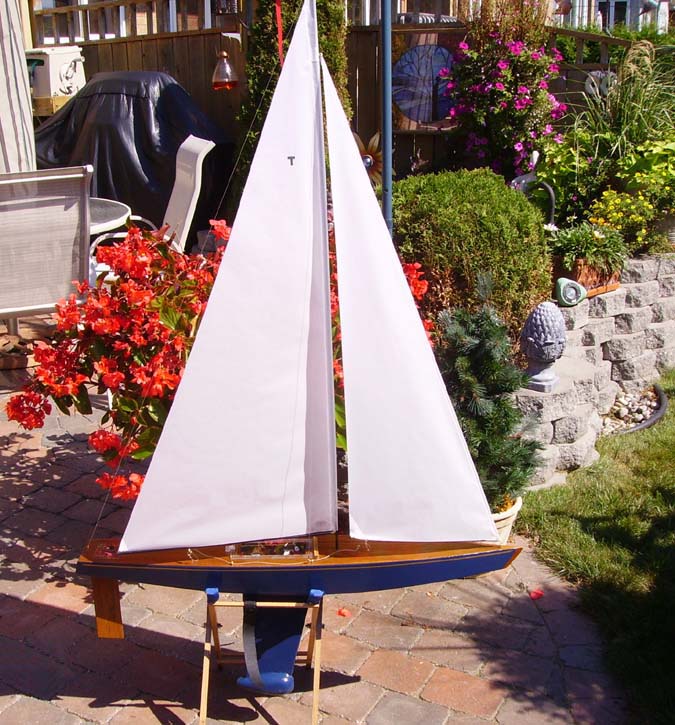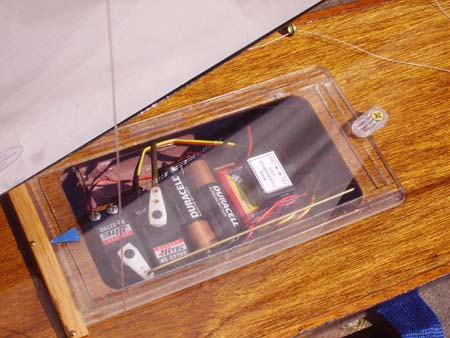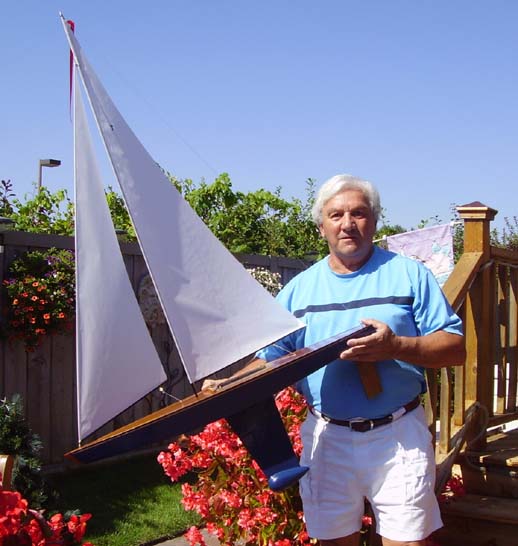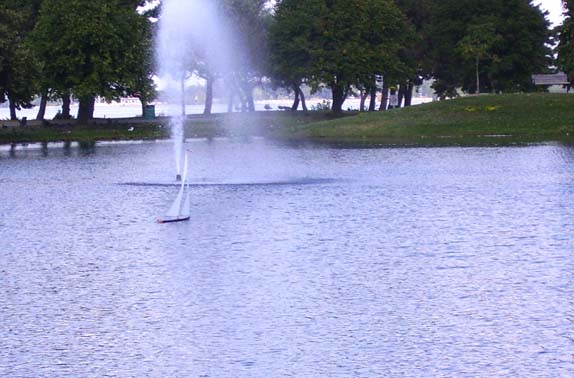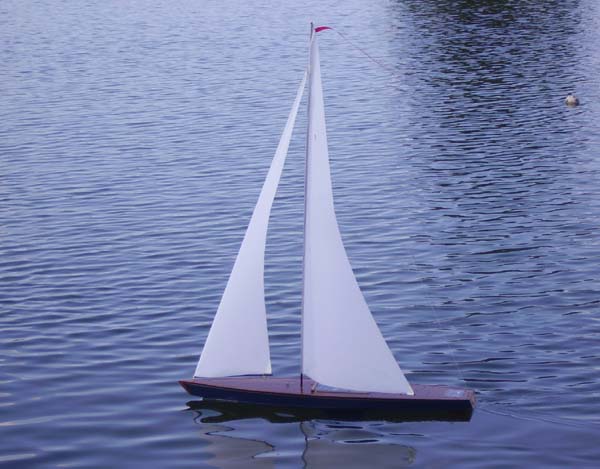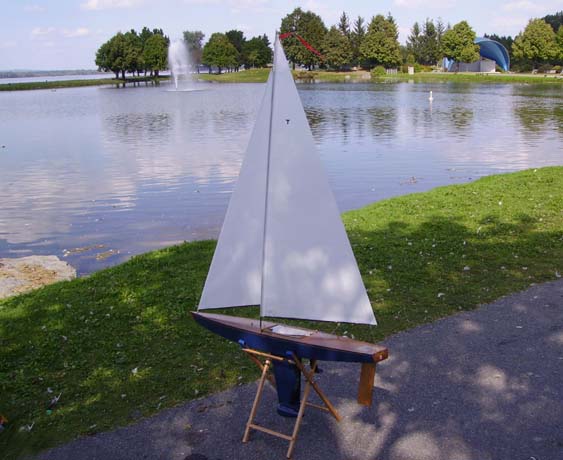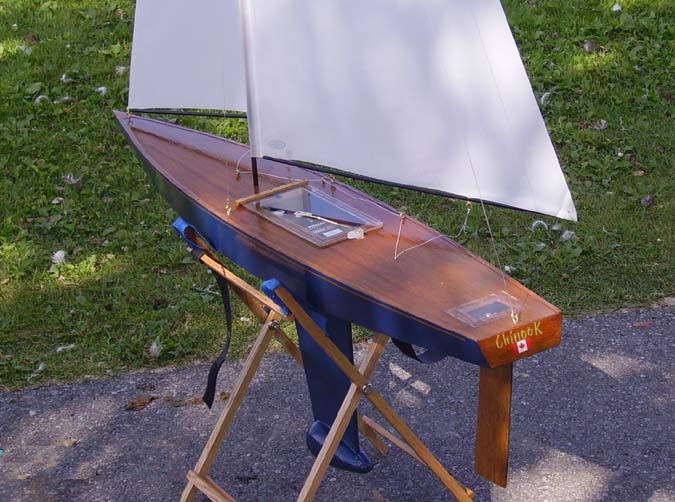 Chuck writes, "Thank you again for the pleasure this model gives me."
Lovely detail! Lovely Yacht! Thanks, Chuck, for the wonderful pictures!
And now a Schooner Launching! A beautiful boat in a lush green lake. Even in almost no wind, the schooner still moves. The ability to move in even the lightest air was important for commerce in the days before engines.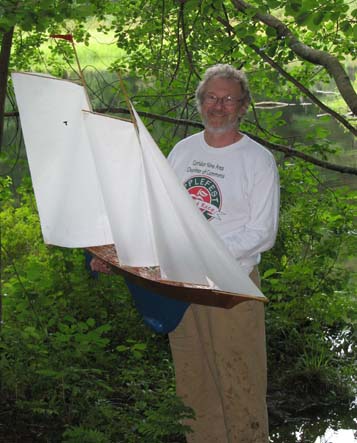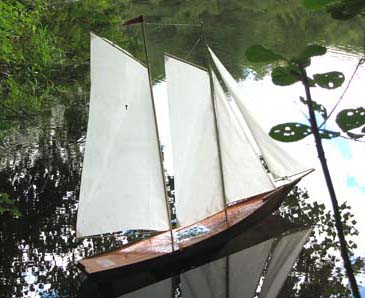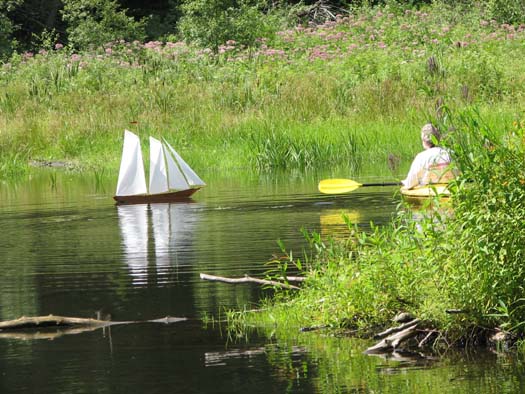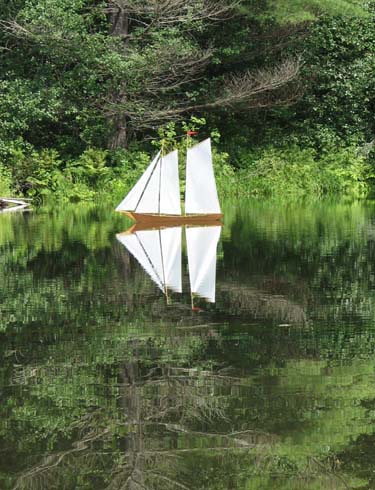 [ More Great Owners Pictures | Home Page | Movie Page | More Fun Pictures | Excellent Sailing Performance | Radio Control T37 | T 50 MOD Radio Control Sailing Yacht | T50 Tri RC Multihull | T Class Racing Sloop | Order Form]