[ More Great Owners Pictures | Home Page | Movie Page | More Fun Pictures | Excellent Sailing Performance | Radio Control T37 | T 50 MOD Radio Control Sailing Yacht | T50 Tri RC Multihull | T Class Racing Sloop | Order Form]
Jack Patterson sent us this short video of his T50 zipping across a lake and then jumping out of the water on a fast turn. Click on the picture to watch this video of the T50 doing a Wheelie!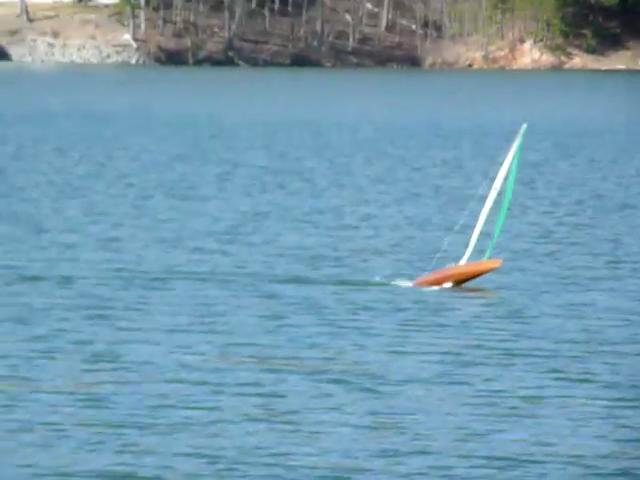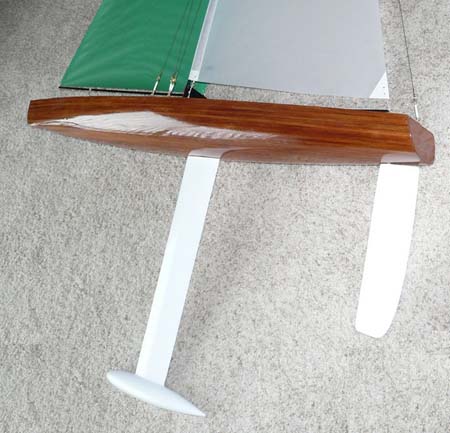 The beautiful planked hullof Jack's T50MOD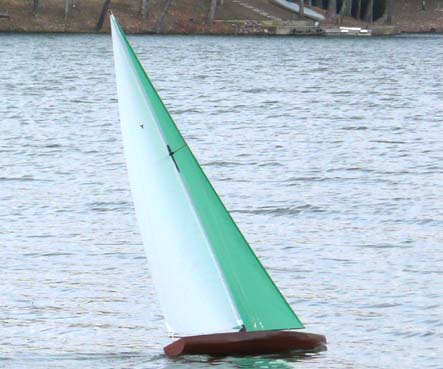 Jack's T50MOD sailing in style
Will, The Central Park Boat Pond (Conservatory Water)_ opened
for the season this weekend and I launched the T-37 yesterday
morning. I was very impressed with the way the boat sailed.
Thank you so much for designing and delivering such a quality
product and providing the service to match. My grandchildren
will be in New York next weekend and I think they will really
enjoy sailing the boat.
Richard, thanks for the great pictures from the most famous sailng pond in America! Conservatory Water. Originally intended as a Conservatory, the site was changed into a sailing pond based on the famous sailing ponds in Paris when the New York City council ran out of funds for the conservatory project. A brilliant switch, I'd say!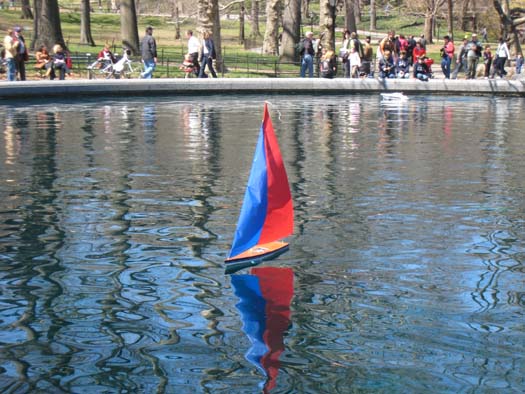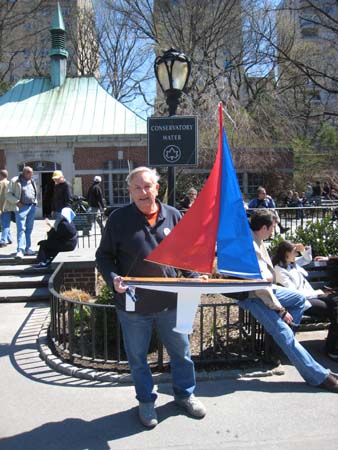 And now to one of those ever so famous sailing ponds in Paris that inspired the building of Conservatory Water! The sailing pond at the Jardin de Luxembourg with a T15 Racing Sloop!
"For his birthday Arnaud our son ask us a sailing boat for public garden !!! (he does not want to be older)
I find a nice manufacturer in U.S. William LESH. I ordered boats for my son and my grand children
and I have just ordered two others ones.
One for Bertille (the last) and one for the future baby , we hope from our daughter
This boats are very nice, I recommand this man Will LESH is an exceptional man
Bye Bye my friends "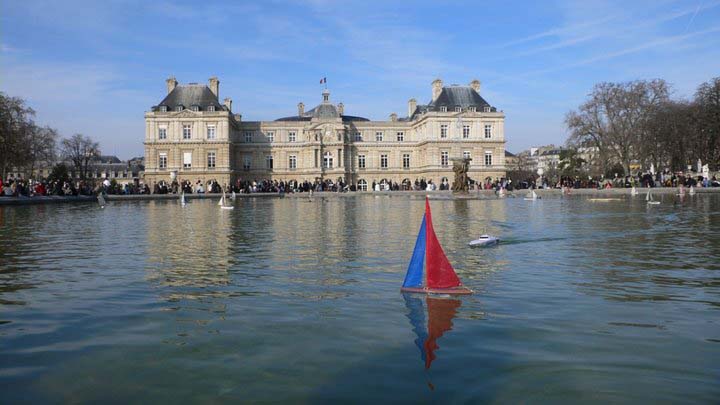 Edward Thomas's T50 (with captions supplied by Edward)
Dear Will:
Enjoy these photos of The Hennesy on her maiden voyage on the Chesapeake Bay... feel free to post them in your pictures gallery. She performed exquisitely and was the subject of much conversation. Sincerely, Edward Thomas--Charlottesville, Virginia

Dogs looking on as Hennesy departs on maiden voyage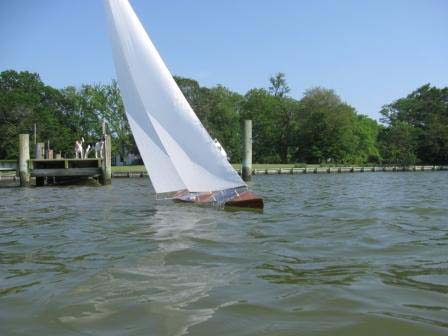 Mooring by yacht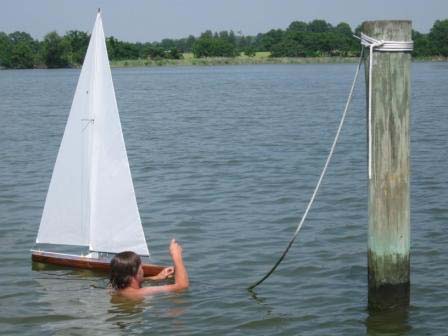 T50 Hull #16 underway on the Chesapeake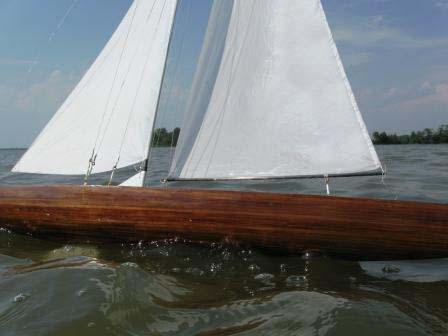 The Hennesy being piloted out of her slip by John Bailey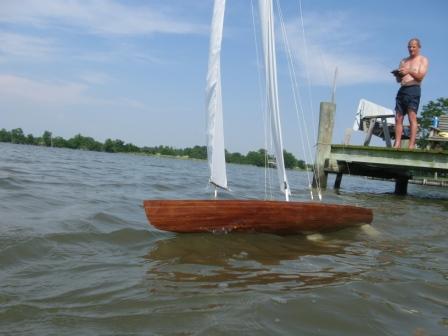 The Hennesy in full glory, Chesapeake Bay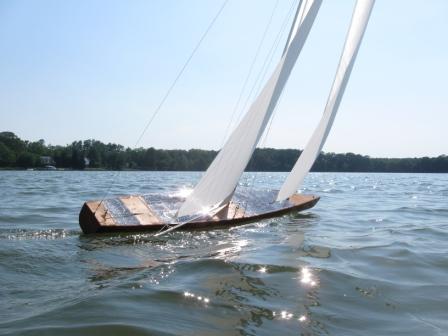 Thanks, Edward, for these splendid pictures!
These next pictures show a wonderful job customizing the T47 Schooner by Phil Bryan. Phil used the mahogany veneer deck kit on the deck and on the sides and added custom cabins and other fine details. One of the unique and satisfying aspects of wooden boat kits is that they can be built just as they are presented in the kit or they can be easily customized with all sorts of wonderful individual details!
Hi Will
Hope all is well with you.
Thought you might like to see what I've done lately.
Best always.
Philip Bryan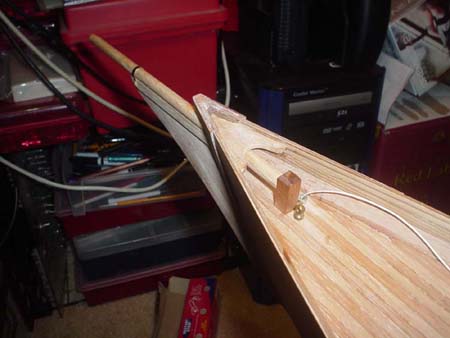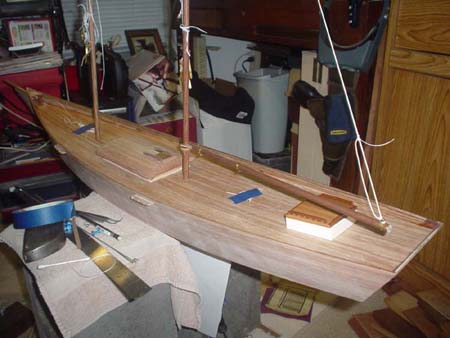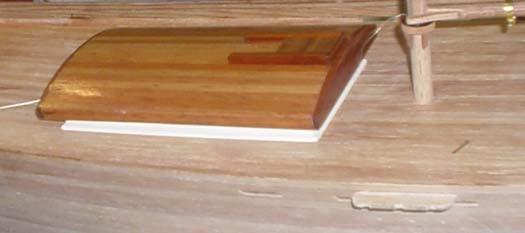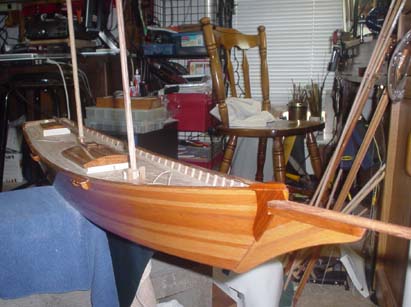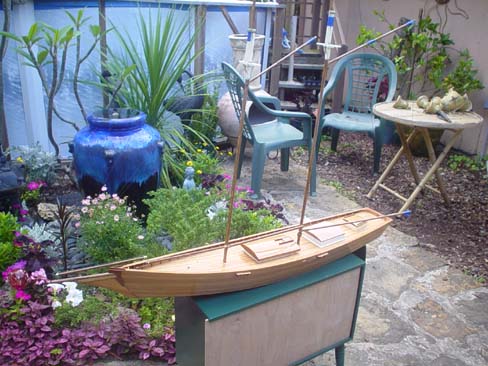 From Robert DeMassi:
The hull# is 811.I have had the boat in the pond 2 times now, once in fairly calm conditions and once during very gusty conditions (trying to gain some experience) both time were rewarding and lots of fun!!!
Stay well & I look forward to hearing from you soon... attached is a picture of "The Tempest".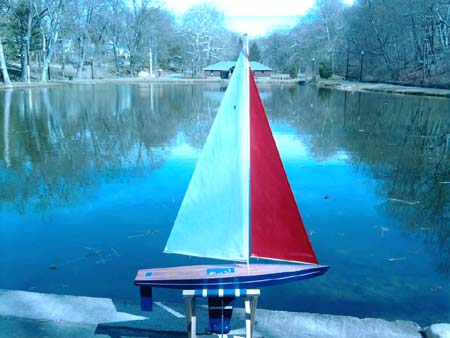 Two nice shots of a T27 with a custom cabin built by the owner: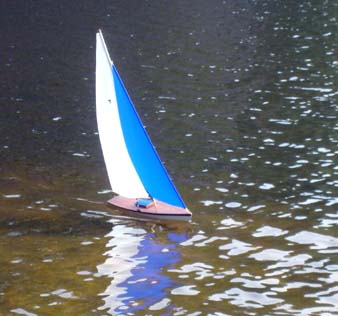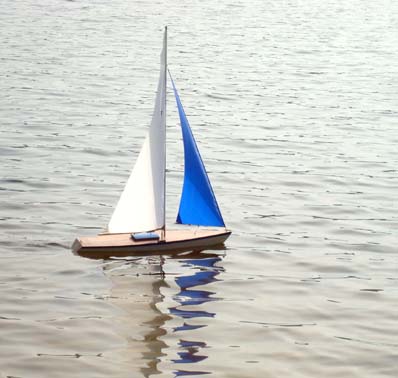 And now some pictures close to my heart. Will Thomas was about ten years old when he started taking sailing classes at the Rehoboth Bay Sailing Center in Rehoboth, Delaware. He was always energetic and enthusiastic and fun to have around. I was the sailing instructor and I had a great team of young sailors in my classes. Those were wonderful summers, teaching and running races and directing the sailing program. For many years I had lost touch with Will but he found our Tippecanoe web site and his wife bought him a T27 Racing Sloop for his birthday. It is like coming full circle. Will has ben sailing ever since his sailing class days and is teaching his own children how to sail. When he is not relaxing on summer holiday, Will is a Professor of History in Nebraska. Thanks for staying in touch, Will.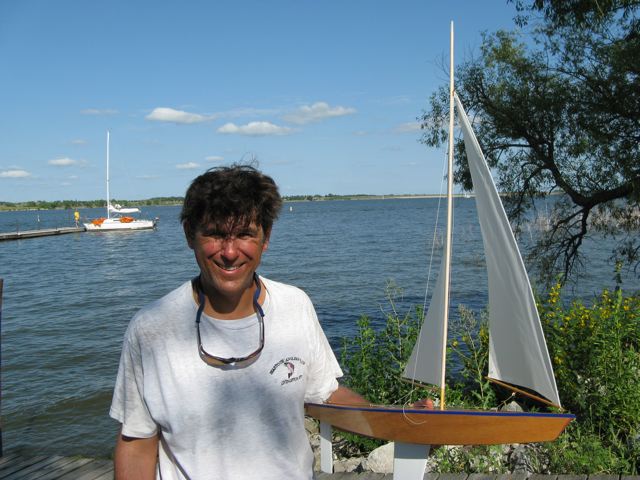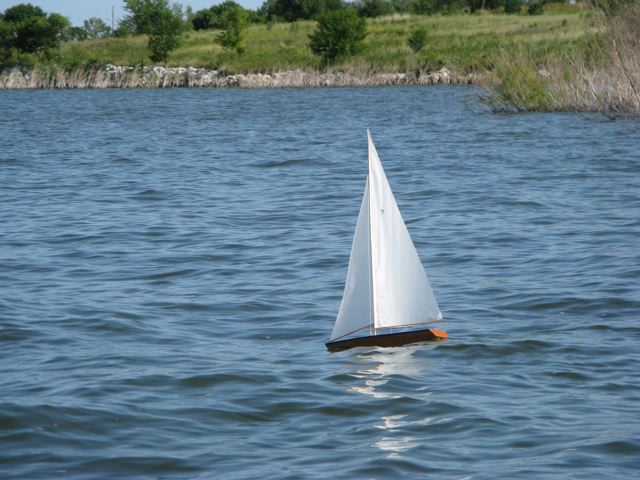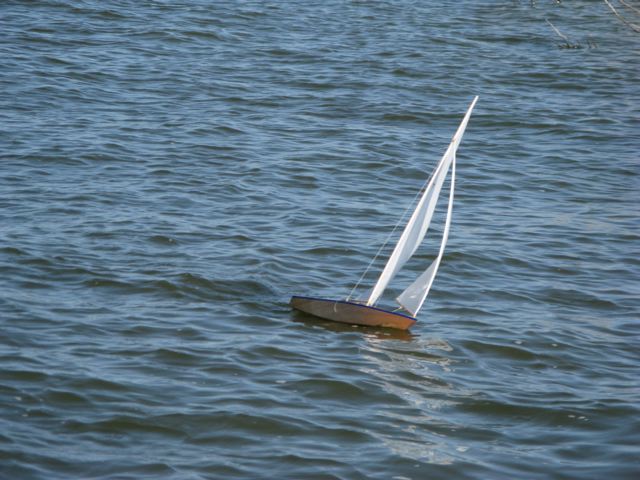 Dear Will,
Thank you for the nice note you wrote to me after Heather ordered the T27 for a present for me. Wow, was I surprised. You may be surprised how much dingy racing I have done since those days under your instruction at RBSA and how much I think I learned from you about racing, sailing, life, and, well, all that makes the world go around.
So, I spent most of the spring off and on on the T27. I sailed her today for the first time at our lake where we race Snipe class sailboats. A little crowd gathered around for the launch. Budweiser beer was sprayed on her bow in lieu of the French bubbly. And then we sent her off into the lake. She handled beautifully and looked sharp. 8-12 out of the N on a perfect day for sailing. Here are some pictures from her first sail and upon completion. Thank you, Will, for your encouraging spirit which was by my side all along.
Will
From Bill Williams of Phoenix City, Alabama: "Hi, I finally got around to making some picutres. I am happy with the way the T37 sails. At our little lake I let some little girls sail it. They had fun and each took a turn at it. Take care and many thanks, Bill Williams"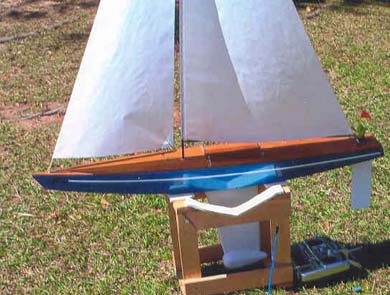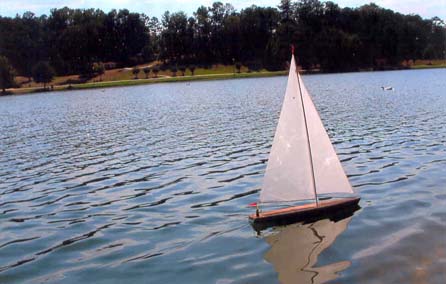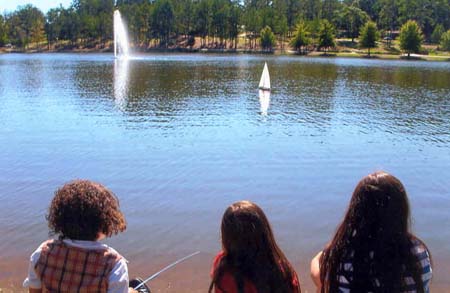 [ More Great Owners Pictures | Home Page | Movie Page | More Fun Pictures | Excellent Sailing Performance | Radio Control T37 | T 50 MOD Radio Control Sailing Yacht | T50 Tri RC Multihull | T Class Racing Sloop | Order Form]