[ More Great Owners Pictures | Home Page | Movie Page | More Fun Pictures | Excellent Sailing Performance | Radio Control T37 | T 50 MOD Radio Control Sailing Yacht | T50 Tri RC Multihull | T Class Racing Sloop | Order Form]
Will
This was the maiden voyage on a 7 acre pond behind our house in South Bend, IN. Look forward to sailing next summer on Lake Wawasee!
Thank You for your help,
Dave Eckrich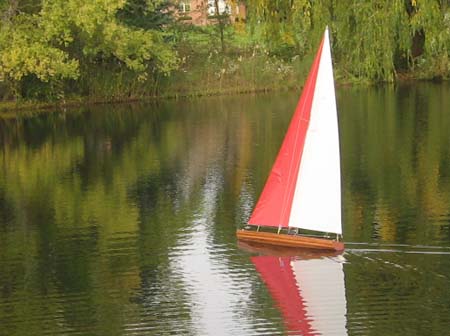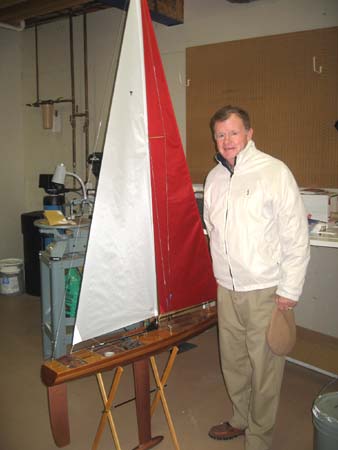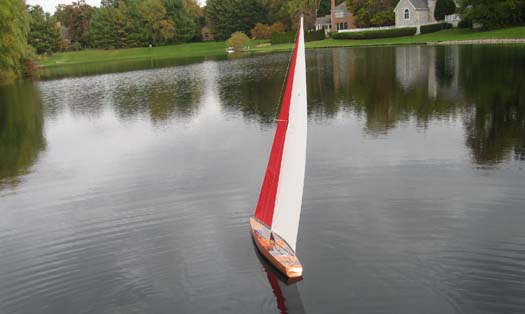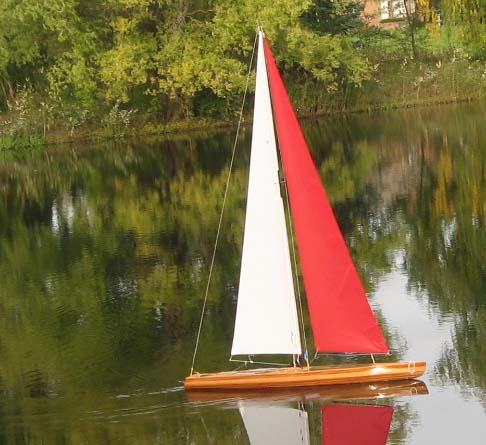 What a beautiful boat you have built, Dave!
Lake Wawasee, where Dave will be sailing his beautiful T50 next summer at his summer cottage, is just a few miles away from Lake Tippecanoe in northeastern Indiana! Lake Tippecanoe is where I grew up spending much of my summers - and yes I did have a beautiful classic Keystone wooden model sailboat that I sailed endlessly. I couldn't have ever dreamed of anything as beautiful as a T50 back then!
Will,
Barbara and I took my T50 for its maiden voyage this evening at Greenlake. All went well.
Allan VanNess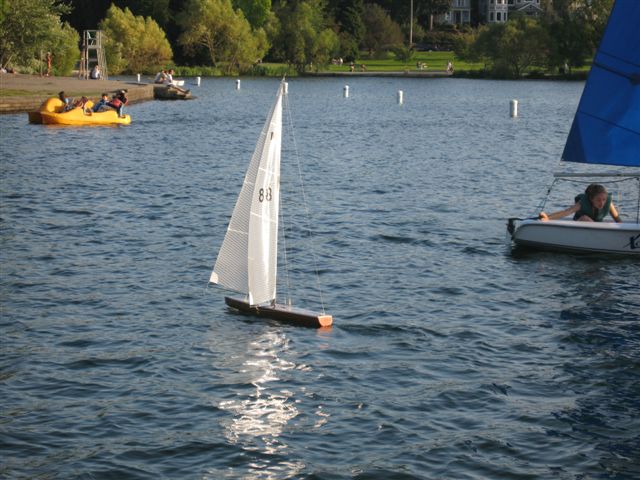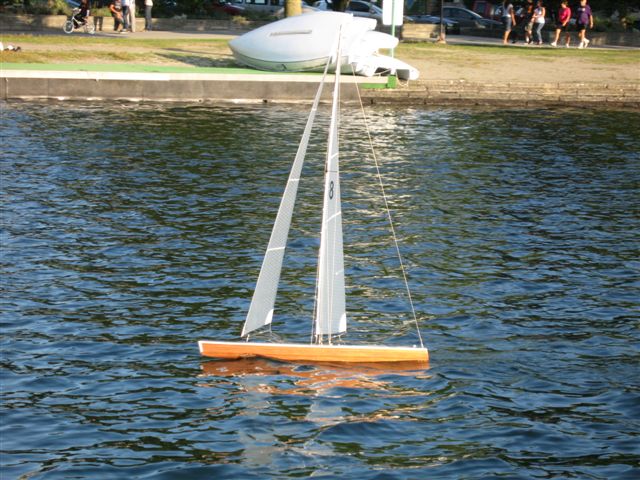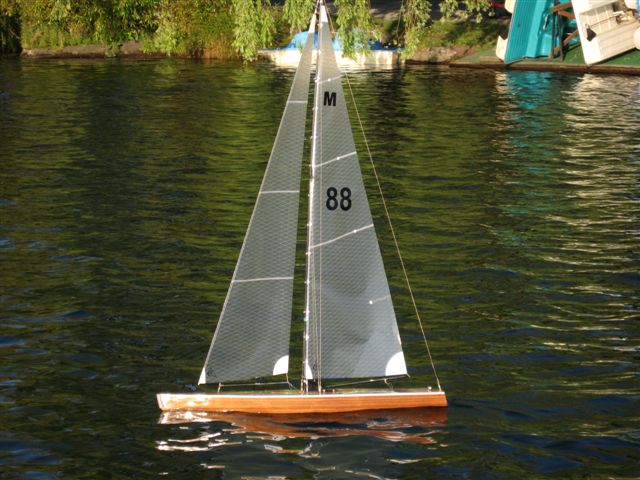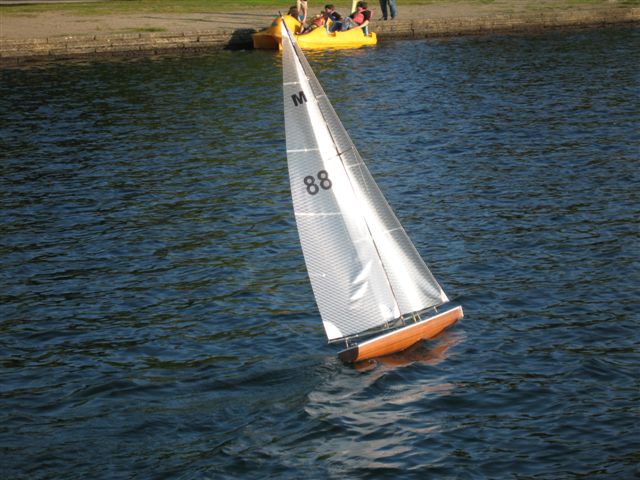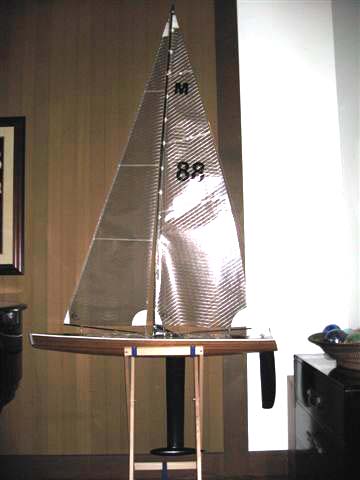 Allan has customized his T50MOD with a mahogany veneer deck kit. The mylar sails are made by Rod Carr for the T50.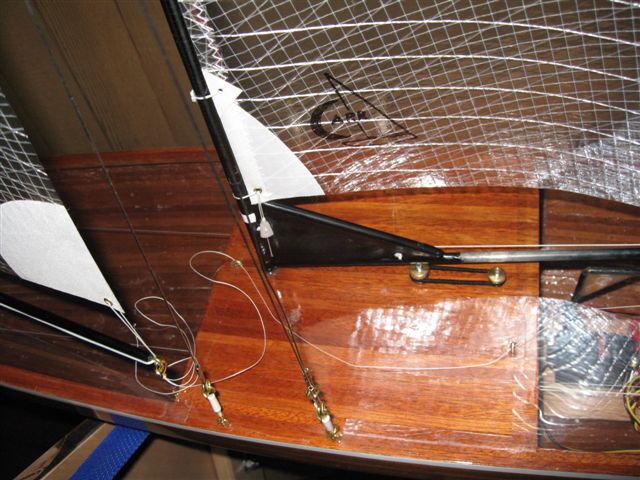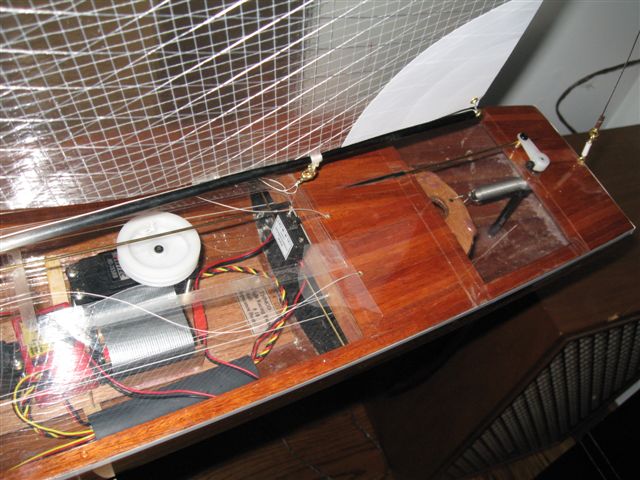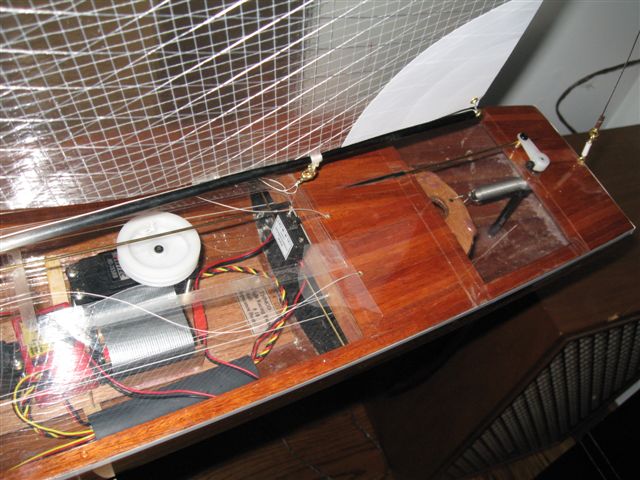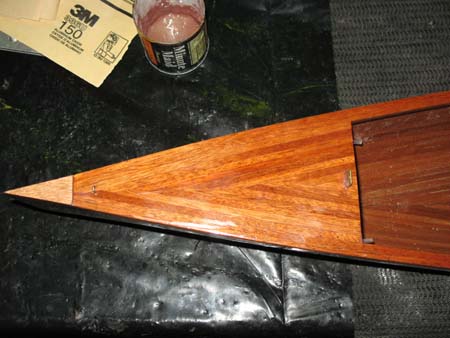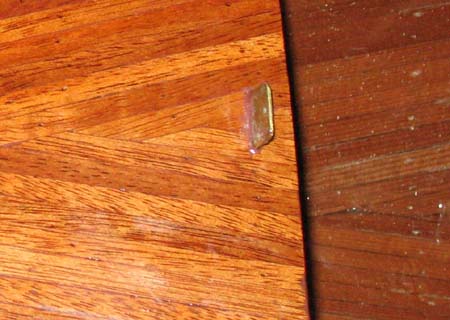 Detail cannot get more perfect than this! I got to sail with Allan last weekend. His T50 is absolutely superlative. We had a splendid time racing our two T50's together through a wonderful warm sunny afternoon. There is simply nothing as fine as a splendid afternoon with beautiful boats.
Hi Will,
I do enjoy sailing the two T47s. They respond very well. They are according to your instructions except for the hatch covers. I may get one of your T50's this winter, or a T37, not sure which yet. I like the planked hull of the T50.
Cheers
Bob Bossert
Blue Springs, Missouri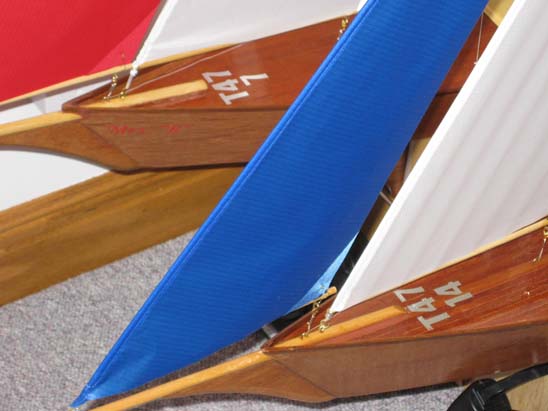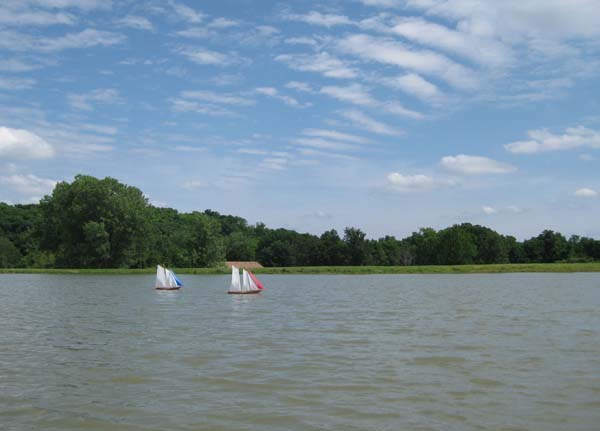 Two full size schooners ascend the river in New Bedford. Without much to tell the scale, it wouldn't be hard to believe, but these two classic "ships" are only 47 inches LOA.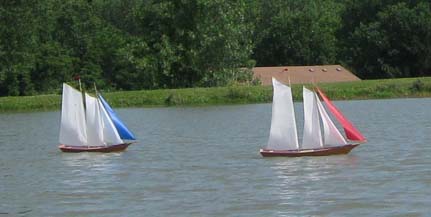 Attached are pictures of newly constructed T37 (Hull 796) named "Sweet
Caroline" sailing under threatening skies on Lower Lake Beverly in
Delta, Ontario Canada. Sailing the T37 was a great addition to my
vacation. Thank you,
Glenn Frysinger
Old Saybrook CT
The boat ended up all white because I went
from box to completed boat in 10 days. I also left off the strip at
the deck edge, opting instead for an expoxy filled, rounded edge. Thanks for a great
boat design.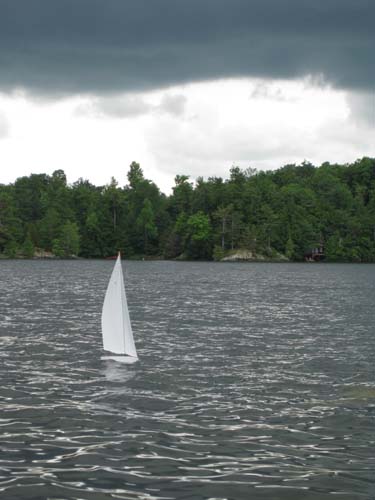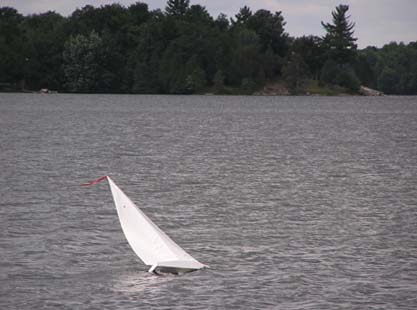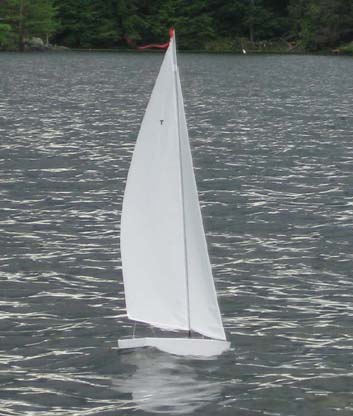 Attached are a few pics of my T37.custom deck & cabin made from 1/8 inch birch door skin. I used very small magnets to hold the cabin to the deck, works very well.
The hull is painted in my paint booth with concept automotive paint ( epoxy 2 part ).
Bob Marchi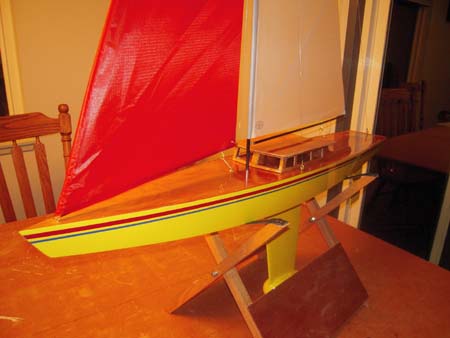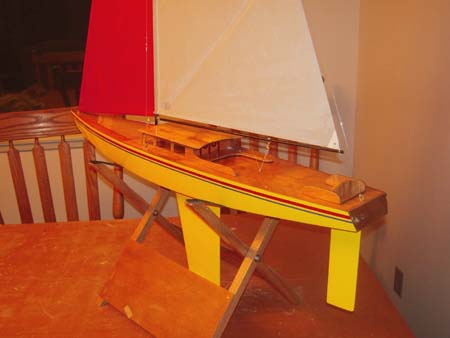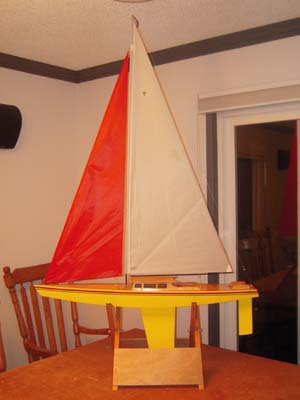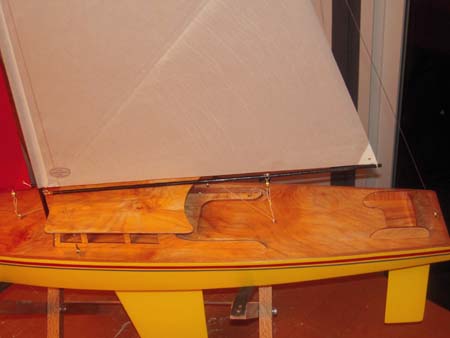 "There is nothing--absolutely nothing - half so much worth doing as simply messing about in boats."
HERE IS ONE OF MY BOATS, T37 #153 "LAHINA TREADER II"
AT A POND IN DEL RIO, TEXAS.
FEEL FREE TO USE IT IF YOU LIKE. IT'S MY SCREEN SAVER.
DAVE CASEY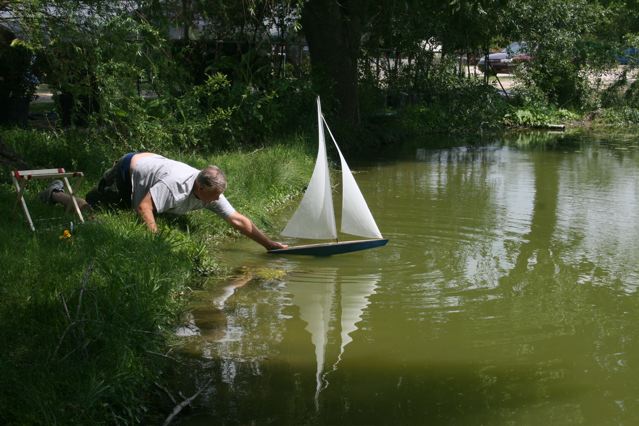 Hi Dave, that is a classic picture. It looks more like a painting than a photo! Great light, great composition - not to mention a great boat! Thanks, Will
[ More Great Owners Pictures | Home Page | Movie Page | More Fun Pictures | Excellent Sailing Performance | Radio Control T37 | T 50 MOD Radio Control Sailing Yacht | T50 Tri RC Multihull | T Class Racing Sloop | Order Form]