[ More Great Owners Pictures | Home Page | Movie Page | More Fun Pictures | Excellent Sailing Performance | Radio Control T37 | T 50 MOD Radio Control Sailing Yacht | T50 Tri RC Multihull | T Class Racing Sloop | Order Form]
Japan! Our first ever sailing pictures from Japan!!
"We have found a couple of places to sail our boat, Oceanna.
Here are a few snaps, including some from our initial launch, this spring, and a few from today when my daughter and I took it out in a rowboat on a part of the moat that goes around the Imperial Palace.
We had a great time building it and it's a lot of fun to sail. We always attract a bit of attention. The kids rowing by in the other boats today loved it. At one point we looked up on the bank where the sidewalk goes by and saw a small crowd of people just hanging out there, watching us sail.
Best regards,
Jonathan
Tokyo, Japan"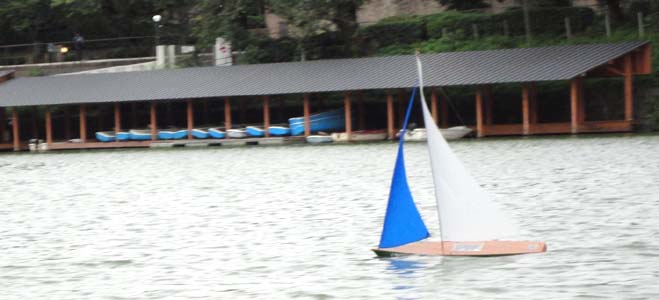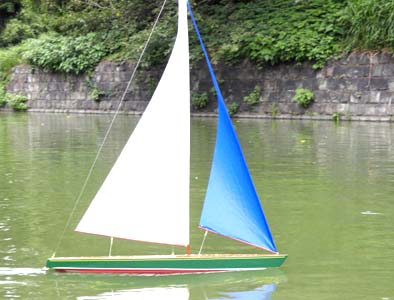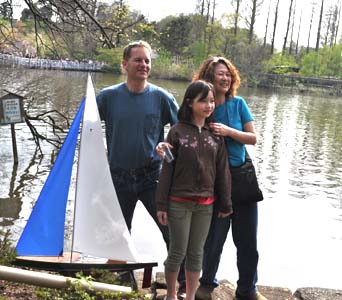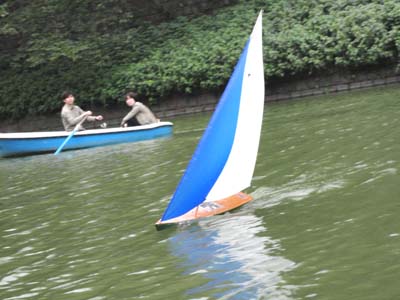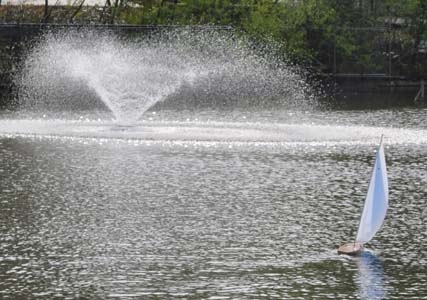 San Juan Island, Washington State
"Larry Shorett got one big package on the day of his Birthday – he was so excited! Now he has 2 T-37's, so much better than one.
I emailed a couple of photos of the "San Juan Island Fleet" (Larry Shorett x 2, Peter Shorett (also Bainbridge), Bates McKee (also Seattle)).
Thank you again. Learning to sail all over again.....
Bates McKee"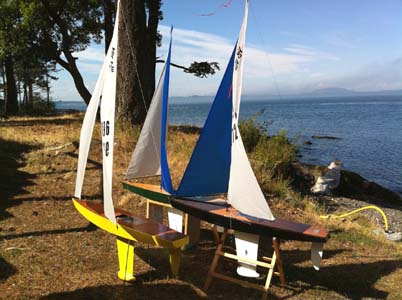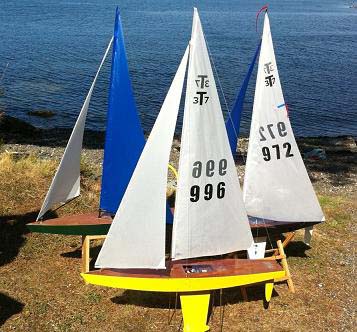 Tigard, Oregon
"Building the T27 was a wonderful experience and sailing it today was even greater.
Thank you for your product. Regards, BobYoung "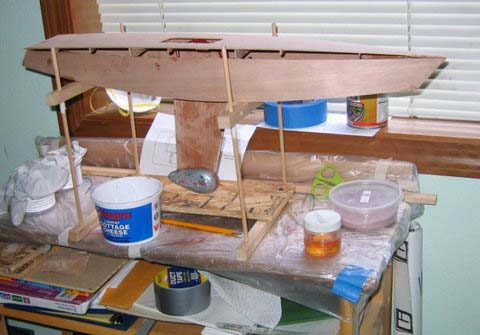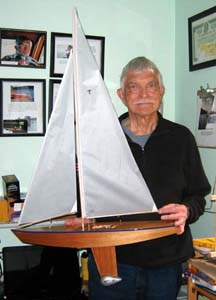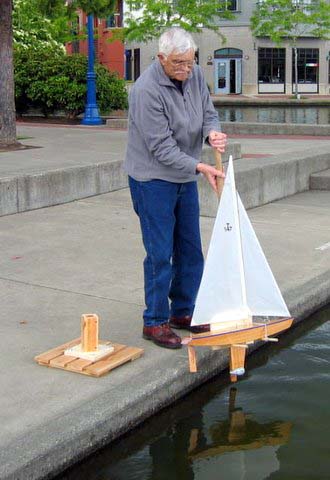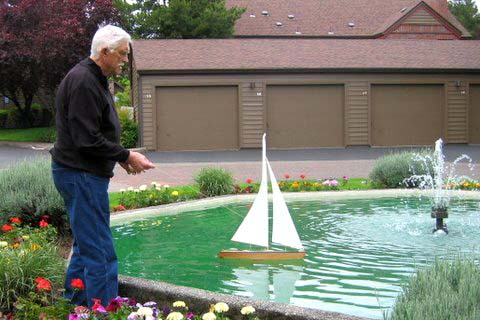 "Ahoy. This simple device eases launching and
retrieval of my T27 RC boat. It also fits into a stand for safe land
display. A fun boat to build and to sail."

"Mini-Americas Cup"
Saturday morning brought two titans of model boating together in competition on Portage Bay...two model multihulls, a 50" trimaran and a 50" catamaran, jousting for puffs in light air off the end of dock 2. The trimaran was skippered by Allan Van Ness representing the Seattle Yacht Club and the catamaran by Will Lesh representing the Bellingham Yacht Club. (Pictures thanks to Don Eaton)
A T50 Cat (with white sails) and a T50 Tri (with orange sails) racing a course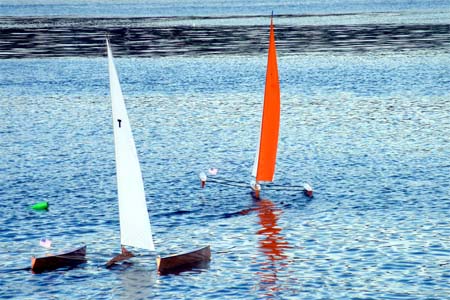 T50 MOD strip planked and T50 trimaran between races (below)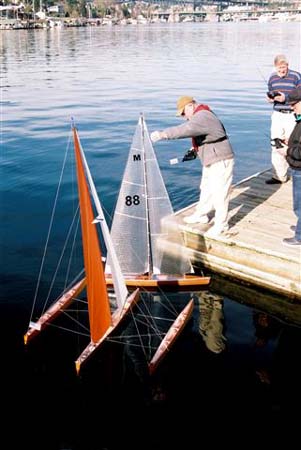 Tippecanoe goes to the famous Central Park sailing pond!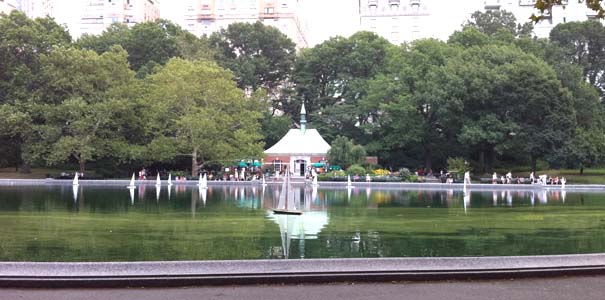 Grant Goldenstern sent us these beautiful pictures of his swift Carbon fiber T50MOD with mylar sails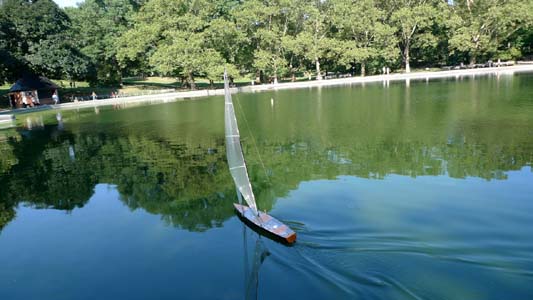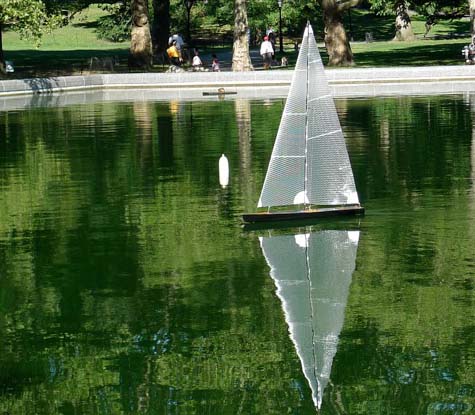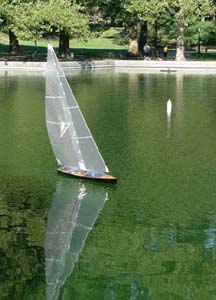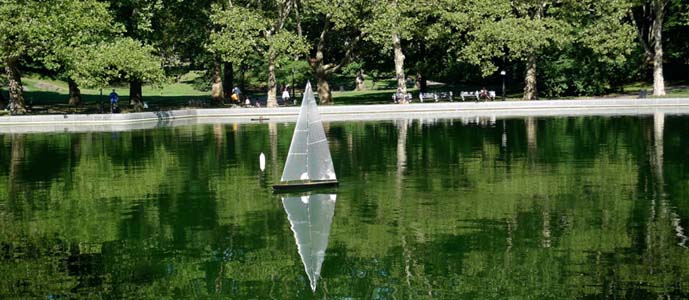 [ More Great Owners Pictures | Home Page | Movie Page | More Fun Pictures | Excellent Sailing Performance | Radio Control T37 | T 50 MOD Radio Control Sailing Yacht | T50 Tri RC Multihull | T Class Racing Sloop | Order Form]