[More Great Owners' Pictures | T37 Pictures from the Port Townsend Wooden Boat Festival | Owners' Pictures Pages 1-7 | More Fun Pictures | T37 Radio Control | Desolation Sound | Excellent Sailing Performance | T Class Racing Sloop | T15 Racing Sloop | T12 Cruiser | Home | Order Form]
Paris, France (the most famous sailing pond in the world- well, Central Park is pretty close, or maybe Round Pond in Hyde Park, London - Spreckles Lake in Golden Gate Park?)

Will,

The maiden sail was yesterday. In comparison to my previous yacht (original Kyosho Fairwind) the hull is so light!! I can even hold it with one hand! She reacts fast to a light breeze, she doesn't list much, and her grace pleases her owner and the onlookers. It is also very easy to rig/unrig for the transport. The construction went fine with your instructions. I have learnt
plenty of new words (shrouds, jibe, stern, etc.), and the measures in inches made it a bit challenging :-)

I'm really satisfied with this building and sailing experience so far, and looking forward to the next sail!

The enclosed pictures are in the Jardin des Tuileries, in Paris.
I'll try to do better pictures next time (not so easy to sail AND snap at the same time).

Best regards,
Romain
Seattle, Washington
Will and Allan,

Sea trialed her this afternoon. What a joy to sail! Need to buy gloves. Brrrrr.

I will head over to Lake Union when I get back from Europe and hopefully pick up some tuning tips from the seasoned sailors.

Langley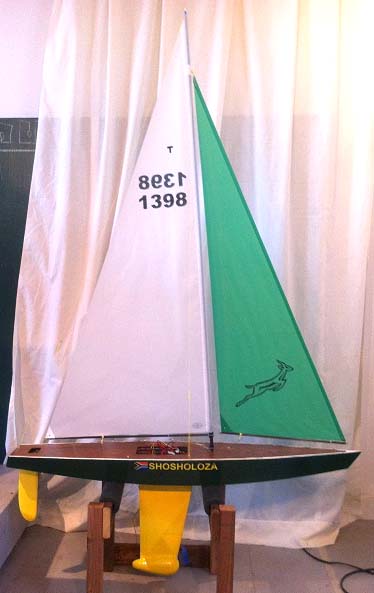 Langley also explained the meaning behind the name and sail art...
Will,

The deer on the jib is a Springbok, the national animal of South Africa and the name of our Rugby team. Shosholosa is the fight song and the unofficial national anthem. I was born in South Africa and lived there til I was 10.

Langley
Cheney, Washington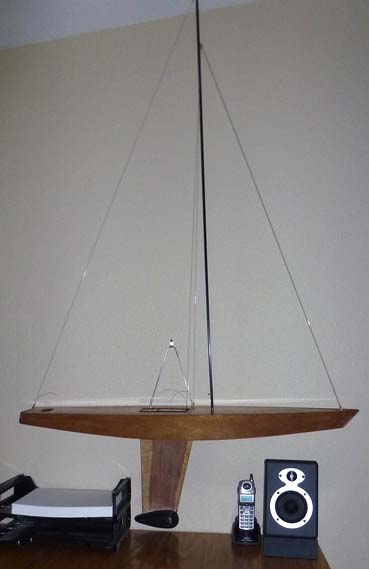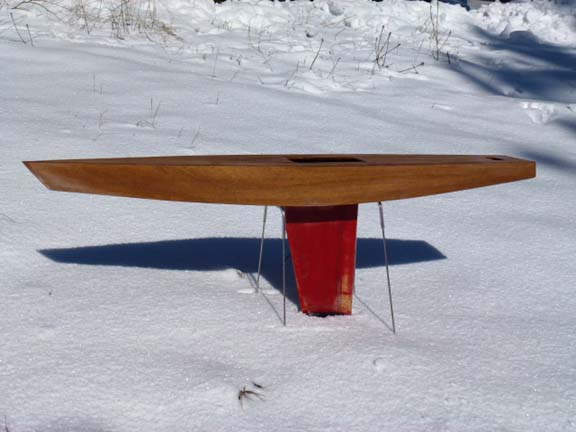 Will and Allan,
I just wanted to say Thank you for a great meeting two weekends ago.
It was a true pleasure to meet both of you, and I enjoyed the meeting and learned a lot as well.
Will, another thank you to you and your lovely daughter for letting me get the feel of the T37 in water.
I have attached two pictures from this Monday afternoon, we had fantastic sunny but cold day.

Thank you

Per Flygare
T37 #1093
Toronto, Canada

Dear Sir
Hello, we have purchased two of your boats before and enjoyed them (T27 and T12). Here is a picture of the T27 we bought from you.
Nicholas
Nicholas just ordered a T-class Racing Sloop to add to his fleet!
Paris, France/Rome, Italy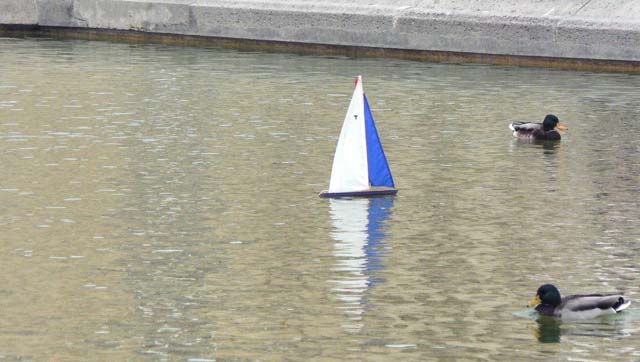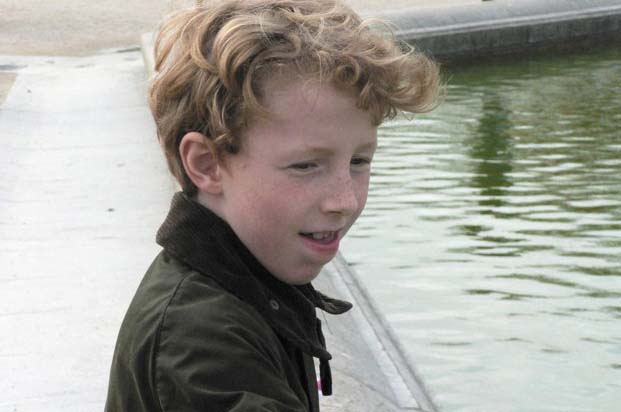 Dear Will,
Ah, Paris. Now this is a city for sailboats. The rental sailboats at the Luxembourg Gardens were in dry dock for repairs and restoration until the spring but Nathan brought "T" with him and it was smooth sailing, as you see below. There is sailing in other Paris fountains as well, notably in the Tuileries and an amazing park near Paris where we were staying with friends, the Parc de Sceaux. We may well have to move to Paris just for the sailing; as, alas, despite the many beautiful fountains in Rome, they aren't suited for sailing and there is no tradition or interest in miniature sailboats, either. Nathan's favorite possession nonetheless remains his boat.
I hope all is well with you and your family.
Cheerio,
Robert
Nantucket, Massachusetts

Will,
She is really a gorgeous model. Thanks for all your effort. Here she sits on the lawn pre-launch. Very easy set up thanks to excellent directions. I was impressed by your packing too. Very professional in every respect. Now we'll see how she does!!!? Will report and get a photo when possible. Thanks Will. A super job!
Senator John Kerry
Buzzard's Bay, Massachusetts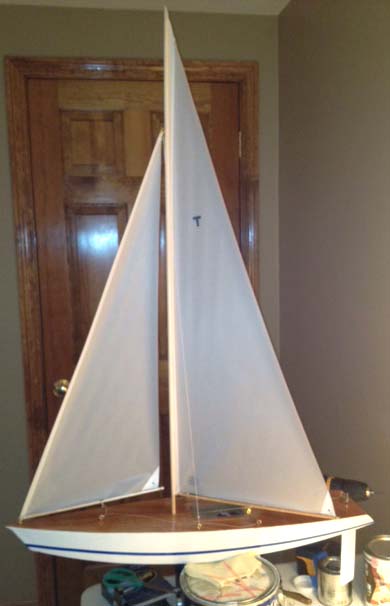 Will,

We have completed the build and I must say it's a great kit.
Thank you!

Russ
Burlingame, California

Will,
Just wanted to report back on the boat my family got me for Christmas. First, it's a great little boat. Nice design. Very solid. Kinda reminds
me of my kid's violin. The instructions were perfect for someone who understands sailing a bit and has been playing around boats for awhile.

Here are some pix of our first day sailing.

We tried Spreckels Lake in Golden Gate Park in S.F., but we got run off by the stink pots, who own the place Saturdays until 1 p.m.

We ended up in Anza Lagoon off S.F. Bay not far from the airport. It seems about perfect for this kinda thing. Better yet, it's five minutes
from home. We chose a spot close to the windward end of the lagoon. As you can see, there's no wave chop. But it was probably a bad choice
because the breeze was a bit squirelly coming off the trees. Next time, we'll go more toward the leeward end.

Thanks for a nice little boat.
Patrick Twohy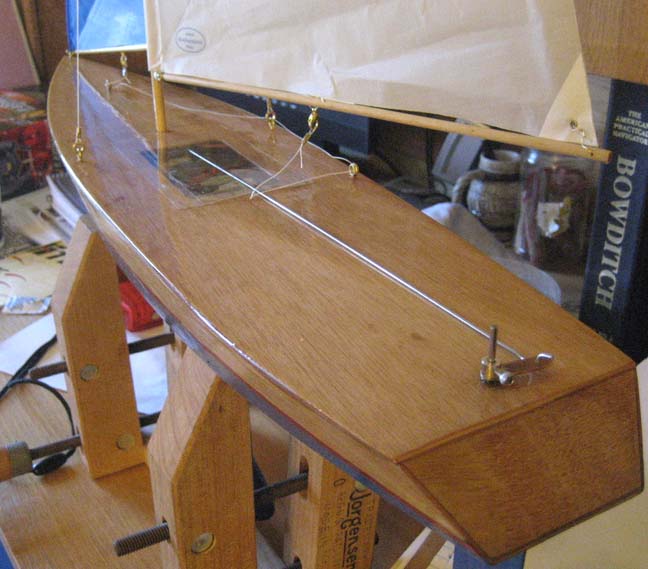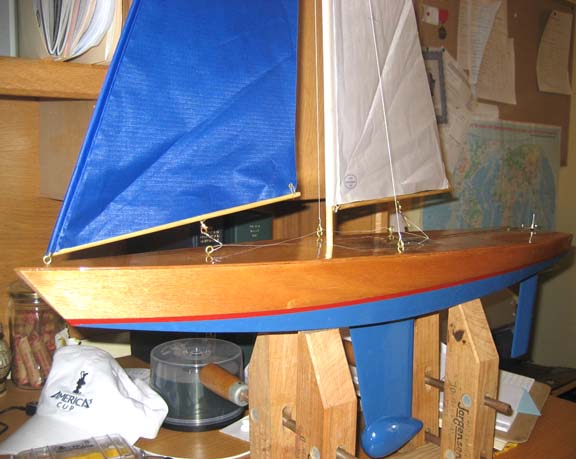 Cedarburg, Wisconsin
Will,
I recently completed my T37, and love it.
Thanks!
Dave Brown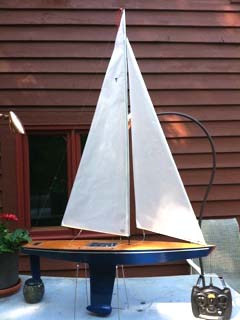 [More Great Owners' Pictures | T37 Pictures from the Port Townsend Wooden Boat Festival | Owners' Pictures Pages 1-7 | More Fun Pictures | T37 Radio Control | Desolation Sound | Excellent Sailing Performance | T Class Racing Sloop | T15 Racing Sloop | T12 Cruiser | Home | Order Form]