[More Great Owners' Pictures | T37 Pictures from the Port Townsend Wooden Boat Festival | Owners' Pictures Pages 1-7 | More Fun Pictures | T37 Radio Control | Desolation Sound | Excellent Sailing Performance | T Class Racing Sloop | T15 Racing Sloop | T12 Cruiser | Home | Order Form]
Suffolk, England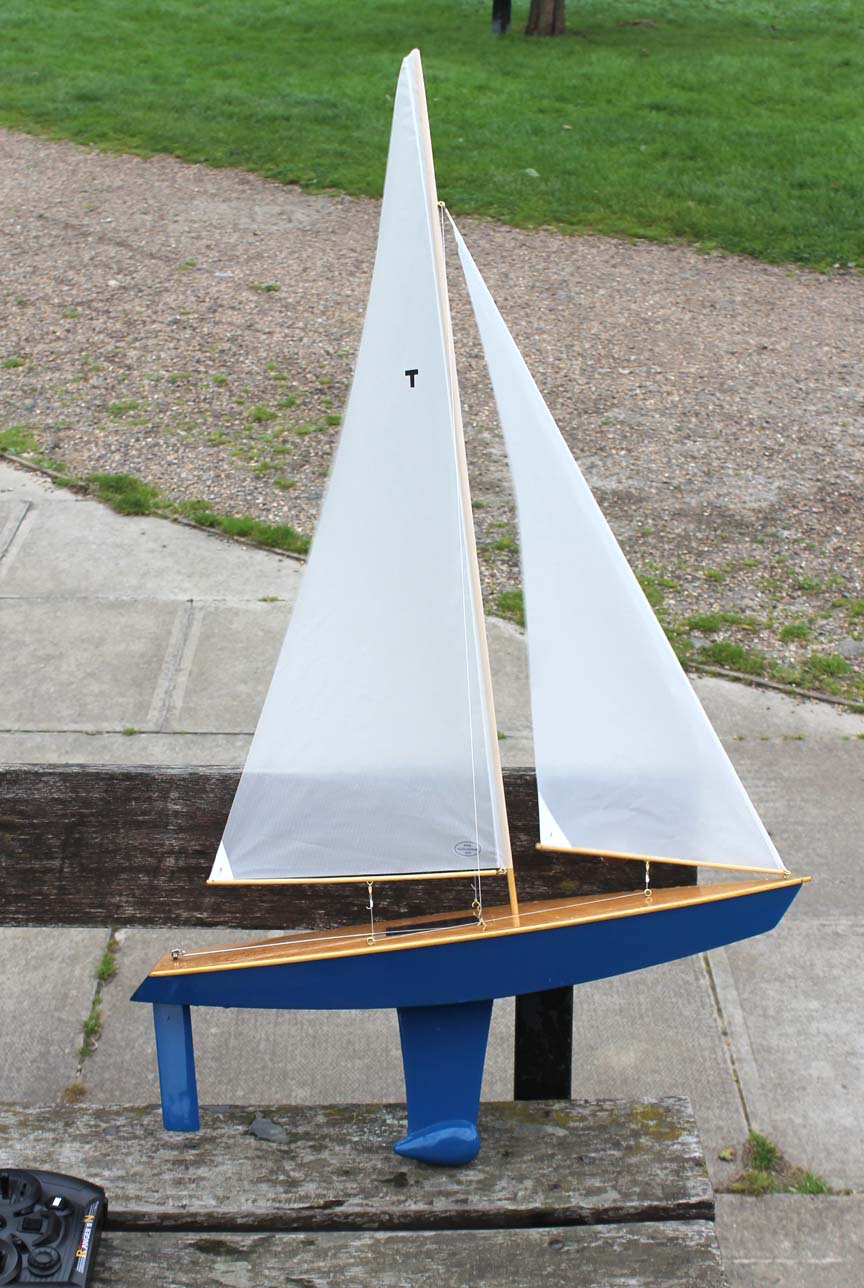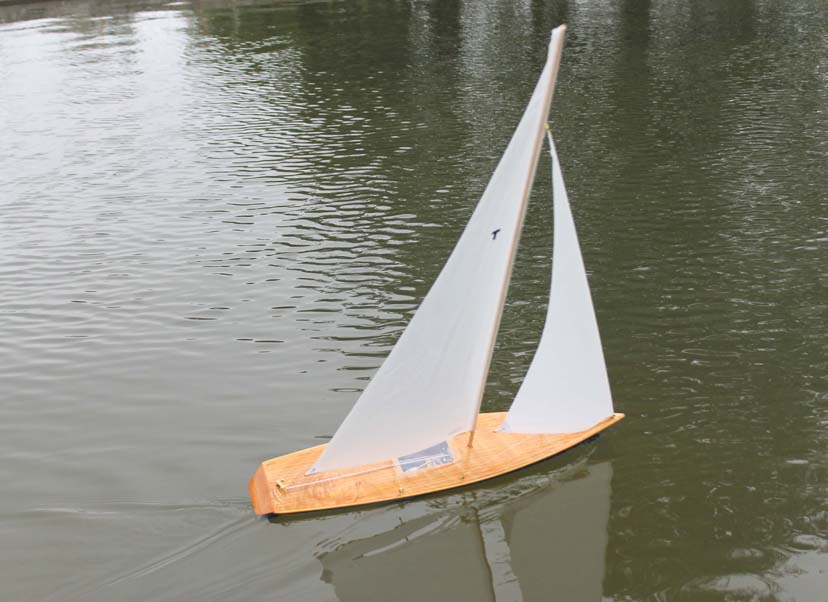 Hi Will
This is an update on the T27 kit you sent last July. I started work on it at the beginning of August, then took a couple of vacations, before launching on 13 September. My local town, Woodbridge, Suffolk, England, has a purpose built concrete model boat pond, which is very popular with local kids, but is very challenging to sail on as it is almost surrounded by trees, so wind strength and direction vary from one end to the other. However, I have enjoyed pitting my sailing skills against it, on days when the wind on our river, the Deben, is too strong to contemplate taking out my 12' sailing dinghy.

The model sails very well, and fast. I hope to take it to another pond up the coast, at Southwold, which is much more open and larger. They have a long established model yacht club there, but only free sailing boats are allowed to take part in their races.

I attach some pics, and can say that I haven't had so much fun for a long time.
regards
Nicholas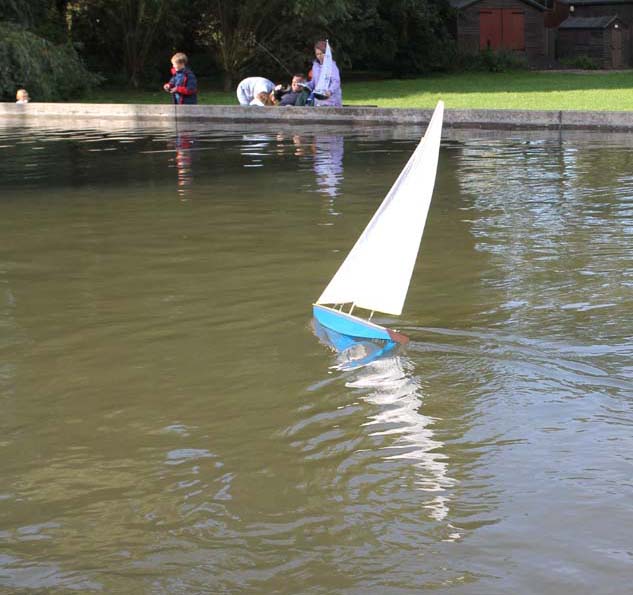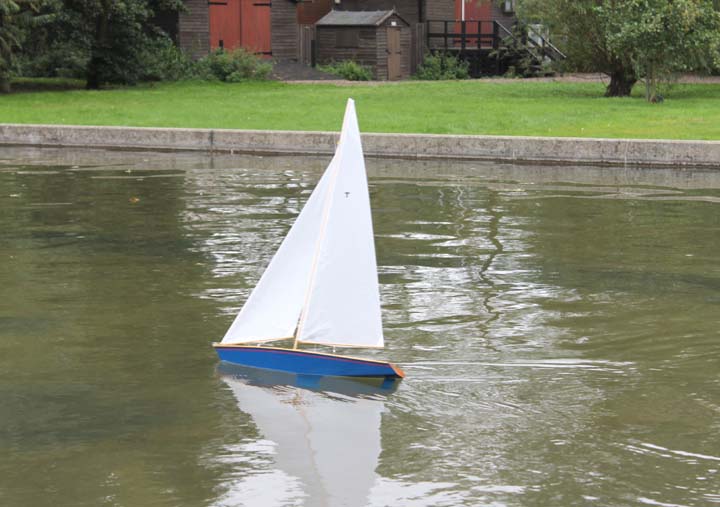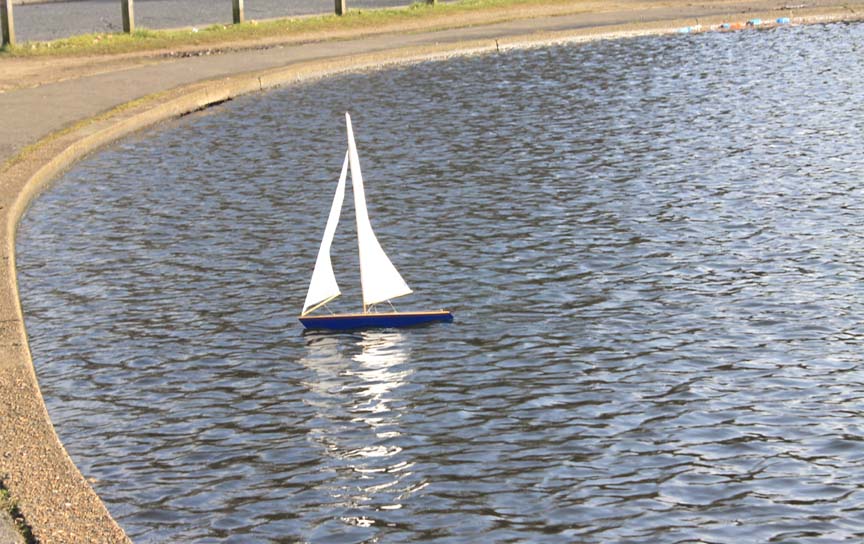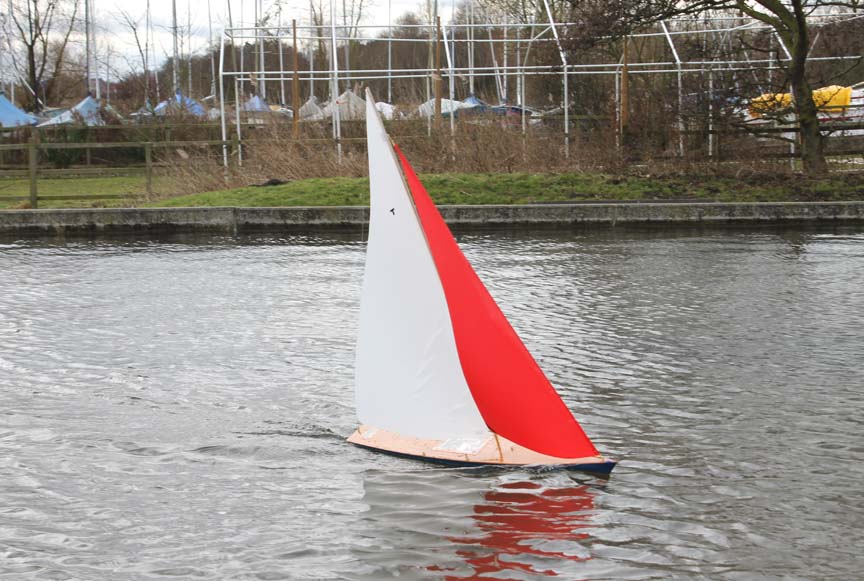 Hi Will
I am very pleased with the T37; the sails set very nicely, and it performs really well. The local pond is too small for it, as it goes at a smart walking pace, and reaches the far end in moments.
best wishes
Nicholas

Bainbridge Island, Washingon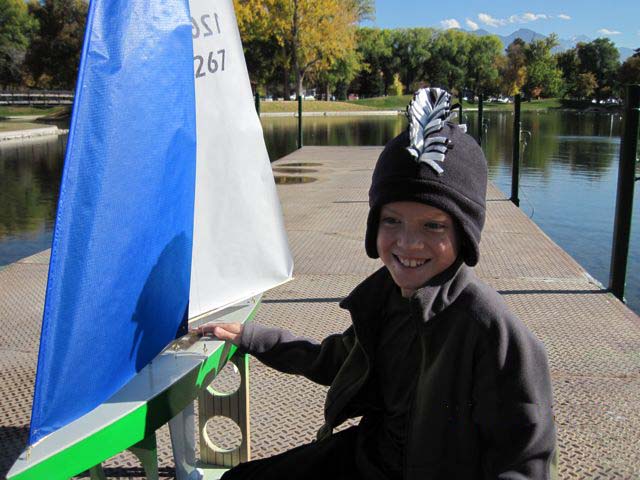 Hello Will,
Thought I would let you know we finally completed the T-37, and had our "sea trials" yesterday at the pond in Liberty Park, downtown Salt Lake City. The boat sailed GREAT, and as you say in the promotional material, it does not take much wind to make the boat scoot. My grandson, Ben, let me sail the boat for about 5 minutes, as he "knew how everything worked…". Ben doesn't know how to sail, but had no trouble taking the boat on more than a few laps, and each time brought the boat within easy reach of the dock. Lots of fun.
But then the trouble started. Now he thinks he knows everything! I challenged Ben that while it looks easy, racing the boats is much harder. Steering the boat straight, setting the sails just right, etc. will all make a difference. So now we need another boat….. . I will settle down with the order form on the weekend and get another kit. Seems like Ben wants to build a fleet in this town!
Thanks for all the help! You can see from the photo we took the easy path and painted the deck a light grey. I did not bother with the veneer cap-rail, as the hull-deck joint came out looking clean and strong. My summer and early fall sailing in full-scale boats got very busy, so the poor T-37 got little time since May. But all ends well, and both Ben and I had/have a fine time building and sailing this fine little craft!
Hope Tippecanoe is busy, and spreading the joy!
Kind regards,
Tom
Ben
St. James, New York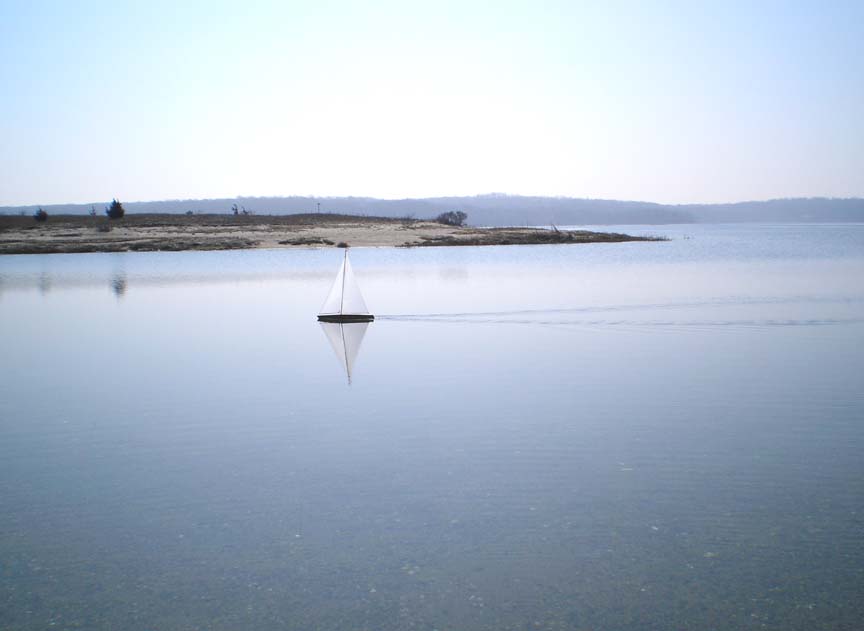 Hi Will.
I just got back from the beach where I sailed my T-37 hull #1124 for the first time. The boat sailed GREAT!! I didn't know what to expect but I was pleasantly surprised. The boat tracked very well and handled a few gusts with ease. It was a really rewarding experience. I can't wait to sail it
again. I guess I am hooked.

I am attaching a couple of pictures. I will send you a few more once the world over here turns green again.

Thanks again for all your support.
Take care.
Ted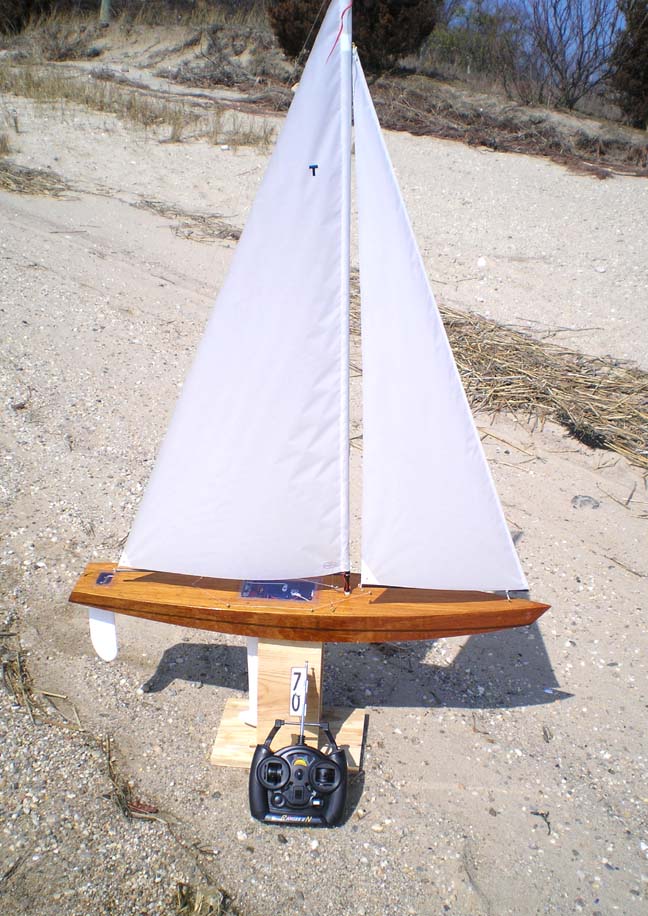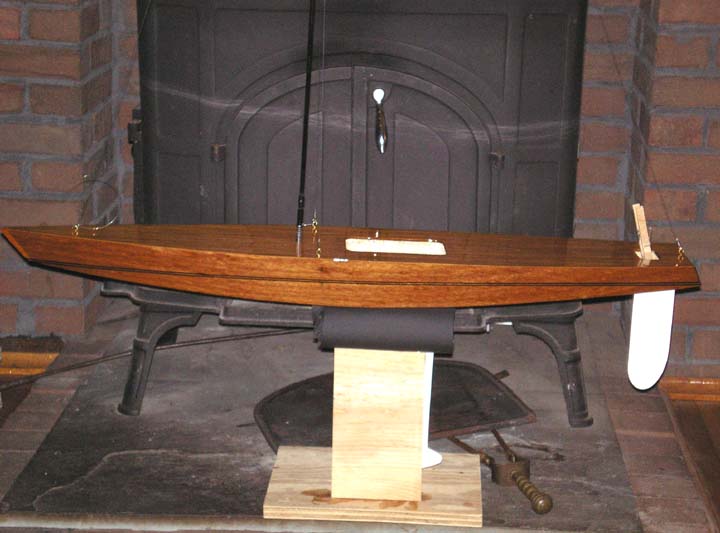 Tacoma, Washington

Will,
Here are some photos of my T-37, which I built in my studio apartment. My first model kit since childhood--wonderfully clear instructions.
I love the racing and the camaraderie of the model sailboat racing community. The logistics are sure a lot easier than full-size boat racing!!!
Thanks again for your help today.
Ron


Kyle, Texas

My name is Miles. I spoke to you Will twice. This was my first ever experience with rc sail boats and I must say I loved every minute of the build. Here is a pic of Peggy 2. Can't wait for the next build.
Ojai, California
Martin Gramckow sent pictures of his sleek T50 Racing Sloop.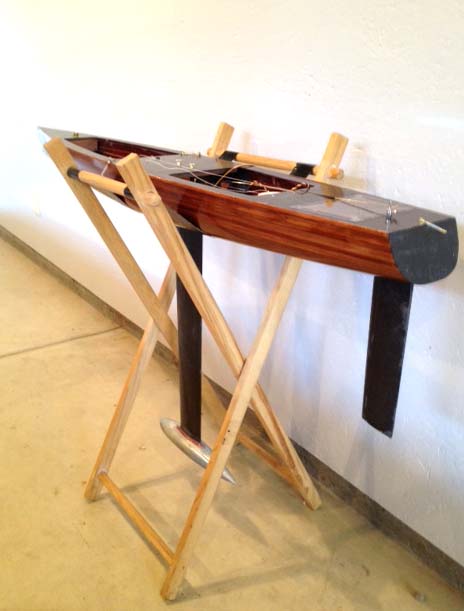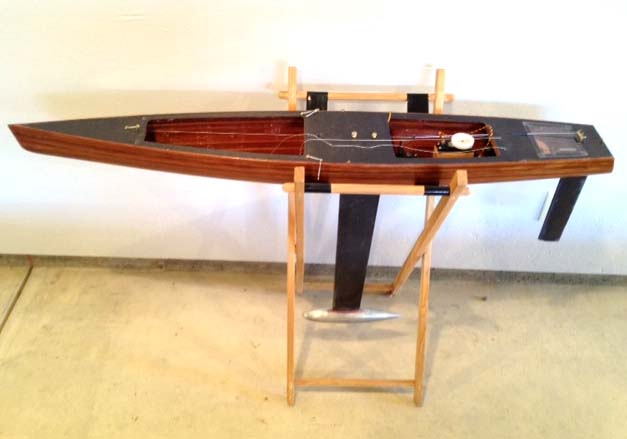 New York, New York
Michele Angerosi sent this picture of a new blue T27. Looks sharp, Michele!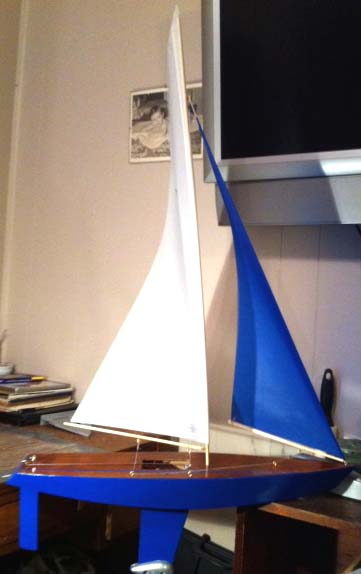 [More Great Owners' Pictures | T37 Pictures from the Port Townsend Wooden Boat Festival | Owners' Pictures Pages 1-7 | More Fun Pictures | T37 Radio Control | Desolation Sound | Excellent Sailing Performance | T Class Racing Sloop | T15 Racing Sloop | T12 Cruiser | Home | Order Form]