[More Great Owners' Pictures | T37 Pictures from the Port Townsend Wooden Boat Festival | Owners' Pictures Pages 1-7 | More Fun Pictures | T37 Radio Control | Desolation Sound | Excellent Sailing Performance | T Class Racing Sloop | T15 Racing Sloop | T12 Cruiser | Home | Order Form]
T65 in Saint Petersburg, Florida
Wow! Paul Lambert's T65! One really big model sailboat!
Total sailing weight including batteries: 12 pounds!
One BIG boat!!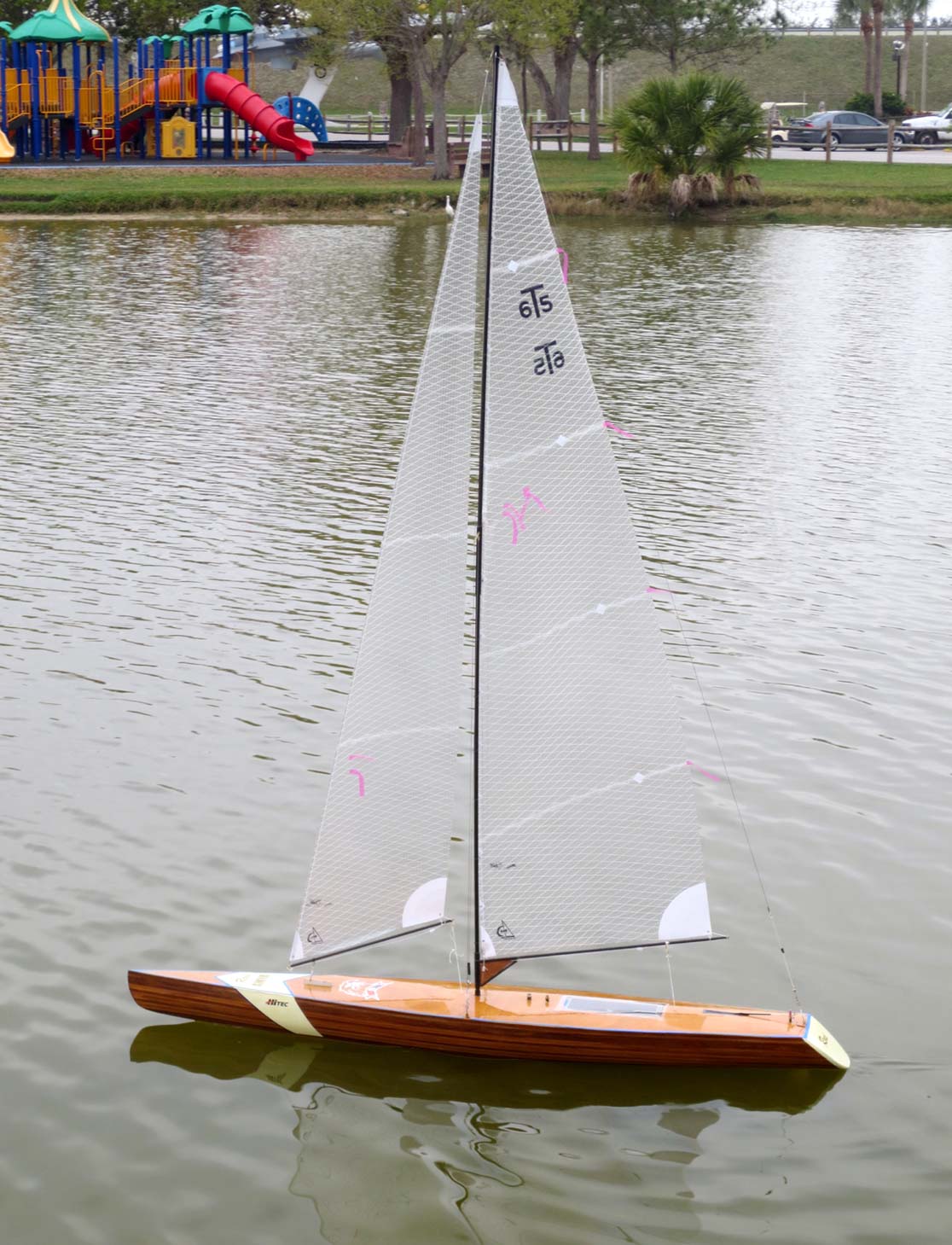 Dear Will,
I can't thank you enough for designing and producing such high performance rc yachts as the T50and T65. What a pleasure to build and sail! FAST, NIMBLE and unbeatable! I've been very pleased with the weatherliness, both boats point like stars or 12 meters. And I have had many opportunities to race other fast racing boats including mods of several designs--NO CONTEST. I look forward to doing business with you again soon.
Respectfully yours,
Paul Lambert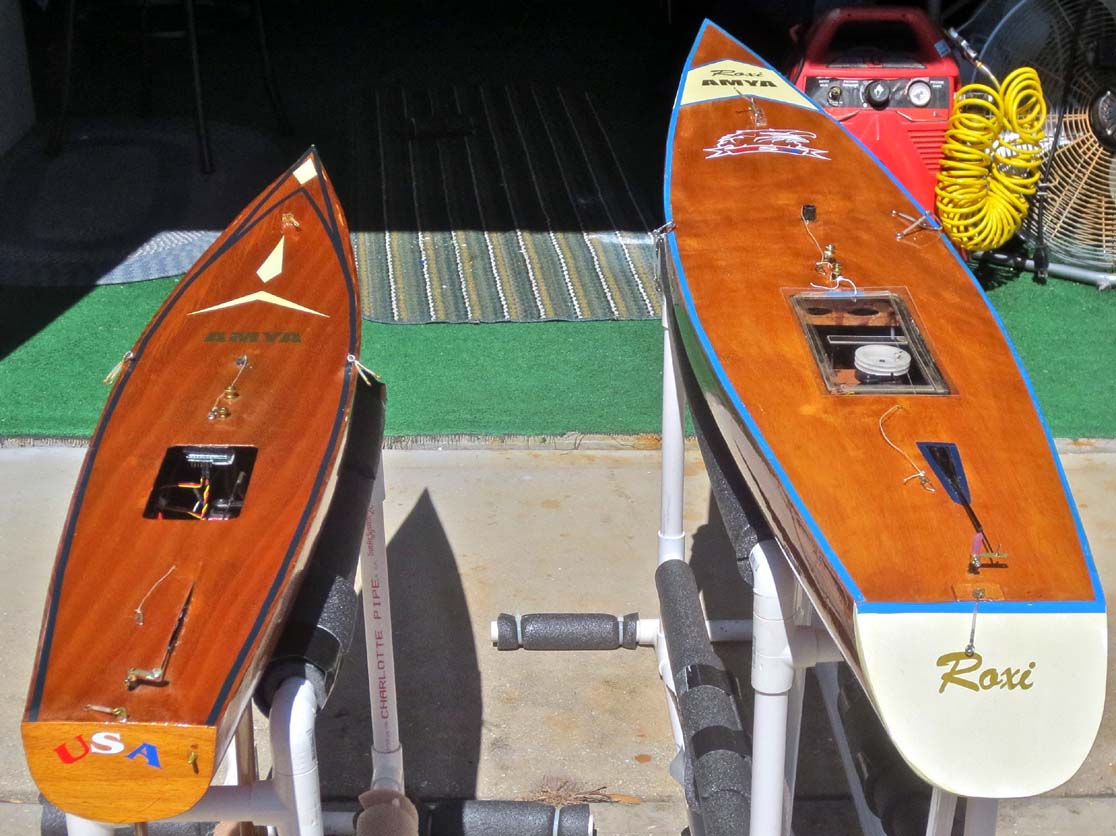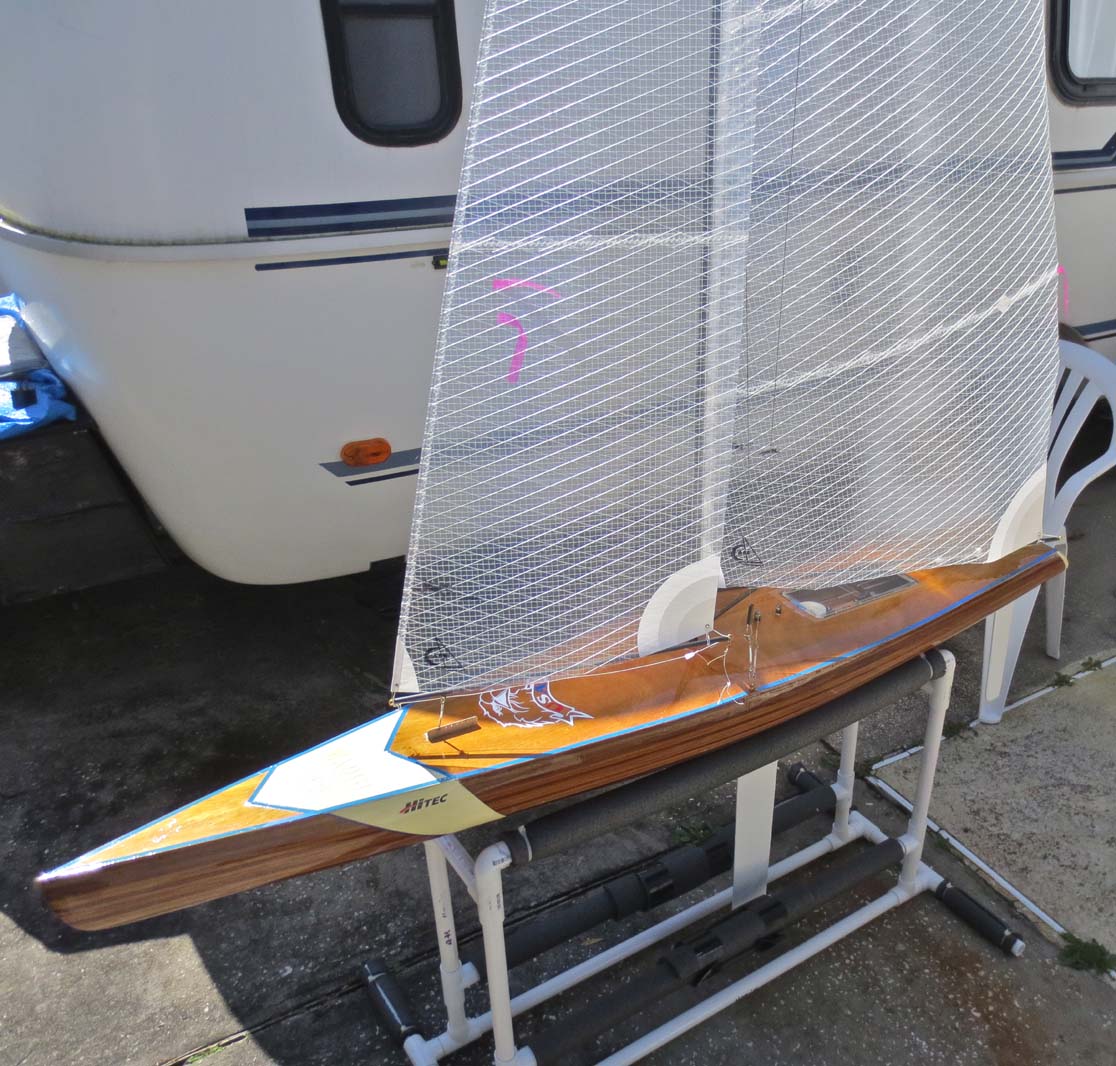 Nice work, Paul, on your T50 and on your T65 - beautiful sailing yachts, absolutely classic!
T27s At Tabor Academy, Marion, Massachusetts, Fall Semester!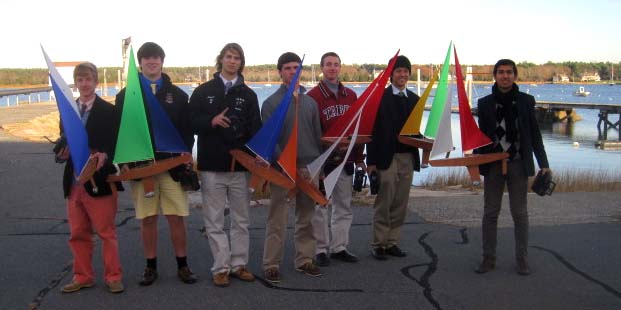 Hi Will,

Here are images of my two Semester I classes and the launching of both fleets.
The T27s are lookin' good!

Captain Dave Bill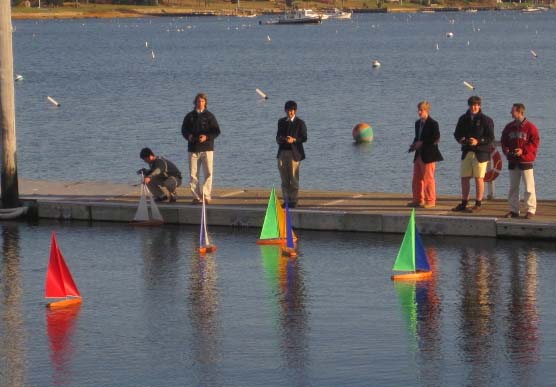 Tabor students have built over 150 beautiful T27 Racing Sloops! Every spring and fall, Captain Dave teaches a "Theoretical and Practical Boat Building" class at Tabor Academy. Each student builds his or her own T27 from the T27 kit. At the end of the class, the students launch their boats from the school's piers in Buzzards Bay.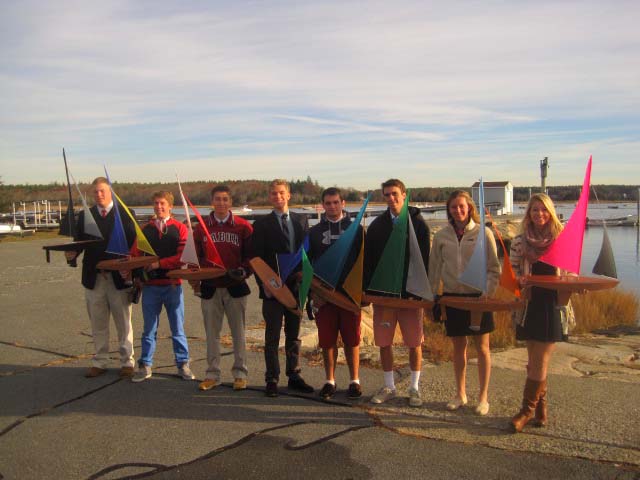 In the background of the following picture you can see a glimpse of the beautiful Tabor Academy campus located right on Buzzards Bay in Marion, Massachussetts. Tabor Academy, Spring Semester, 2013, skippers with their T27 Racing Sloops: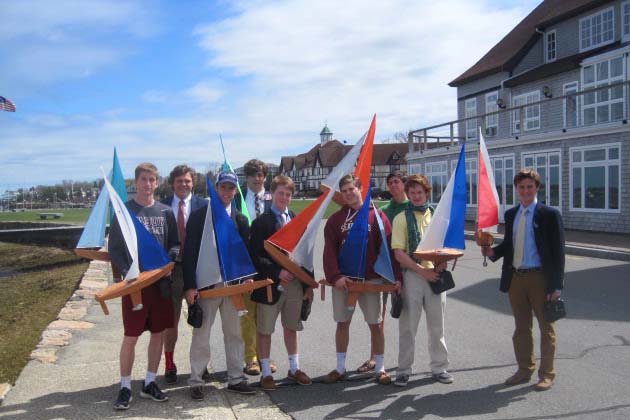 Hi Will,
Launched yesterday!
Thanks for the fine boats and back-up support.
Dave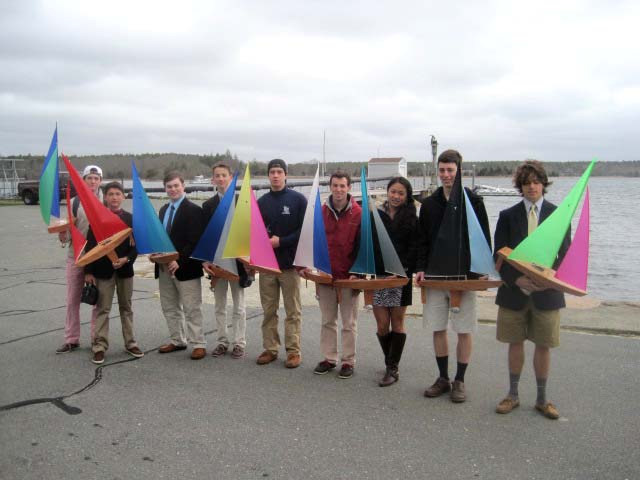 Clicke here for a video of Tabor's Marine program, including building the T27 Racing Sloops: T27 Radio Controlled Model Sailboats at Tabor Academy
Queensland, Australia. T18 on Kurwongbah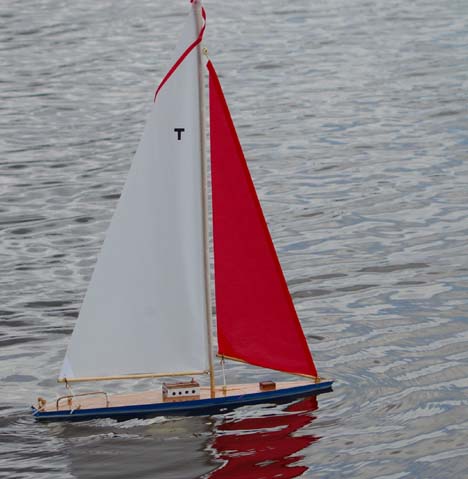 James added a cabin for his crew to be more comfortable and a forward hatch to his 18 inch T-Class Racing Sloop! Here, James is sailing on Lake Kurwongbah in Australia.
Hi Will,
I am still building my T47, but here are some pictures of my lovely little T 18.
James Harrap

Slide Lake, Wyoming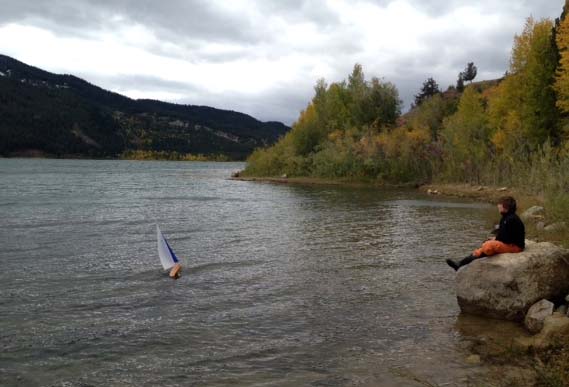 Michael Crothers shared a lovely picture of sailing his T27on a fall day on Slide Lake, Gros Vent Mountains, Wyoming. What a gorgeous and serene place to sail, Michael!
Sparks, Nevada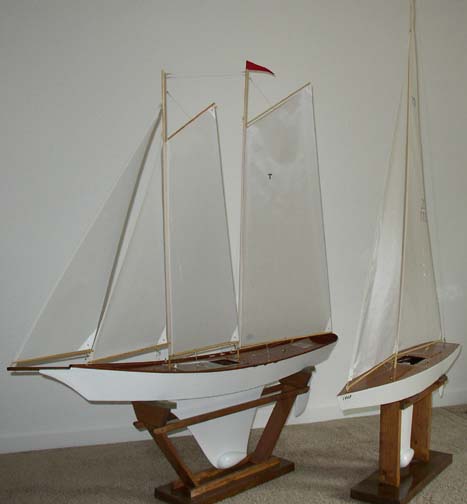 Richard Kawashima has built an elegant T47 Schooner and T37 Racing Sloop. What a beautiful pair of boats, Richard!
Plano, Texas
John Peloza sent these wet and wonderful pictures of his T37 sailing in a pond in Plano Texas.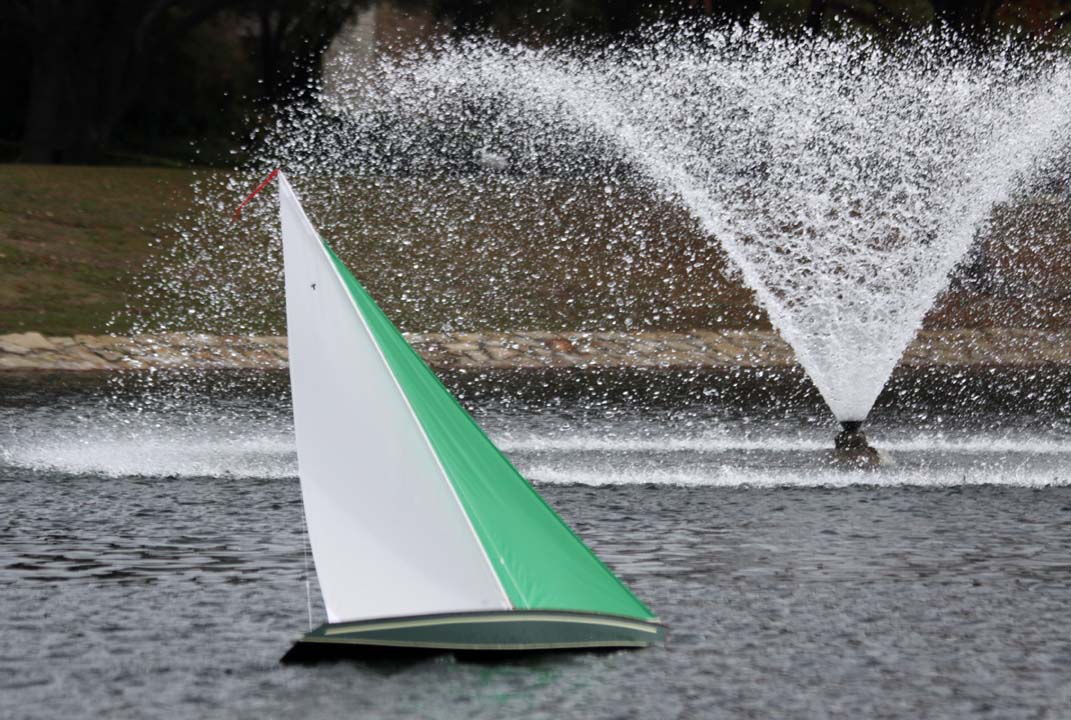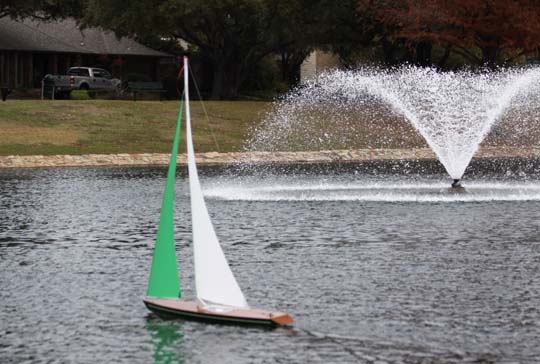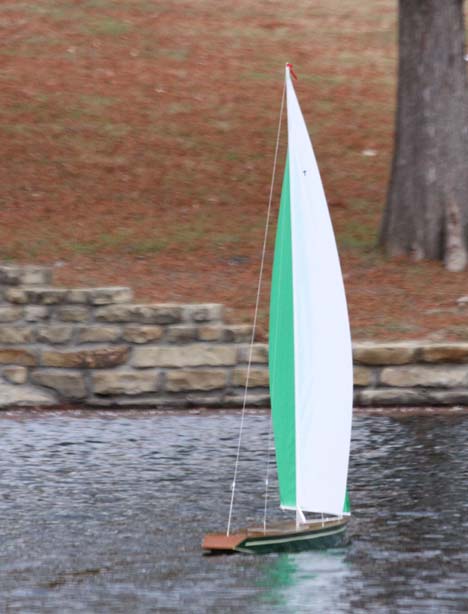 Second Generation!!A nice story from Brian Hudson about his T18 T-Class Racing Sloop: "As for when I first got my boat I believe I was probably 12-13 at the time (32 now) when my dad got it for me as a birthday present. I've sailed it off and on ever since and it has held up like a champ and I love watching my little boy learn to sail with it too.
Thanks again
Brian Hudson"
[More Great Owners' Pictures | T37 Pictures from the Port Townsend Wooden Boat Festival | Owners' Pictures Pages 1-7 | More Fun Pictures | T37 Radio Control | Desolation Sound | Excellent Sailing Performance | T Class Racing Sloop | T15 Racing Sloop | T12 Cruiser | Home | Order Form]