[More Great Owners' Pictures | T37 Pictures from the Port Townsend Wooden Boat Festival | Owners' Pictures Pages 1-7 | More Fun Pictures | T37 Radio Control | Desolation Sound | Excellent Sailing Performance | T Class Racing Sloop | T15 Racing Sloop | T12 Cruiser | Home | Order Form]
T37 in Queensland, Australia
Lachlan Griffiths' T37! What a beautiful yacht!
"I'm very impressed with how well the boat points to windward and how balanced she is. Great job on the comprehensive instruction manual also, made everything so straight forward for a first time builder like me. Can't wait now to take on a T-50 MOD!" -Lachlan Griffiths
T27 in Westfield, Massachusetts
Roy Thompson sails his new T-27, enjoying the tale end of summer and the new fall breezes.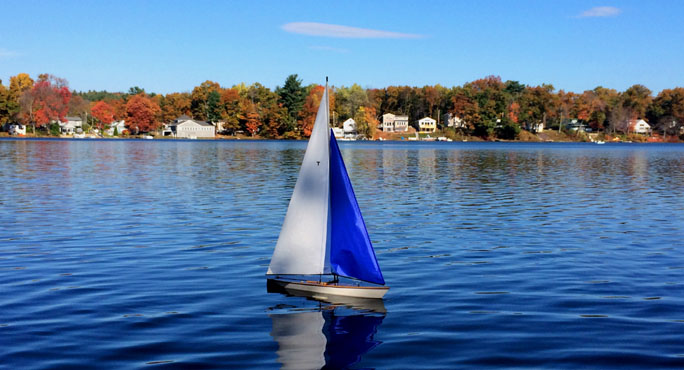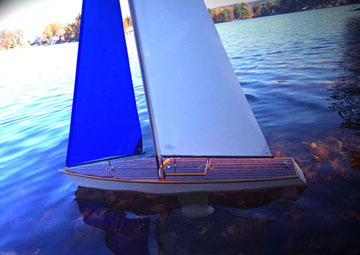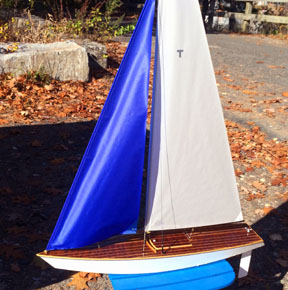 Roy added beautiful detail to his deck and added a customized hatch, absolutely stunning!
T-24 Tug in Kirkland, Washington
John Ive sent these wonderful pictures of his T-24 Tug cruising alongside the T-50. John is one of the mastercraftsman builders. You can see more of John's incredible work at www.modelsailboat.com/craftsman.html .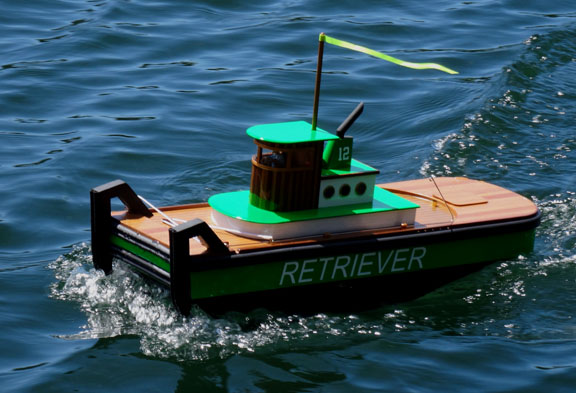 John has built eight stunning T-37 sailboat kits and has just finished a beautiful custom build on his T-24 Tug!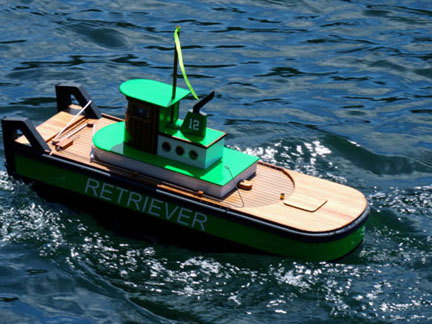 Starting with the standard T-24 Tug kit, John added a rounded stern, a smokestack (go Seahawks!) and alternative bow bumpers.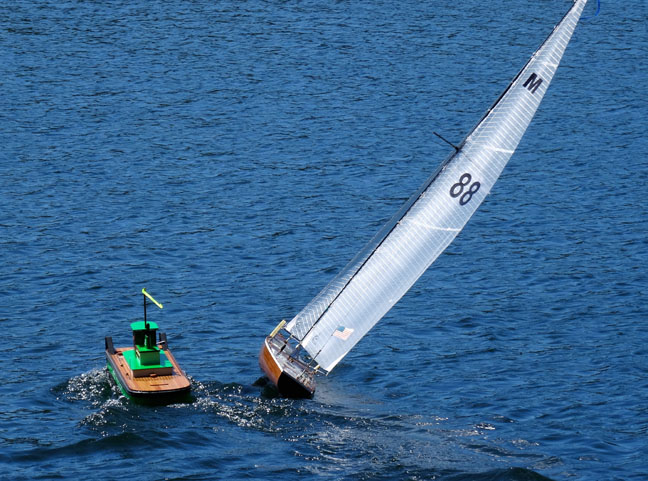 T-52 Build In Progress!
The T-52 is one of our newest boats and a wonderful way to get a truly big boat that performs excellently and yet is quite easy and fast to build. The T-52 builds in a very similar way to the T-37 kit and only takes slightly longer just because it is bigger. Out on the water, the T-52 sails like a big boat, slicing through the waves with speed. Smaller boats tend to go over the waves since the boat length relative to the wave length is smaller. Our bigger boats are on several waves at once and so, with their power, they slice right through the waves instead of riding over the individual waves. It's neat to watch these big boats racing across the lake!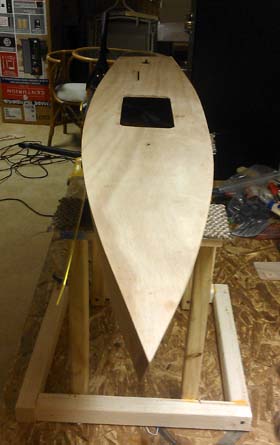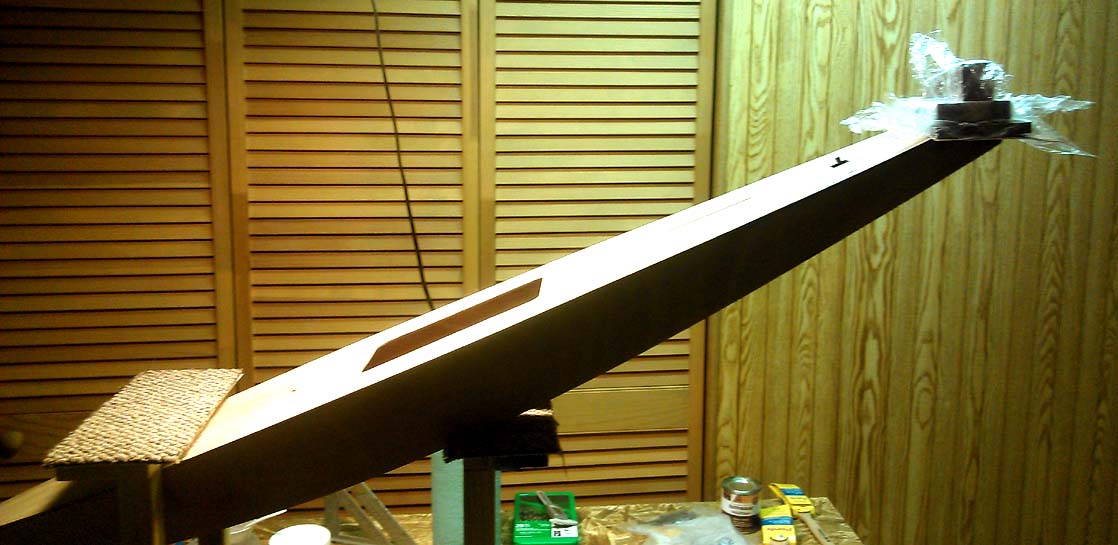 Mark Horrigan in Grand Blanc, Michigan, decided to do an elaborate and elegant planked deck on his T-52. This adds quite a bit to the building time for the T-52, but it sure produces a wonderful result and makes a fun project!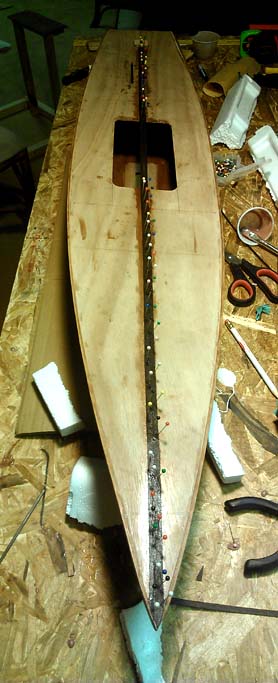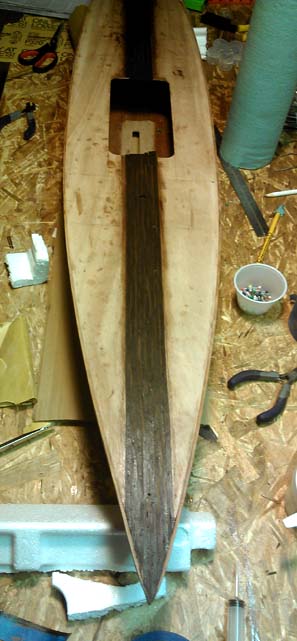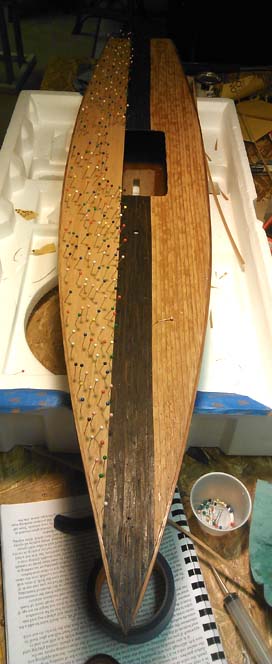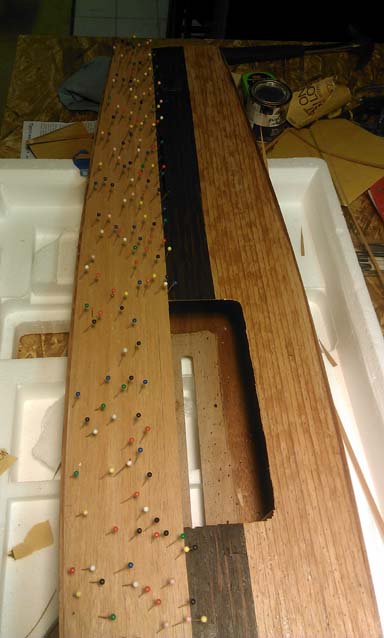 T-37 in the Tub!
A fine place for a float test!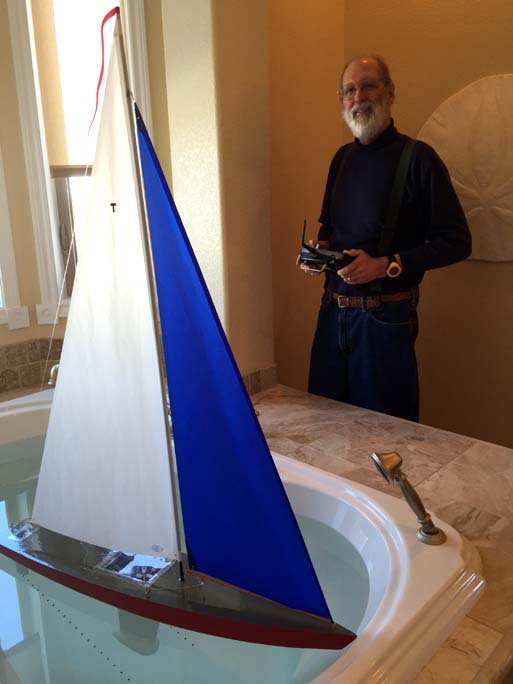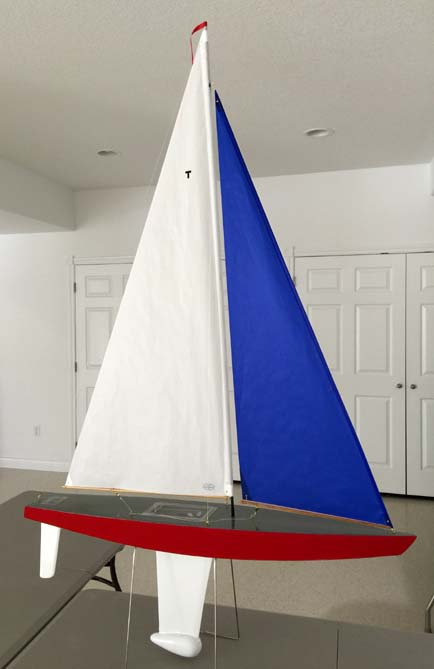 [More Great Owners' Pictures | T37 Pictures from the Port Townsend Wooden Boat Festival | Owners' Pictures Pages 1-7 | More Fun Pictures | T37 Radio Control | Desolation Sound | Excellent Sailing Performance | T Class Racing Sloop | T15 Racing Sloop | T12 Cruiser | Home | Order Form]