[More Great Owners' Pictures | T37 Pictures from the Port Townsend Wooden Boat Festival | Owners' Pictures Pages 1-7 | More Fun Pictures | T37 Radio Control | Desolation Sound | Excellent Sailing Performance | T Class Racing Sloop | T15 Racing Sloop | T12 Cruiser | Home | Order Form]
Sailing T-37, Dad and Crew.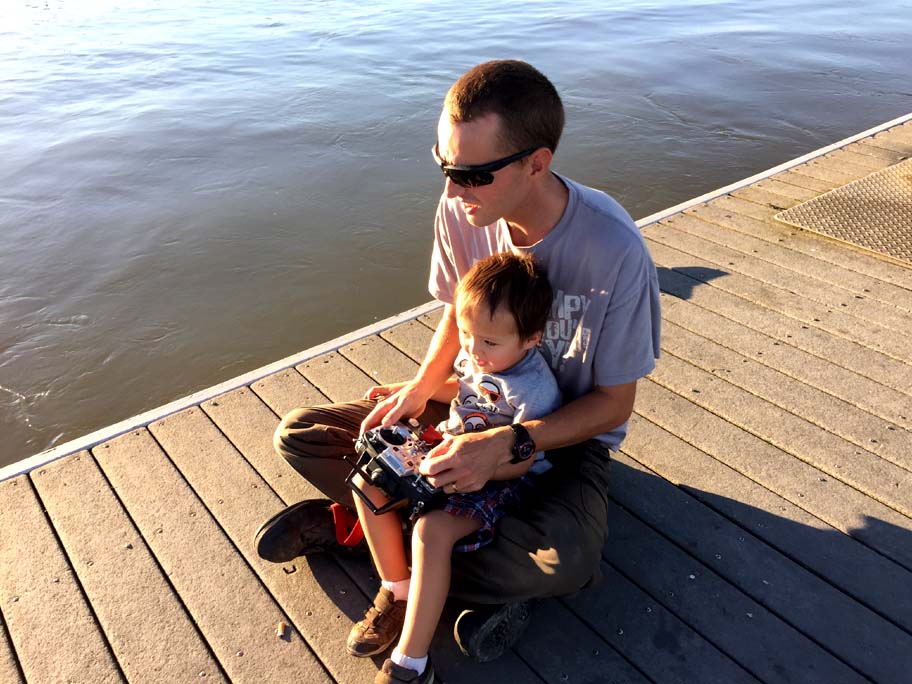 " Here's some pics of the construction process. In the first one you can see the bondo on the sides of the keel/rudder that gives it a proper symmetrical foil cross section, a lot of work but I think it was worth it. In another you can see the radio compartment with the LiPo battery I mentioned. It's a 2cell 800mah battery regulated down to 6 volts, should be good for many hours on the water."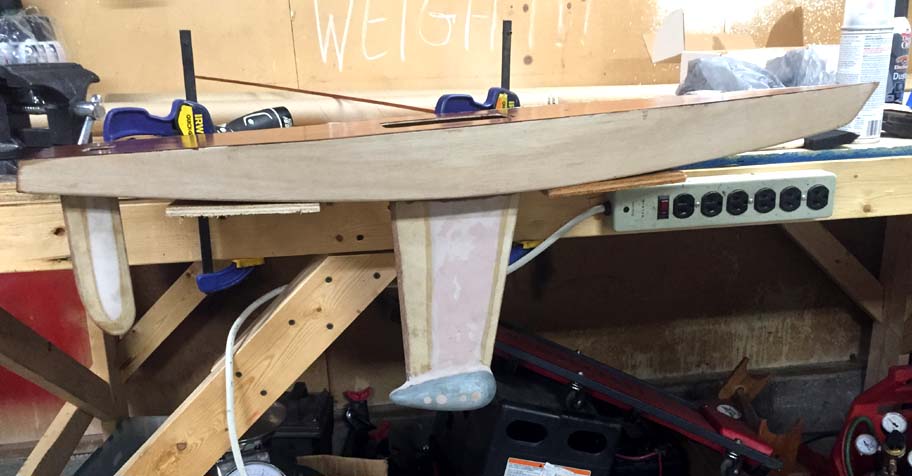 "Here she is ready to go! I painted the hull at the same time I painted my wife's BMW front bumper cover so that is a solvent based automotive paint with 3 coats of clear on top. Before painting I hand rubbed bondo into the wood to fill in the grain as well as any cracks or holes. I than clear coated everything with epoxy to seal it before priming/painting. The result is a glossy smooth finish that looks more like there is fiberglass underneath not wood. A lot of extra work but well worth it! And there's a little Father/Son/Little Lady Washington time! Thanks for making such a great product, can't wait to start the next one!"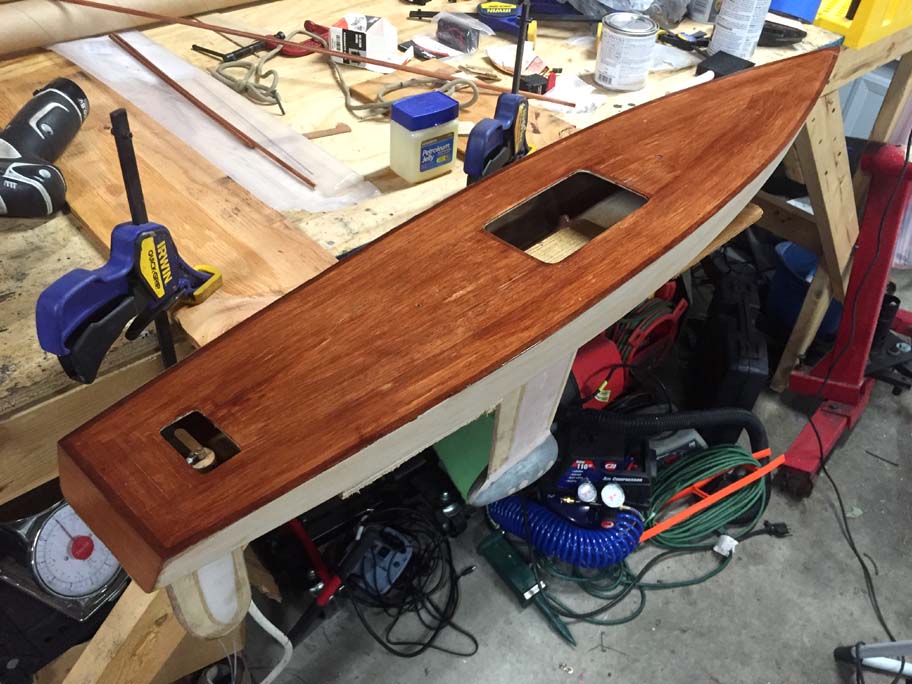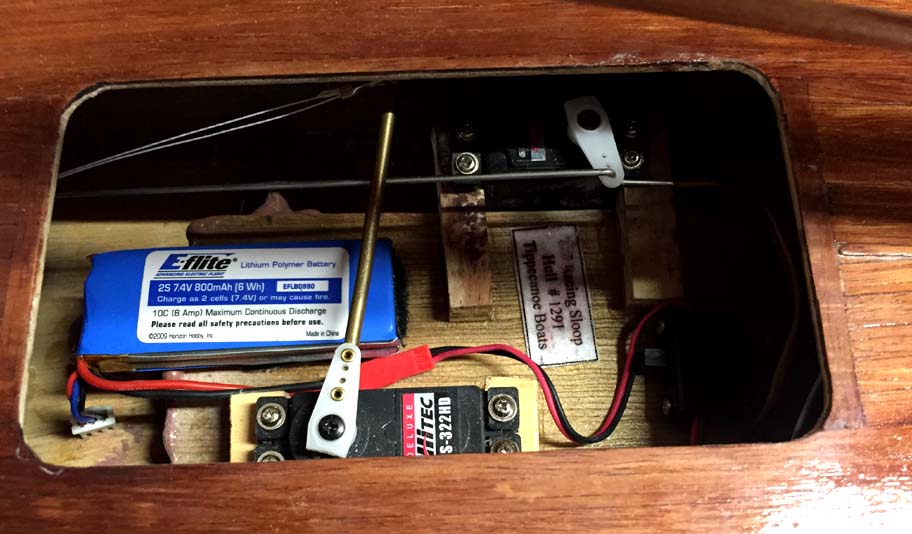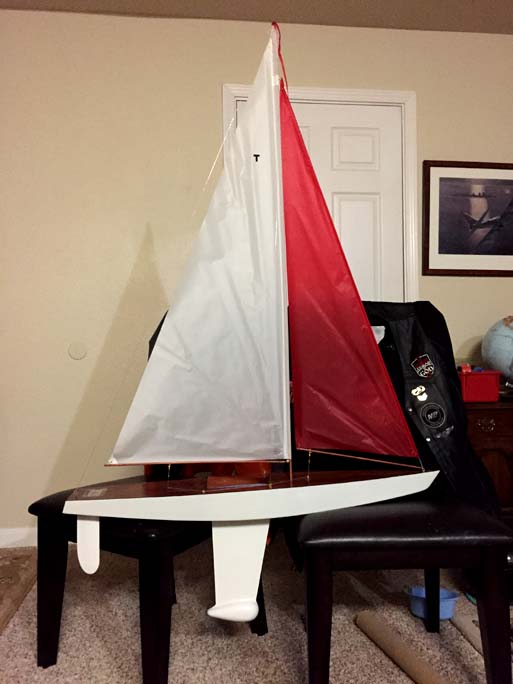 T-Class Launch in the Grand Canal at the Château de Versailles
If only Louis XIV could have been there to see this! He would have been enchanted, or at least surprised.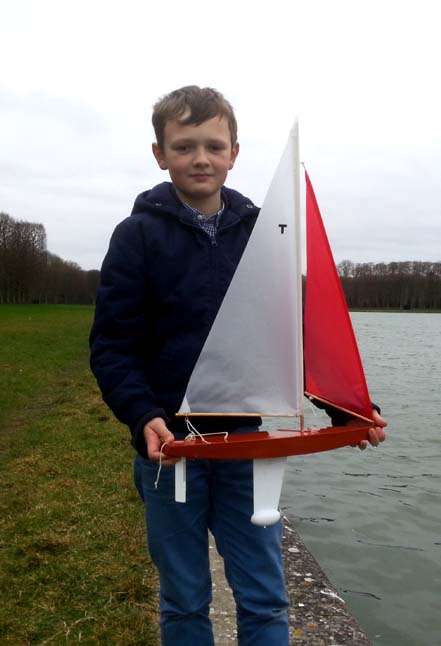 "Hi, Just to tell you, our T-boat was successfully launched this winter on the Grand Canal at the château de Versailles.
Two pictures taken on February 22, 2016.
-François, 9 years old from Versailles, France"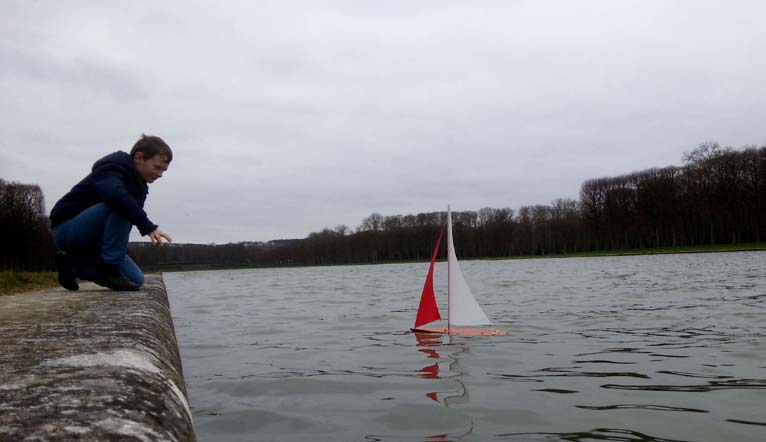 Red Cap Tug, Jacksonville, Florida
A great look for the T24 Tug! One of the beauties of building with wood is that every one of our T-24 Tugs comes out looking different because of the creativity of the builder! Nice addition of the American Flag!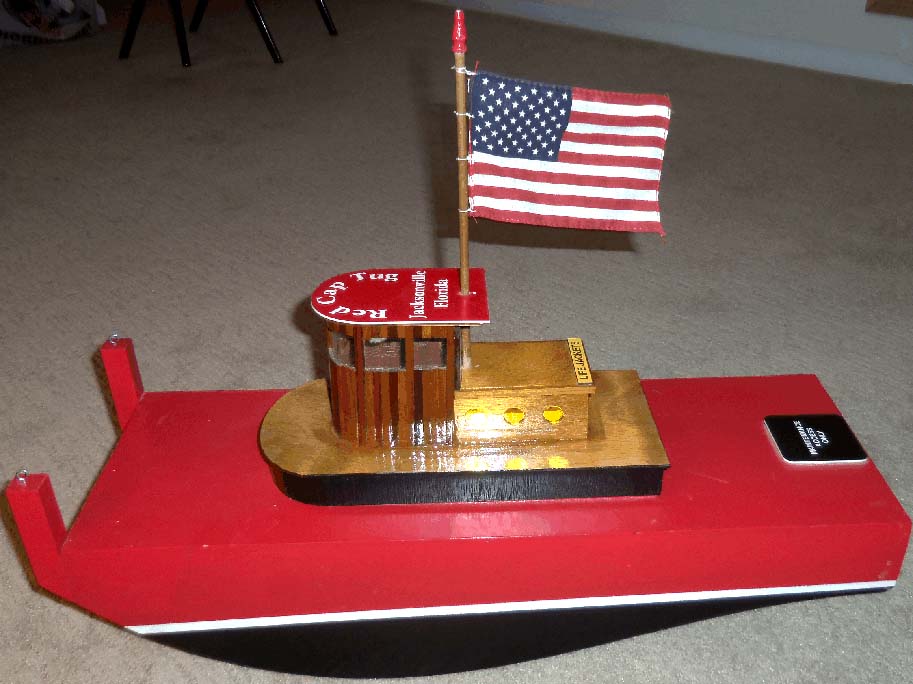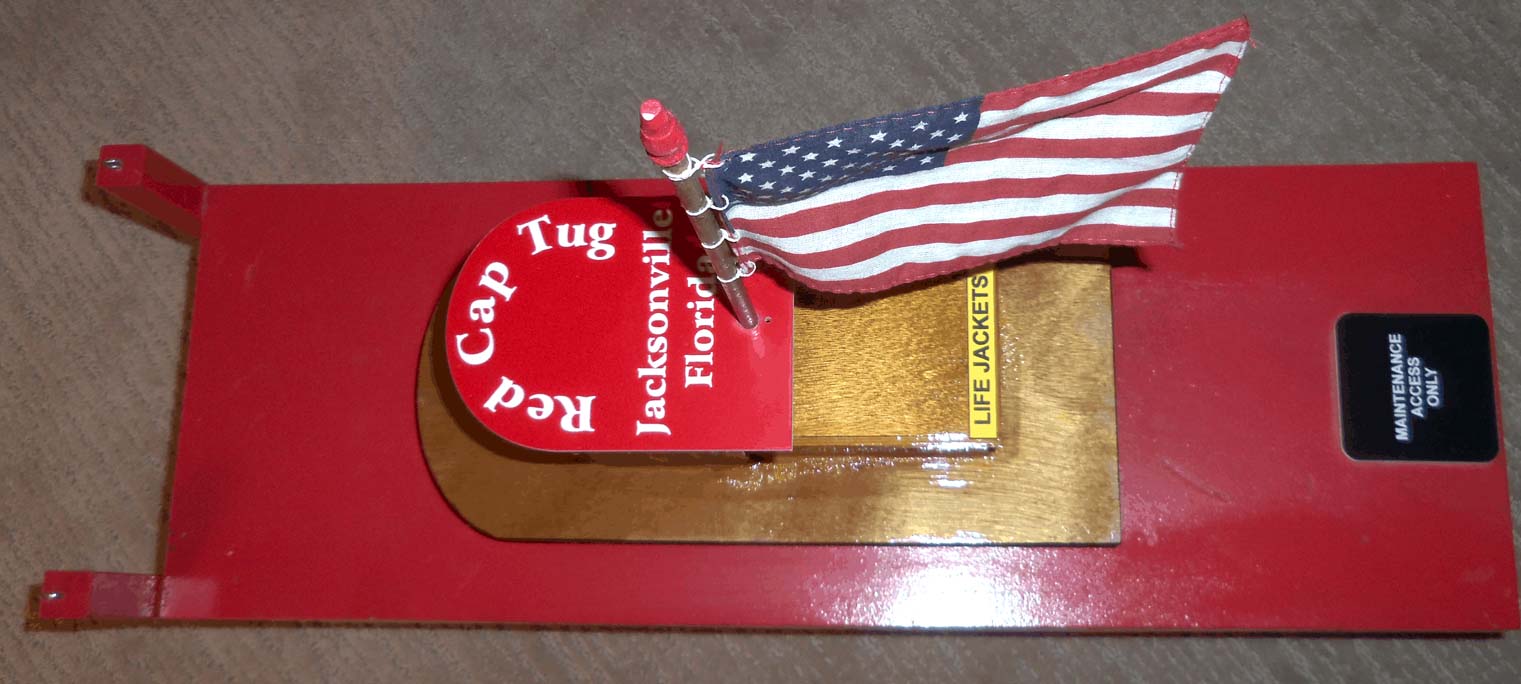 T-37 First Launching!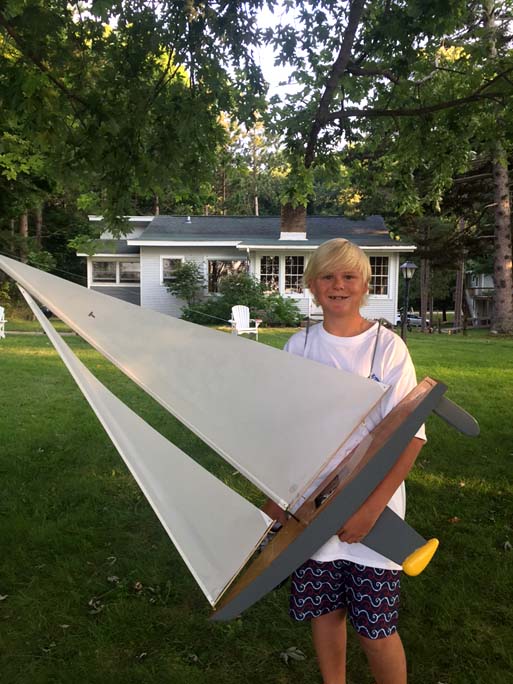 "Hello, Another Happy Customer, I wanted to share with you the the delight we have had building your model sailboat. My son, Owen, completed the build and the boat took its maiden voyage over the weekend. It works perfectly and we've been sailing it ever since. Great memories... Thanks, Devon."
Devon, wonderful pictures, the lake looks so much like Lake Tippecanoe where I grew up spending my summers sailing the classic Jacrim-Seaworthy model boat I grew up with - the same boat that hangs on my office wall now. My sister had a similar boat and we raced the two boats all summer long. My sister still has her boat now as well after all these years! Great summer memories, great fun, great sailing! Will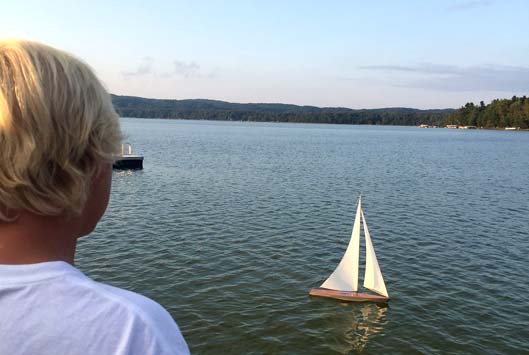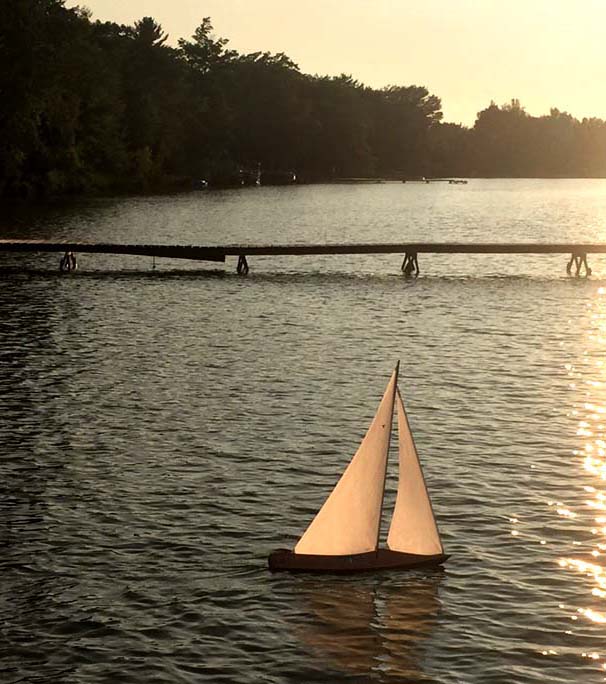 T-37 Built in Perth, Western Australia!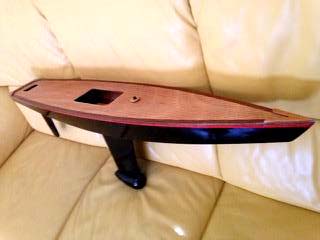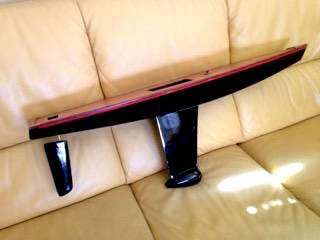 "I purchased a T37 last year that you posted out to me in Perth, Western Australia. - Fred Parks"
Nice job Fred!
Girls Out Sailing!
I couldn't resist adding these pictures to the page because of course I am very proud of my daughters and although these pictures are not exactly owner's pictures, they were sent to me in an email from another sailor who happened to be anchored in the same little cove up the coast of B.C. You see here my daughters, Robyn and Laine, in British Columbia on their month long cruise sailing Gimble. Gimble is the 24-foot Western Red Cedar sloop that I built and sailed across the Atlantic in 1980. The boat built with Western Red Cedar Veneer and WEST System Epoxy is still in perfect shape after 37 years. This is the same epoxy that we supply with all of our model kits with the expectation that all of our boats should last at least 50 or 100 years or longer. Robyn and Laine are both expert sailors having grown up sailing T-37s, dinghys, and our 34 foot cruising boat on the Puget Sound.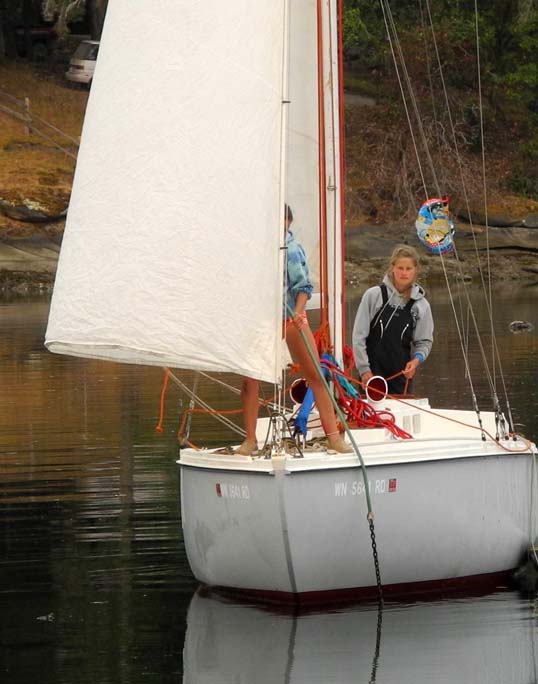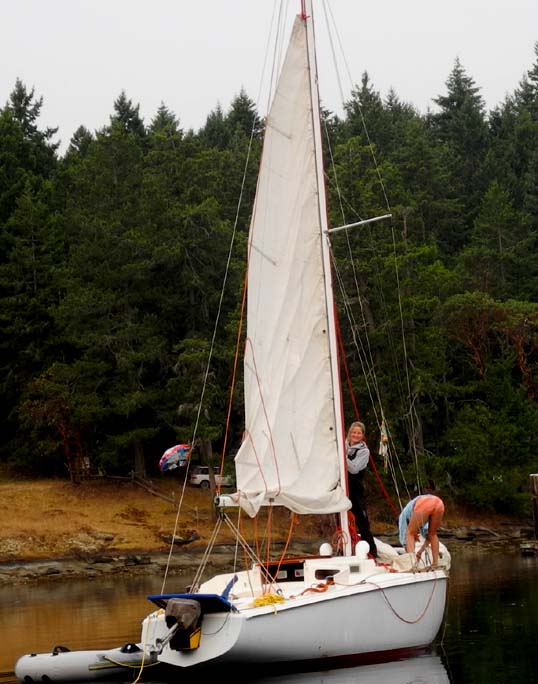 Pirates Cove, B.C.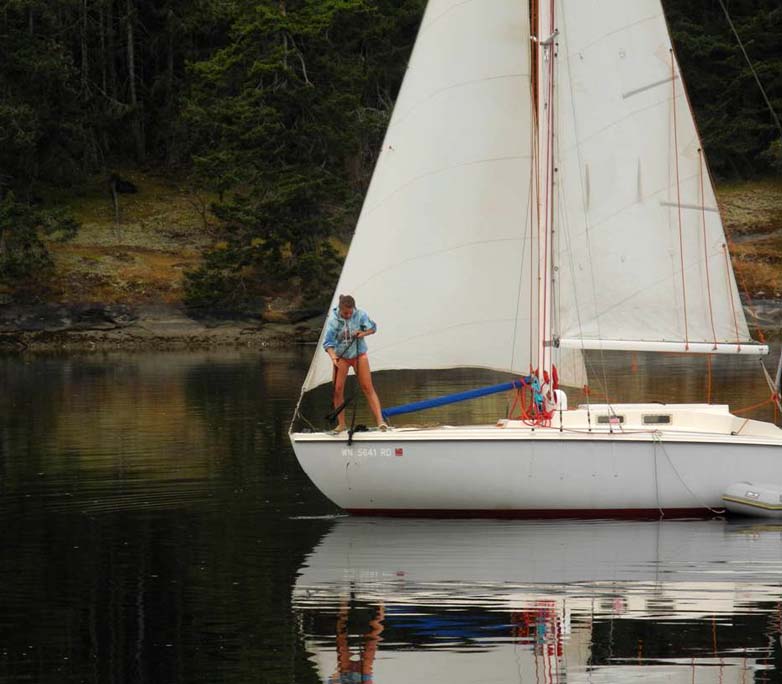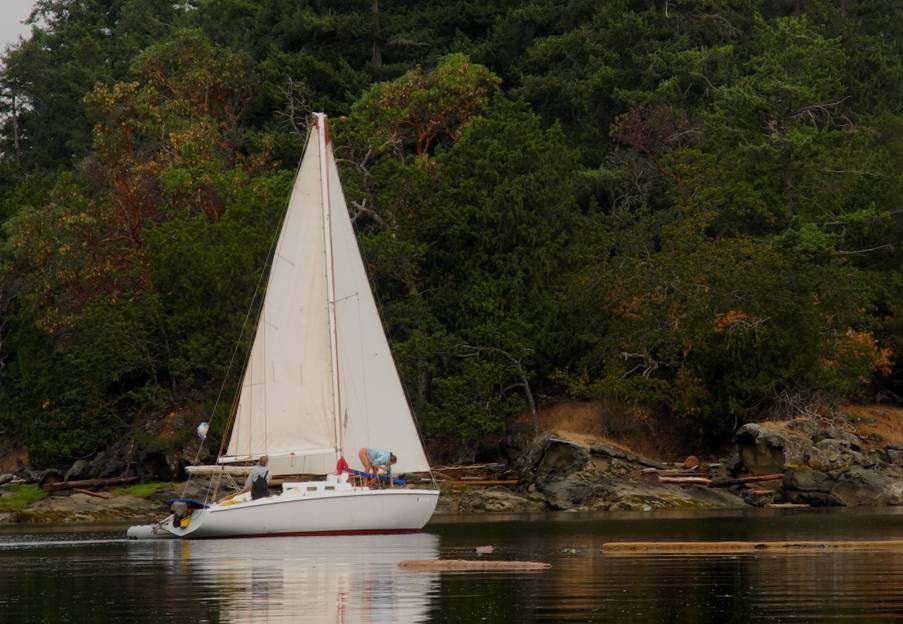 [More Great Owners' Pictures | T37 Pictures from the Port Townsend Wooden Boat Festival | Owners' Pictures Pages 1-7 | More Fun Pictures | T37 Radio Control | Desolation Sound | Excellent Sailing Performance | T Class Racing Sloop | T15 Racing Sloop | T12 Cruiser | Home | Order Form]