[More Great Owners' Pictures | T37 Pictures from the Port Townsend Wooden Boat Festival | Owners' Pictures Pages 1-7 | More Fun Pictures | T37 Radio Control | Desolation Sound | Excellent Sailing Performance | T Class Racing Sloop | T15 Racing Sloop | T12 Cruiser | Home | Order Form]
Sailing T-12 Boats at Camp in Hull, Massachusetts!
Hull Life-Saving Museum Summer Camp has been building the Tippecanoe T-12 Racing Sloop, our 12-inch free-sailing boat, since 2006 as the highlight of their summer sailing camp. The kids love assembling and painting their boat and then the culmination of the project is a day of sailing on the waters of Hingham Bay. What a great way to introduce youngsters to the joys of a life of sailing! Thank you Hull Life-Saving Museum Summer Camp!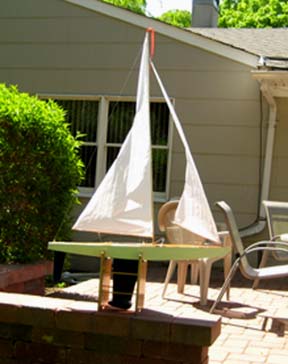 "Thank you, Will! We look forward to our sailing week all year. Victoria"
T-5 Table Centerpieces!
Little did we think when we designed the T-5 that it would be so popular for weddings and events! We have sent lots of T-5s with white sails to help initiate sailors into new marriages! They make great take-home table decorations! There are more than 20,000 of our T-5s now sailing the waters of the world (or floating the waters of the world, we don't really say they sail like our larger models! - but they are really cute and fun for either kids or adults. Get ready for the hot tub or the bath tub.).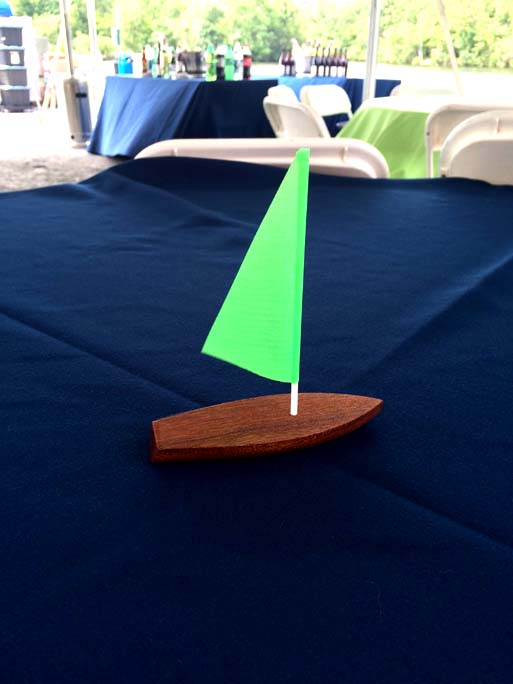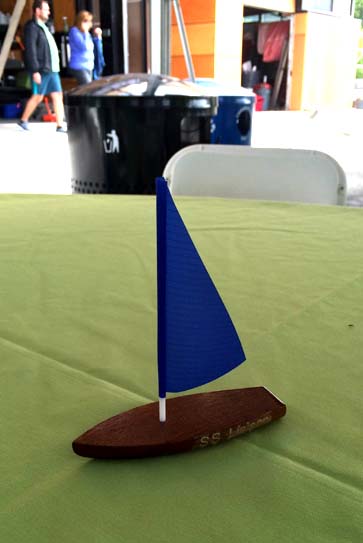 "Good morning, Will. I hope you had a great weekend and enjoyed the 4th last week! We ended up having to postpone our event and had it this past Friday. It went really well, the weather held up, and the boats were a huge hit. Thank you so much! Take care, Amanda Earley"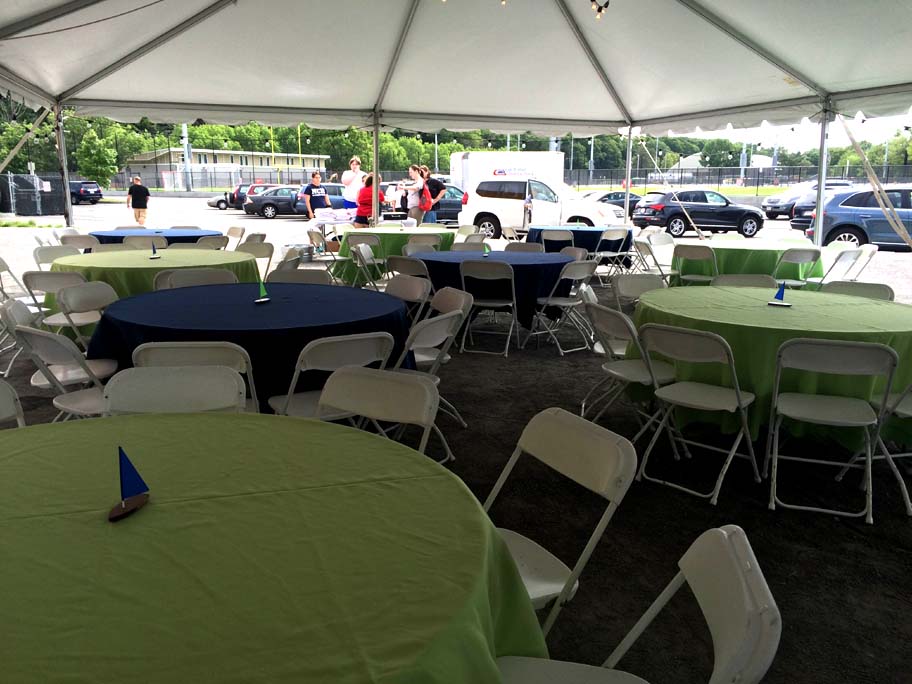 T-37 Vivace Ready to Sail!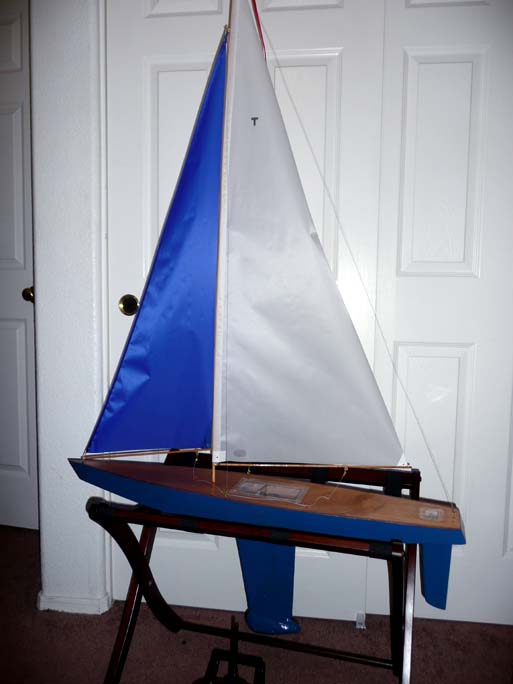 "Will, I have completed my T-37, hull 2609, which my wife gave me for my birthday last September. I have named it "Vivace" after a Lido-14 we sailed when I was a kid. Once I get her in the water I will send some more pics, but the nearby lake has been drained for maintenance. Thanks! I had a great time putting her together. - Hugh Thompson"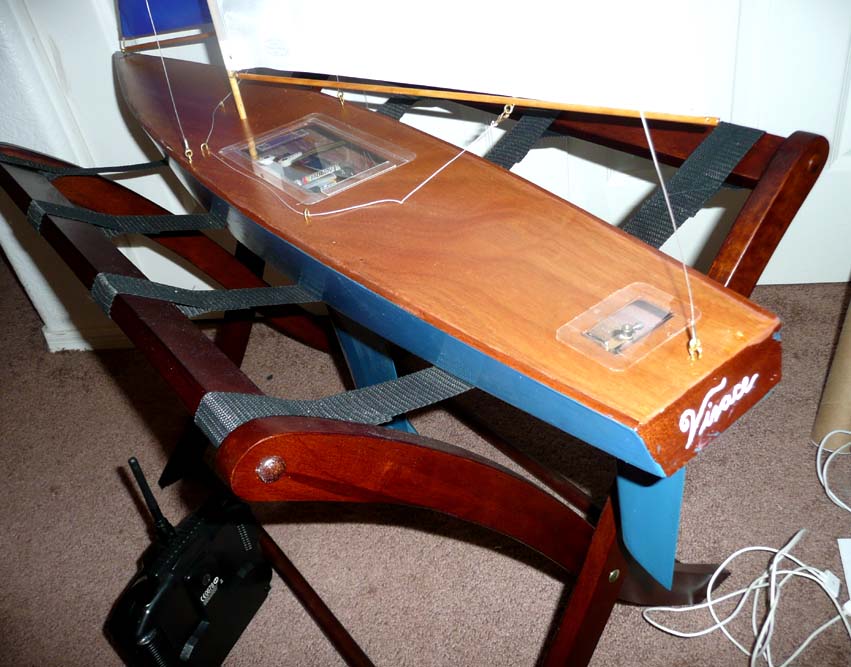 T-37 Zena in Australia!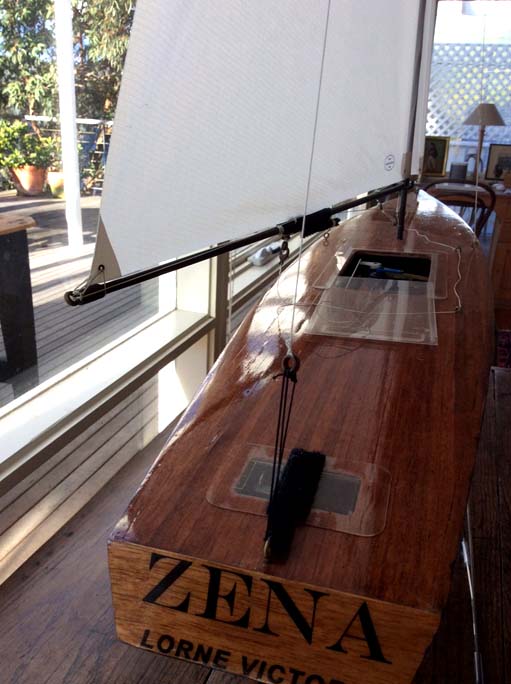 "Hi Will,
… concerning my much loved and much sailed T 37 Zena…All of my craft ( there are five so far ) are named after the important females in my life, three grandchildren and my wife have all got boats named after them and "Zena" the first model and in a way the most special one that I built was my mother's Christian name. There is still my daughter, a step daughter and three sisters in law to go, so there are at least another five to be built and added to the collection.
What a great hobby or is that an addiction that I find myself involved in.
Thank you so much for your help.
Kid Regards
Tony from Australia"
[More Great Owners' Pictures | T37 Pictures from the Port Townsend Wooden Boat Festival | Owners' Pictures Pages 1-7 | More Fun Pictures | T37 Radio Control | Desolation Sound | Excellent Sailing Performance | T Class Racing Sloop | T15 Racing Sloop | T12 Cruiser | Home | Order Form]