[More Great Owners' Pictures | T37 Pictures from the Port Townsend Wooden Boat Festival | Owners' Pictures Pages 1-7 | More Fun Pictures | T37 Radio Control | Desolation Sound | Excellent Sailing Performance | T Class Racing Sloop | T15 Racing Sloop | T12 Cruiser | Home | Order Form]
T-37 on Old Lake in Tata, Hungary!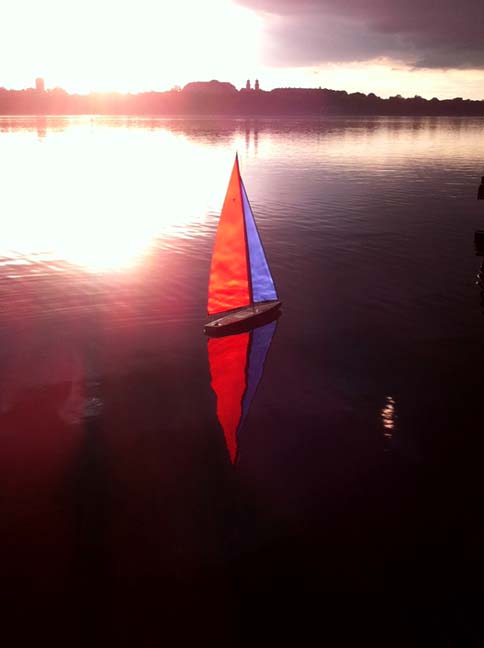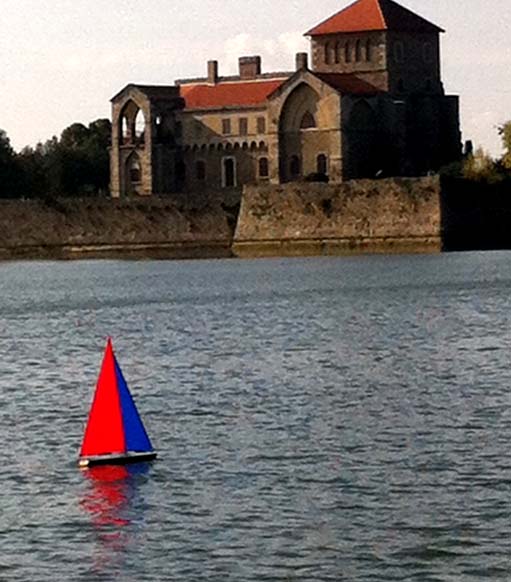 "Hi Will, I finished my T37 last September. Was able to sail it last Sept/Oct before the lake was drained for winter. She sailed beautifully and attracted a lot of attention from folks walking by the lake. I'm getting ready to take her out again soon. Lately, I've been a bit preoccupied with sailing my full size boat down at Lake Balaton :-). Weekend winds have been unusually good over the last month! There are some pics from sailing 's.v. Old Lake' on Old Lake in Tata, Hungary. These pics were taken from my phone so quality may not be that great. I'm sure I'll capture some better shots this summer. -Best, John"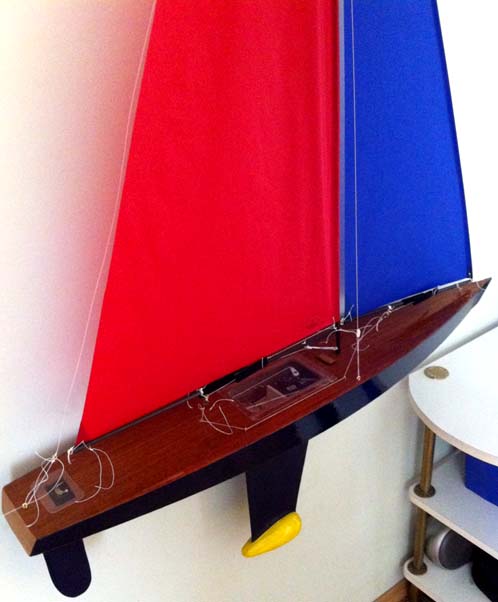 T-50 on the Water!
"Hello Will, I have been thoroughly enjoying sailing the T-50. I have been taking it out in some challenging situations and it is a pleasure to watch.
Here are some photos of my model. Great model!!!! - Thanks, Kendall"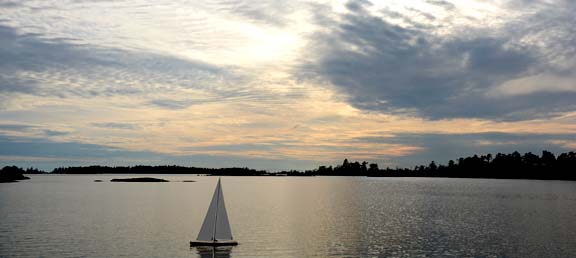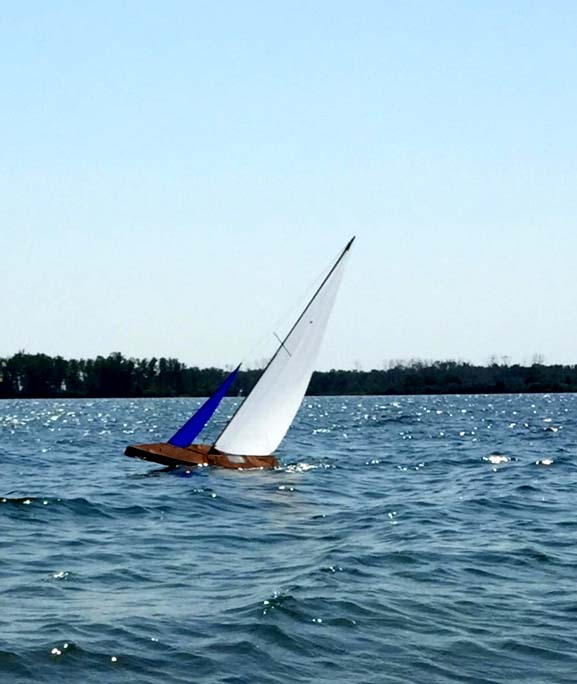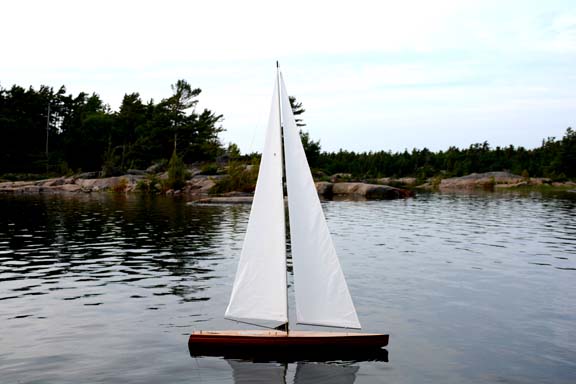 An Earlier T-50 Model
Notice the difference in the deck. The earlier T-50 models had large openings in the deck sealed with mylar to create a very light deck. The new version of the T-50 that we are shipping now has a solid deck with a single cockpit opening to access radio control gear. The cockpit opening in the new version is sealed with a sliding mylar hatch cover. You can see the newer version of the T-50 deck in the pictures above and the earlier version in the pictures that follow below. We were able to switch the design when we found an extremely light three-ply Okume marine plywood for the deck. This is a very unusual plywood and we were very fortunate to find a supply of this wood that should last us for many years. The new solid deck is just as light as the original deck with the open sections sealed with mylar. Whenever we see any way to improve our designs we always incorporate the new ideas to make our products the best they can ever be!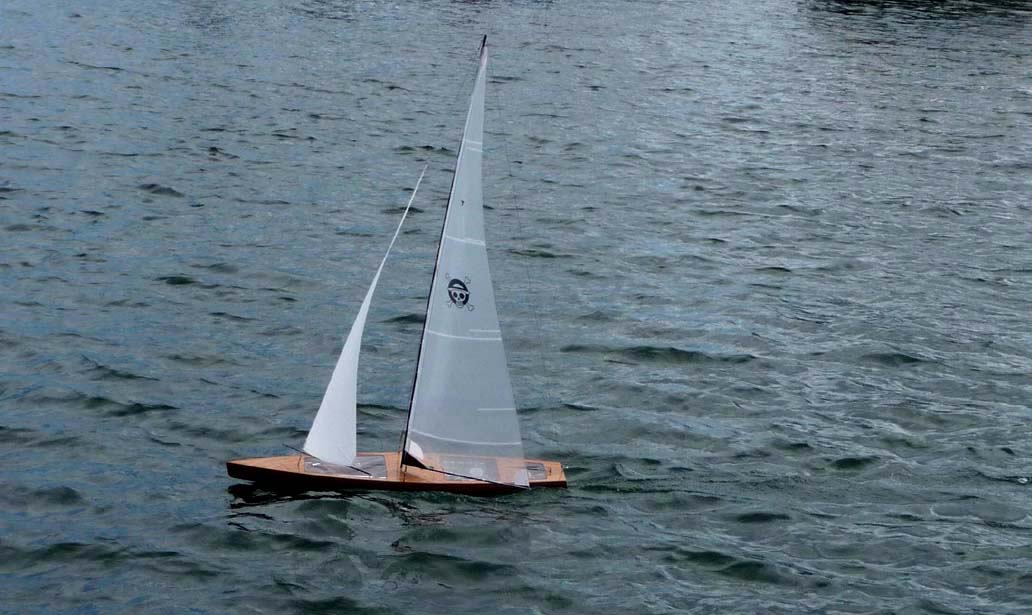 "Hi Will, We did it!! ;) it is finished! I have really enjoyed doing it! Here you have the first photos of the first time touching the water. Hope I will have better ones soon. You will see that after thinking about it I did a mix of your first version of T-50. I did some holes on the deck and sealed them with epoxy and a plexiglass of 1mm thick. I think it seems strong enough. I really liked to see the interior instead of a flat continious wood. Of course I know this may end with leak problems but I will be careful... Resuming, thank you very much for all the enjoyment I have had! It has been a pleasure! Thanks again! -Regards, Marc"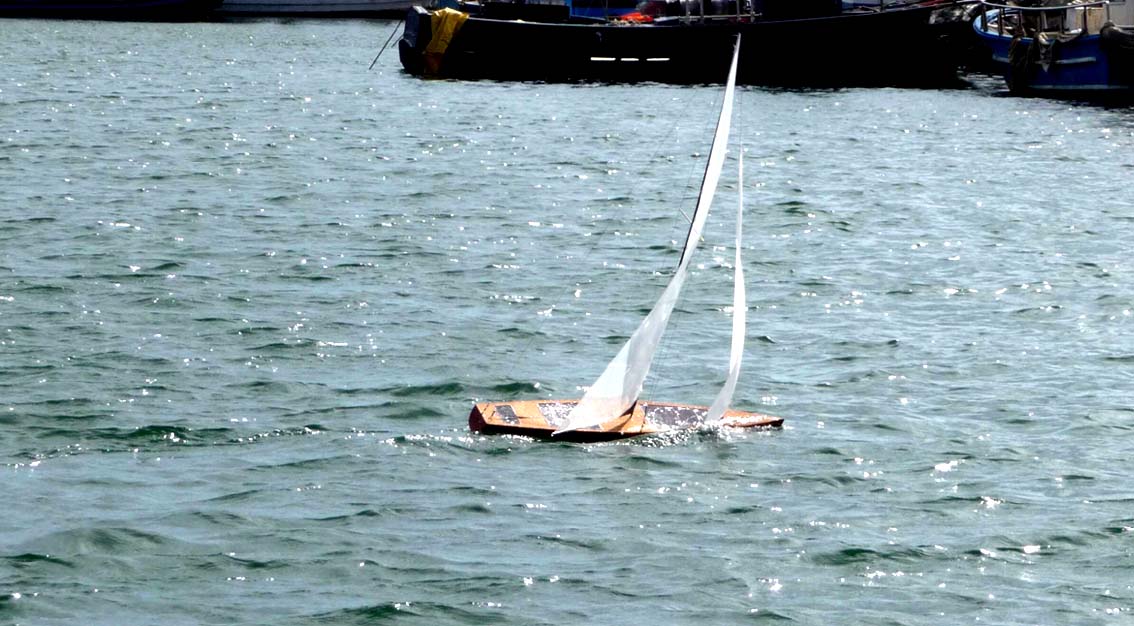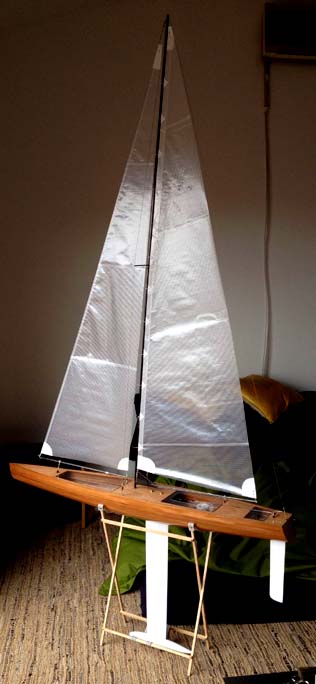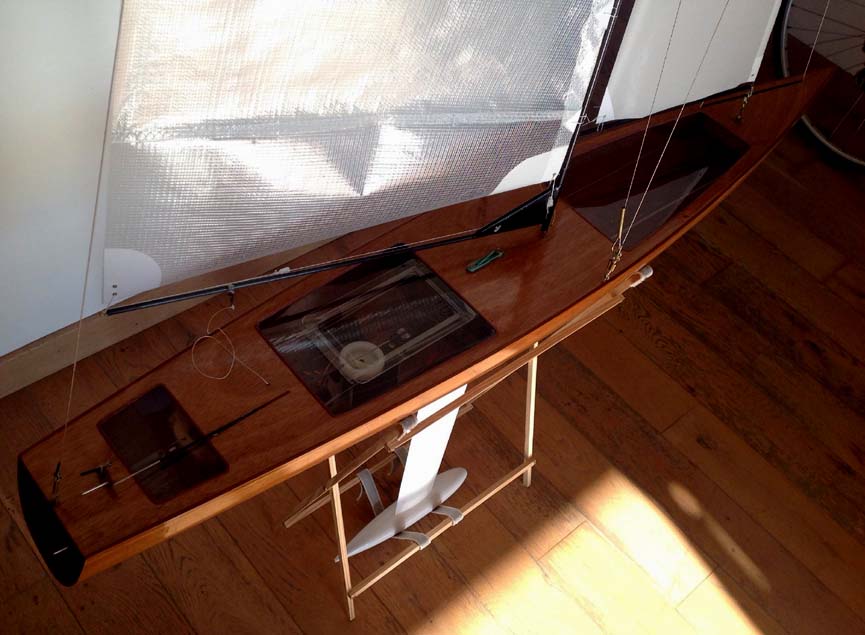 Boat In Progress! Wow, look at this stunning T-65 - the hull of the T-65 is over 5 feet long!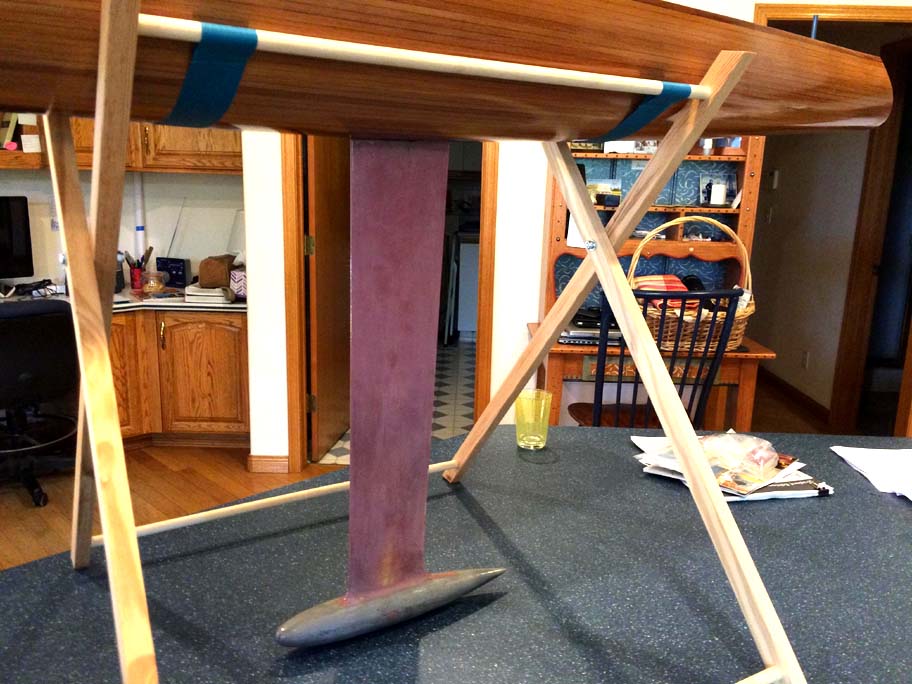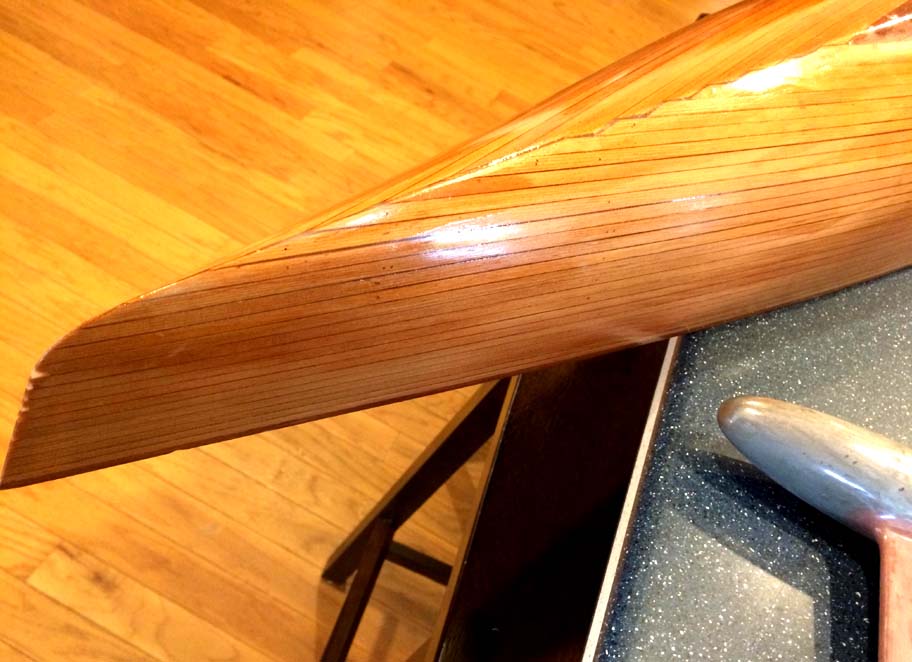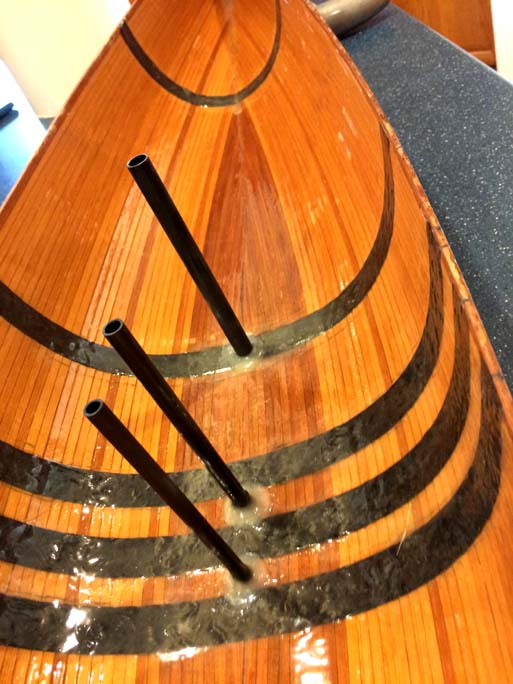 Here is another T-50 with the newest deck configuration.
"Hi Will, Thomas and I took our newly built T-50 Mod sailing today. Wind was 9mph so we chose to use the medium jib. What an exciting sail. The T-50 has amazing acceleration and it's really fast. I've attached a picture of Thomas with the boat at our Hoboken beach launch site. We had a fantastic sail and it's quite evident that this is a really awesome sailing boat with really top notch performance. We are looking forward to sailing it again. Kind regards, Paul"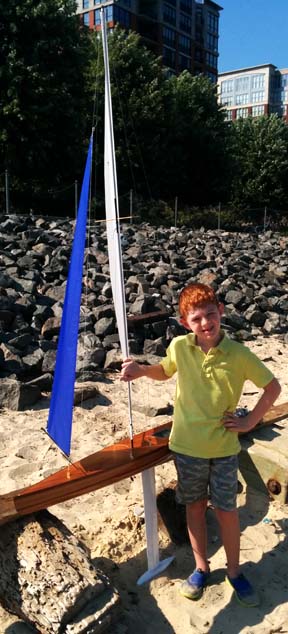 And another great sailing story from Paul about his first boat, his T-27:
"Thomas and I sailed our T27 at the boat pond in central park today (The guys there were racing their 1M boats). We received several comments that the T27 was the most attractive boat sailing because of it's wooden construction. Also, John Tucker the commodore let us sail a 65 class which is similar in size to the T27. Thomas and I had a bit of an unofficial race. Funny thing is Thomas with the T27 beat me sailing a Dragon Force RG-65. I think that's a thumbs up for Tippecanoe boats! Kind regards, Paul"
Two elegant racing T-37s being built together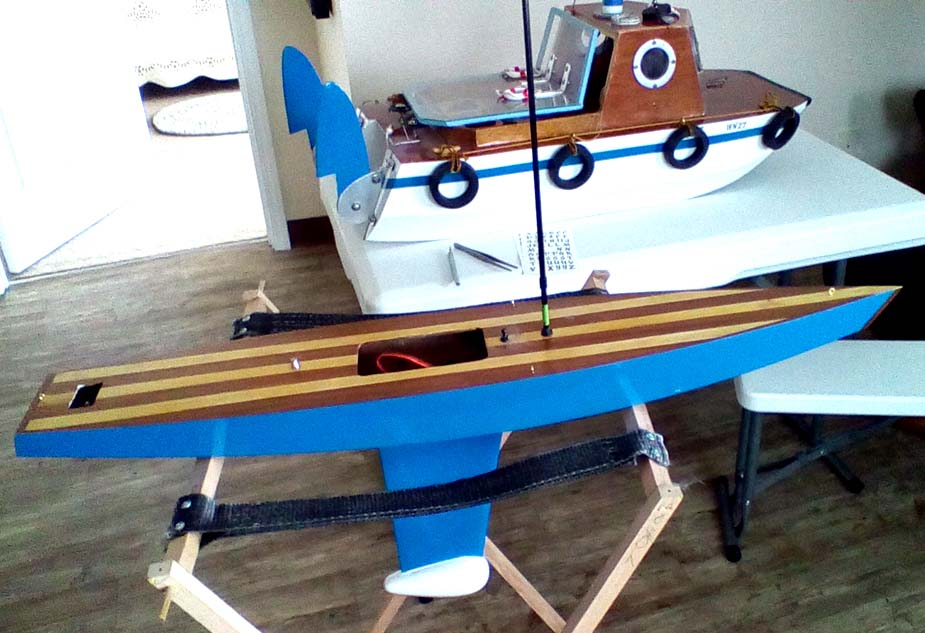 "Will,
Thank you much for the 7" nylon tube that I lost for one of our boats. If you remember Patti and sailed with you in November at the Seattle wooden boat club, you were our mentor, we had fun and plan on going back over there to sail. Anyway thanks much and here is our 2 boats that are close to being done.
Randy Strawn"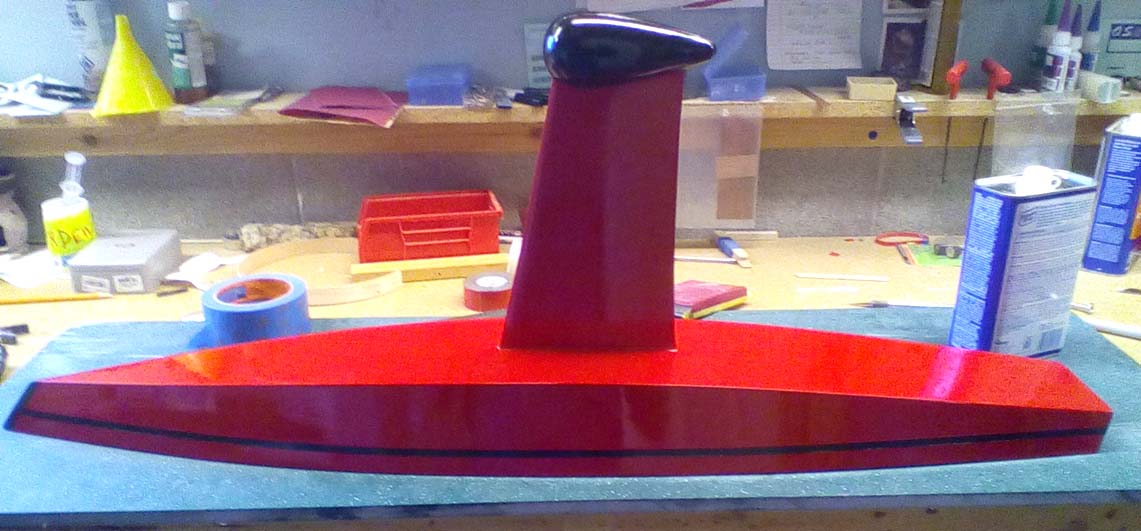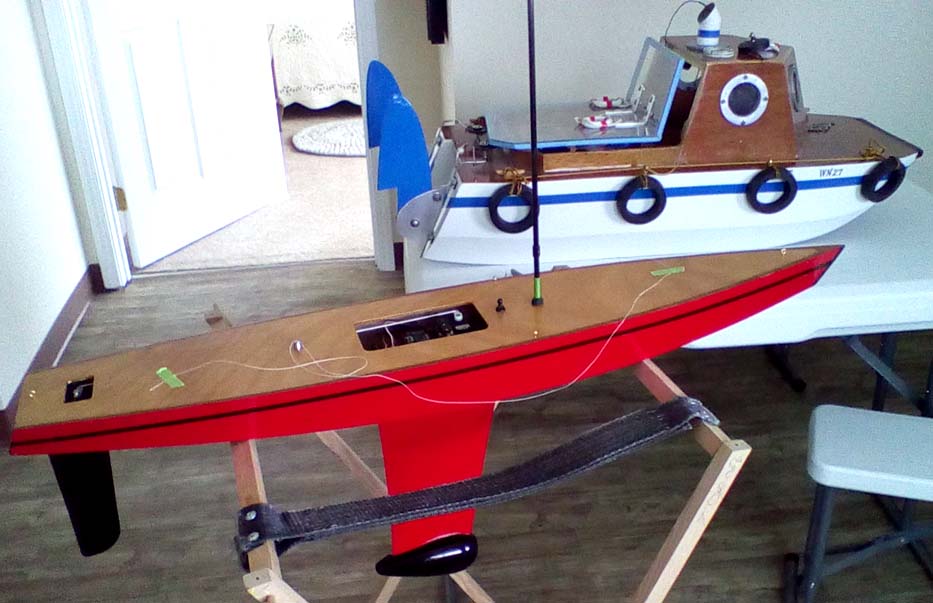 [More Great Owners' Pictures | T37 Pictures from the Port Townsend Wooden Boat Festival | Owners' Pictures Pages 1-7 | More Fun Pictures | T37 Radio Control | Desolation Sound | Excellent Sailing Performance | T Class Racing Sloop | T15 Racing Sloop | T12 Cruiser | Home | Order Form]