[More Great Owners' Pictures | T37 Pictures from the Port Townsend Wooden Boat Festival | Owners' Pictures Pages 1-7 | More Fun Pictures | T37 Radio Control | Desolation Sound | Excellent Sailing Performance | T Class Racing Sloop | T15 Racing Sloop | T12 Cruiser | Home | Order Form]
Sailing the New Kayak and T-37s!
Look! Just over 14-1/2 pounds! Kamalani had never been in a kayak before and really enjoyed paddling. This is also an ideal boat for my size. I love paddling it because it is so fast and easy to paddle. Maybe these pictures don't exactly belong in the Owner's Pictures pages, but I am, after all, the owner of this kayak and it is my personal boat and I love paddling it. This is our newest product and just now available. Its remarkable light weight comes from a combination of western red cedar, okume marine plywood, carbon fiber uni-directional ribbons and tubes, and kevlar, engineered to produce a super light boat that is strong and fun to paddle. Check out our building videos on YouTube by searching for Tippecanoe Boats. Kamalani's mother sent us these wonderful pictures from the Tacoma Waterfront Festival, Tacoma, Washington, where we had a booth. Thanks Kamalani. And thanks for the pictures!
Will
Yes, she is actually holding the boat with just a few fingertips!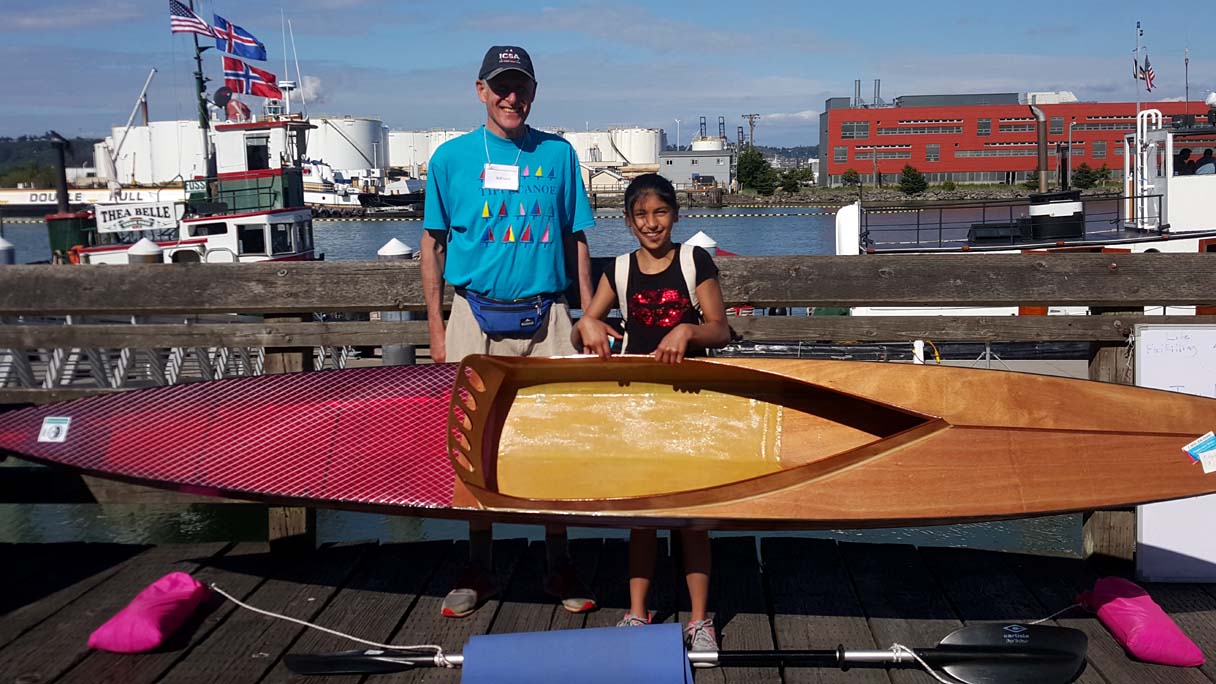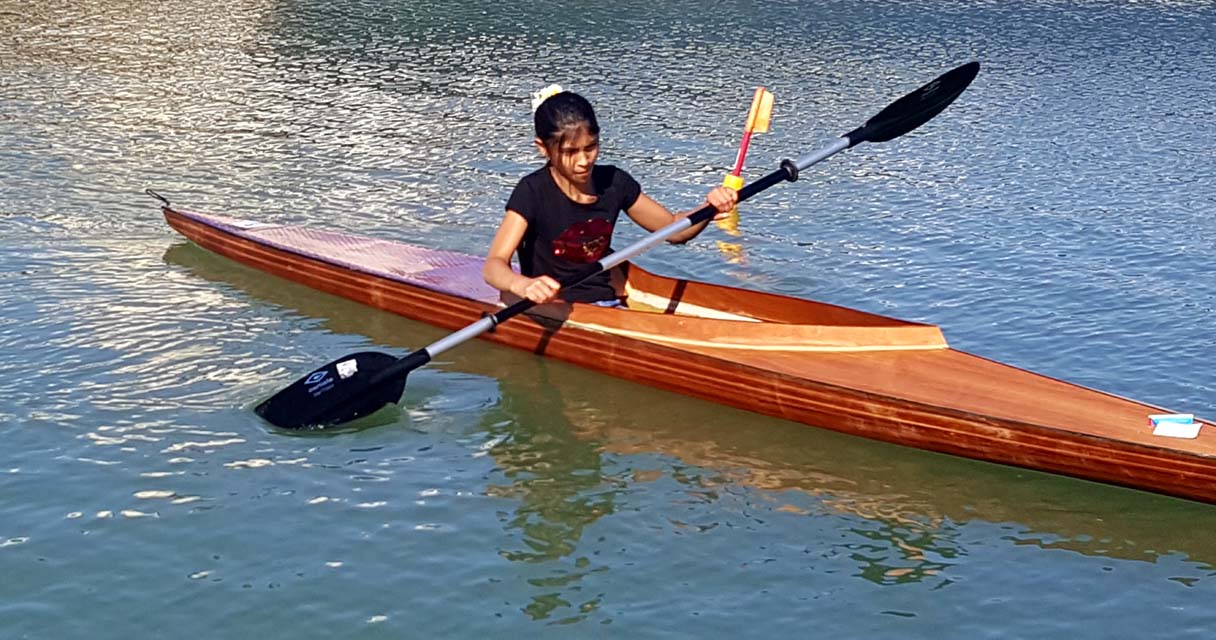 "Thanks so much for allowing Kamalani to experience sailing and kayaking. She enjoyed it so much!!"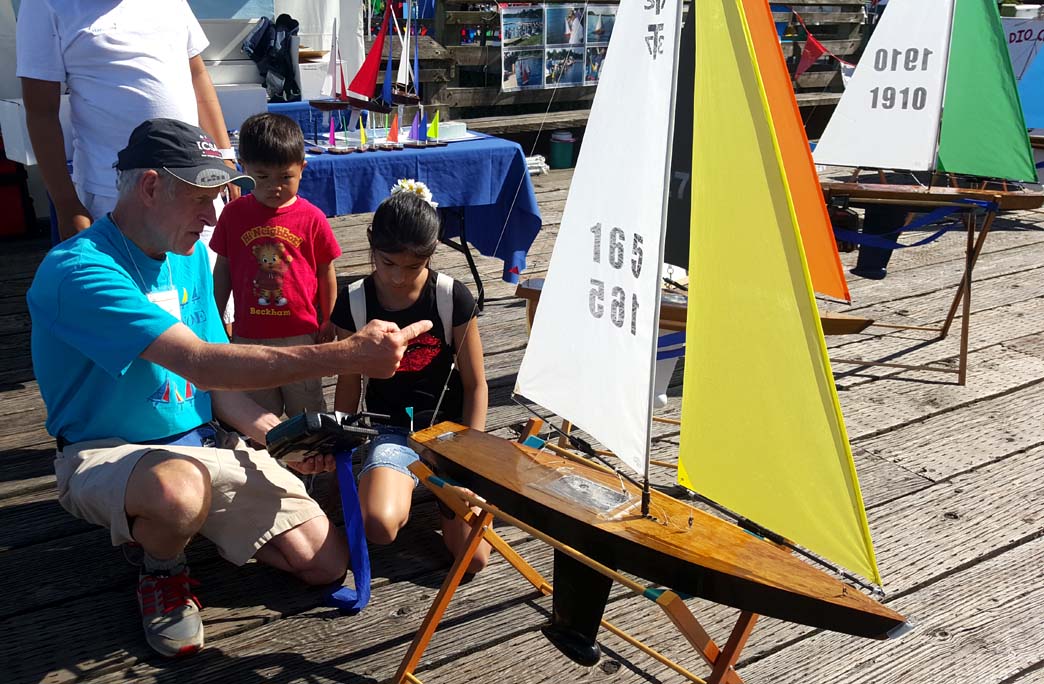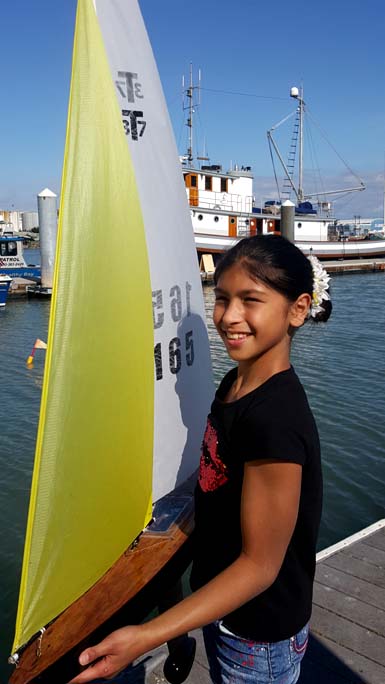 The Gentleman Pensioner T-37!
"Hi Will! Just wanted to drop a note and share some pix of my T-37, The Gentleman Pensioner. I look forward to racing it soon with my friends at SYC. Thanks for putting together a great kit! Best wishes, Bob Brown - Parade Director - Seattle Yacht Club"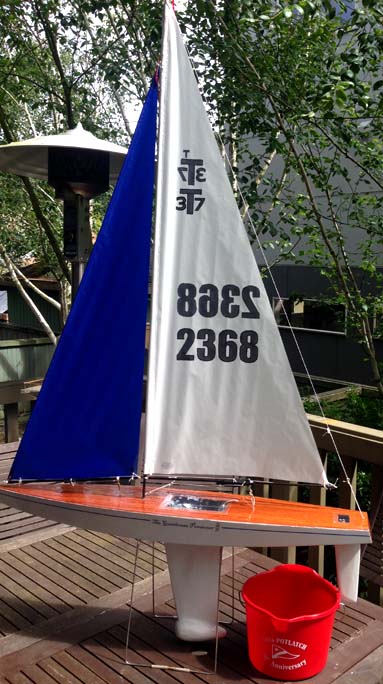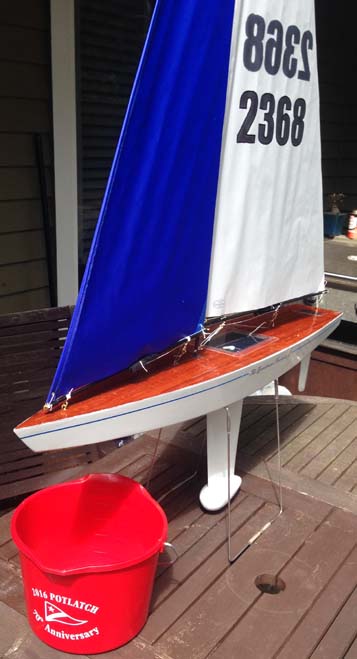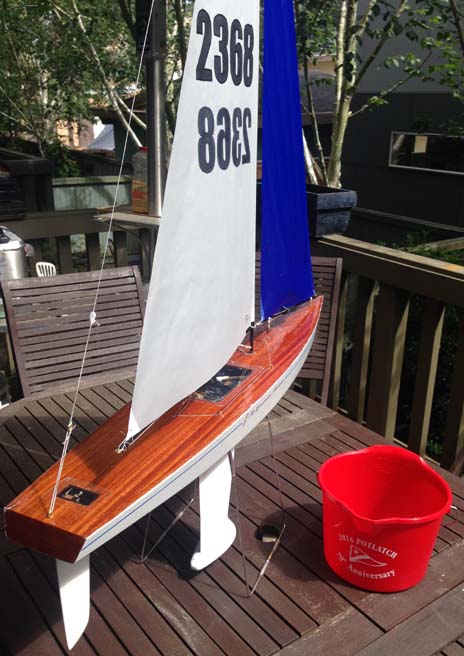 T-5 and T-10 Training Aides for Sailing Class!
We have many sailing instructors who use our model boats to demonstrate the principles of how sailboats work. I have taught sailing for many years in a number of different sailing schools including running a program at the Rehoboth Bay Sailing Association, the Boston Sailing Center, and Hurricane Island Outward Bound Sailing School. I have taught celestial navigation and coastal navigation as well. One of my observations after all of these years of teaching sailing is that there is no better way to learn than with model boats. Even the youngest sailors after a few minutes controlling a T-37 have the boat sailing really well. It makes it so easy to learn the principles of sailing and what makes the boat go fast when you can watch the boat from an outside perspective. Once a skipper understands what is making the boat sail well, all of the same concepts apply when onboard a big boat.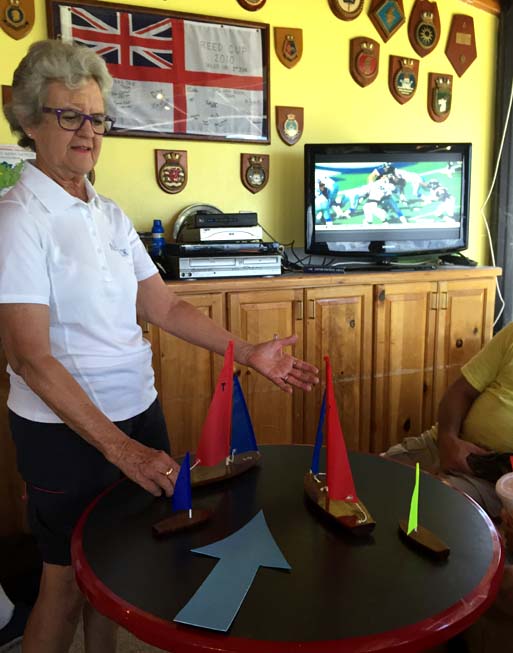 "Training aides for sailing class. Love 'em. Cecilia Bonham"
Excellent T-65 Build! Hull #17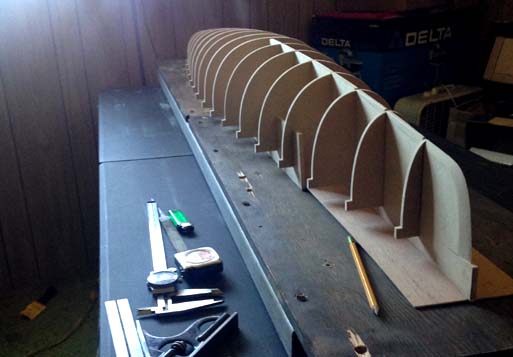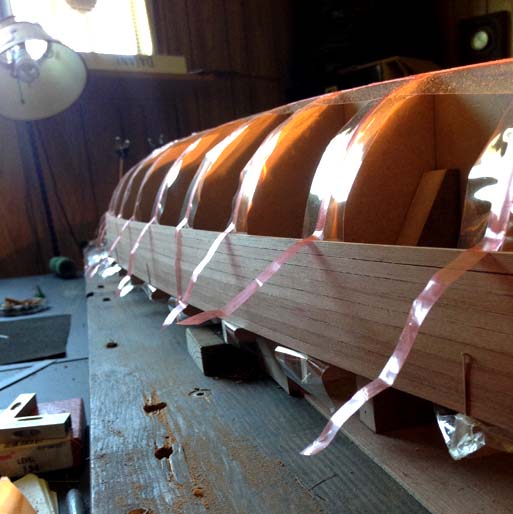 T-37 in the pool!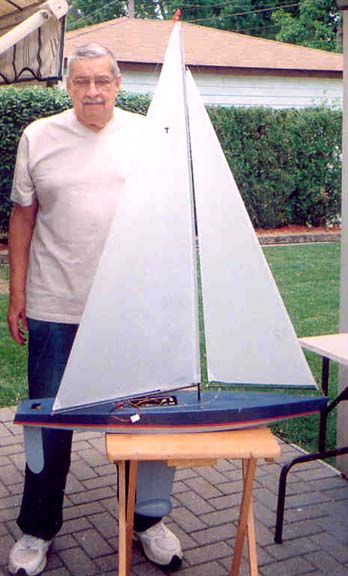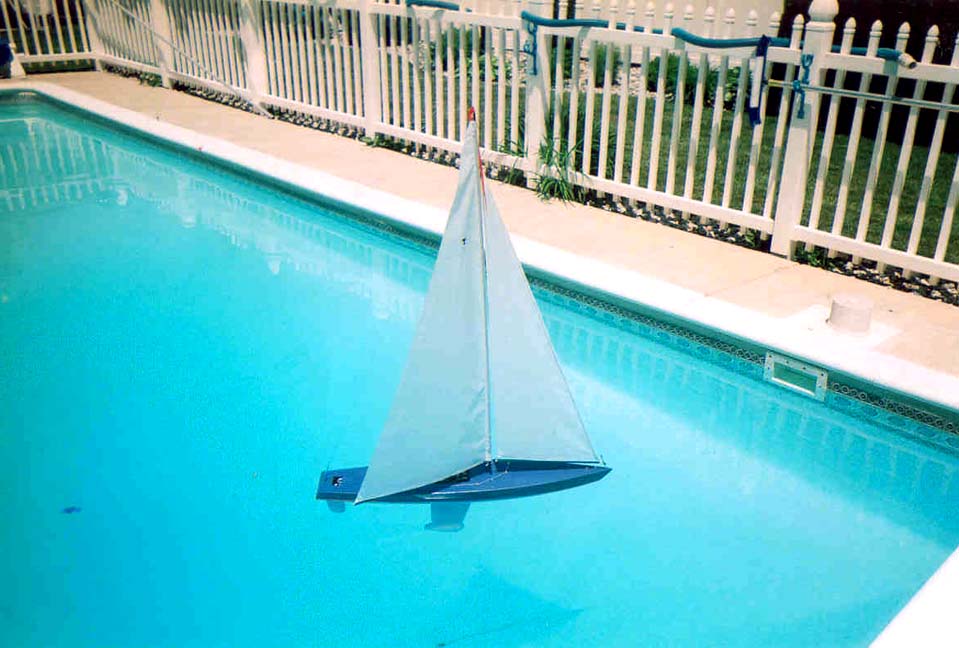 T-47 Schooner Pandora from Adelaide, Australia!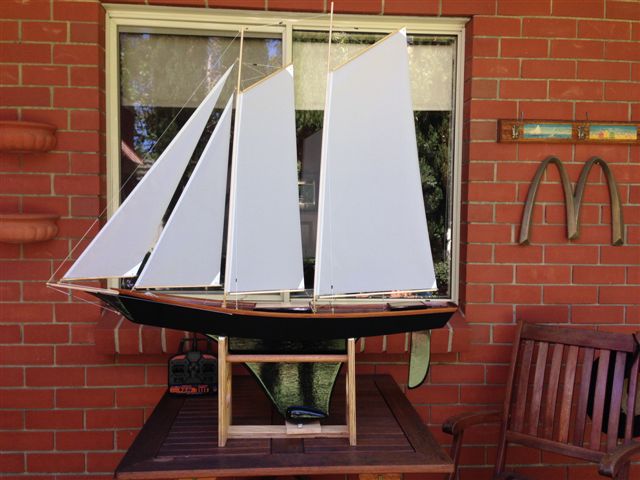 Andrew Kohler's majestic T-47 Schooner, "Pandora", is ready to sail the high seas!
Andrew has added numerous custom details with the planked deck and cabins. Nice job, Andrew!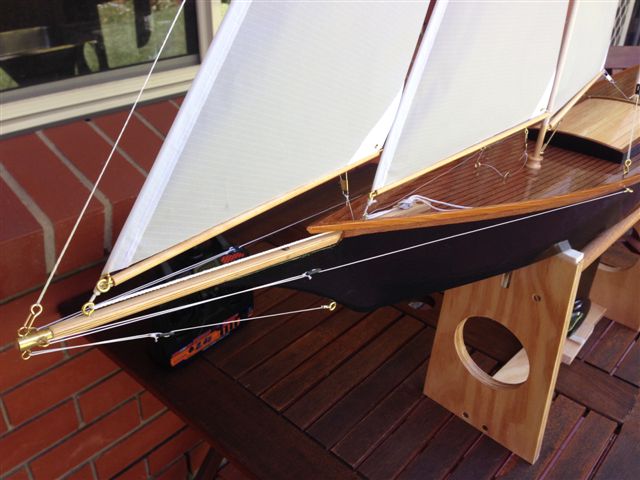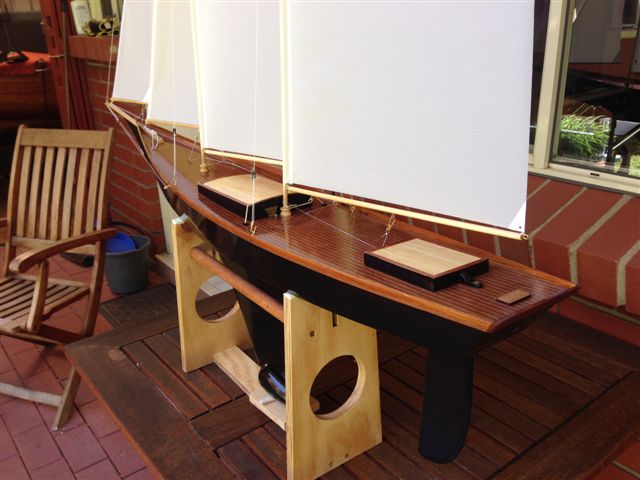 "Hi Will, She's finished! And what a fine looking ship she is too. Only completed on Sunday, so will have launch this weekend coming, and upload a movie, all going well. Great kit, and a lot of fun putting together. Many thanks, and kindest regards, Andrew"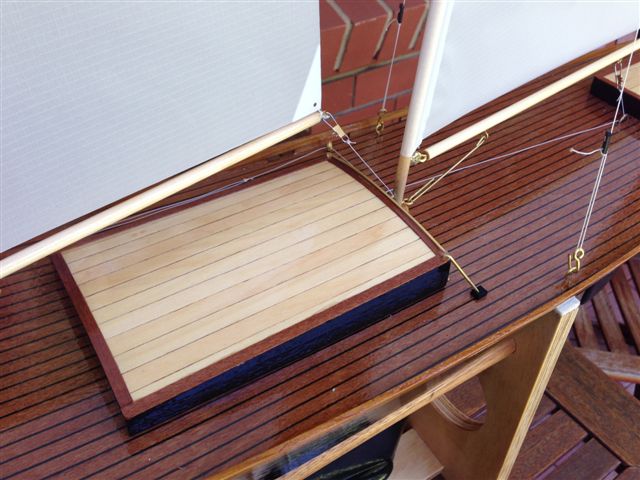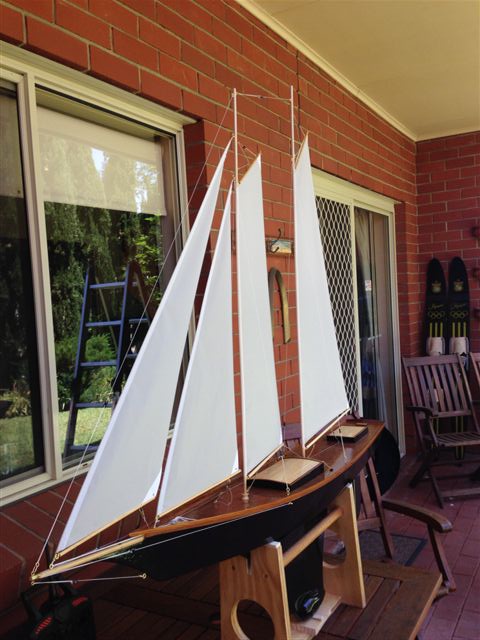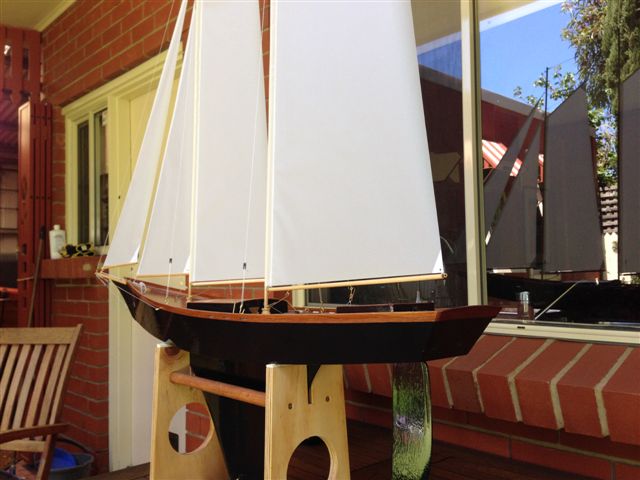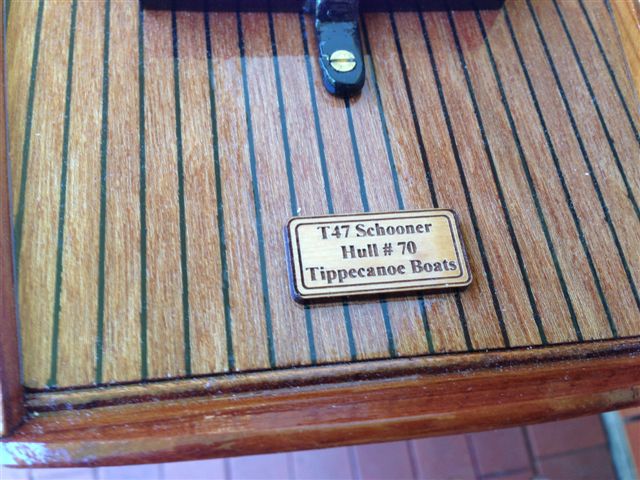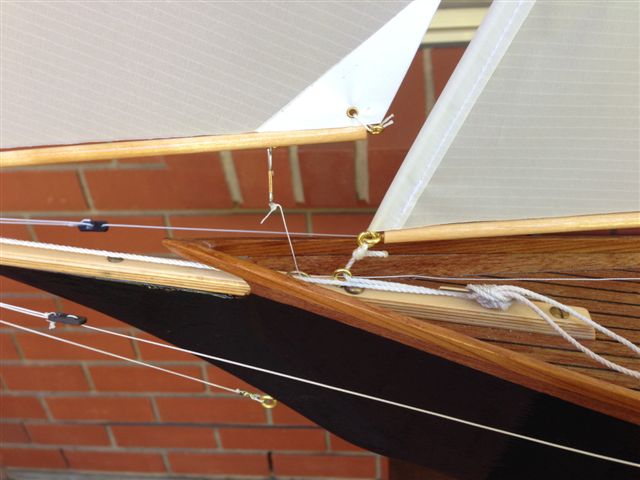 [More Great Owners' Pictures | T37 Pictures from the Port Townsend Wooden Boat Festival | Owners' Pictures Pages 1-7 | More Fun Pictures | T37 Radio Control | Desolation Sound | Excellent Sailing Performance | T Class Racing Sloop | T15 Racing Sloop | T12 Cruiser | Home | Order Form]