[More Great Owners' Pictures | T37 Pictures from the Port Townsend Wooden Boat Festival | Owners' Pictures Pages 1-7 | More Fun Pictures | T37 Radio Control | Desolation Sound | Excellent Sailing Performance | T Class Racing Sloop | T15 Racing Sloop | T12 Cruiser | Home | Order Form]
T12 in Edison, New Jersey
What a great way to start a youngster off in life! Life can be full of awe and wonder!
"Here are two photos of my grandson, William (age 3), taken in August 2017, at the Central Park, NYC Kerbs Boat House and adjacent boat pond. When he's not dreaming of bigger and better sailboats, William sails his Tippecanoe T12 sailboat untethered across this pond, much to the surprise of the staff. His T12 always returns to port (somewhere along the shoreline) and frequently out sails the remote-controlled sailboats on the pond. Thank you for producing such a versatile sailboat for junior mariners! - Bill"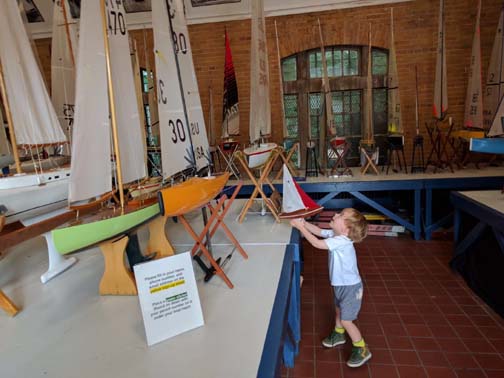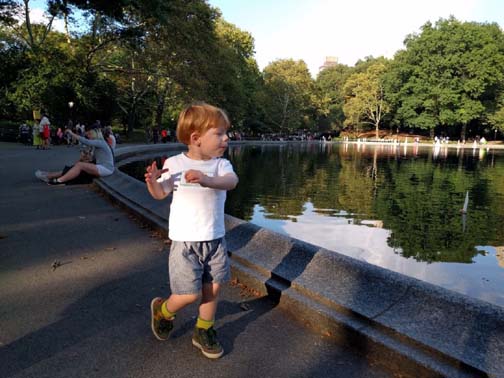 T37s in Middleburg, Florida
One T37 is great, two are even better!
"Both sister ships sailed extremely well together at Losco Lake located in Jacksonville, Florida. Both owners are members of the North Florida ORCAS, which stands for Organized Radio Control Association of Shipwrights. We sail at least once a month as a club and during the summers usually sail at least 2 times a month not including several community and special events we do annually. - Bill"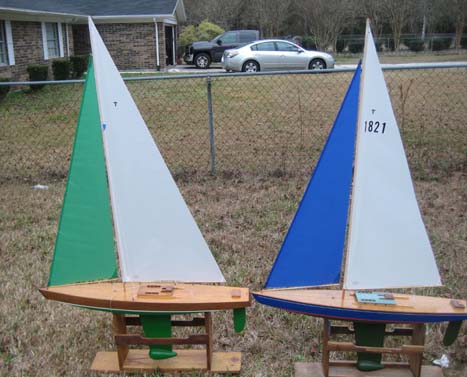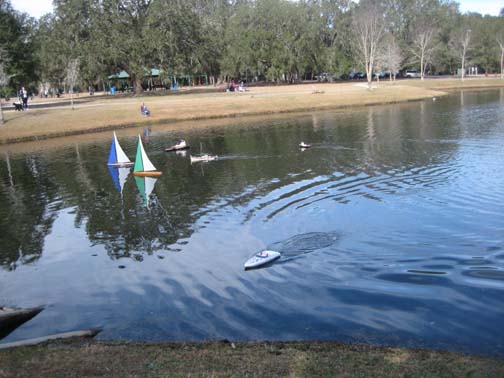 T37 in Australia
In today's world, the experience of building something beautiful is less common. To be able to build something beautiful is wonderfully fulfilling! We hear this from builders around the world! Thank you Stephen, for such a splendid picture of your beautiful workmanship!
"Thank you for allowing me to share the excitement of building the T37! The YouTube videos were outstanding! - Stephen"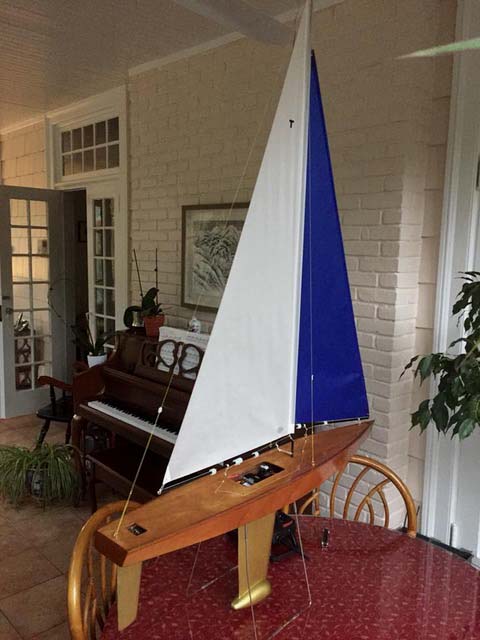 T37 in Lynwood, Washington
Dick saved this T37 from his neighbor's trash can! He spruced up the T37 and recently had her maiden voyage. It's amazing how much some love and care can really bring a boat back to life. Now this boat can continue bringing joy to people for years and years!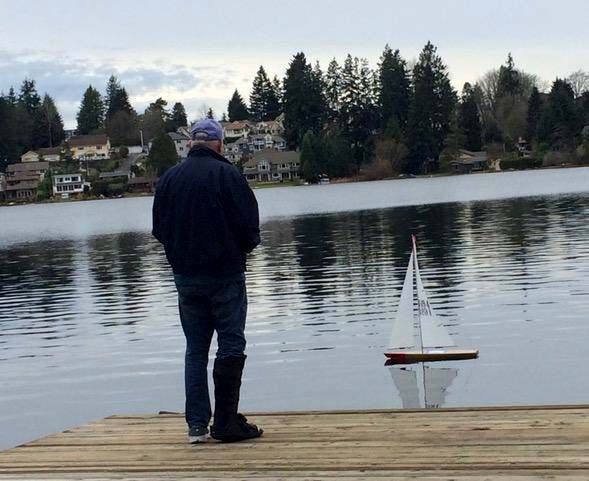 T37s in Sri Lanka - Update
"Making progess! The Sri Lankan team has done a great job so far! Now to teach them how to sail. - Bob"
We are so happy to receive an update from the employees at North Sails! What a fun experience to watch their progress! We can't wait to see if they add any special designs to the sails because sails are their specialty.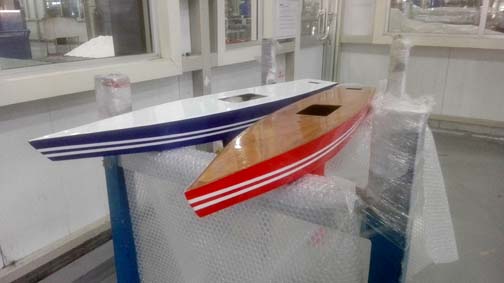 T18 in Arnold, Missouri
"I wanted to thank you for the considerate customer service and special handling on my latest purchase. The green sails look great! Five coats of varnish and the picture doesn't do it justice, but it turned out perfect! Attached is a picture of the rest of the fleet. Only 4 (as of now) more to go before all of the grandkids have one. - Bill"
Look at those superb color choices and wonderful varnishing! We can't wait to see the entire fleet once you have it all together for the grandkids, Bill. What a wonderful gift to give your family - time spent together learning to sail the T18s and having fun together.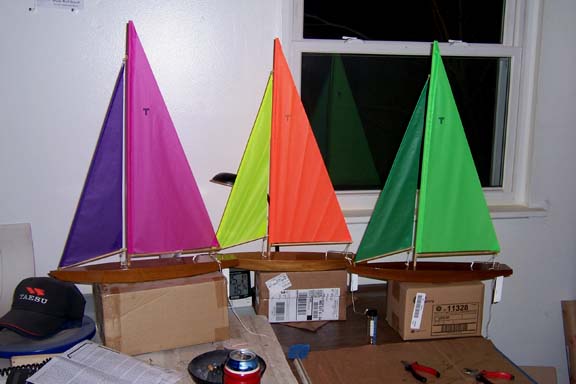 T12 in Kailua, Hawaii
"I've been sailing my T12 in my pool for a couple of weeks now and want to let you know that it has to be 'the choice' for a pool boat. Close hauled it sails back and forth across the pool majestically with the shifting wind. It's just lovely and endlessly fascinating! I enjoyed building it (which wasn't very hard, of course) and it's given me hours of pleasure since. I'm going to take on the T27 next, which is going to be a bit large for my 33' x 14' pool. I'll be sailing that either in the sheltered ocean here in Kailua, or an adjacent pond. - Jonathan"
You said it, Jonathan! Watching model boats sail effortlessly around a pool or pond is simply mesmerizing! It's as if you are transported to a different world that is calm and care-free. Glad you enjoyed the built - your T12 and video are beautiful!
T37 in Hot Springs Village, Arkansas
"I had a wonderful time building the T37. It is somewhat sad to say that the building phase is done, and she is ready to get wet. You will see in the pictures that I have taken some liberty to personalize my 'Erget'. I will make a glass case to house and display the T37 in my office. I would love to build more of your great kits. - Lee"
The personalization details on this boat are beautiful - especially the bird painting near the bow! You are clearly an artist with many different skills and abilities, Lee. Fantastic work!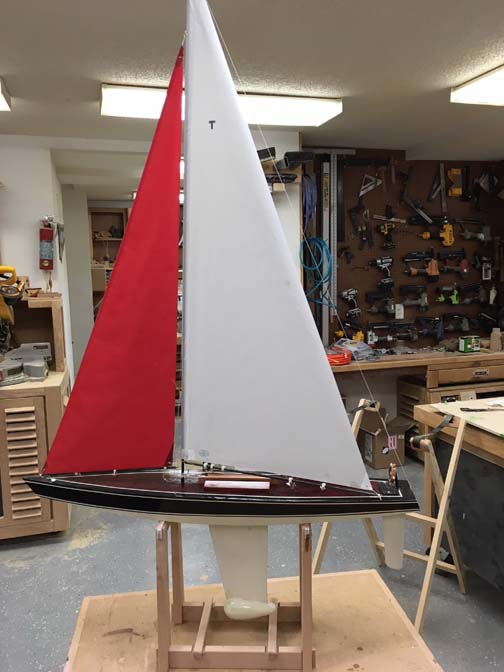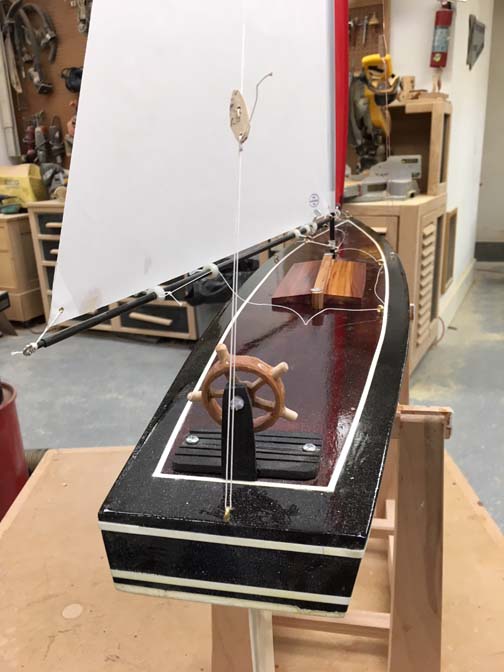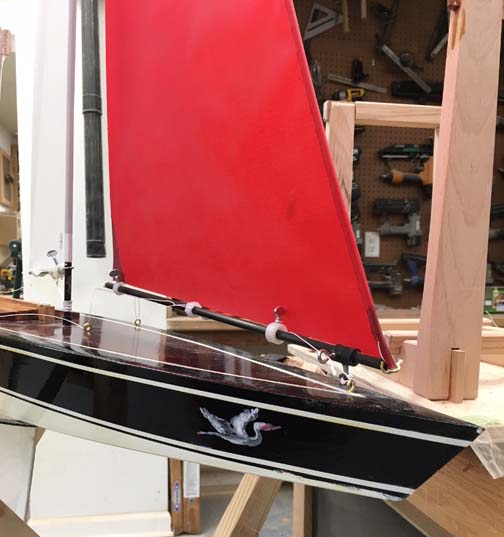 T50 in Hawi, Hawaii
"Here are a few glimpses of the latest fleet addition to Kohala Model Boat Club - the Tippecanoe T50, hull #199. Gotta love Captain's Varnish! She will be christened 'AURORA'. - Carl"
Yet another beautifully crafted rc sailboat! We can just hear the "Ooohs" and "Ahhhs" when you bring it out to sail. Superb job, Carl!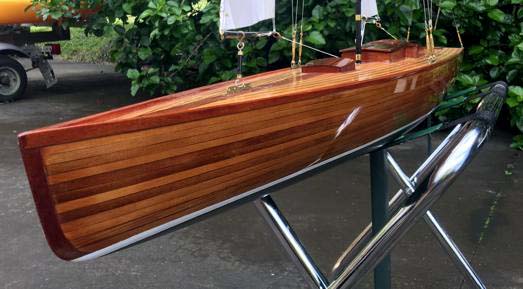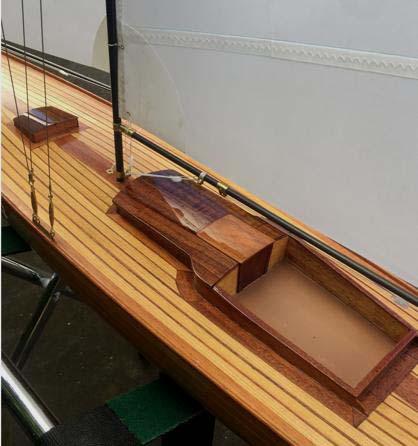 T37 in Medina, Ohio
"Just wanted to send along a pic of our finished boat! This was finished and had its maiden voyage on June 20, 2014. She is such a nice sailing ship! - Jim"
What a lovely T37 with classic colors and matching paint job on the hull. You've clearly had multiple years of enjoyment thus far!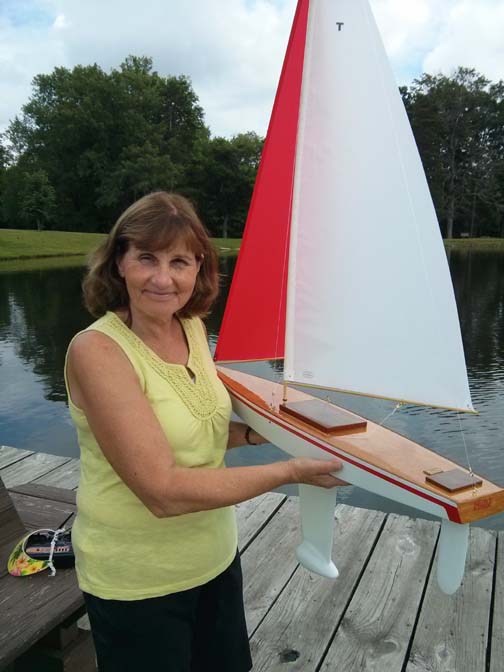 T37 in Somerset, United Kingdom
"I had a great deal of pleasure in building the T37 and learned quite a lot about myself and a great deal about epoxy! I built an 1/8th inch step around the openings, with the mylar cover semi-permanently attached with clear tape. Sliding hatch was sacrified in favour of Dan Barney's Post. A really superb craft. - John"
It's such a treasure to not only learn a new craft, but learn a great deal about oneself through the process. Truly a unique and positive experience! Wonderful job, John!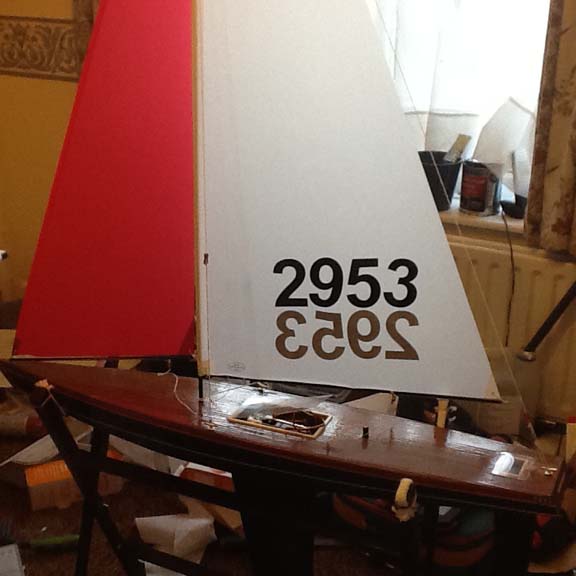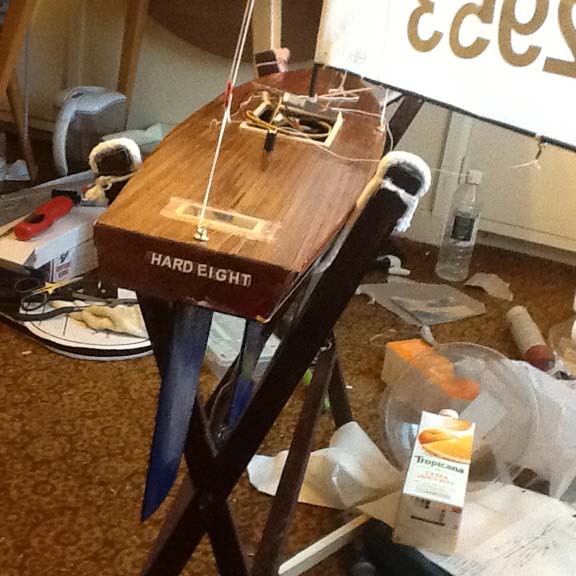 T37 in Santa Monica, California
"I'm the RC guy at Evett's Model Shop, a small hobby store in Santa Monica, CA. I just finished a T37 build for a customer of ours, hull number 2634. I had a great time building and finishing her, and the passion you guys at Tippecanoe have for what you do is really obvious, awesome, and appreciated. The was my first full RC sailboat build, and I really learned a lot. The materials provided were excellent, and I'd definitely use them again. The instructions are concise and the electronics and their setup seem to work very well. Intereseting sidebar - the boat was built as a Christmas present for Jimmy Buffett, and is made to resemble a boat of his. Take Care! - Luke O."
Thank you for the compliments, Luke! How exciting for you to have your first RC sailboat build. We can just picture Jimmy's excitement when he received the boat. We are imagining how much fun he is having sailing his RC boat off of his full size sailboat in the Florida Keys!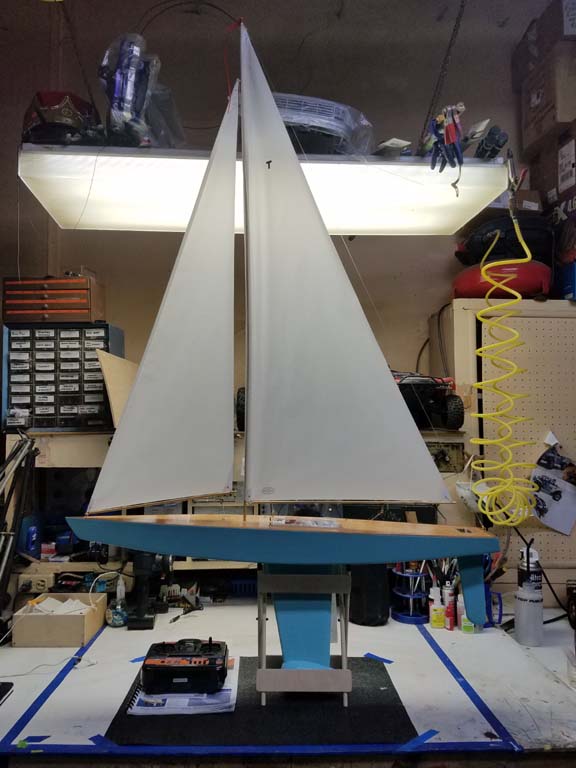 T27s at Tippecanoe!
Ron Knight, the Commodore of the Pacific Northwest Model Yacht Club, occasionally comes to Tippecanoe to help build finished boats. We love having him here and the wonderful help he gives us!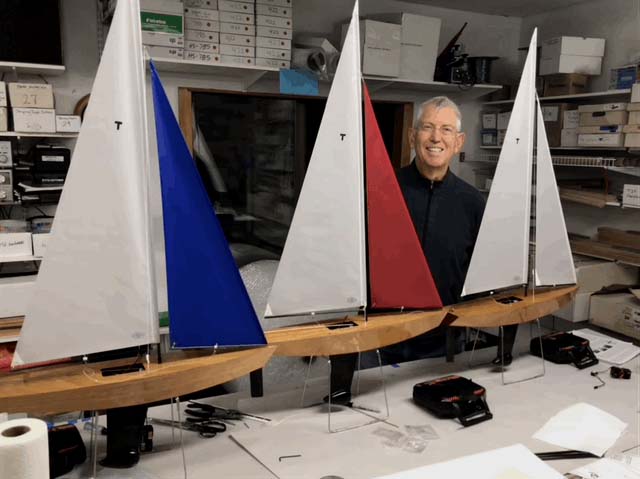 T27 in Devon, United Kingdom
"Just finished this week and ready for sea trials. Torbay Express is the name of a proprietary cocktail devised by Alan. The main 'driver' is slow gin. Torbay itself is an east facing bay on Devon's south coast reasonably sheltered from our prevailing SW winds. - Stephen"
Wow! Look at that paint job and lettering - truly a work of art!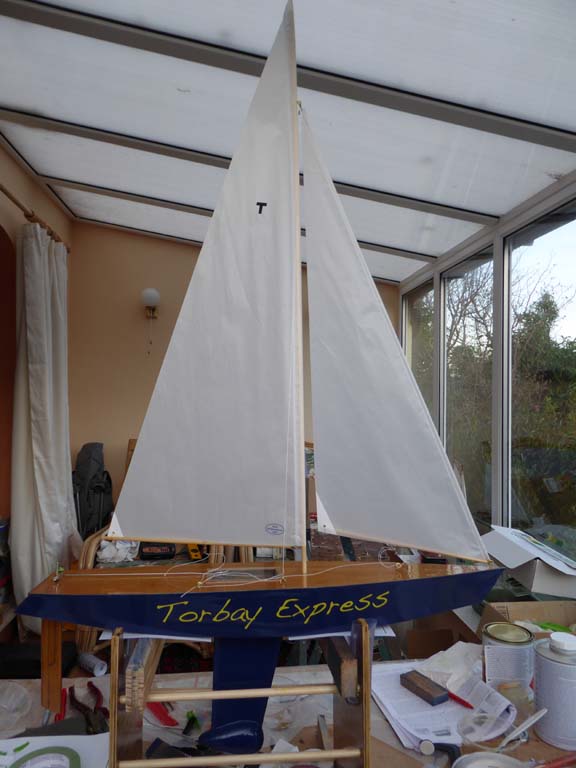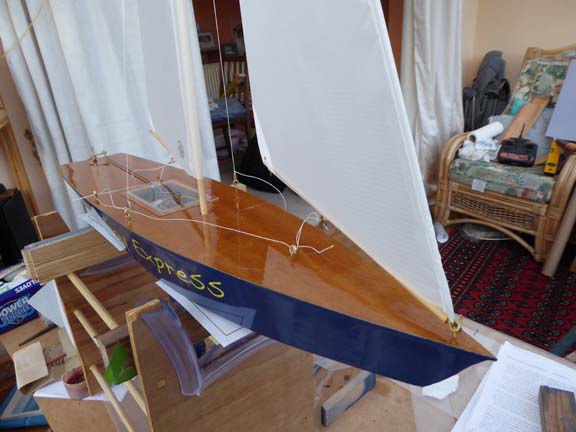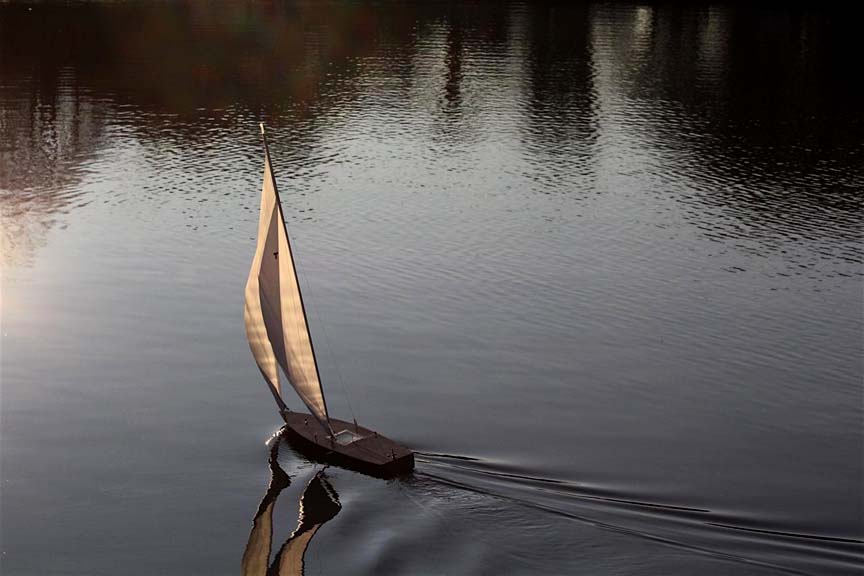 T37 in Heath, Texas
"Many thanks for all of the support during the build of my T37. This week the build completed and she had her first sail in my swimming pool! - Rich"
A wonderful setting for your first sail! The waterfall in the background makes the adventure more exciting. You did a beautiful job on this boat, Rich!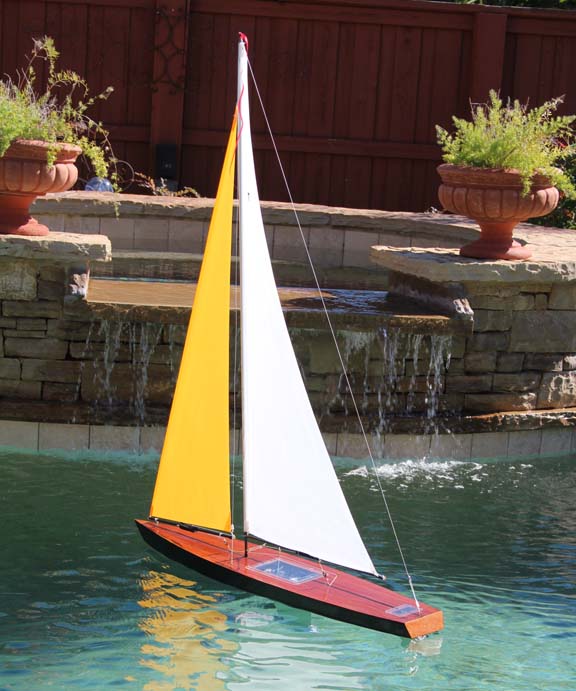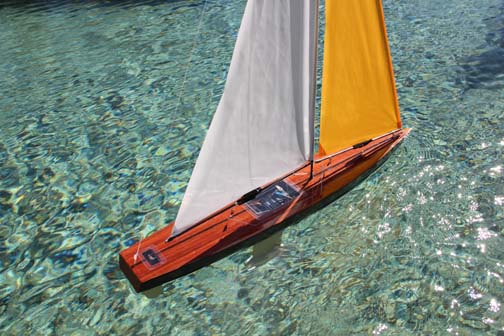 [More Great Owners' Pictures | T37 Pictures from the Port Townsend Wooden Boat Festival | Owners' Pictures Pages 1-7 | More Fun Pictures | T37 Radio Control | Desolation Sound | Excellent Sailing Performance | T Class Racing Sloop | T15 Racing Sloop | T12 Cruiser | Home | Order Form]