[More Great Owners' Pictures | T37 Pictures from the Port Townsend Wooden Boat Festival | Owners' Pictures Pages 1-7 | More Fun Pictures | T37 Radio Control | Desolation Sound | Excellent Sailing Performance | T Class Racing Sloop | T15 Racing Sloop | T12 Cruiser | Home | Order Form]
Refurbished T37
"I recently purchased hull #1876, and I refurbished it. - Steve"
Beautiful work! Great job bringing this boat back to life, Steve!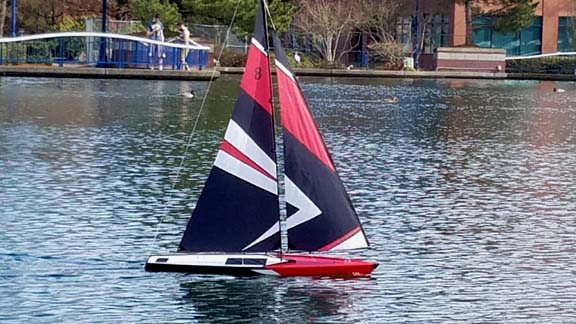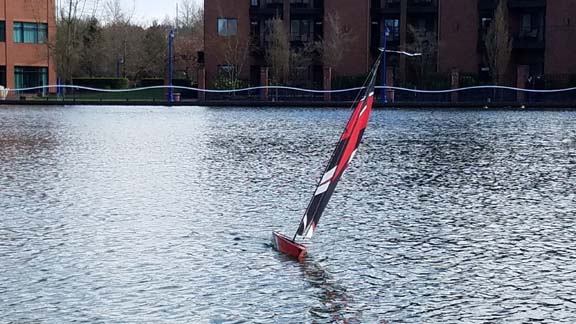 T27 in Santa Cruz, California
Anthony sent us a great picture of Tomas with his boat along with this note. It reminds us of Robin Lesh, Will's daughter, who learned much of what she knows about sailing from racing our radio control sailboats and applied all of that to high school sailing and went on to be the top woman skipper on the MIT sailing team. Now she's on the design team for the AC75 American Magic being campaigned by the New York Yacht Club for the 2021 America's Cup races!
"10 year old Tomas with his finished T27, 'Zephyr'. He's learning sail and rudder control intuitively. He applies that to the dinghies and bigger boats he sails on the ocean here in Santa Cruz, CA" - Anthony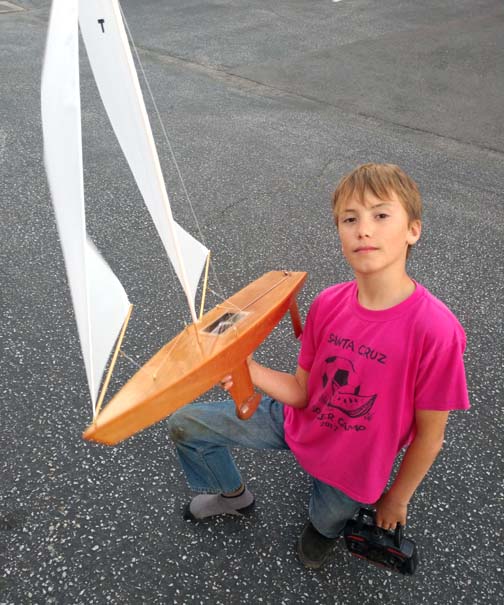 T37 in Salem, Oregon
We love getting these pictures. They show the wonderful pride that people take in the fact that they are building something beautiful and lasting! Nice job, Allan!
"I'm getting closer! - Allan"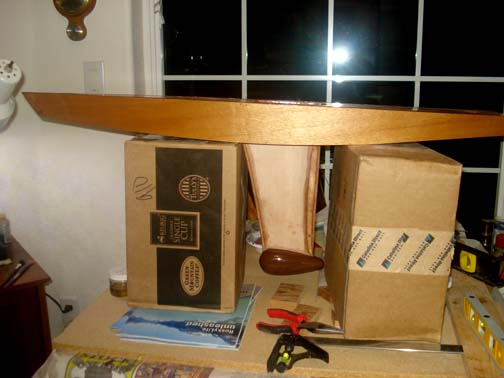 T37s in Sri Lanka - Update
"Both boats finished and ready for action! - Bob"
The employees at North Sails in Sri Lanka have completed their T37s! They've done a beautiful job customizing their sails. You may remember some of the earlier pictures that showed the progress of the boat builds. North Sails wanted a team experience for their sail makers. Through building these boats, the employees have built new friendships and a true sense of team participation. You can see the pride they have taken in their beautiful workmanship. There may have been some feeling of competition in seeing which team could build the most beautiful boat! How could anybody decide between these two boats, they are both so gorgeous!
The next exciting stage will be the two teams racing their T37s against each other! What a great project and we are certainly complimented that the foremost sailmakers of the world, North Sails, chose our T37s for this exciting enterprise! Well done!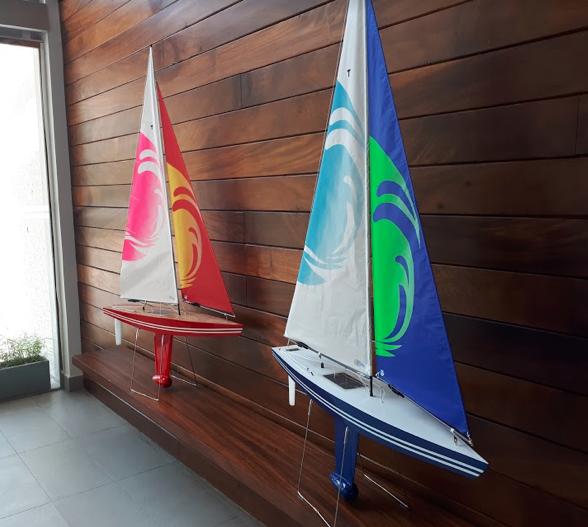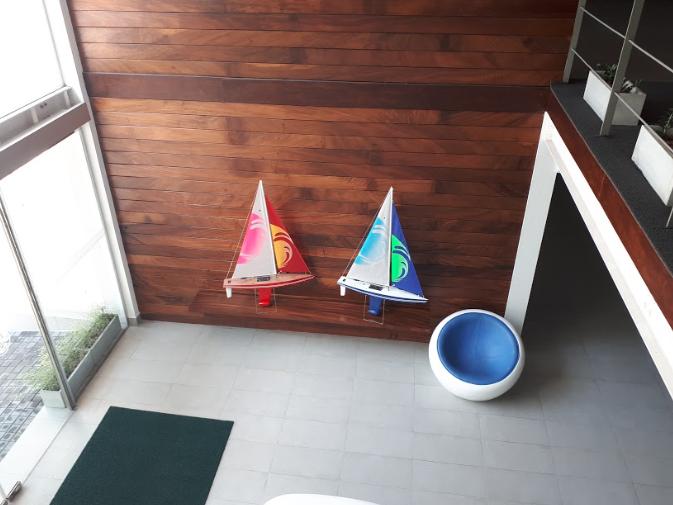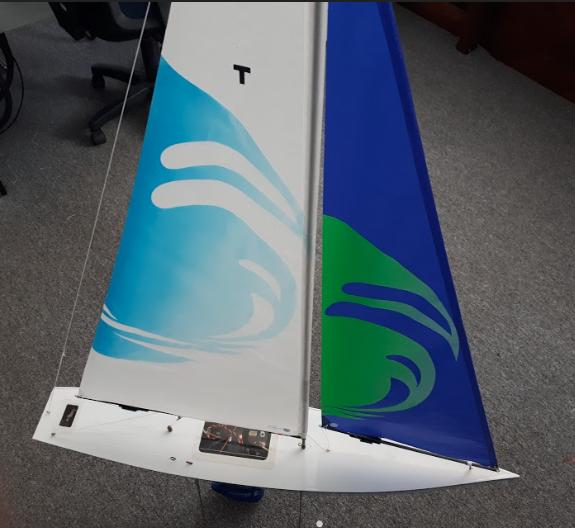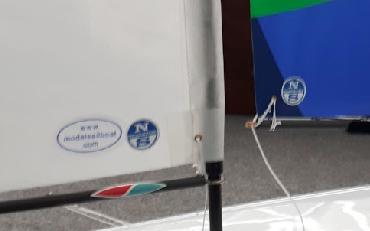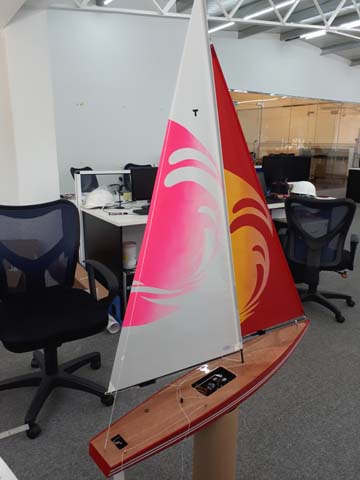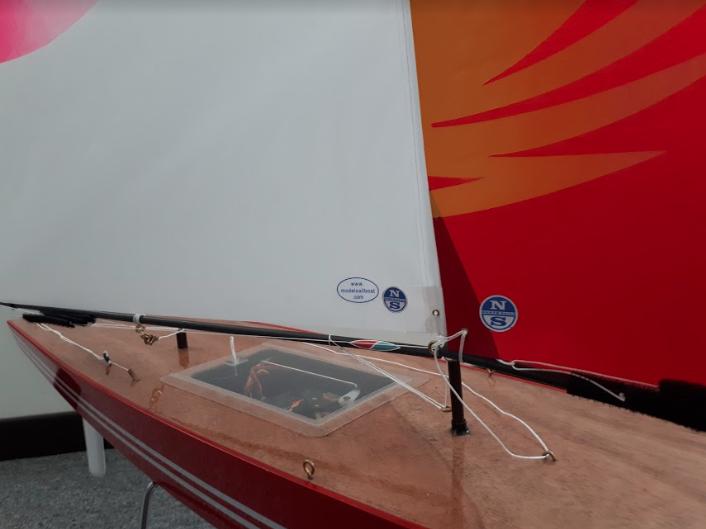 T37 in Greenville, Rhode Island
"Here is the result of a very enjoyable project. She (Mal de Mer) sails beautifully. Deck house and binnacle are just for display. Thanks for an exceedingly well thought out kit. - Cole"
One of the things we really enjoy in getting pictures are the creative details that builders add to their boats. The deck house and binnacle in Cole's pictures are great examples! Nice job, Cole!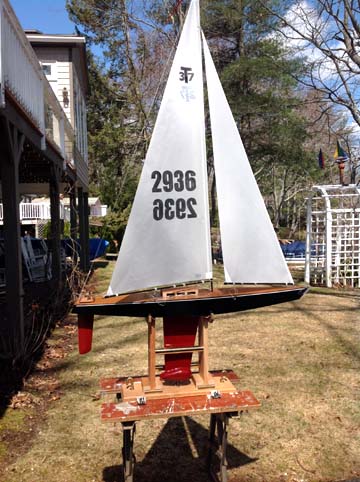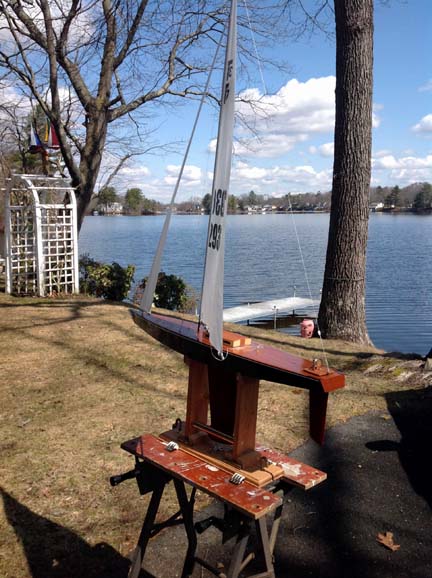 T12s and T37 in San Francisco, California
This says it all!
"My kids are having fun painting their T12 cruisers! In this day and age of video screens and plastic toys I really wanted to give our kids a toy that they could take pride in making with their own hands as well as sailing; something that they might pass along to their kids some day. We are having a great time painting them. As a side note, I am working on my T37 which I hope to also complete in time for summer sailing. I'm in the painting stage! - Brian"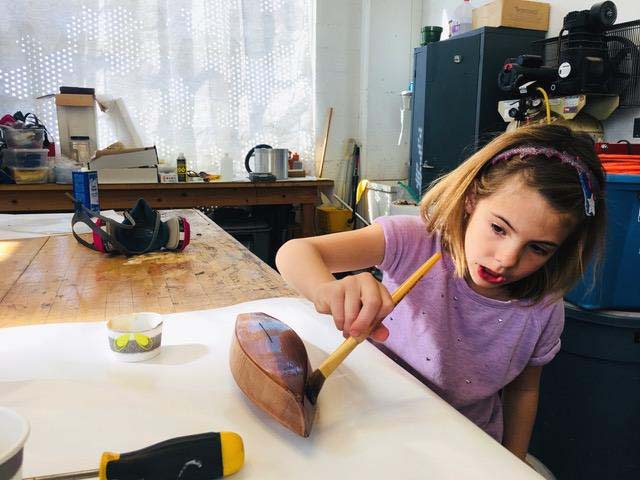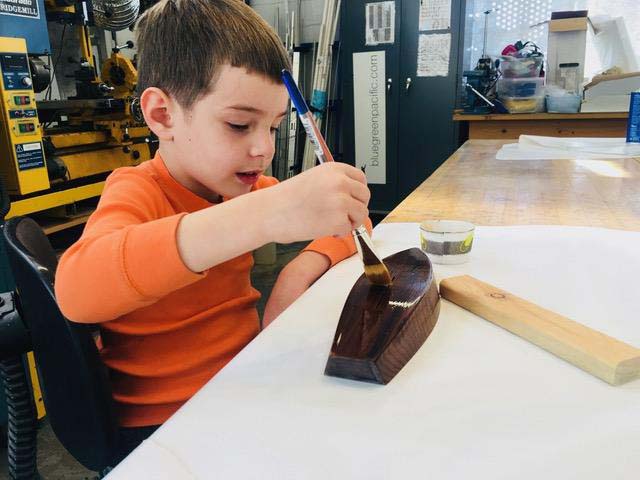 And here is Brian's T37 in the painting stage! This looks like a truly professional job!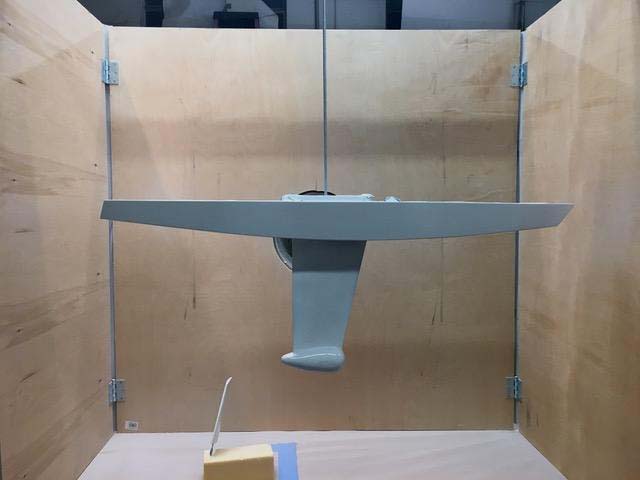 T27 in Port Townsend, Washington
Waiting for Spring!
"We are going to put it in the water as soon as the weather clears... We had a great time making it, thanks for all your help! - John"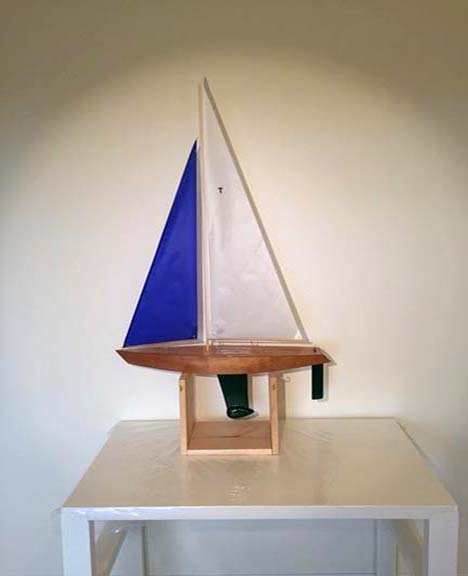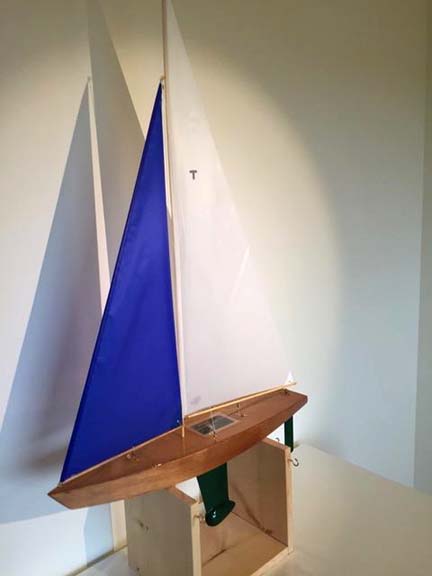 Custom Yacht in Hawi, Hawaii
The beautiful "Audax" is a 72-inch boat that was created as a collaboration between Tippecanoe Boats and Carl Miller. The original full-size Audax (34-foot), was built by Carl's father in Branford, Connecticut in 1952, and sailed on the Chesapeake after 1972.
Here is the original Audax sailing on the Chesapeake.
And here is Carl's 1/5th scale re-creation of the boat he grew up with sailing! What a fun project! Will is in the water filming while Carl controls his boat. You can actually see the boat sailing in Hawaiian Adventure Tippecanoe. Here's the link: https://www.youtube.com/watch?v=bM0tKLlxthk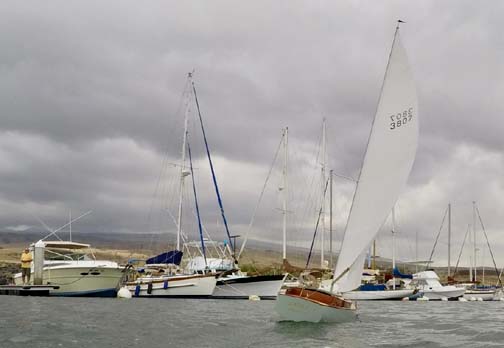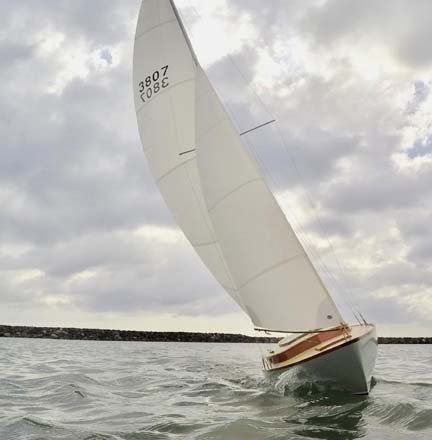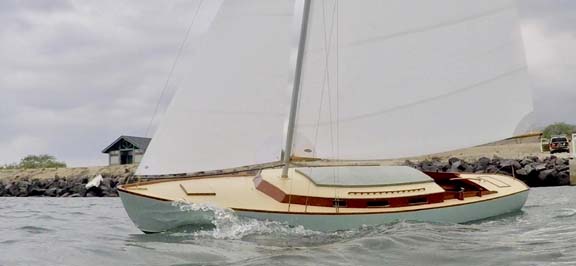 T50MOD in Harrison Township, Michigan
Wow, look at that perfect planking! John, you must really feel proud to have done such a beautiful job on this project!
"Thought I would send you a pic of hull #197 planked up. I have to say, I have been into RC planes for over 25 years and built over 30 kits and also planes from scratch, and your kit is awesome. I built two boats before and I really like the way your boat planks up. The instruction set is tops - very well written with concise detailed instructions. I also like the fact that it's a complete kit with everything that you need in the box. I hope to have the boat done this spring to sail on the legendary Belle Isle Yacht Pond in Belle Isle on the Detroit river. They have a long history of yacht racing. - John"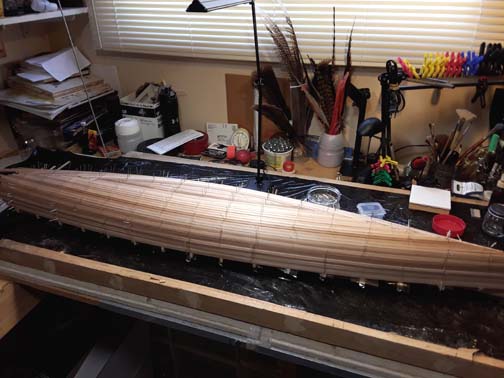 T37 in Lorne, Victoria, Australia
This is the experience that a boat can bring to you! There are many different experiences that a boat will fill your life with - sometimes exciting, sometimes so peaceful that it is amazing. Thanks for these almost surreal pictures of Zena cloud sailing, Tony!
"Sometimes there are just those exquisite moments when one gets to see things in a whole new way. It was a particularly calm evening, but still 'Zena' was just moving along, ghosting really, in those spectacular cloud reflections. - Tony"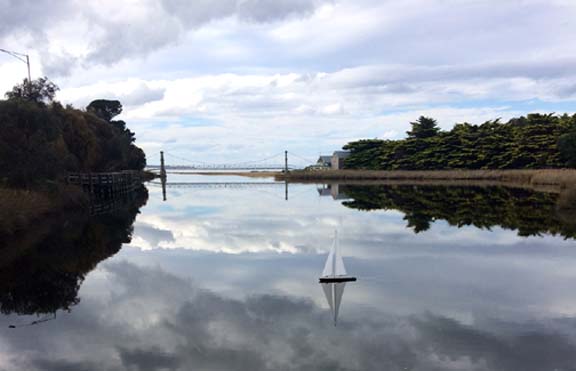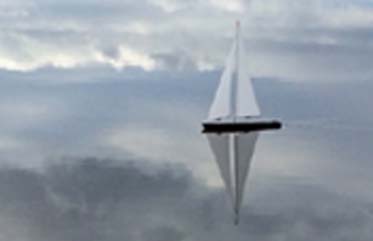 T50 Carbon Fiber Hull in Huntington Beach, California
Larry started with our ultra-light, super high tech carbon fiber and Kevlar hull for his T50 and then finished it off absolutely beautifully!
"Just wanted to show you some pictures of my T50. I splashed it last evening and it sailed very well. Fast, predictable, and it did not turn into a submarine downwind in a breeze. I am very pleased with the results. Thanks again for your help and patience. - Larry"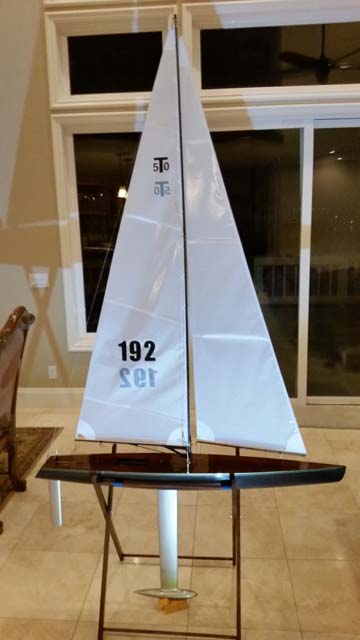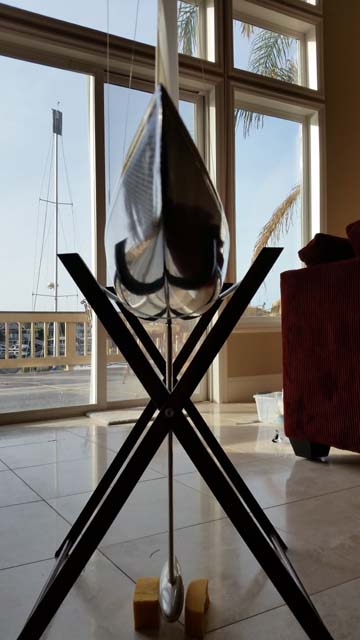 [More Great Owners' Pictures | T37 Pictures from the Port Townsend Wooden Boat Festival | Owners' Pictures Pages 1-7 | More Fun Pictures | T37 Radio Control | Desolation Sound | Excellent Sailing Performance | T Class Racing Sloop | T15 Racing Sloop | T12 Cruiser | Home | Order Form]