[T37 Radio Control | T37 Pictures from the Port Townsend Wooden Boat Festival | Owners' Pictures Pages 1-7 | More Fun Pictures |Desolation Sound | Excellent Sailing Performance | T52 Sailing | Home | Order Form]
A Beautiful Day of T37 Racing February 2 on Lake Samish in Bellingham!
photos thanks to Mimi!

13 Skippers came out to sail on Lake Padden this splendid day in early February. 13 boats is a wonderful number of boats to sail with. No crowding, but lots of competition.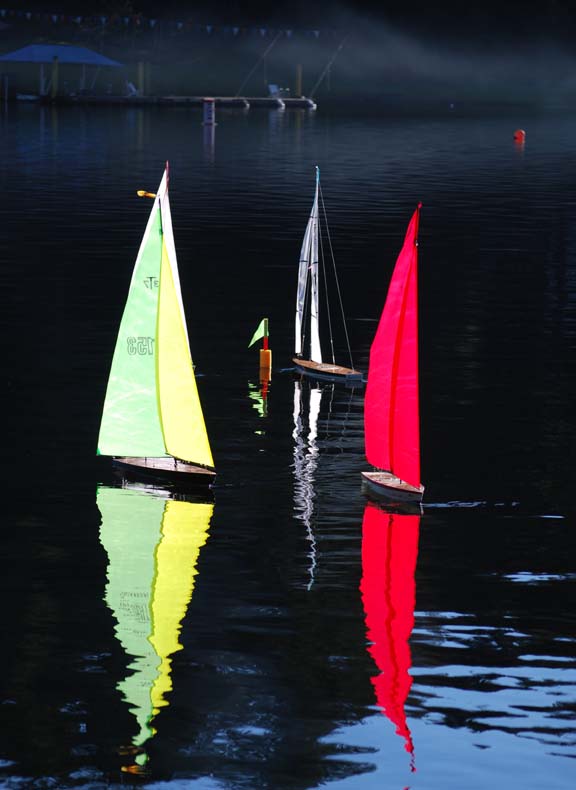 The wind at first was almost imperceptible. The T37s glide along silently. Enough wind for a short course. Morning mist still hangs over the water.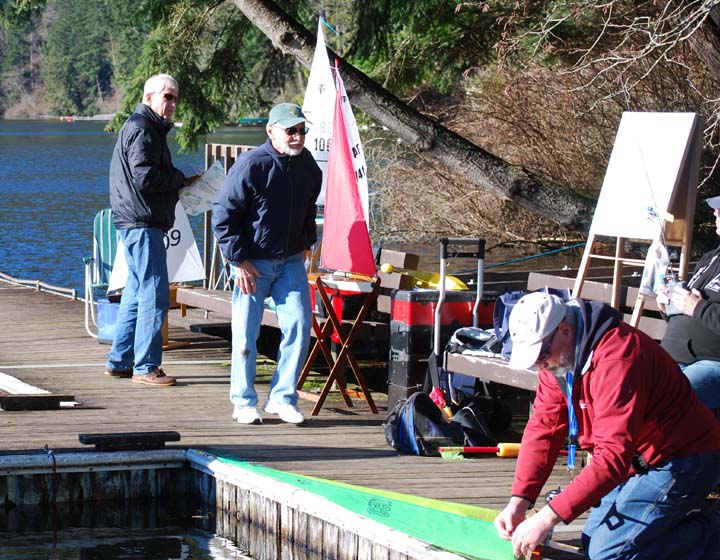 Dwayne does some final tuning on his T37 before launching. Murray, center, Ron behind Murray.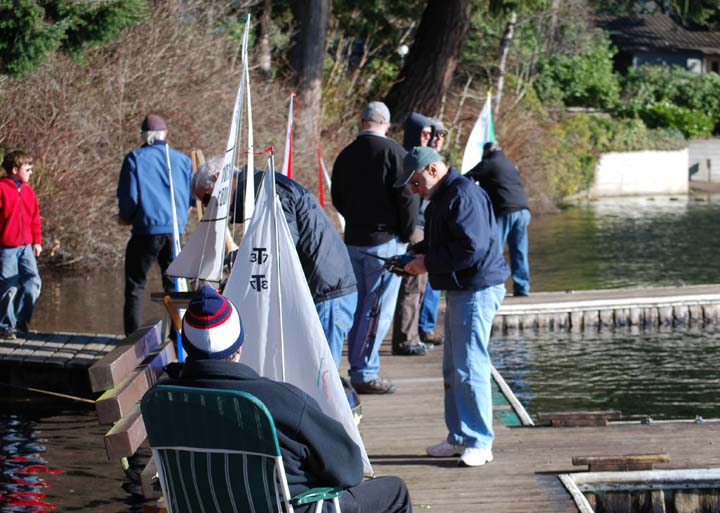 Getting ready for the first race. Murray tests his controls.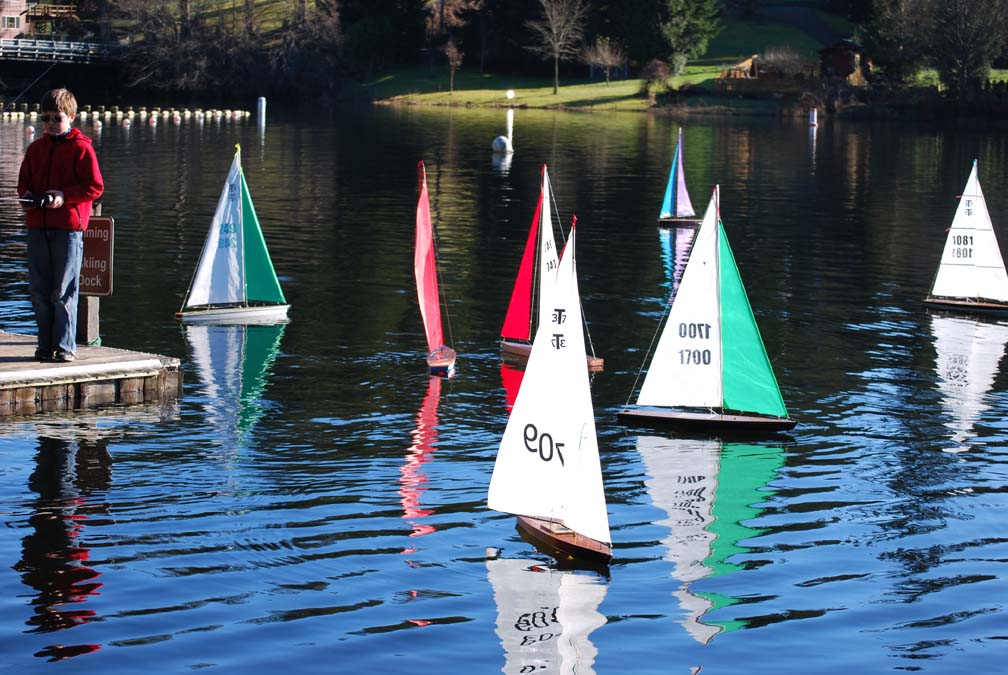 The wind is still light, but the boats are moving and we can race. The key is not to do anything so sudden that it will kill your boat speed. Keep the momentum going. I can't recall a single time when the wind has been so light that we can't race.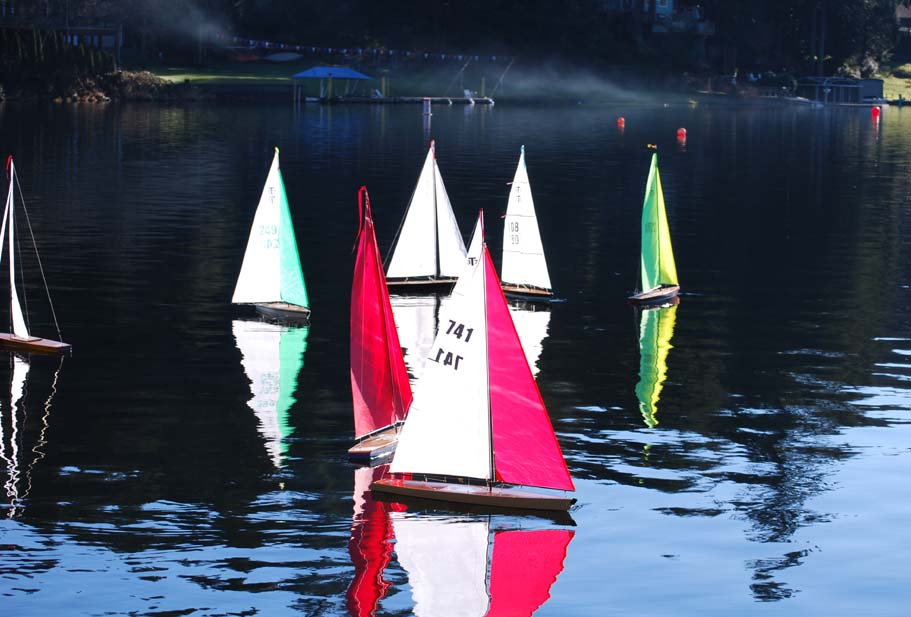 Wind is still light, morning mist hangs in the background. Bright sun lights the sails up in a show of color. Getting ready for the first race.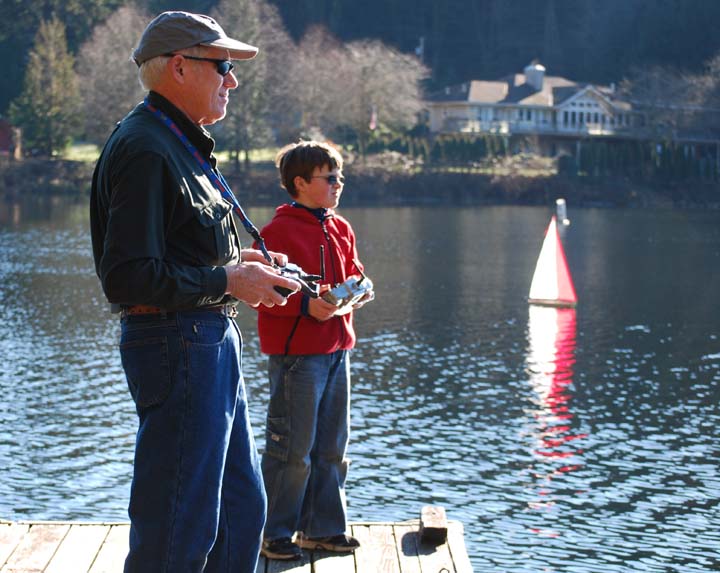 Tom and Gus focus just after the start.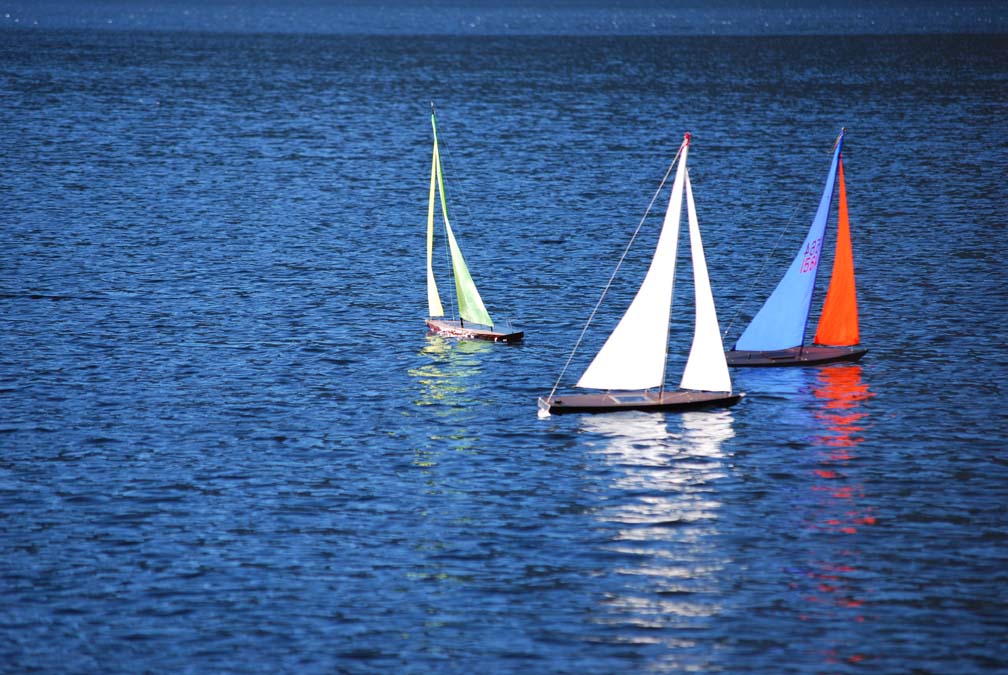 The wind is filling in nicely and the boats start to move more quickly. What a splendid day!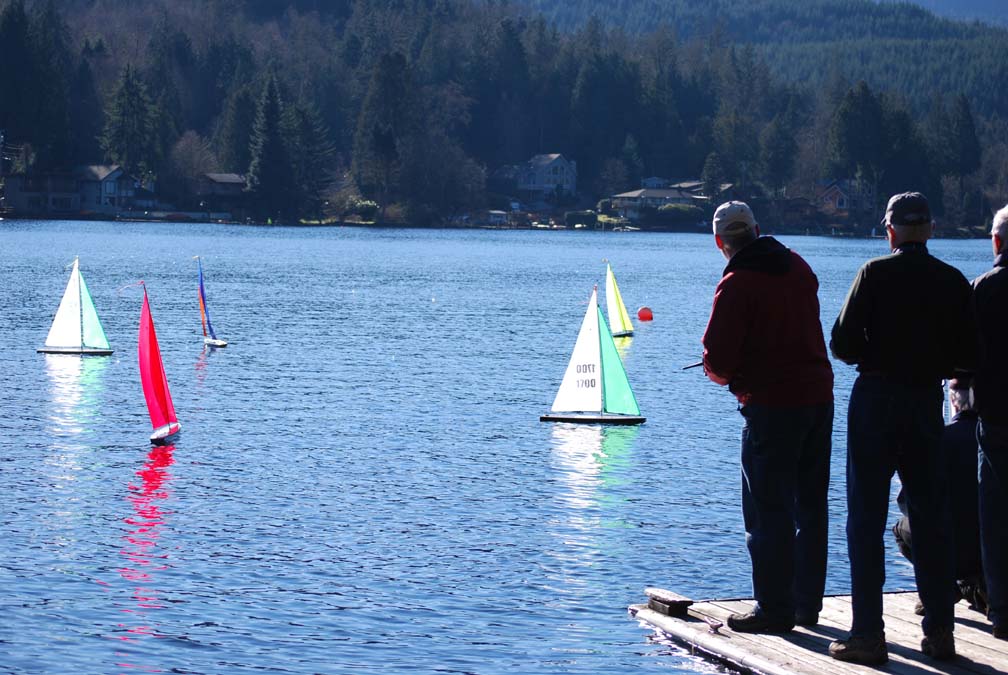 Dwayne leans out for a better line of sight as he approaches the upwind mark in first place.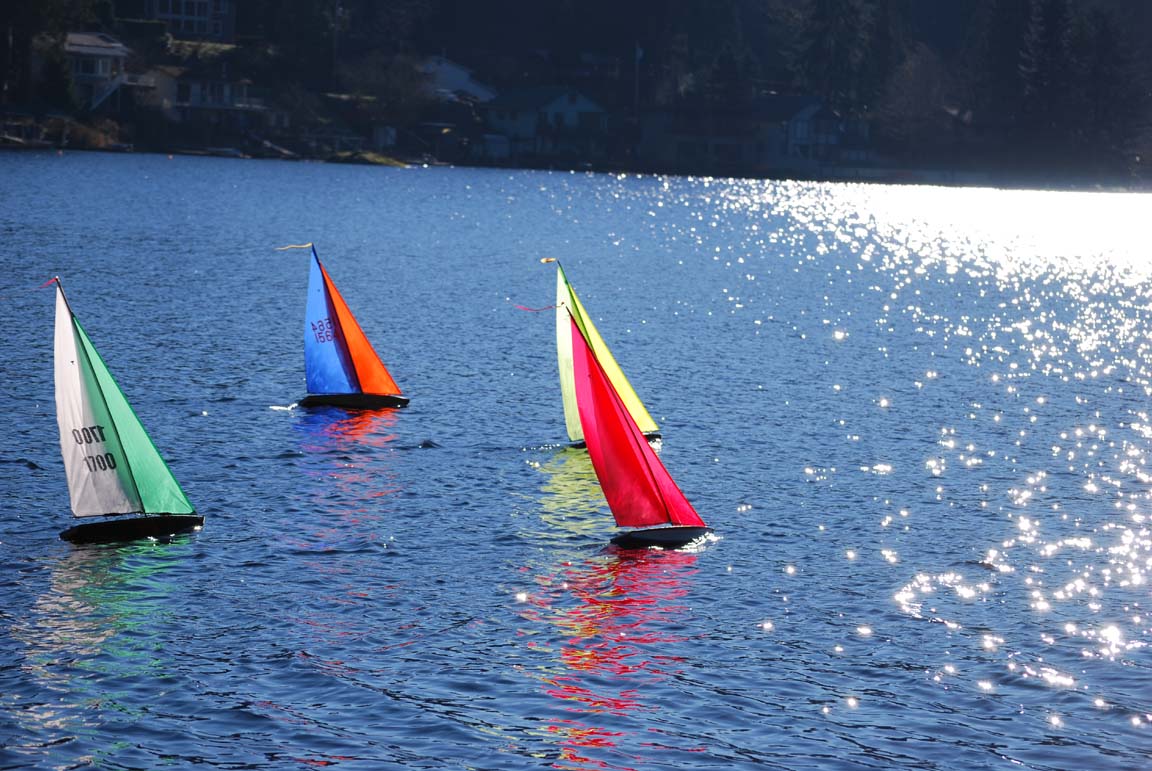 Now the wind is here! Splendid! The boats take off fast!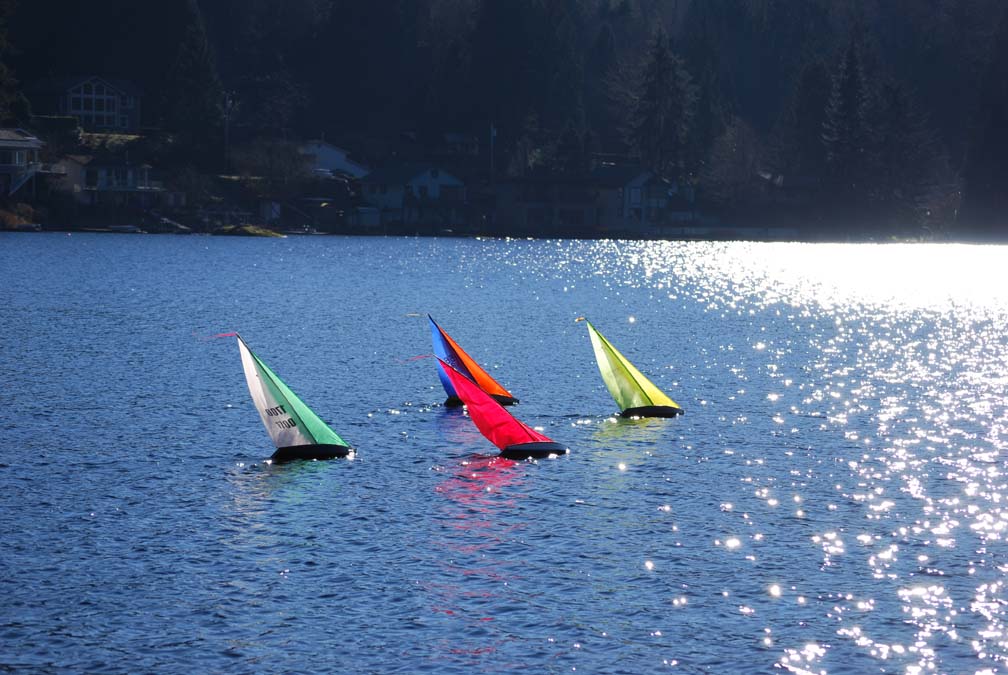 Splendid sailing. Beating up the first upwind leg. Dwayne in the lead, Tom below him, Sawyer in red, Will coming up fast in 1700. Sawyer's wooden mast bends off to leeward a bit, while the carbon fiber masts stay perfectly straight. Not much speed difference though as Sawyer demonstrated all through the day.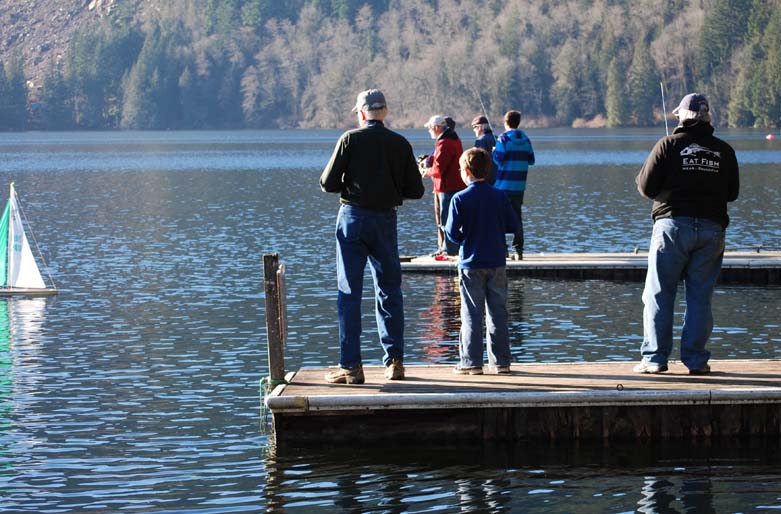 Total focus! One instant's inattention and you lose five boat places!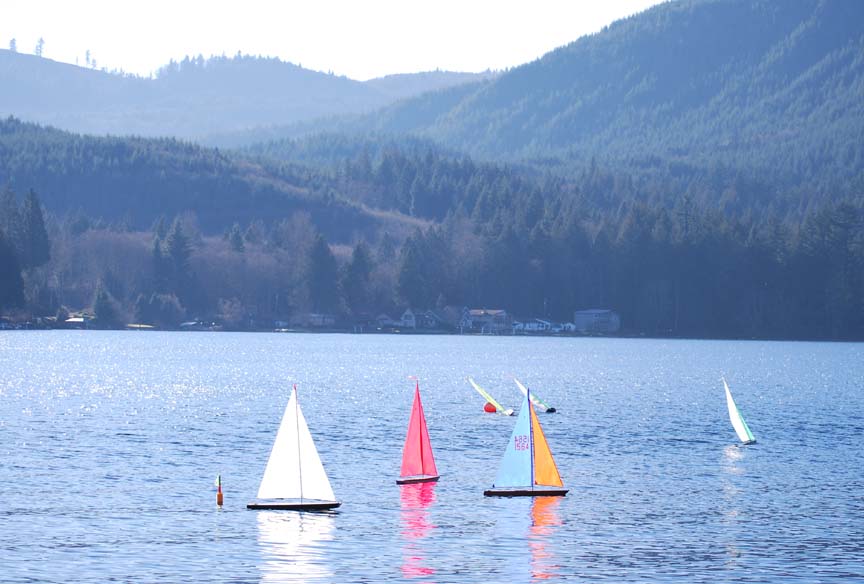 Picking up on the lifts and puffs makes all the difference as the lead boats catch a beautiful breeze while the the boats rounding the downwind mark coast along waiting for the wind to come down to them. My favorite part of sailing at Samish is playing the winds, getting on the right side of the course at the right time for the next lift or watching for the next puff.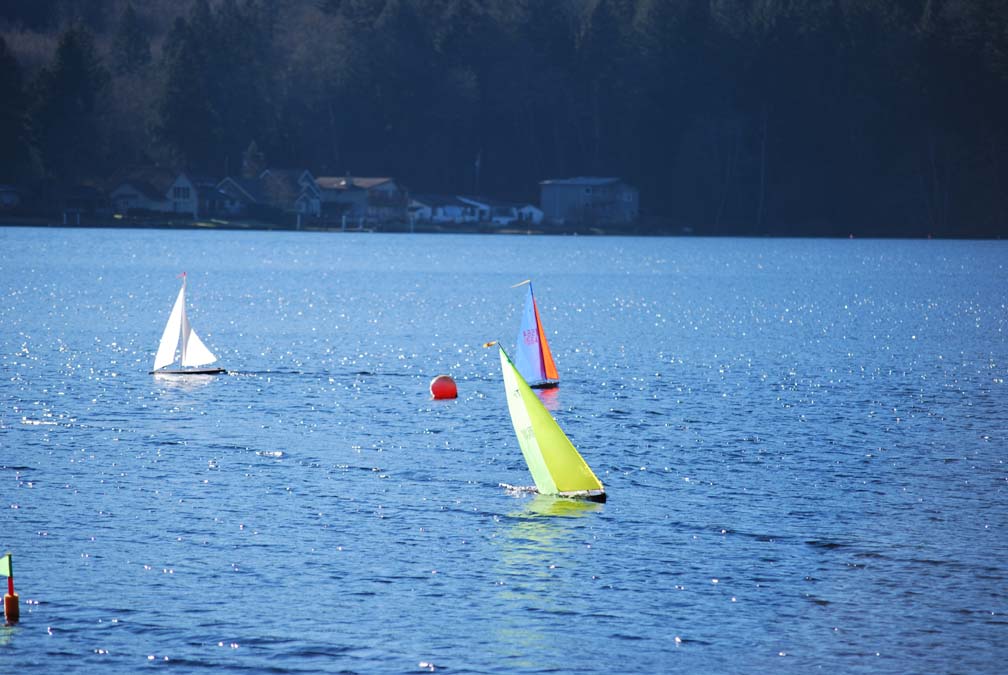 Dwayne takes off fast downwind. His skill from years of racing Thunderbirds is always apparent!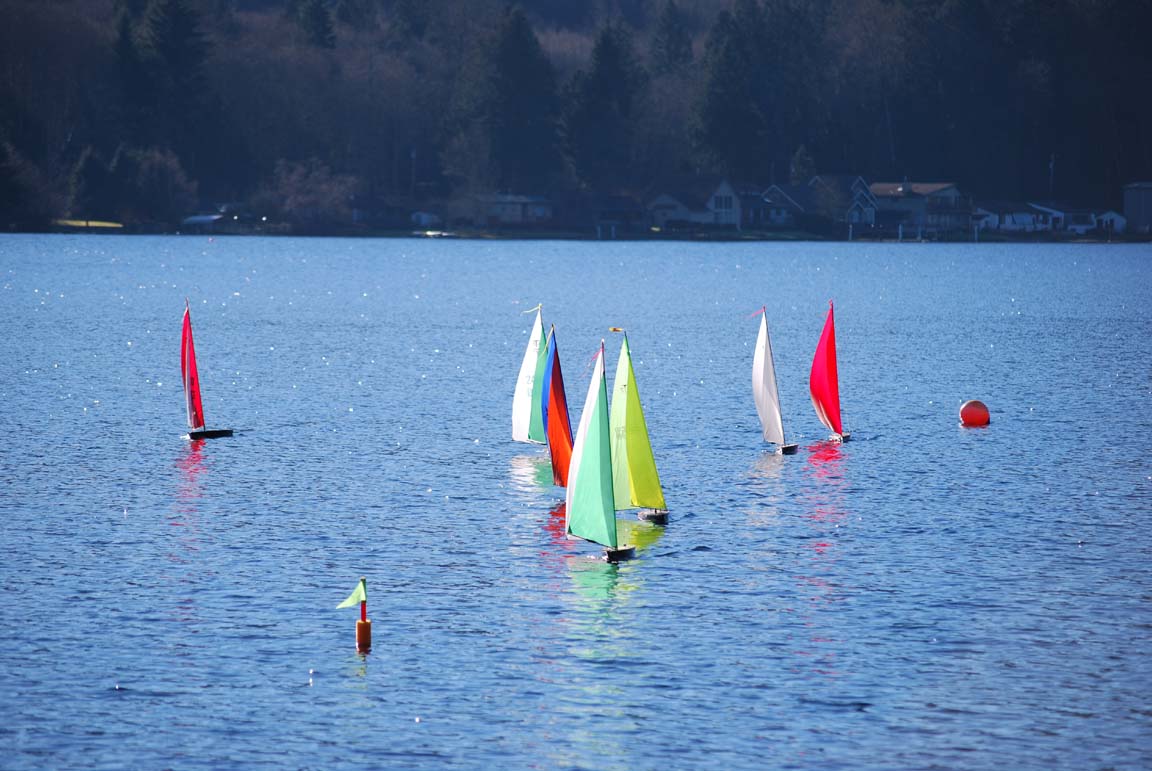 The pack heads for the downwind mark with Will leading (white and green), Dwayne next (light green, fluorescent yellow), Tom(blue and orange), Ward (white and green), Jay (white and white) and Sawyer (red and red). Carl (red and white) coming up on the outside left. The colored sails make a bright lively scene on the water. The colors help the skippers keep track of which boat they are controlling when the boats get crowded together at a mark rounding or on the starting line. Each boat has its own personality and its own character. You know who is coming up behind you and you can probably guess how that skipper will handle the situation.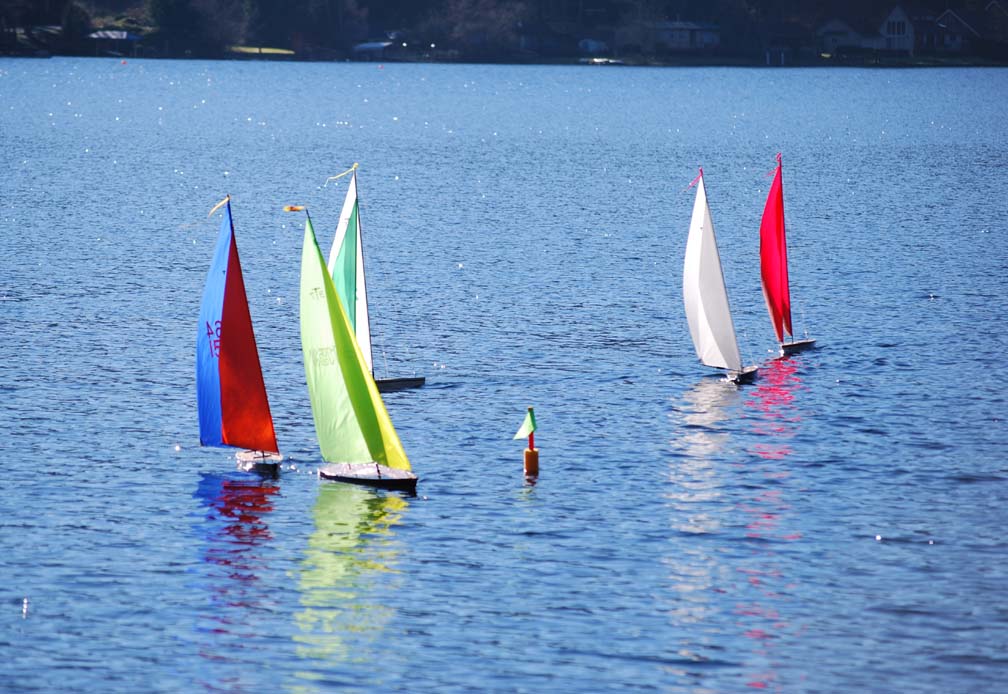 Coming around the downwind mark, Dwayne demonstrates a clean rounding with Tom, Ward, Jay and Sawyer close behind.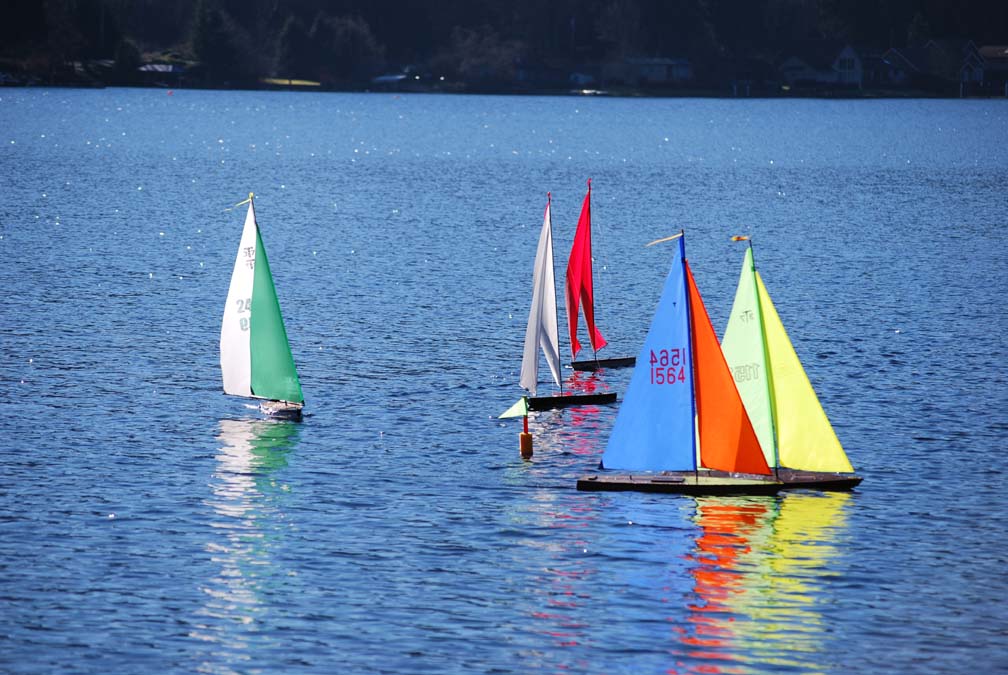 The final upwind beat, Dwayne covering Tom.
Tom Street with his beautiful custom deck and hatch on his T37.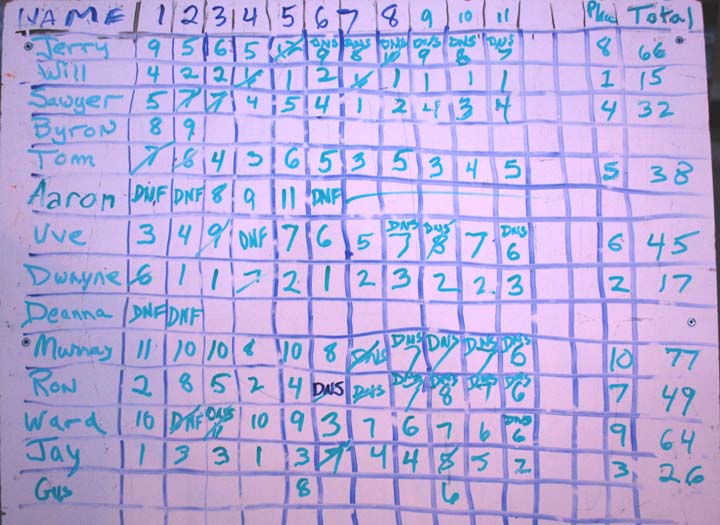 Final scores for the day. Allan's scoreboard looks neater with a permanent grid in black indelible marker. Allan was not at the Lake Samish sailing so we used this scoreboard instead. We will have to add a permanent grid to this board as well! The finishes were recorded on paper first and then transfered to the whiteboard. Wth this many boats it always works best to get the finishes down in order on paper first. We scored the places with two throwouts.
Jay, Sawyer, Dwayne and Will all scored at least one first place finish. Ron scored a couple of second place finishes before he was called away. Jay was in the lead overall after the first five races. Nice job Jay. Will seems to have gotten his tuning just right in the last few races. Dwayne sailed consistently fast all day.
It was sunny, warm (almost 60) with a wind between 5 and 9 miles per hour. What a wonderful day of sailing!
Final places:
Will in first with 15 points
Dwayne in second with 17 points
Jay in third with 26 points
Sawyer in fourth with 32 points
Tom in 5th with 38 points
Uve in sixth with 45 points (Uve had to leave early)
Ron in seventh with 49 points (Ron had to leave early on an emergency call from the hospital)
Jerry, 8th
Ward 9th
Murray 10th
Thanks All! Great fun!
Happy Sailing,
Will
[T37 Radio Control | T37 Pictures from the Port Townsend Wooden Boat Festival | Owners' Pictures Pages 1-7 | More Fun Pictures |Desolation Sound | Excellent Sailing Performance | T52 Sailing | Home | Order Form]