[RC Sailboat Championship Races 2005 | T37 Radio Controlled Sailboat | T37 RC Sailboat Pictures from the Port Townsend Wooden Boat Festival | T37 RC Sailboat Kit Assembly Pictures | Owners' Pictures Pages 1-7 | T37 RC Sailboat Sailing Movies | More Fun Pictures | Desolation Sound | Excellent Sailing Performance | T Class Racing Sloop | T15 Racing Sloop | T12 Cruiser | Home | Order Form]
RC Sailboat Racing is challenging and exciting Add 18-20 miles per hour of wind and the conditions get pretty wild for some sensational RC sailing and racing. These were the conditions at this year's T37 RC World Championship Sailboat races - not to mention waves buiding to almost a foot on the downwind shore of Greenlake in Seattle where the course was set. You will see in the pictures the gray, squally skies, but you can't hear the sails flapping and the waves washing up on the shore. At one point a more severe squall blew in and we held the start of the third race off for five minutes to let the wind calm down a bit, while we rescued the race committee booth as it started to take flight. All of the races were windy and it took real skill for the skippers to keep their boats performing at their best. The boats were moving so fast that a single mistake in the steering resulted in veering way off course. Missing a mark could move you from first place to last. We will add some video footage of the 2006 T37 RC World Championship Sailboat Competition soon on the video page. Click here for videos of the RC Sailboat Races
2006 T37 RC Sailboat World Championship Races

5 -4-3-2-1-0 The horn sounds and the first race is started! The boats beat upwind towards the upwind mark.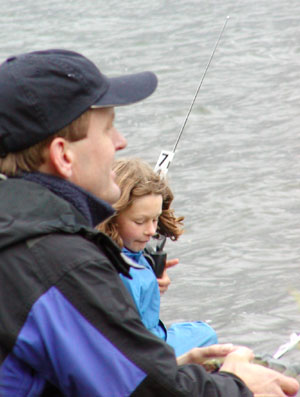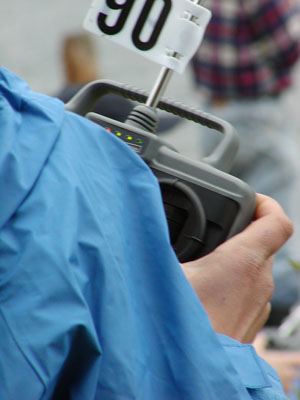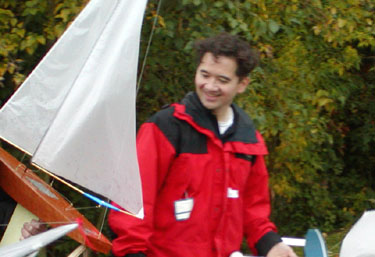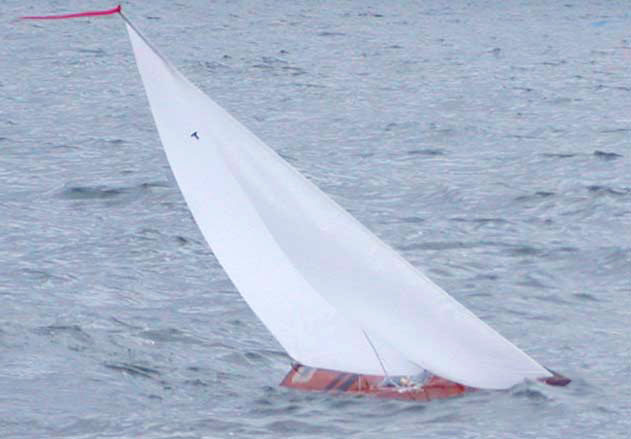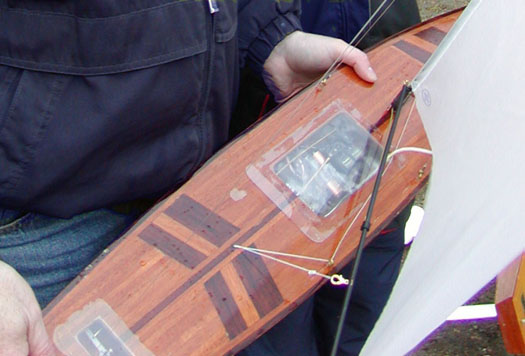 These beautiful Yachts!
This striking inlay of darker mahogany sets off Ron's deck beautifully. One of the fun aspects of getting together for the races is seeing all of the beutiful finishing jobs on the different yachts. Each boat is entirely unique.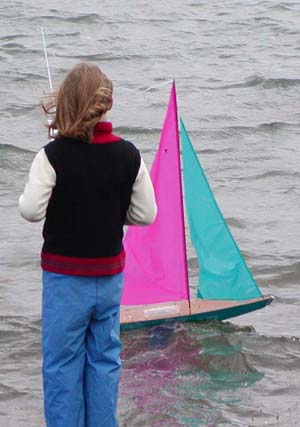 Laine raced a very strong series of races and took second place overall. This was especially impressive since she was the youngest skipper.

Maneuvering for position at the start of the second race.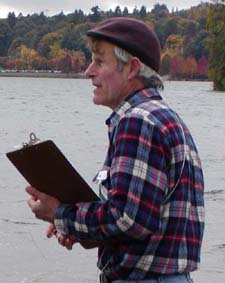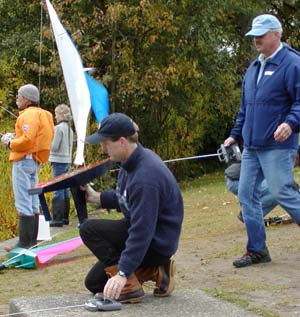 Race Committee
Todd, kneeling down to pick up his transmitter, was two time T37 RC Sailboat World Champion skipper in 2003 and 2004. Todd took home the third place trophy for 2006.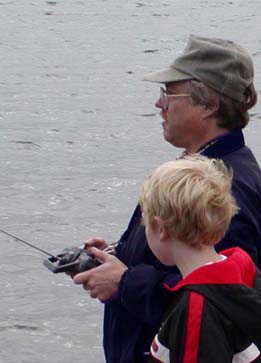 Ron and his crew concentrate on controlling their T37 during a race. Ron's placement improved dramatically during the five races.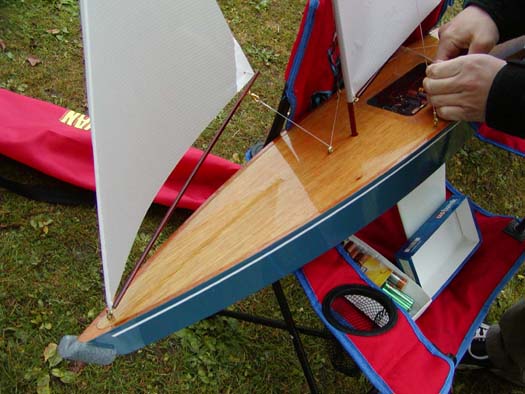 Ted's 2nd T37 shown here is as beautifully finished as his first T37 which is pictured earlier in the Owners' Pictures pages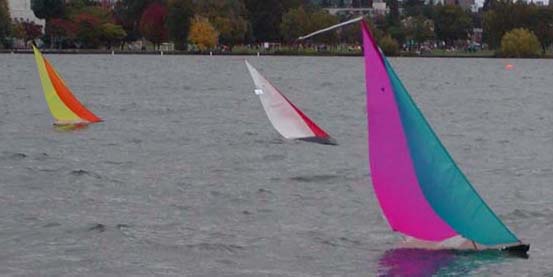 Skies darken as the wind picks up in the third race.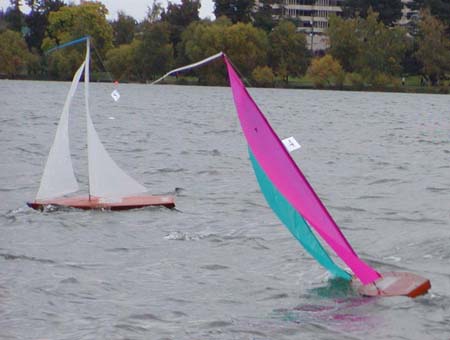 The third race is a humdinger with strong squalls racing across the lake. Here Laine's #4 is beating upwind towards the upwind mark. #5 has rounded the upwind mark and is reaching off towards the jibing mark.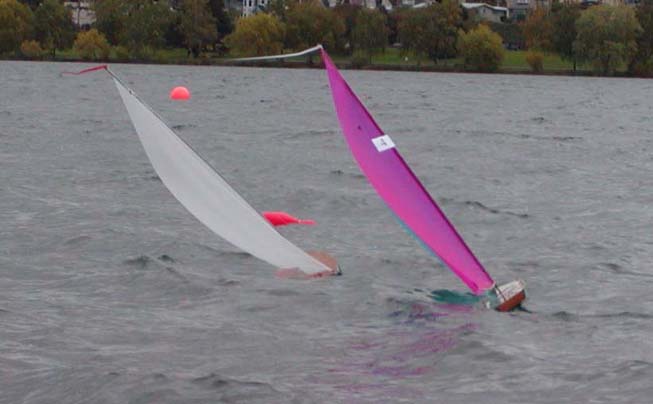 Starboard tack has the right of way over port as the boat with white sails has to dip down below #4 at the start of the second upwind leg.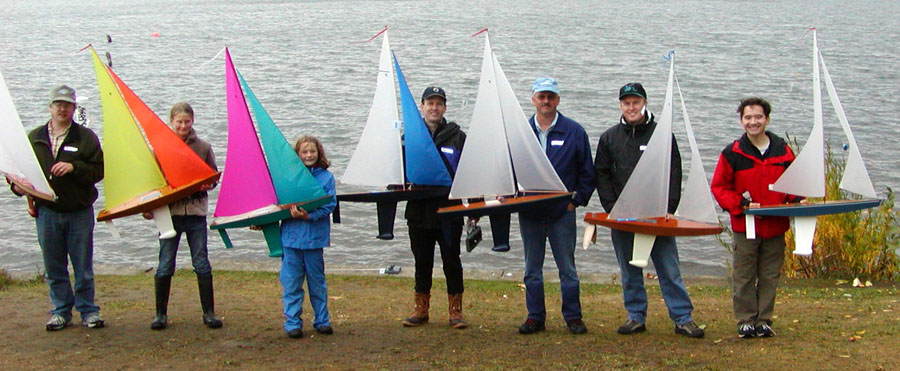 Happy skippers at the end of a very exciting afternoon of racing. The boats performed beautifully in the rough weather and everyone had a great time sailing together!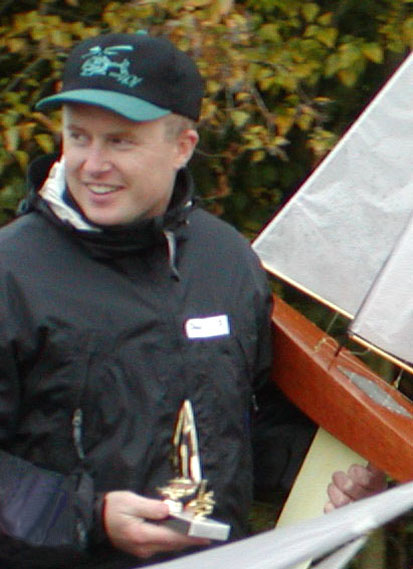 Shad Malone, First Place T37 RC Sailboat World Champion 2006
Shad sailed a very strong series with three first place finishes out of the five races.
Congratulations Shad!
[RC Sailboat Championship Races 2005 | T37 Radio Controlled Sailboat | T37 RC Sailboat Pictures from the Port Townsend Wooden Boat Festival | T37 RC Sailboat Kit Assembly Pictures | Owners' Pictures Pages 1-7 | T37 RC Sailboat Sailing Movies | More Fun Pictures | Desolation Sound | Excellent Sailing Performance | T Class Racing Sloop | T15 Racing Sloop | T12 Cruiser | Home | Order Form]